New: Sprint Poker Estimation
Parabol was founded with the commitment to help teams find more meaningful ways of working together. Our team began on that journey by building a tool for guided check-in meetings, which we still use week-in week-out to check the pulse of our work together.
But with more and more teams turning to our tool to support their agile practices, we've been thinking about where we could help out in other parts of the agile lifecycle.
Today, we're excited to be launching Sprint Poker, which adds agile estimation meetings to our offering.
Parabol now connects the dots from the beginning to the end of each sprint cycle.
With Sprint Poker, remote and hybrid teams can enjoy all the benefits they've come to expect from Parabol meetings to make agile estimation meetings more fun, inclusive, and effective.
We Learned that Remote Estimation is Hard
As teams were trying to replicate their offline Planning Poker experiences in their new remote context, things were falling short.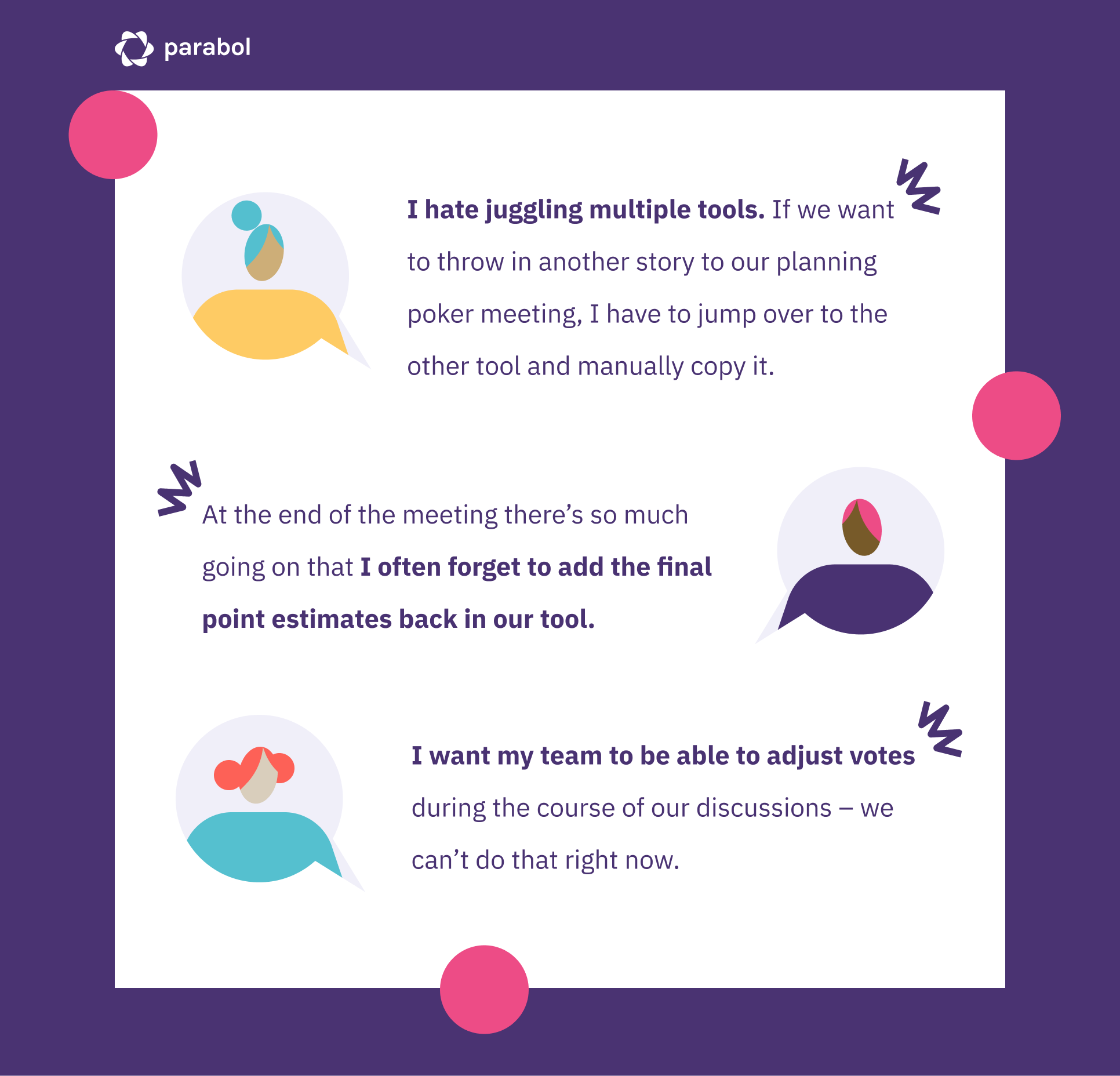 We learned that teams enjoy the Planning Poker process because it allows them to all get on the same page about the scope of issues and what made them complex or simple.
But in a remote context, teams struggled as they estimated by manually counting fingers held up on a video call or adding estimates into separate sheets of an excel file, all while trying to avoid anchoring each other.
During our research we wondered how we could make an agile estimation meeting type that lived up to our values at Parabol.
Parabol meetings are built to help teams talk through their experiences openly, so they can remove blockers and start to work together more effectively. Everything from the anonymity feature to icebreakers is there to help teams like yours have a more open dialogue.
Another thing that's important to us, as a fully-distributed team, is making remote work work. More than a compromise made due to circumstance, we hope folks will embrace remote work because it lets them do the best work of their lives. To do that, remote tools have to not just be as good as in-office tools, they have to give you superpowers.
Rather than giving you superpowers, remote agile estimation was falling short for agile teams. So we set out to solve those problems and build a tool that would work with, not against, agile workflows.
Features that Give Agile Teams Superpowers
Sprint Poker includes features designed to take the pain out of Planning Poker and make it more intuitive. One of our key concerns has been how to make agile estimation meetings flow more smoothly, take pressure off facilitators, and make them a time for teams to bond and have fun together.
Sprint Poker comes with the following features:
🌀 Import stories from Jira and sync estimates back
Most online estimation tools disrupt your workflow and have you manually copying story points over to Jira. With Sprint Poker you can import stories, estimate them, and export them back to Jira automatically from within one tool.

🃏 Interactive deck of cards
It wouldn't be poker without a hand of cards to play with! Estimate using interactive cards, with a pass and question card built into every deck.

👻 Hidden estimates to prevent anchoring
Estimates are only revealed once everyone has selected an option, so you can have an honest conversation and get on the same page about work.

❓ Different estimation methods and scales
Use estimated effort or weighted shortest job first methods, use our built-in scales or build your own.

⏰ Async friendly for hybrid & distributed teams
Conduct an entire estimation meeting asynchronously with threaded in-app discussions.

☕ Icebreakers built-in to get the team talking
Up your team's connection and psychological safety with a short optional icebreaker before getting started.

⚙️ Open source to build trust
We believe in transparency, so we always build in the open. Check out our source code here.
Let's take a look in detail at some of those features.
We've Built Sprint Poker For Your Jira Workflow ⚙️
The main complaint about existing agile estimation tools was that they disrupted workflows. Teams were hopping in and out of tools, copying and pasting content.
We've designed Sprint Poker to seamlessly integrate with your Jira workflow to save you time and effort.
Sprint Poker lets you pull in stories directly from Jira, estimate them, and sync those estimates back – all within your Parabol meeting. When you start a Sprint Poker meeting, you can pull in your Jira stories and their descriptions directly from Parabol. The imported stories then form a tidy agenda within the tool.
Once you've decided the final estimate for a story, you can select which field in Jira to post it to. With Sprint Poker you can record estimates to whichever field you like.
Simply set the value and it will be sent to Jira immediately.
How estimates in Parabol sync directly to Jira
Even if you need to change your final estimate in Parabol, the new estimate will be updated in Jira.
Agile Estimation that's Fun and Interactive
We heard that Planning Poker users loved the idea of having a deck of cards to play with. It adds an element of fun and makes the whole process more tactile.
So we created an interactive deck of cards for you to play with and a few other things too:
👋 When your team-mates are selecting a card, their avatar peeks in, so you know you're not alone.

🗃️When votes are revealed, your cards will gather together in a stack out of the way.

📣 Built-in icebreakers to kick off your meeting and get everyone in the mood to contribute

✨ The ability to add emoji to sprinkle some extra joy on your meeting sundae 🍧
Each deck is customized according to the estimation scale you choose. And each deck comes with a question and a pass card built-in.
Only you can see the card you've chosen until the facilitator reveals everyone's estimates.
Estimation methods and scales that work for you
For retrospectives, we consistently hear from users that they really appreciate our templates. Parabol's retrospective tool comes with a set of pre-built templates, and also allows you to customize templates or create your own.
🏋️ Estimated Effort – Use any scale to estimate the effort of your stories.

💎 Weighted Shortest Job First – Estimate effort and value in one go to create a prioritized list of the highest-value and lowest-effort tasks.

🔢 Fibonacci – Select from a vast range of estimates using the classic fibonacci scale.

🖐 Five Fingers – Pick on a scale of 1-5 how much effort a story takes. Use five fingers to filter out epics or get a general sense of size or effort.

👕 T-Shirt Sizes – Assign rough estimates using a scale of t-shirt sizes like XS, S, M, L, XL. You can even add an XXL if you want to root out those pesky epics masquerading as stories.
Can't find the scale you're looking for?
Create your own and share it with your team or organization.
So if you're more into fruits, dogs, or plants – no need to worry. You can create a custom scale that suits your team's unique culture. Sometimes there's no two ways about it – a user story is just… mango-sized.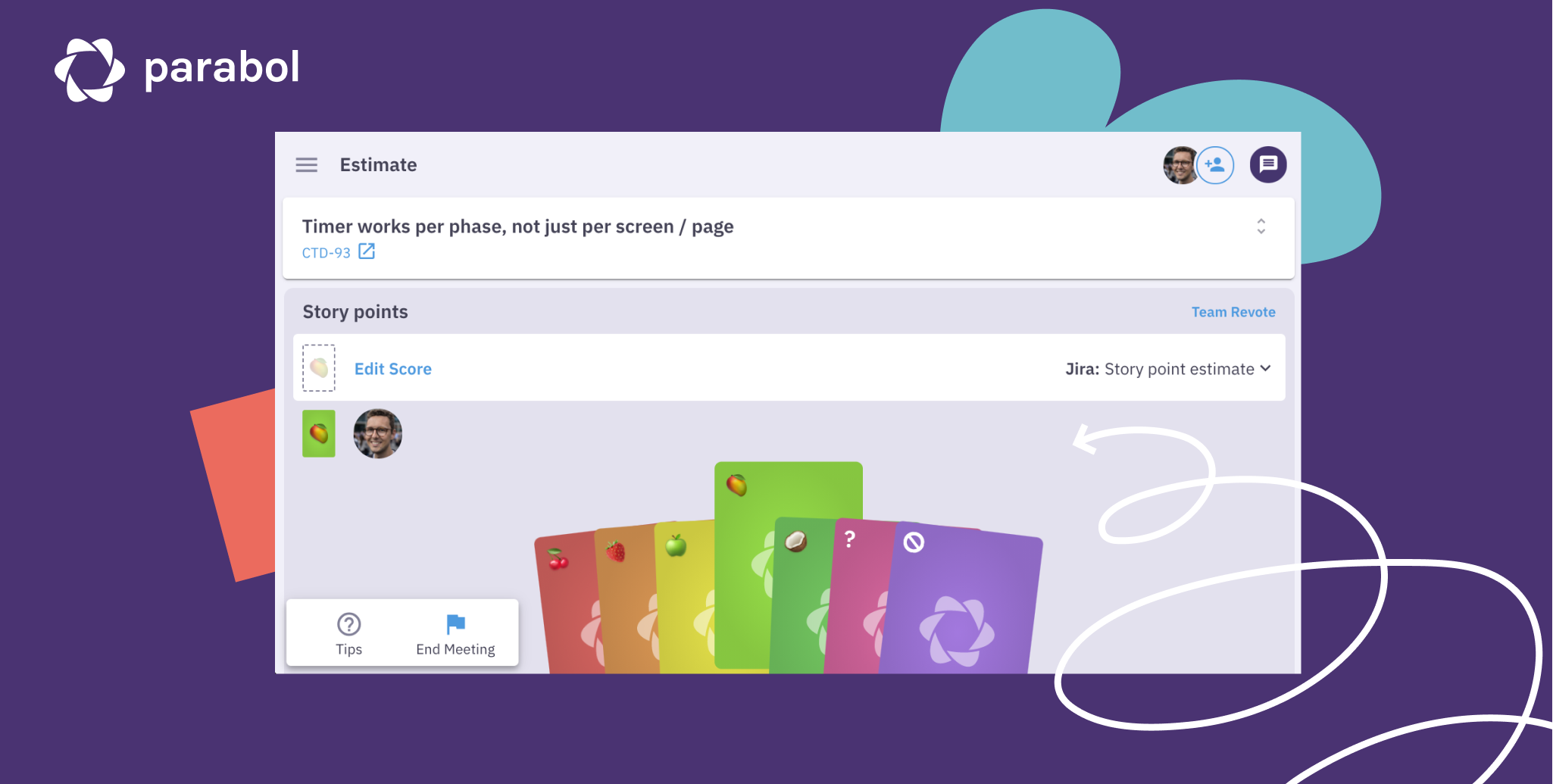 And all the Parabol features you already know and love…
It wouldn't be a Parabol meeting without:
🧵 Threaded discussions so you can discuss together or run meetings asynchronously
☕ Built-in icebreaker questions to get your meeting off on the right foot
😊 Emoji reactions so you can tell colleagues if something is 🙌 or 🧐
📝 Automatic meeting summaries to keep everyone in the loop.
Getting started with Sprint Poker
If you're already a Parabol customer, Sprint Poker is available at no extra cost within your existing plan
So if you're not a Parabol user yet, come join the party!
Simply select Sprint Poker from the meeting carousel in the lobby and get stuck in.
Try Parabol Sprint Poker For Better Story Point Estimates
Estimate remotely with an interactive deck of cards, built-in anonymity, and two-way integrations with Jira, GitHub, Gitlab, and AzureDevOps. Sprint Poker makes estimation meetings fun, gets people talking, and helps teams craft better estimates.