Online Planning Poker™ for Remote Teams
Estimation That Sets Remote Teams Up for Success
Sync issues from your backlog management tool and collaborate on estimation with a fun digital deck
Bring Planning Poker™️ to Life Remotely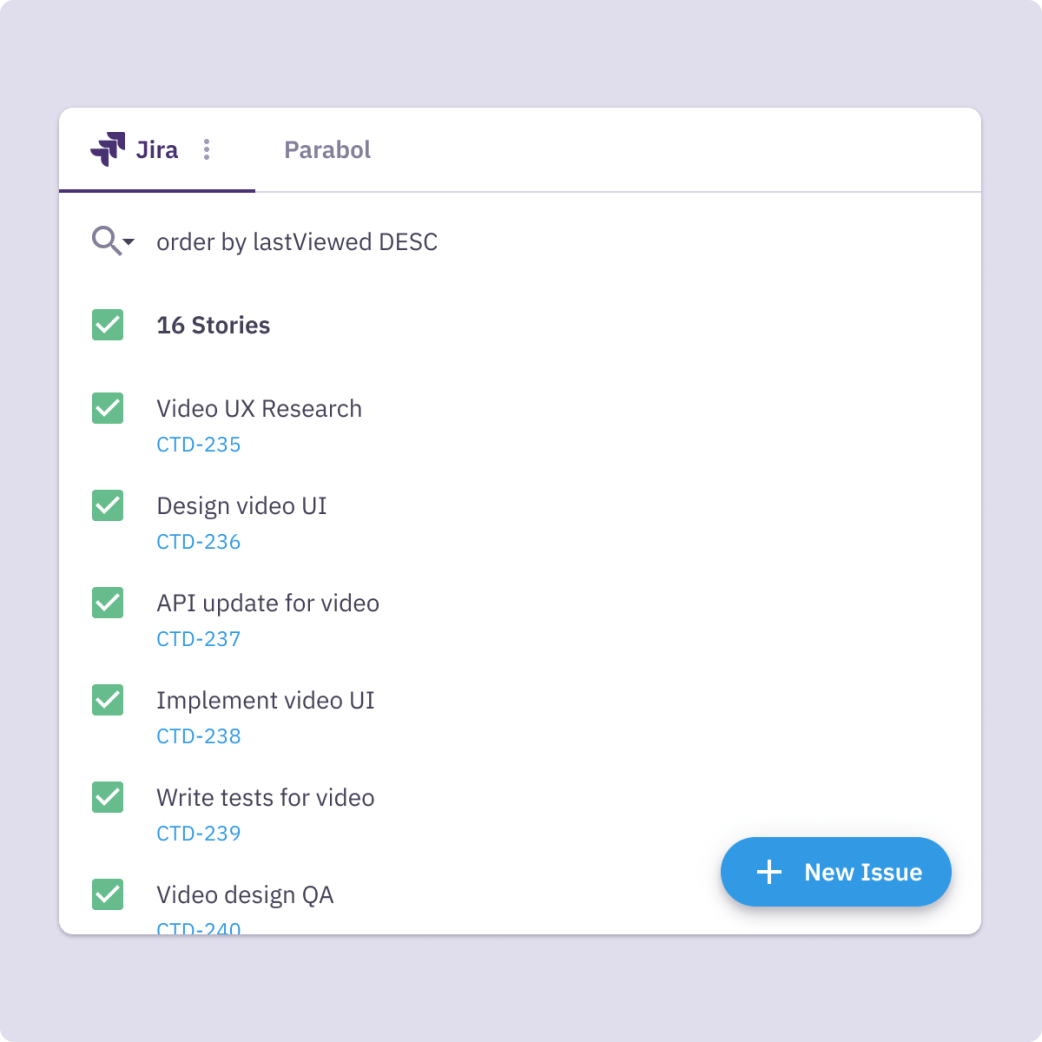 Decide which issues to estimate
Select which stories from your backlog you want to estimate: 
Search for stories or issues from

Jira

,

GitHub and GitLab.

 

Pick issues to estimate 

Pull in key details, like title and description automatically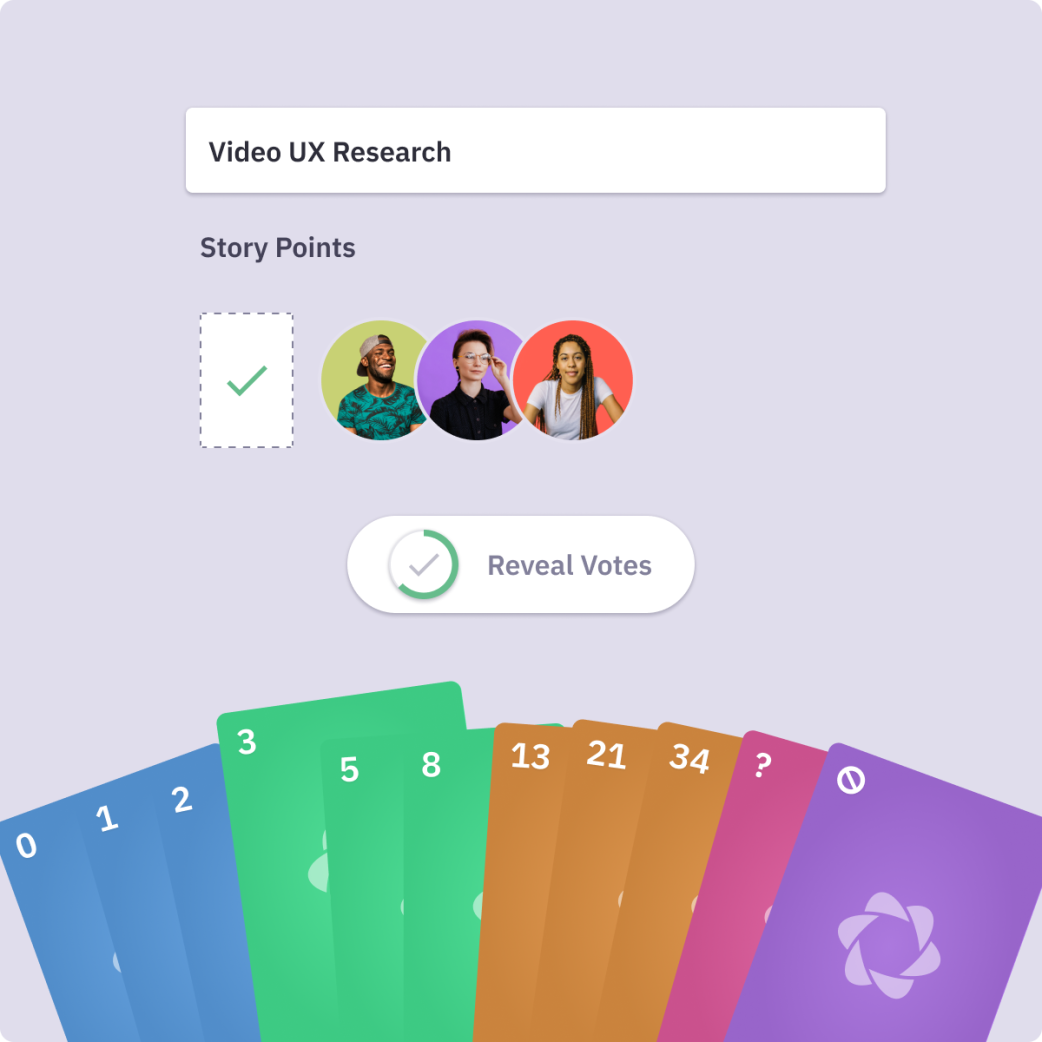 Collaborate without anchoring each other
No more scrambling to get everyone looking at the right thing, struggling to count votes, or worrying about keeping estimation fair. Sprint Poker puts everyone  on an equal footing from the start. 
Team members

look at the same

user story

in

real-time

, and has the same cards to choose from, no matter if you're the

product owner

, developer or

scrum master

.

See who has voted, but not what they voted to prevent participants anchoring each other

Select a Question card if you don't have enough information, or chose to Pass on estimating

Reveal estimates once everyone has voted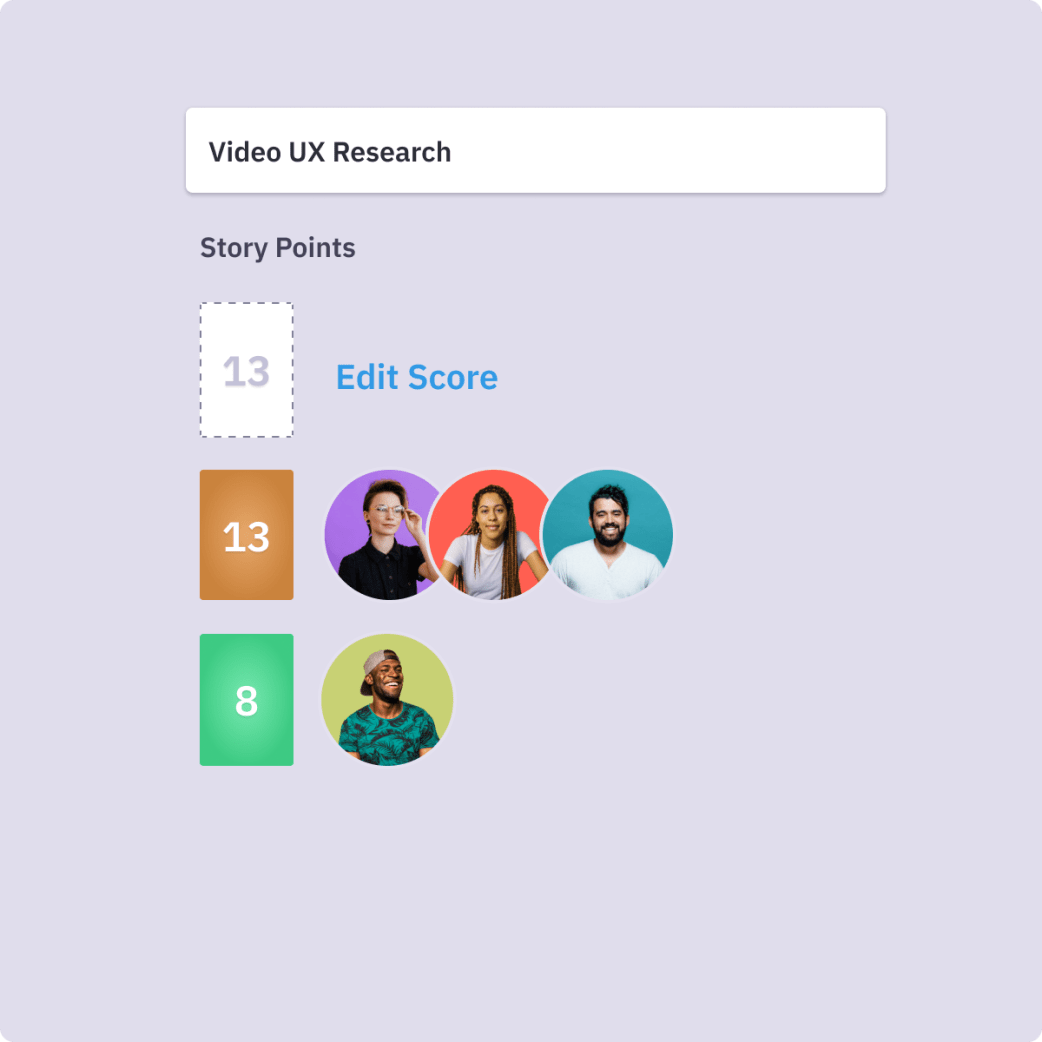 Decide the final estimate together
See the overall distribution of votes, the most common estimate, and how each person voted.
Use the built-in discussion threads to add comments, make note of important details or ask a question without interrupting the conversation. If you're working in a

distributed team

, you can discuss each estimate asynchronously.

React with emoji to important comments or suggestions you like.

Revise your initial estimate in a matter of seconds by choosing a different card.

Revote if you can't reach a decision
When you're all set, just select the final estimate and it's ready to be taken forward for sprint planning or added directly to the sprint backlog.
Save Time By Connecting to Jira, GitHub or GitLab – for Free!
All features available on the free plan, including integrations.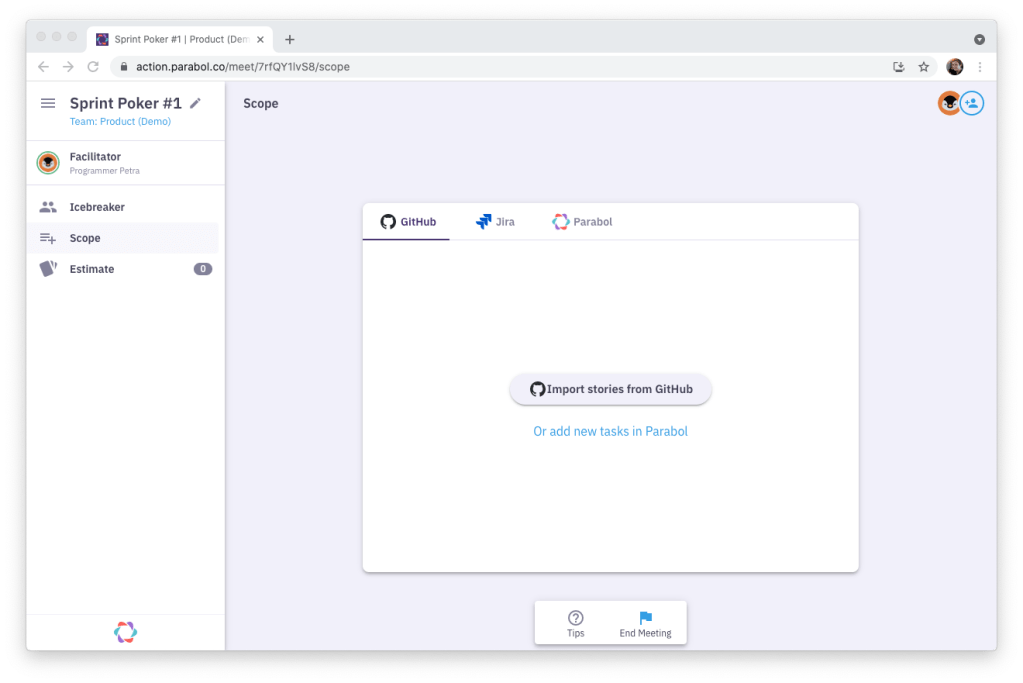 No more copying and pasting story details from your backlog into your scrum poker estimation session or managing multiple windows. Keep all your work in sync and stress-free, with fewer errors and a more organized backlog.
Search and select issues using Jira Query Language (JQL) or GitHub syntax

See the Jira, GitHub or GitLab title and description in Parabol as you estimate

Estimates automatically sync back to the backlog tool they were pulled from

Customize where the estimate lives by choosing the field in Jira or comment or label in GitHub/GitLab
Create new issues during your estimation meeting and send them directly to your backlog
Expand & Customize Your Agile Planning Meeting
Choose estimation techniques that work for you
Different agile estimation techniques suit different types of planning meetings.
Benefit from a built-in library of estimation approaches:
Use one of three default scales for estimating Story Points: Fibonacci sequence, 5 fingers and t-shirt sizes. All include a Question card and a Pass card.

Create a custom estimation scale: Use letters, numbers or even emoji to make a scale that works for you. Even set custom colors, if you like.

Create a custom format with multiple dimensions: Want to estimate both Value and Effort for Weighted Shortest Job First? Not a problem. You can create formats with multiple dimensions.
Share custom agile estimation techniques across your organization, to get everyone using the same custom scale. Or share them with the public, to inspire other agile software development teams around the world.
Include Your Whole Team with Remote-First Features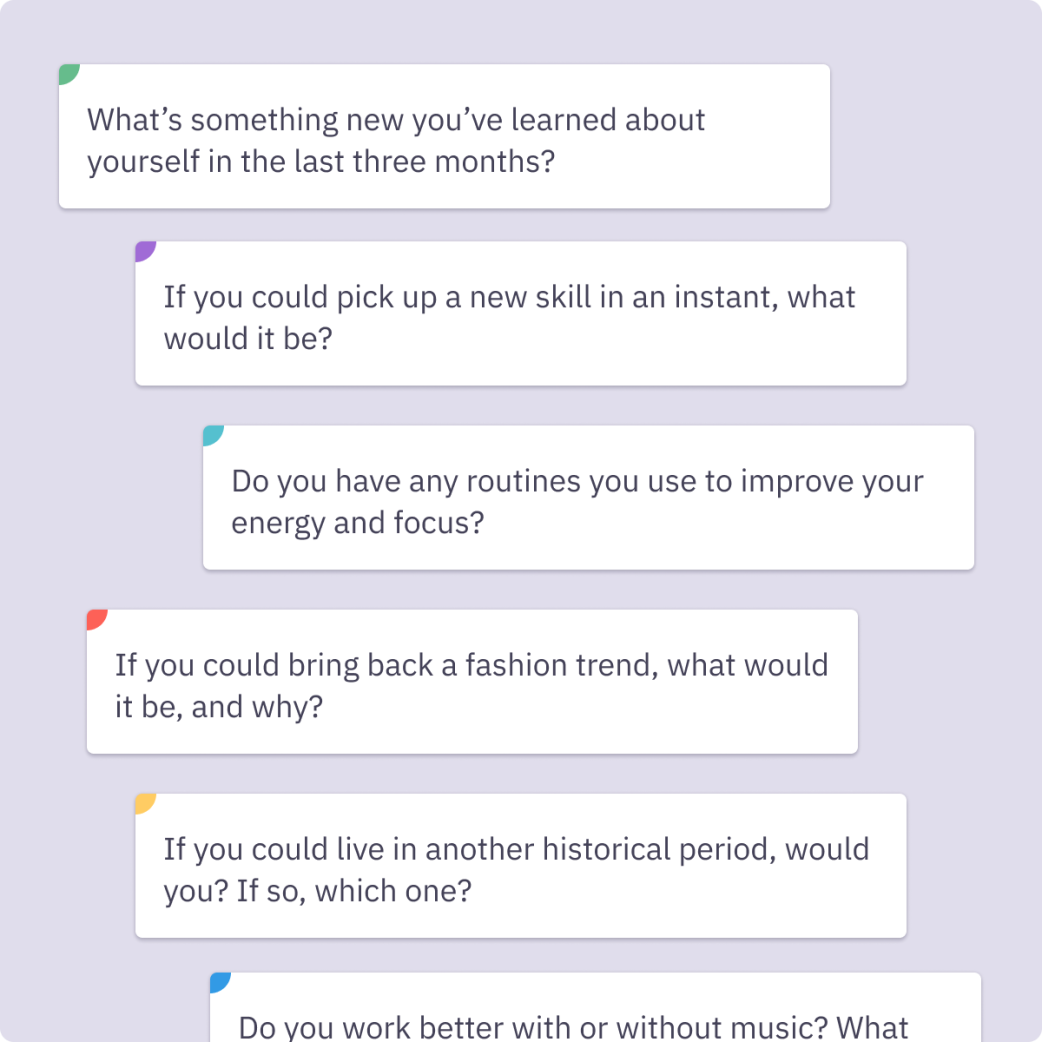 Get your team talking with an optional icebreaker
Start your meeting on the right foot with a built-in icebreaker. Try a randomly selected question, refresh if you want another option, or fill in your own.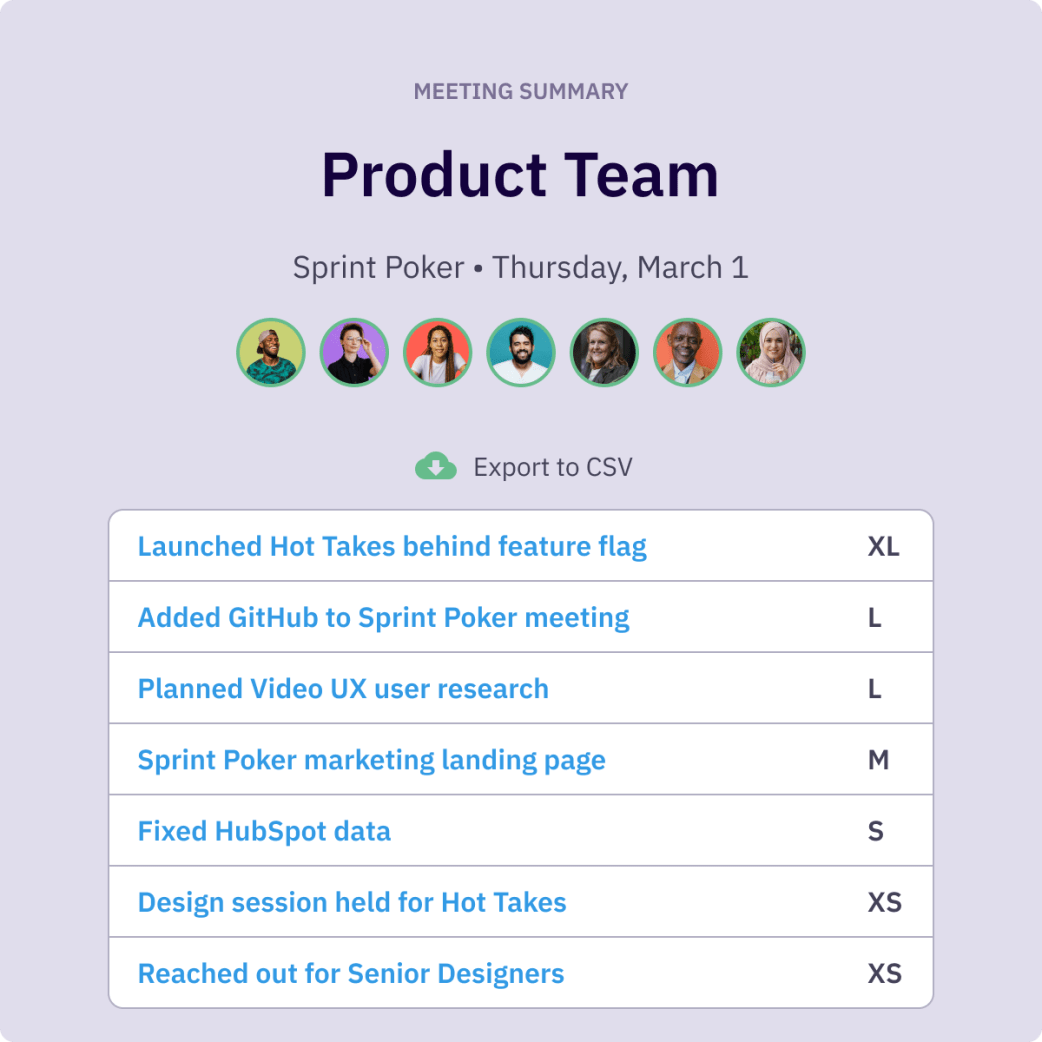 Stay in sync with an automatic meeting summary
Save time writing and sending meeting notes. Get an automated summary of your meeting when it's over, including each story, the final estimate for that story, the total story points estimated and the team's velocity (for context). Your whole Planning Poker session is documented, with no additional work.
Share the summary, or export your learnings as a CSV to analyze trends.
Since you won't need  a note-taker, everyone can contribute with their full brain power.
Estimation Approaches To Suit Your Work
Estimation That Sets Remote Teams Up for Success
92% of users agreed that Parabol improves the efficiency of their meetings.
Agile Estimation for the Remote Age
| Features | Parabol | Poker Cards | Other Online Poker Tools | Spreadsheet | Virtual Whiteboard |
| --- | --- | --- | --- | --- | --- |
| Remote-first | | | | | |
| Virtual card deck | | | | | |
| Built-in scales | | | | | |
| Custom scales | | | | | |
| Pass card | | | | | |
| Multiple dimensions | | | | | |
| Hidden voting | | | | | |
| Pull-in stories from Jira, GitHub or GitLab | | | | | |
| Sync estimate to Jira, GitHub or GitLab | | | | | |
| Facilitated icebreaker | | | | | |
| Meeting summary | | | | | |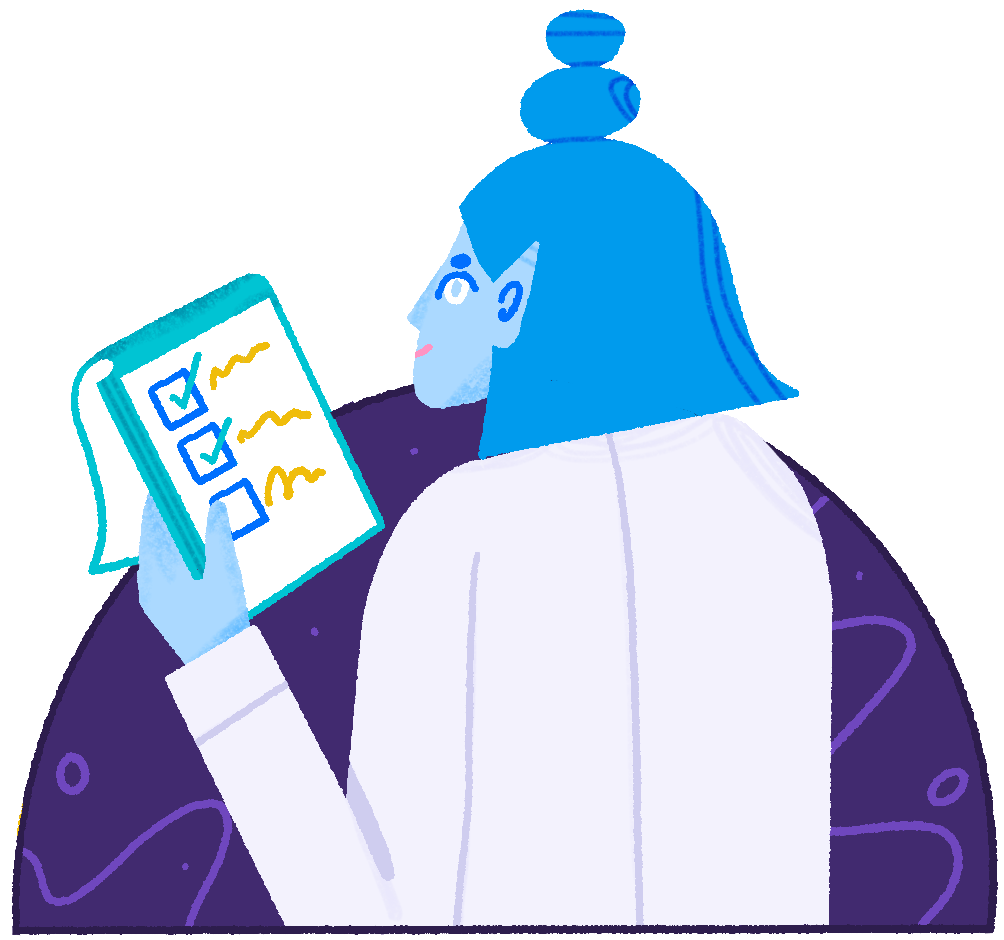 Support for Enterprise Organizations
Enterprise organizations trust Parabol to drive continuous improvement across their agile teams. Learn more about Parabol's SSO, additional security features, and self-hosting options.
Agile Teams Reach Their Goals With Parabol
Discover all the other ways Parabol can help your team or organization reach its goals