Free Online Standup Tool for Remote Teams
Standup Meetings that Save Your Team Time
A free online Standup Tool to put everyone on the same page without constant lengthy meetings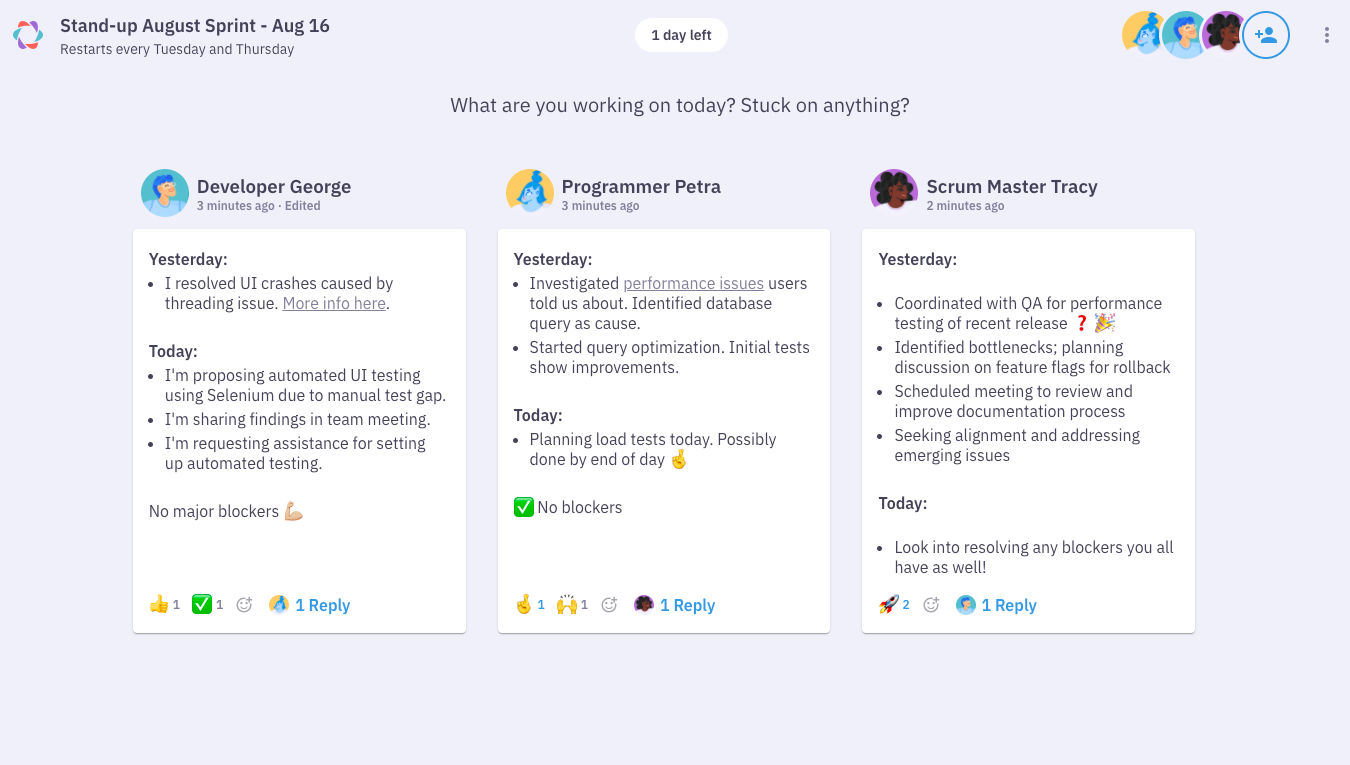 Save your team time while staying up-to-date
No more time-consuming standup meetings – use a more productive way to stay in sync. Try Parabol's Standup Tool today and experience the difference.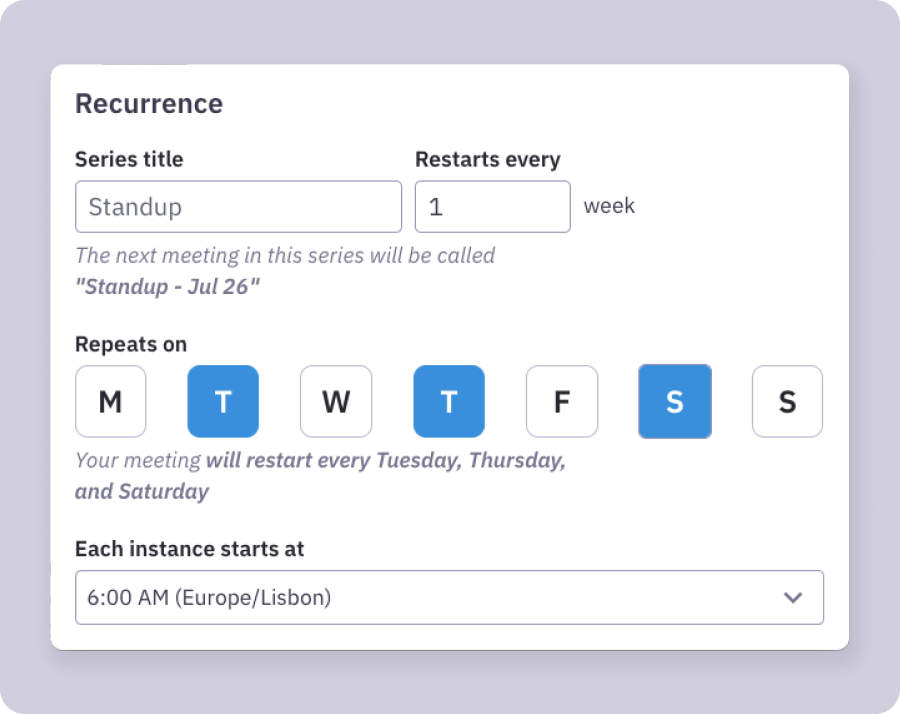 Set a meeting cadence that better suits your team
Schedule your standups based on the preferred recurrence by your team, or even switch days and times in different weeks, to make sure no one has to repeat their same work status over and over again.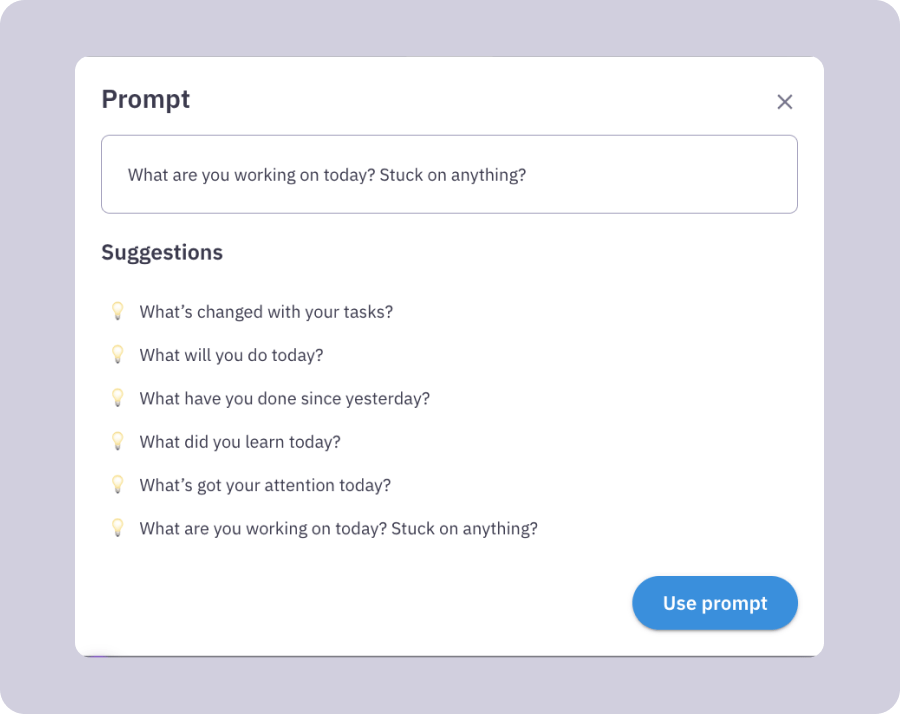 Customize your questions or save time using our suggested prompts
Depending on where you are in your sprint, customize your Standup questions to make sure you remove your team's blockers.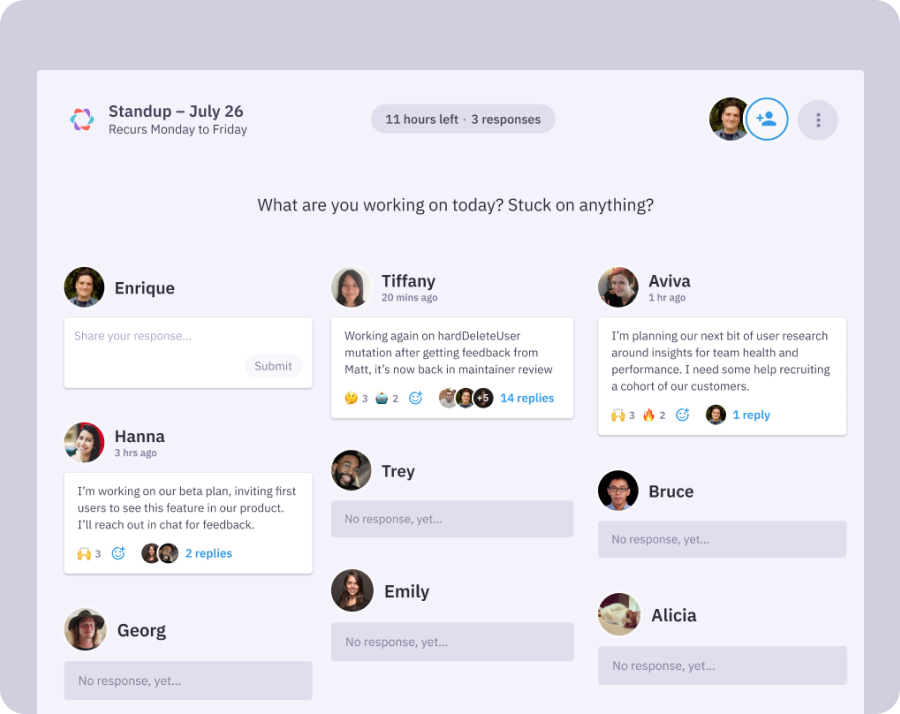 Centralize updates without Slack thread clutter
Stay organized with Parabol's one-screen approach. Easily access all updates without the clutter of multiple Slack threads. Keep important information in one place and never miss a beat.
Stay accountably and follow updates and tasks with ease
Seamlessly create tasks right within your standup meeting. With accountability at its core, Parabol's Standup Tool ensures your team stays on track and accomplishes tasks with ease.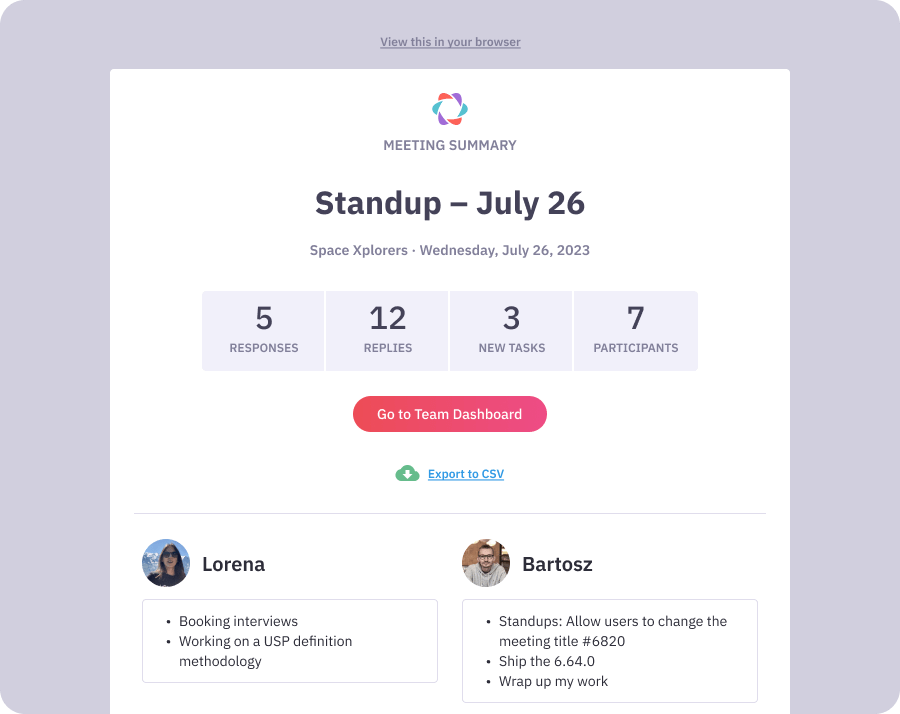 Document progress and insights
Receive summaries of every update, creating a valuable resource for tracking progress and referring back to past discussions.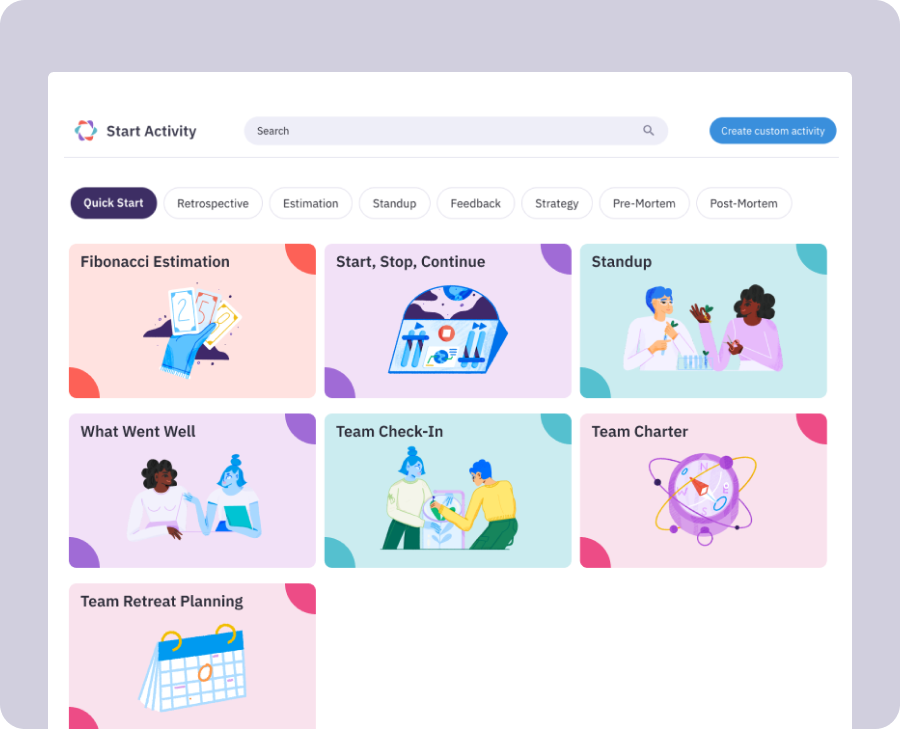 Run all your agile meetings in the same place
Experience the convenience of having all your meetings integrated into one platform. Say goodbye to juggling multiple tools and welcome a streamlined approach that enhances your team's collaboration and productivity. With Parabol, you can focus on what matters – achieving your goals with ease and efficiency.
Standup Features that Save Your Team Time
92% of users agreed that Parabol improves the efficiency of their meetings.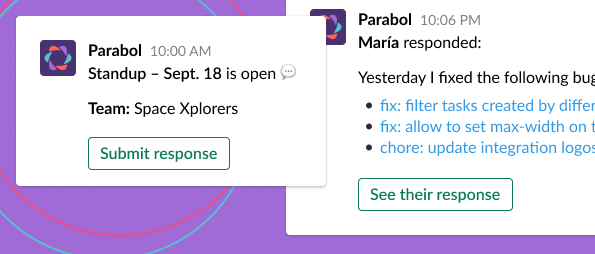 Seamless Slack Integration
Seamlessly integrate your Standups with Slack, keeping everyone in the loop, even during sync meetings.
Task Visibility
Easily review your completed, ongoing, and upcoming tasks directly from Parabol and GitHub's taskboard as you update your progress.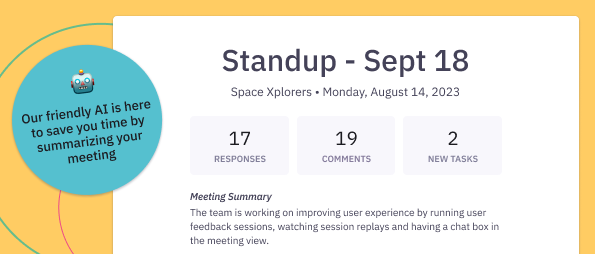 AI-Powered Summaries
Automated Standup AI summaries keep everyone in the loop. It's like having your own personal assistant taking the best notes ever.
[coming soon]
See How Standup Meetings Work
If you'd like to see how it works before you jump in, we have you covered.
Standup Meetings that Save Your Team Time
92% of users agreed that Parabol improves the efficiency of their meetings.
Built for Modern Work: Remote, Async and Mobile-First
Say goodbye to lengthy meetings, and run Agile Standups with Parabol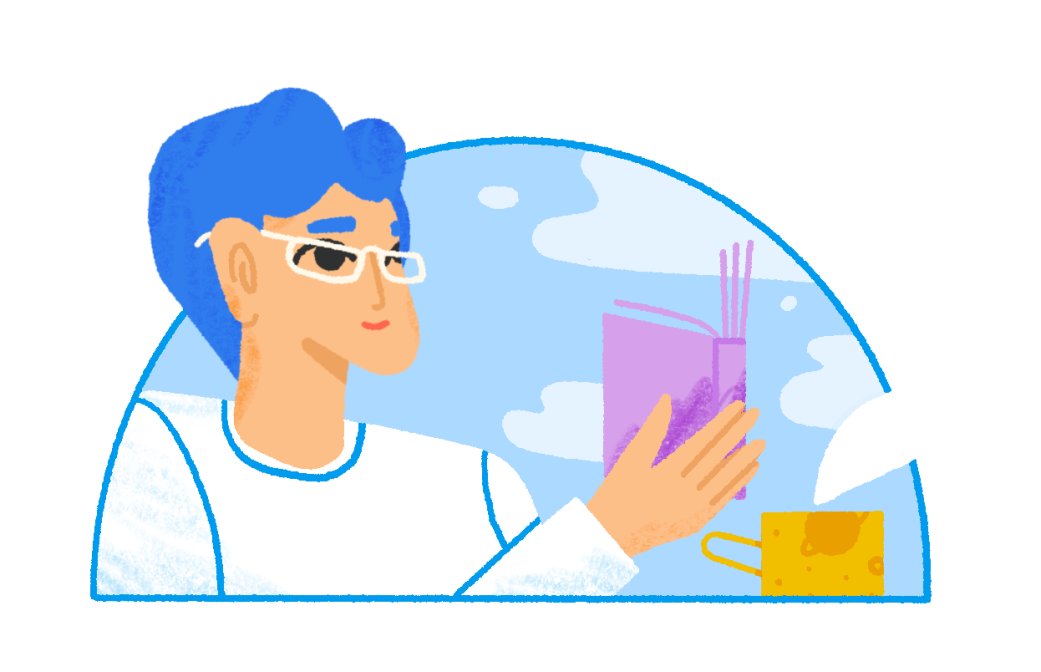 Personalize your standups to your remote team needs
Find the flow that works for your team. Easily switch between asynchronous and synchronous standups, enabling team members to contribute at their convenience. Boost collaboration among remote teams, ensuring everyone stays engaged and connected.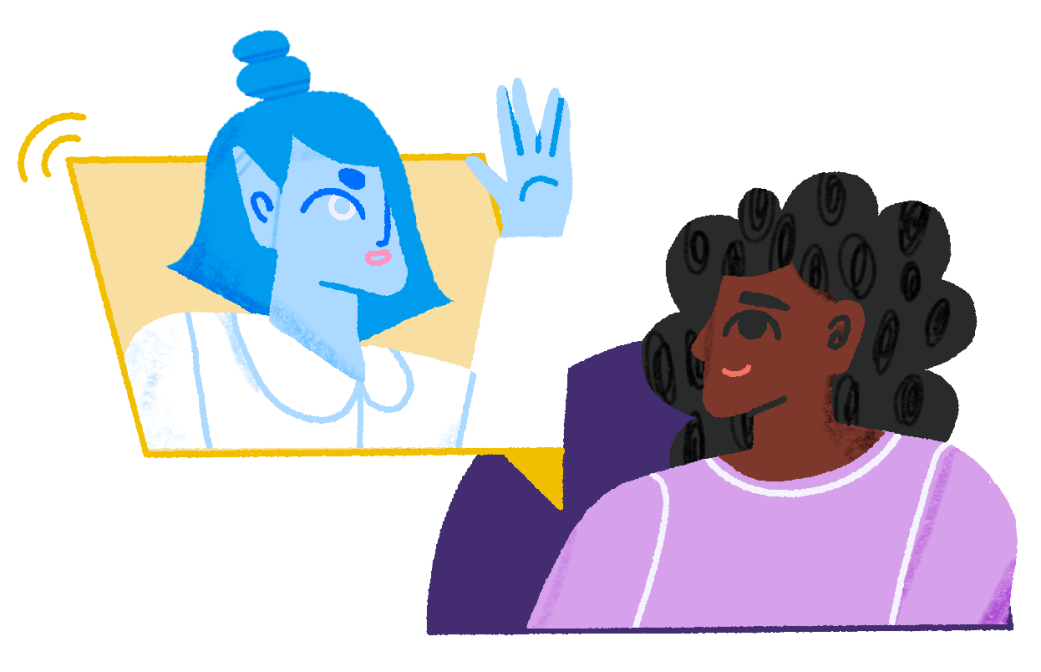 Connect profoundly in a digital space
Bring your facilitation tools into a digital workspace, and collaborate deeply with your team, wherever they are. Everything an agile team is used to having in an office is ready for you in Parabol.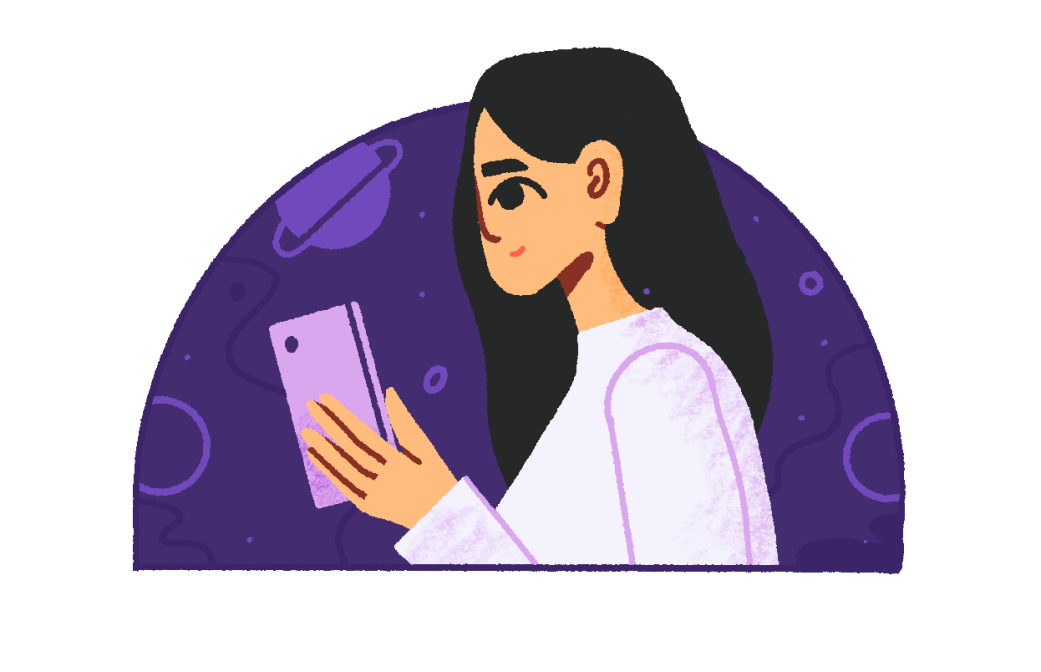 Do it all from a browser, even on your phone
Teams on-the-go don't want to download extra tools or be stuck at a desk. Parabol is a mobile-first browser app, so you can join your team from your phone, tablet or any other device without downloading a thing.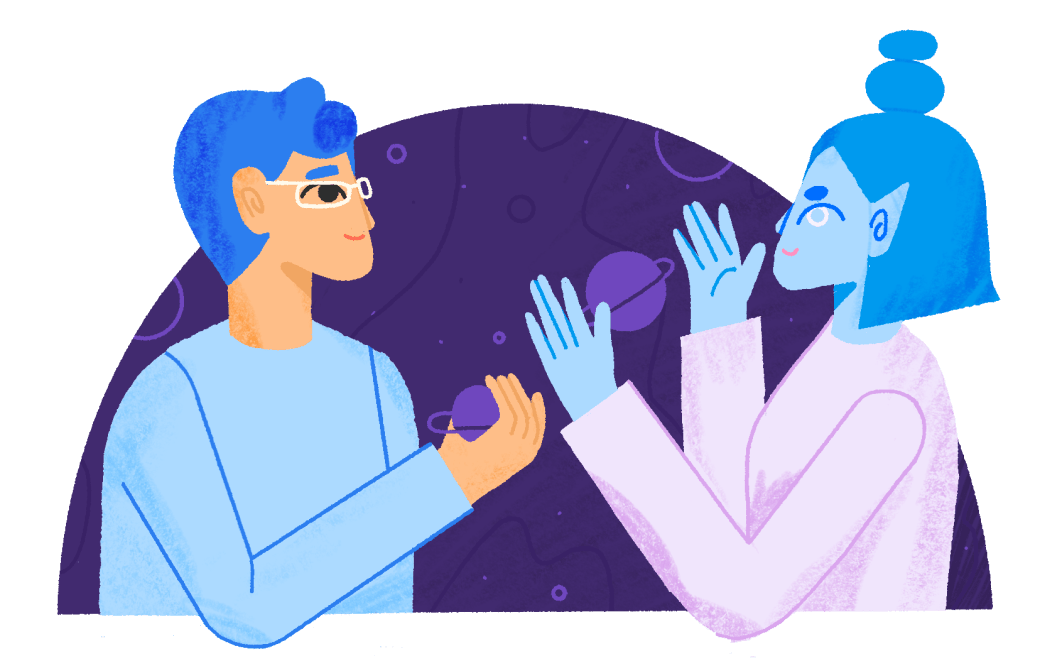 Move past conventional Standups and Slack overwhelm
Save time with a pre-built meeting structure and scheduler.

Close the loop on your development by capturing takeaway tasks directly on your preferred backlog management tool.

Access all updates on one screen, avoiding information loss in Slack threads.

Find your standup and updates with a permalink for convenient access.

Keep a written record of Standups with automated summaries for future reference.
Put everyone on the same page without lengthy meetings or Slack noise
| Features | Parabol | Slack Bot | Virtual Whiteboard | Spreadsheet |
| --- | --- | --- | --- | --- |
| Customized and Suggested Questions | | | | |
| Built-in Meeting Structure | | | | |
| Built-in scheduler | | | | |
| Discussion Threads | | | | |
| Anonymous Comments on Discussion Threads | | | | |
| Automated Summary | | | | |
| Slack/Mattermost Integrations | | | | |
| GitHub and Jira Integrations | | | | |
| CSV Export | | | | |
| Emoji reactions | | | | |
| More meeting types | | | | |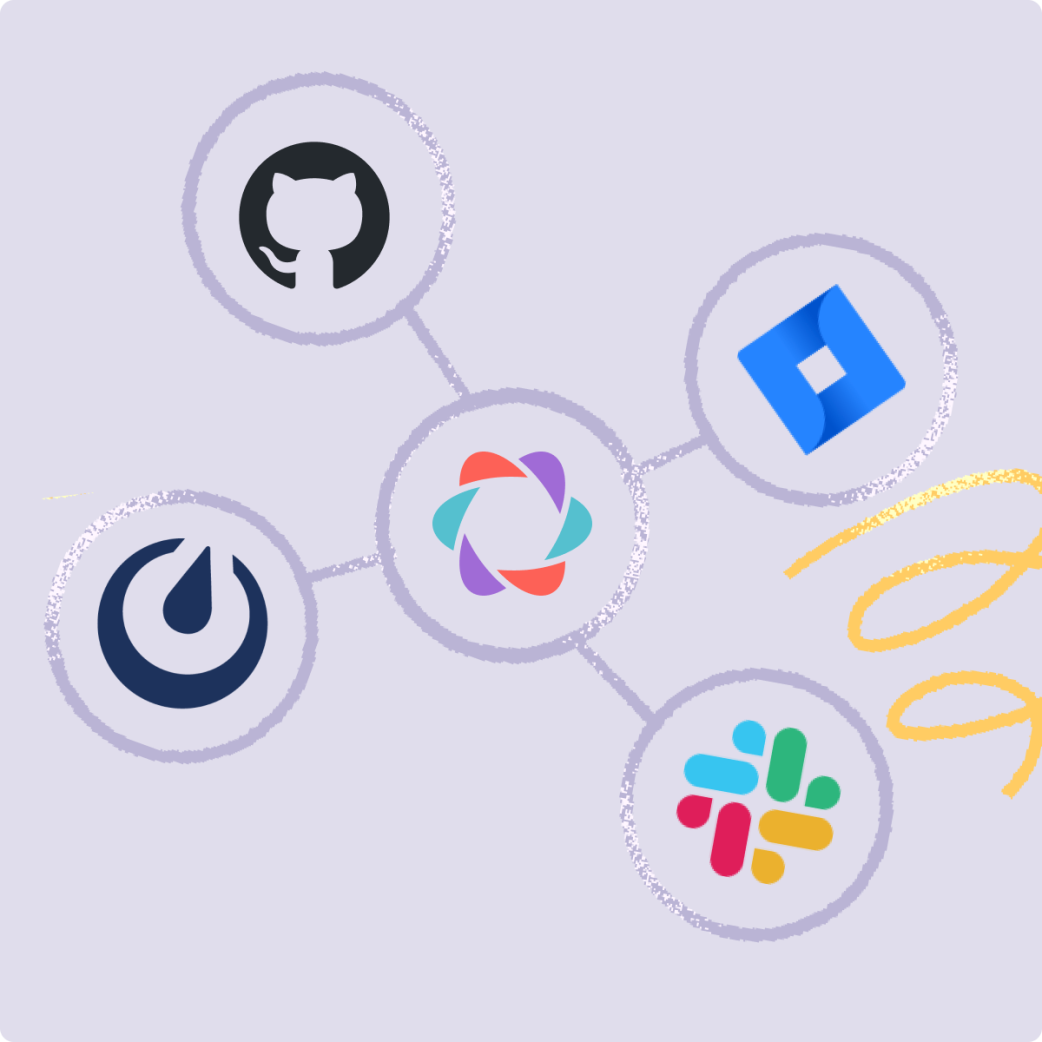 Integrate your Standups with tools you already use
Slot Standups right into your existing workflow.
Notify your team when a Standup is starting or ending via Slack or Mattermost

Share summaries with your team and stakeholders via Slack or Mattermost

Export action items from your task boards to your Jira or GitHub backlog

Add a Jira or GitHub task to your update.
Agile Teams Reach Their Goals With Parabol
Discover all the other ways Parabol can help your team or organization reach its goals