Structured Online Meetings for Remote & Hybrid Teams
Better Team Meetings, Less Effort
Your free online meeting co-pilot to keep team check-ins on track
Bring Structure to Your Virtual Team Meetings
Take your meetings to the next level – beyond a whiteboard or a video call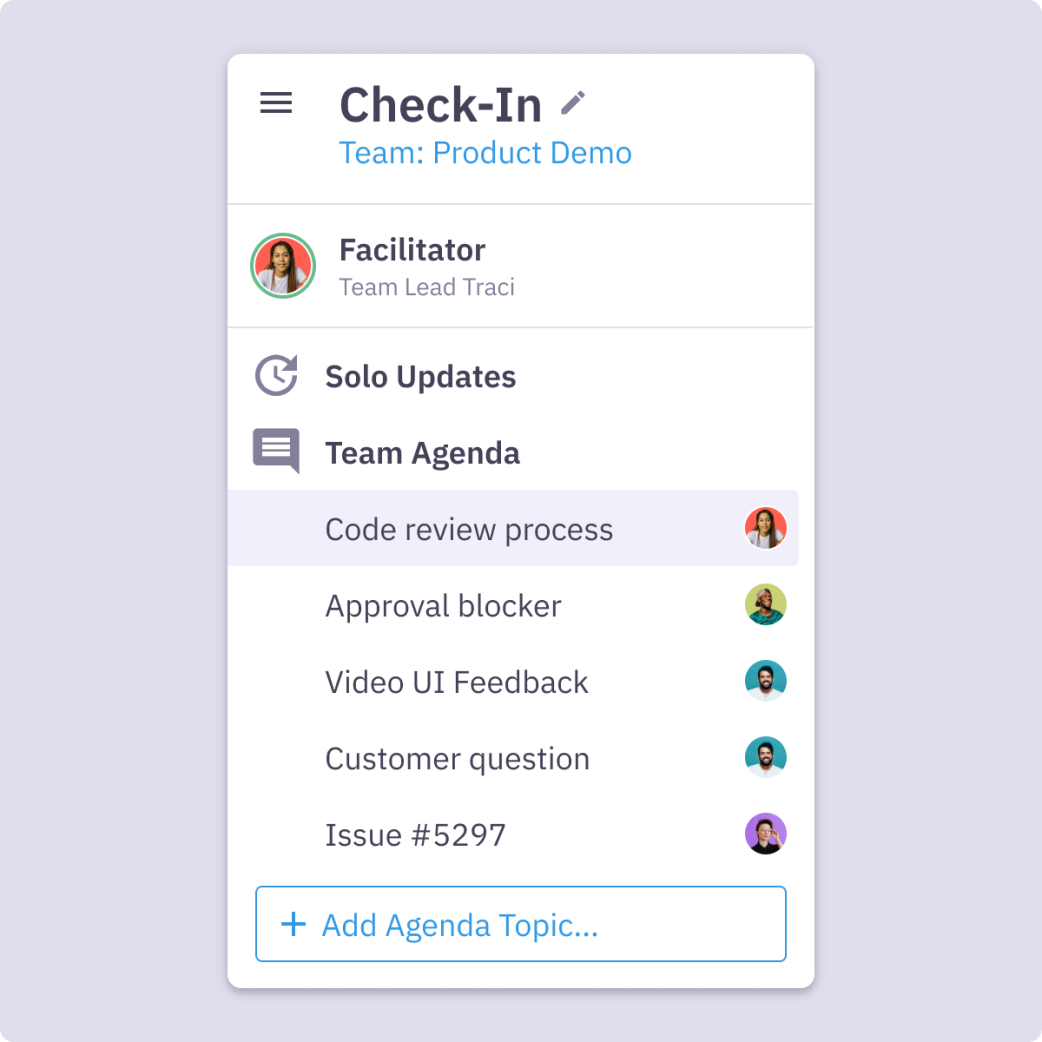 Resolve your questions with a collaborative meeting agenda
Empower your teams with a collaborative agenda that anyone can contribute to. Make virtual meetings more democratic and ensure they genuinely serve your team – not just "the boss".
Make your agenda more collaborative from the start:
Any

team member

can add agenda items before or during the meeting

Team members

can pin recurring agenda items 

Avatars show who added each agenda item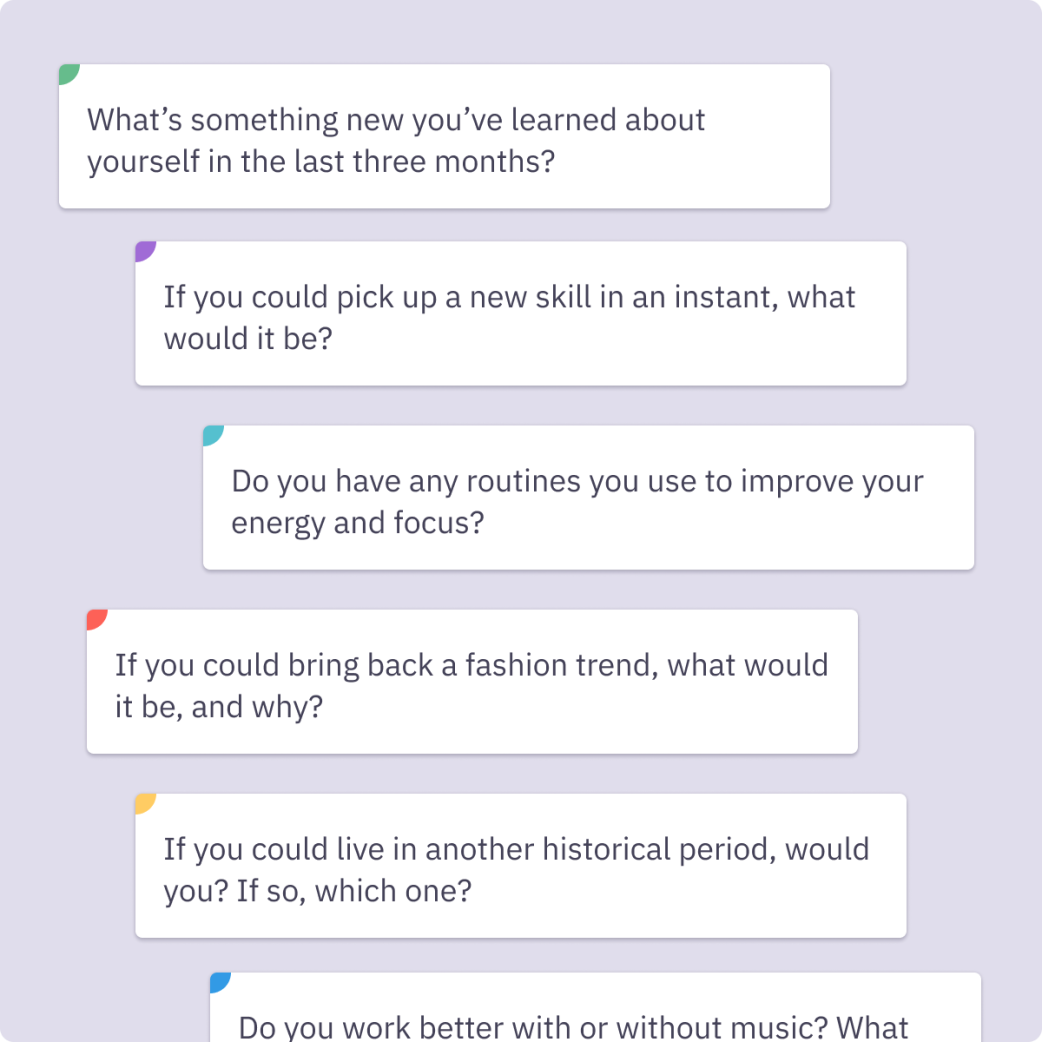 Get everyone talking with an (optional) icebreaker
Get quiet teams or team members engaged with a random icebreaker question. Refresh if you want another option, or fill in your own question.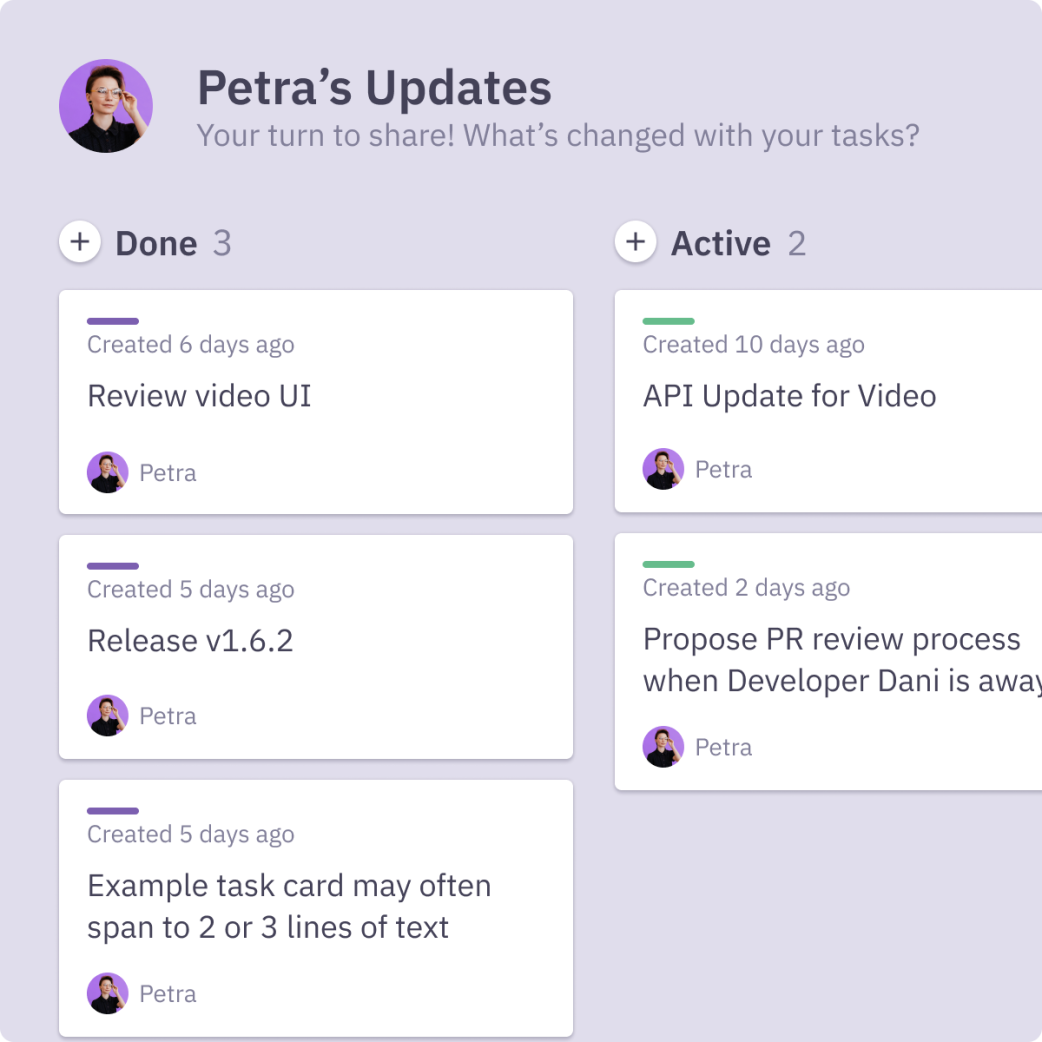 Share updates to celebrate progress
Start your meeting by hearing each team member's progress: 
Everyone can share their work, celebrate success, and hold themselves accountable for their own progress. 

Team members

listening to updates gain valuable context on what's happening across the team.
Agenda functionality lets teams add questions or topics for further discussion.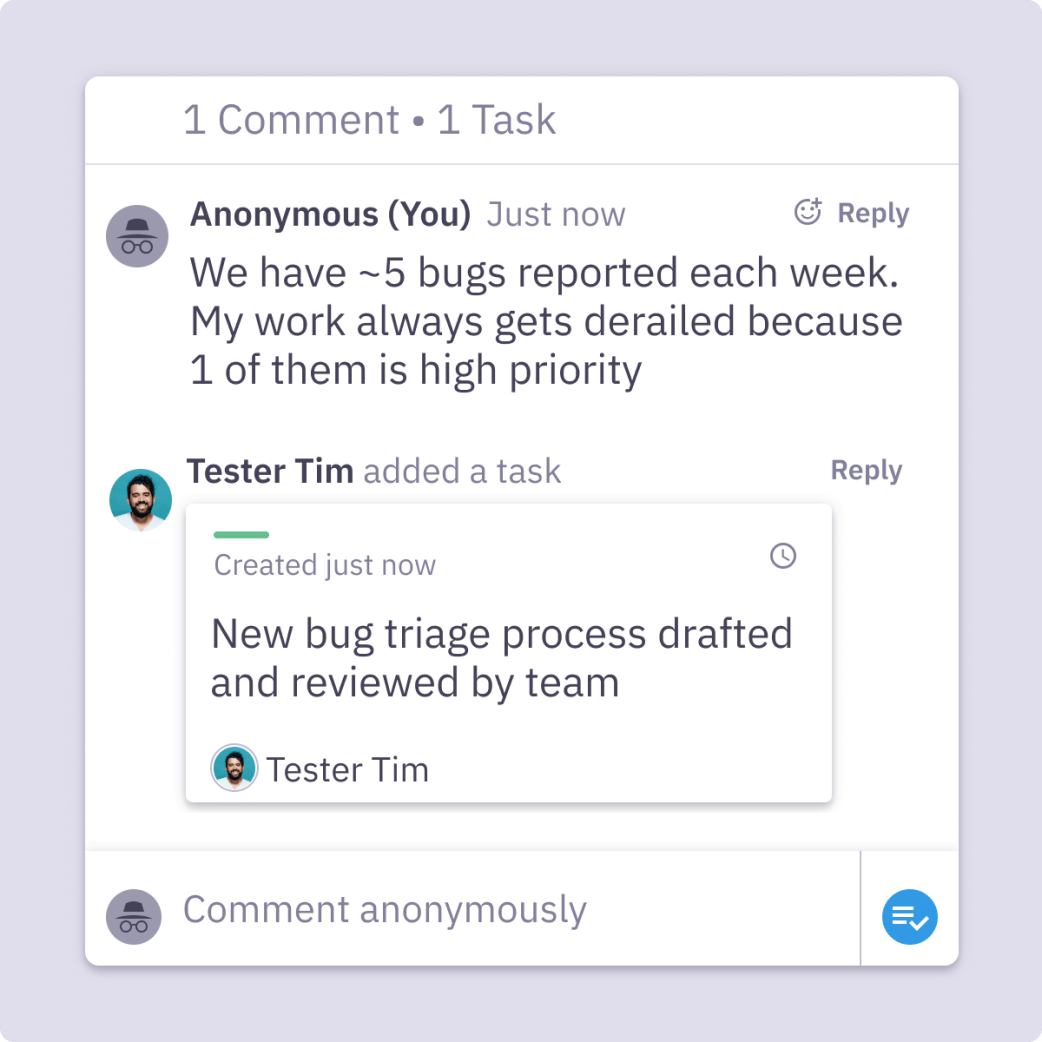 Resolve blockers with discussions and takeaway tasks
Work through each agenda item, asking the person who added it, "What do you need?". 
Team members

explain what they're looking for – information, help, a decision – and get what they need from their teammates. 

Anyone can create tasks directly in Parabol to move from discussion to action. 
Sync issues directly to Jira, GitHub or GitLab before you even leave the meeting.
Connect Team Meetings to Daily Work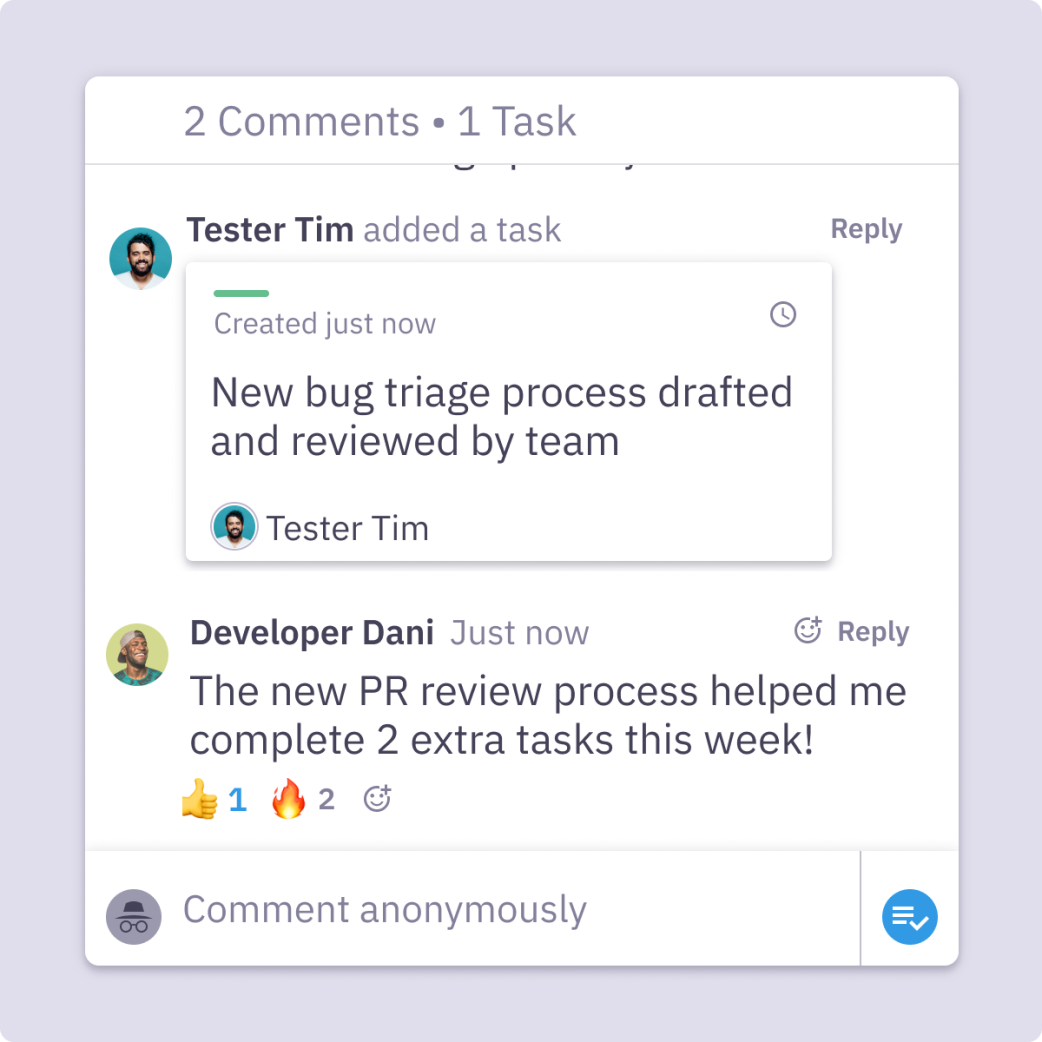 Document meeting discussions in one place
Let everyone participate in the meeting discussion by note-taking together in real time. 
Add comments to capture key discussion points as

meeting notes

Reply or add reactions to give non-verbal feedback 👏👏👏

Comment anonymously to share feedback you'd otherwise leave unsaid 
You can even run team meetings entirely asynchronously using these same discussion thread features.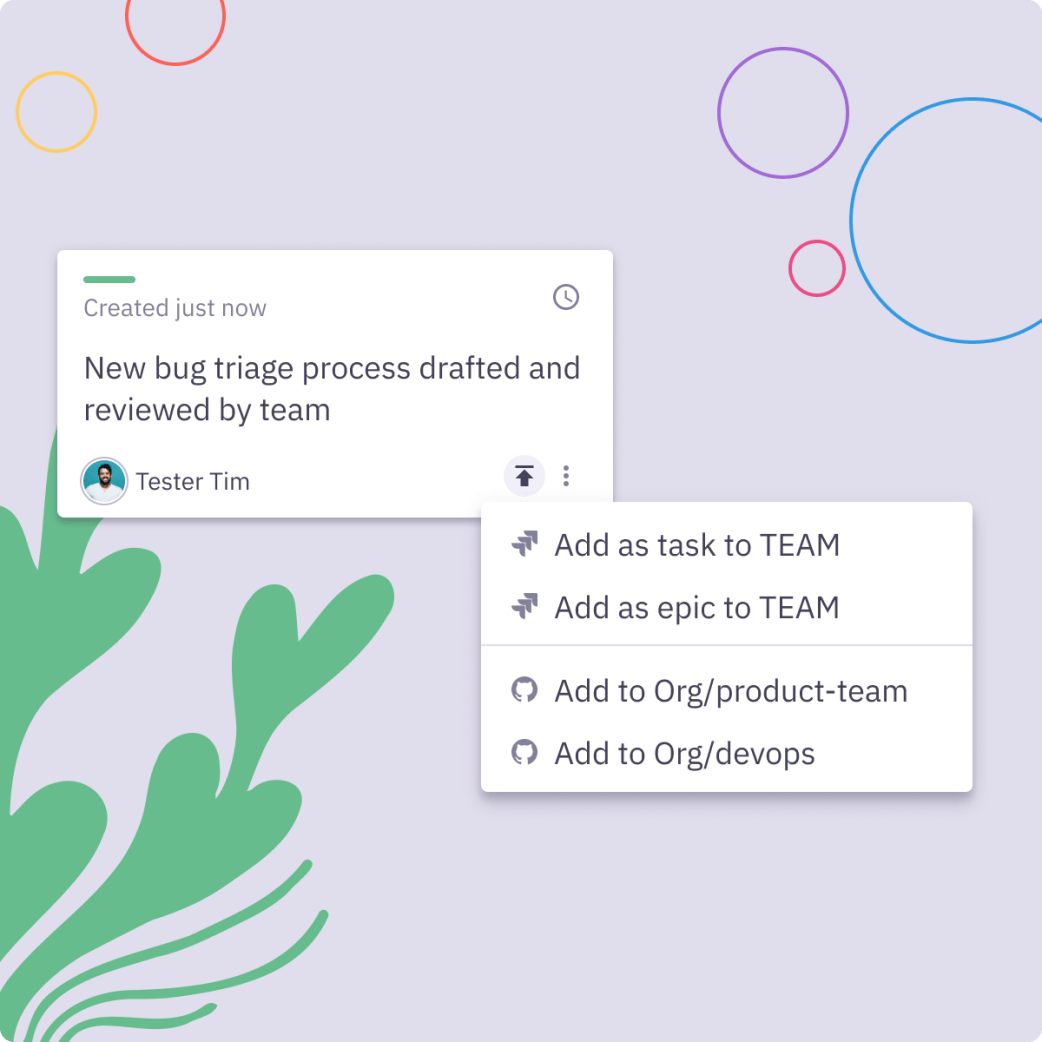 Organize tasks in your existing apps
Tasks added during your meeting integrate into your existing workflows in tools like Jira, GitHub and GitLab, before the meeting even ends. 
Send tasks to your favorite task management tool. Changes made in those tools will reflect in Parabol!  

Manage other to-dos with a built-in Kanban board directly in Parabol. View and manage tasks from across your teams in one spot. 

Automatically archive tasks in the Done column after your meeting – keep the plate clear for the next set of work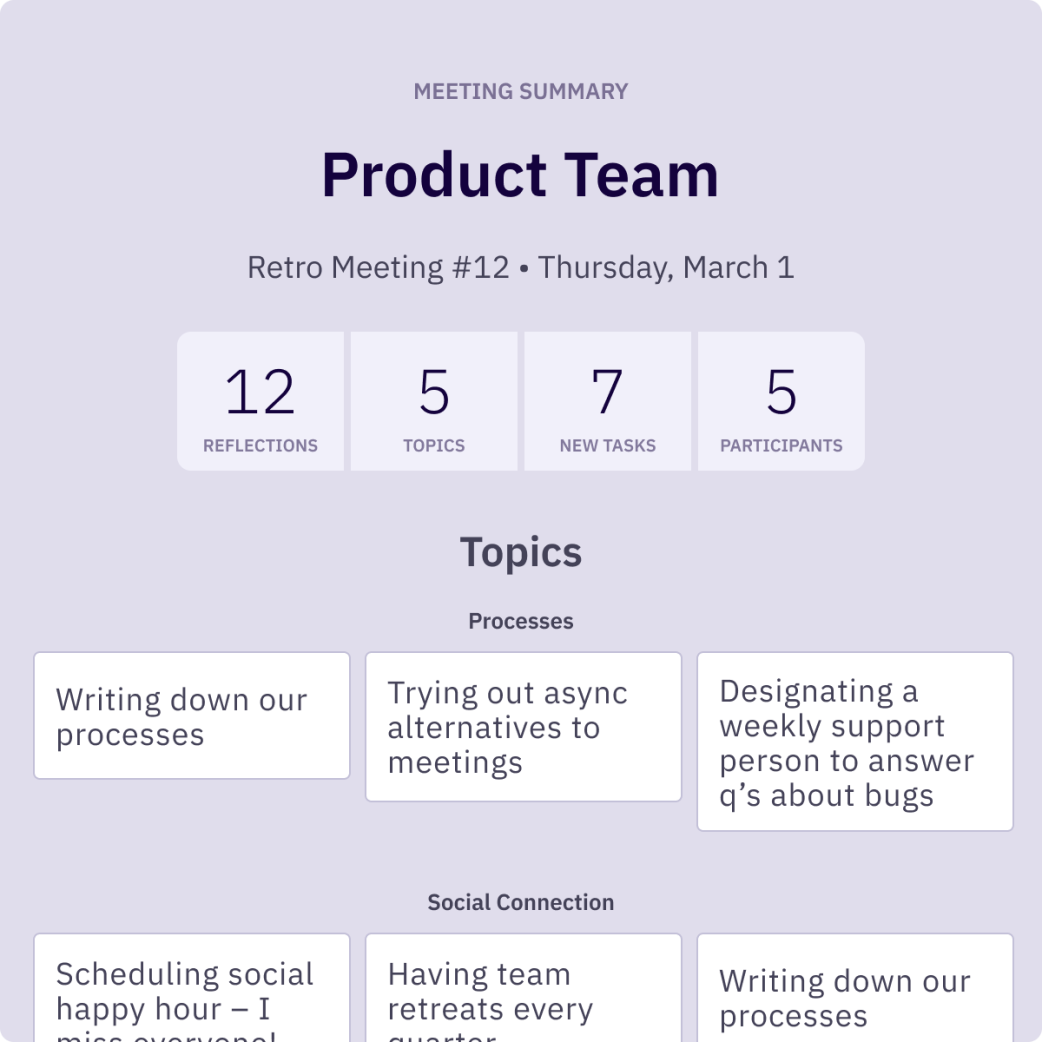 Stay updated with automatic meeting notes
Review your team meeting or catch up if you were out.  Parabol's automated summary includes:
The number of tasks completed,

Agenda items covered,

Who participated, and 

What takeaway tasks each

team member

  owns. 
Save time and effort getting everyone on the same page, and let stakeholders stay connected without taking up time in their busy calendars.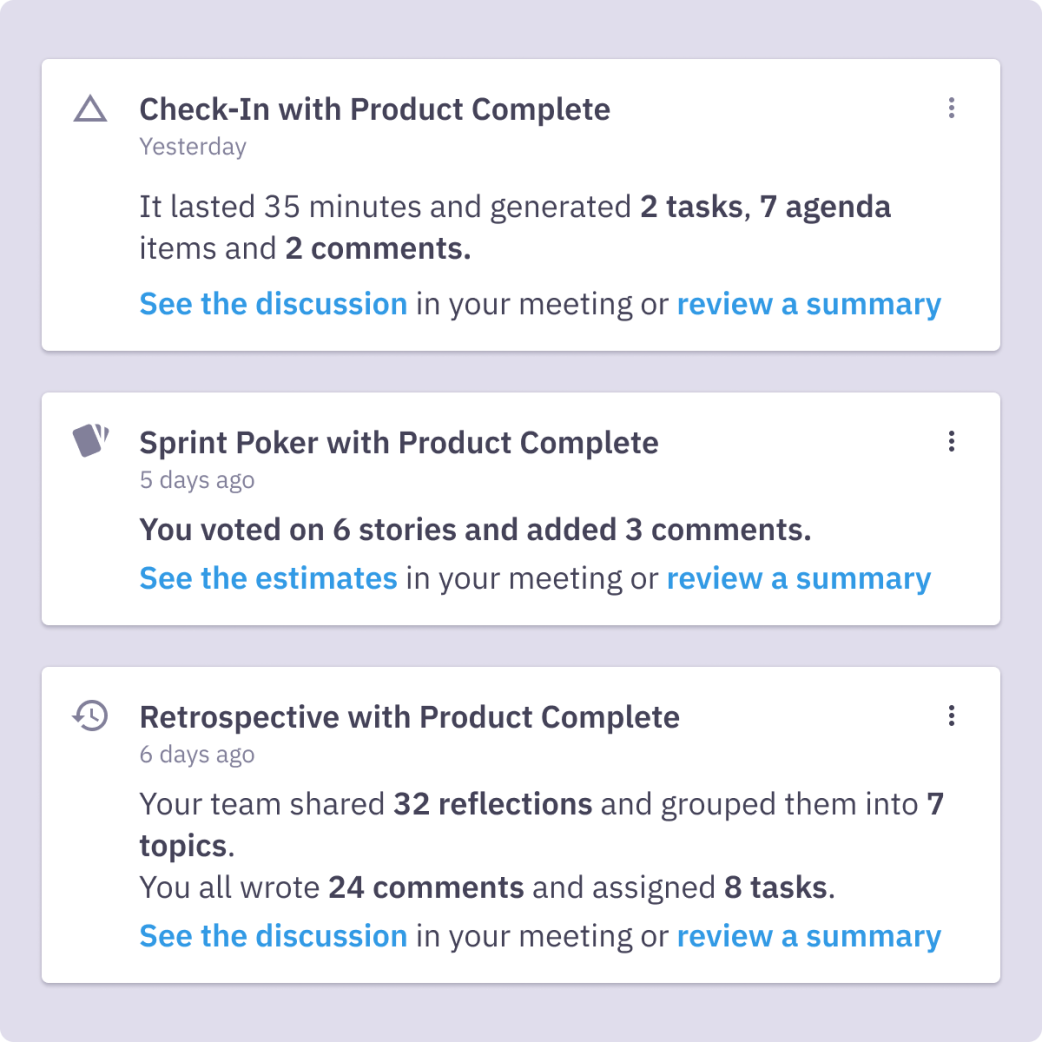 See your team's meeting history in one place
With real-time documentation through discussion threads, teams never have to remember how these conversations went – it's all stored in Parabol. 
Access a chronological record of your

team's meeting

history

Revisit the summary or the full discussion at any time. 

Export your learnings as CSV to analyze trends, upload them into another tool, or share with another group.
Make your Meetings Worth the Time
92% of users agreed that Parabol improves the efficiency of their meetings.
Structured Virtual Meetings to Get Your Remote Team Talking
| Features | Parabol | Collaborative Document | Project Management Tool |
| --- | --- | --- | --- |
| Facilitated icebreaker | | | |
| Built-in meeting structure | | | |
| Collaborative agenda | | | |
| Guided topic discussion | | | |
| Takeaway tasks | | | |
| Automated meeting summary | | | |
| GitHub and GitLab integration | | | |
| Jira integration | | | |
| CSV export | | | |
Agile Teams Reach Their Goals With Parabol
Discover all the other ways Parabol can help your team or organization reach its goals