Planning poker turns your boring traditional estimation meeting into a collaborative and engaging activity. But making planning poker function in the era of remote work has its own set of challenges: bad UI, time-consuming data input, and limiting online features all play their parts in complicating what is supposed to be a seamless, engaging, and highly productive activity.
The answer to this issue is specialized planning poker tools that make it easier for teams to vote on task complexity, discuss differing opinions, and, ultimately, arrive at well-informed estimations. But there's a big difference between the best and the worst of these tools.
In this article, we'll explore five of the best online planning poker tools that are worth your consideration. We'll delve into their features, ease of use, and cost so you can find the perfect tool for your team and set your future sprints up for success.
📌 Before we get started…
You're reading a listicle of the best planning poker tools on the Parabol website. And… well… Parabol makes a planning poker tool. I'll level with you. This will not be the most unbiased listicle you've ever read. I mean, we truly believe Parabol Sprint Poker is the best tool on the market, and besides, it's the only one we truly know inside-out. However, we also know that not everyone's needs are the same, so if you're planning to look elsewhere for a planning poker tool, here are the ones we think are worth your consideration based on our independent testing.
How do Planning Poker tools stack up on features?
We summarised each website and tried each tool first-hand to give you a condensed table of all the feature sets of different tools. Hopefully this helps you make an informed decision about which one(s) to try with your team.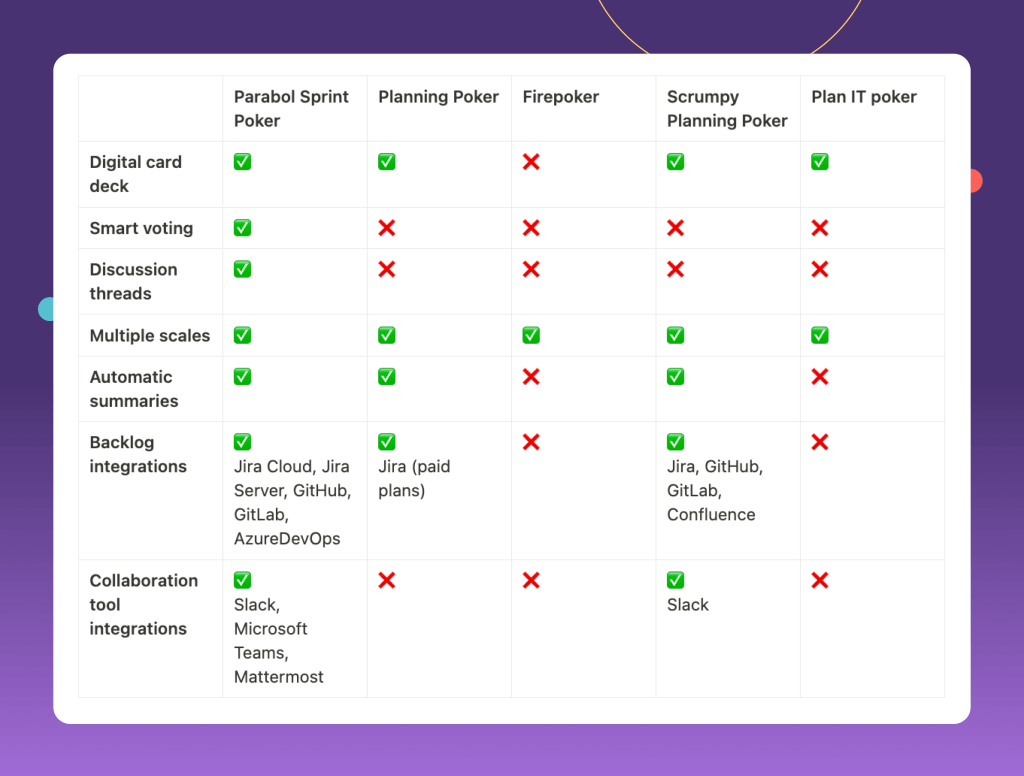 1. Parabol Sprint Poker
Parabol's Sprint Poker tool is an open source solution that has a simple interface, colorful card deck, and unexpectedly delightful features that nail a lot of the basics teams need. Parabol Sprint Poker comes with multiple estimation methods and scales built-in, as well as the option to create your own. It also generates automatic meeting summaries so absent team members can easily catch up later.
What sets Parabol apart is its smart two-way integrations that allow you to pull stories and issues straight into the tool from Jira, GitHub, GitLab, or AzureDevops, estimate them in Parabol, and then automatically sync the results back to your product backlog, saving you time and effort copying and pasting before and after the meeting or multi-tasking during your estimation session.
Parabol also prevents anchoring bias. Instead of having your team follow the leader, the smart voting system keeps votes secret until everyone finishes voting.
Parabol also offers more than just a planning poker tool. It's an agile meeting platform that includes check-ins, standups, retrospectives, and more, so you could eventually make your home for running all your agile ceremonies.
Pros
Open source: Open code base that can be inspected and contributed to.

Backlog integrations: Allows you to integrate directly with Jira, GitHub, GitLab, and AzureDevOps so you can pull stories and issues with automatically populated titles, details, and descriptions. Also, new issues and estimates generated during the meeting will automatically sync back to your integrated backlog. (Free plan)

Smart voting mechanics: Shows you who has voted, but not what they've voted, until everyone's done, to avoid anchoring bias. (Free plan)

Asynchronous friendly: Allows remote team members all over the world to estimate and contribute in their own time.

Communication tools: Uses a mixture of emojis and a built-in discussion thread so your team can make decisions together based on your estimates. (Free plan)

Automatic meeting summary: Parabol automatically generates a summary of each planning poker meeting, including details like final story estimates and the team's velocity. (Free plan)

Security: Parabol is open source and comes with multiple hosting options for paid users, so you remain in control of your own data (Paid plan)
Cons
Account creation: All team members need to create an account to use Parabol for data security reasons.
Price
Starter: Free for up to two teams

Team: $6 per active user per month

Enterprise: Contact the team for pricing details
All of these plans (including the free Starter plan) give you access to Parabol's planning poker tool. Find out more about what each plan offers on the pricing page.
2. Planning Poker
Planning Poker does one thing – planning poker meetings – and does it reasonably well. Planning Poker may not have as many features as other tools on this list, but that doesn't mean there aren't advantages to this simpler platform.
For example, Planning Poker only requires one person to have an account to join the meeting. For teams that don't do estimation meetings often, this saves people a lot of time creating accounts and logging in.
The free plan comes with all the basics you need, though the ads may bug people looking for a less distracting experience. The good news is you can pay extra to get rid of the ads, but they could make your first experience using the tool rather distracting.
Pros
Integrations: Allows for an integration with Jira so you can import and export stories. (Paid feature)

Custom settings: Allows you to save customized settings for your team's scoring and timer preferences. (Paid feature)

Pointing scales: Comes with four pointing scales on the free version and allows for custom scoring. (Paid feature)

Team velocity: Easily monitor team velocity from the meeting. (Paid feature)
Cons
Paid features: Many of the most useful features of the tool are only available on a paid plan, making it hard to get a lot of value from the free version.

Distracting ads in the product: You probably want your team to be focused during your estimation meeting, not distracted by retargeting ads for something that new bike they were considering buying on the weekend.
Price
Planning Poker has four pricing tiers:
Free Basic: Free with up to 5 players (with ads)

Standard: $14.95 per month with up to 10 players

Pro: $49.95 per month with up to 50 players

Enterprise: Contact the support team for pricing details
With all of these plans, only the host will need a paid account. All other participants can join for free without signing up.
3. Firepoker
The name of the game for Firepoker is simple: get a scrum poker meeting going in about one minute. There is no price, no login, and very little in the way of customizations. This is a good choice if you want to run a one-off or no-frills meeting and don't care much about good UX.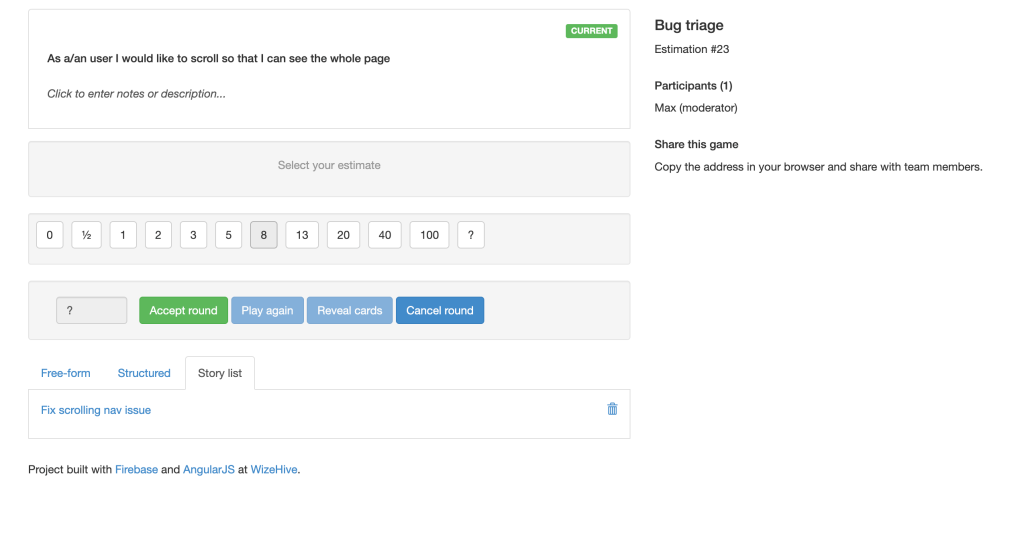 All you need to do is head over to their website, select "Play Now," add in some details like your name, stories, and the set of estimate cards you want to use, and you're ready to go.
Does it have the fancy bells and whistles of other poker tools? No. But for people looking for simplicity, Firepoker could be a good option.
Pros
Multiple estimation cards: Comes preloaded with five scoring card sets, including "Scrum," Fibonacci, Sequential, Hourly, and T-Shirt.

Easy sharing: Simply send the URL of the game to your team members to have them join.
Cons
Basic design: The UI of Firepoker is very basic, meaning it may not provide the fun and engaging experience you want from poker estimation. Oddly, the basic design makes it quite confusing because many data fields look the same. There is no digital card deck.

Time-consuming setup: Although running a meeting may be quick. Set up takes a long time. That's because teams must copy/paste stories into and out of the tool to estimate them and then record estimates. You not only have to copy in the title of each story but also add in the details for each one before you can move on. This can be fiddly and time-consuming.

Not ideal for security-sensitive orgs: The lack of security, copying/pasting sensitive data into and out of an online tool with no security credentials may cause some sleepless nights for data security professionals.
Price
Firepoker is a completely free planning poker tool with no paid plan or advanced features.
4. Scrumpy Planning Poker
In many ways, Scrumpy Planning Poker feels like the next step up from Firepoker. Like Firepoker, Scrumpy's main advantage is that it's incredibly simple to get a meeting going. With no signup, people are free to access Scrumpy, add in meeting details, and get started.
Scrumpy is highly accessible, with support for mobile and desktop devices. Plus, Scrumpy is available as an app on the Jira marketplace, meaning teams already in the Jira ecosystem can quickly pull their tasks from Jira and estimate them with this platform.
Unlike FirePoker, Scrumpy includes smart features like asynchronous voting, automated Confluence summaries, and multiple scoring systems.
Pros
Multiple platforms: Available on mobile, desktop, or through a Jira-integrated app.

Async voting: Allows teams all over the world to vote when it's convenient for them.

Integrations: Supports integrations with Jira, Slack, GitHub, Confluence, and GitLab.

Confluence summary: Automatically creates a Confluence summary of your meeting so you can keep up-to-date records. As one of the only planning poker tools with a Confluence integration, this might be a good choice if you use Confluence.

Colorful cards: We really like the colorful cards you can choose from in the card deck.
Cons
Complicated UI: Scrumpy's UI can be difficult to understand when you're just getting started. It isn't particularly intuitive, and there's only basic public support documentation to help you if you get stuck. We found the UI a bit overwhelming on first use. There are a lot of different drawers, tabs, and settings to get your head around leaving us wondering "are we doing this correctly?".

Hard to set up integrations: We tried for 15 minutes to set up a Jira integration but couldn't figure out how to from within the browser-based product – even after consulting support documentation. We didn't find it very user-friendly.

Not Open Source: The tool is not open source.
Price
Scrumpy Planning Poker is completely free with no paid plan or advanced features.
5. PlanITPoker
PlanITPoker is similar to Firepoker in being free and having a relatively simple user interface. However, PlanITPoker is much easier to use. When you want to estimate, the cards are clear, as is the process.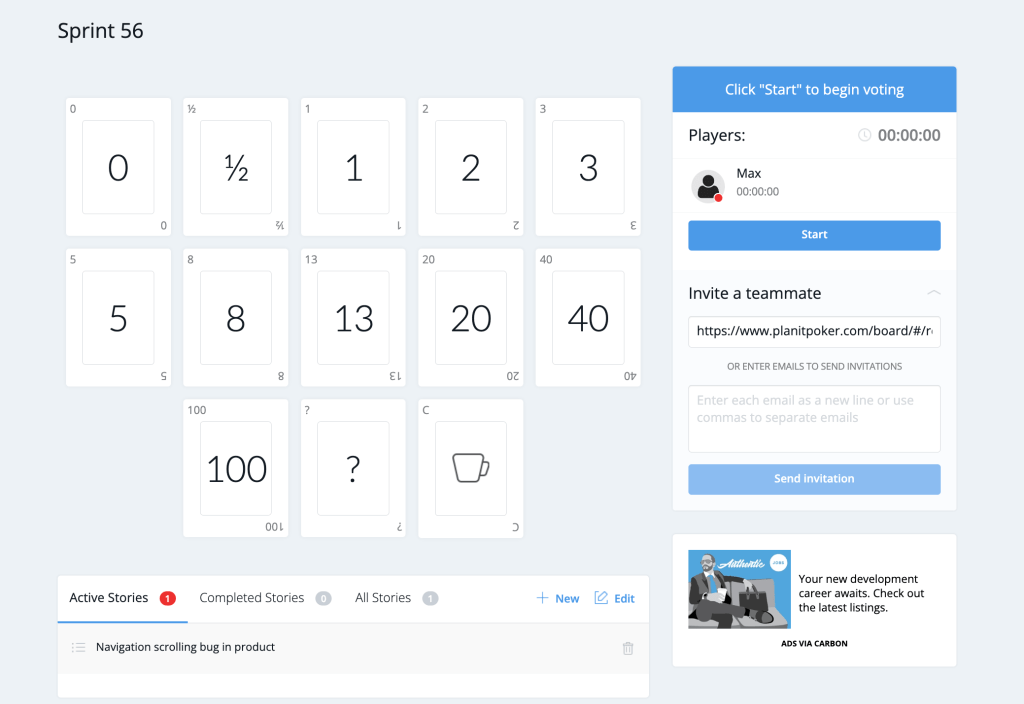 You can invite teammates with a link or via email, and they don't need to sign up for an account. Like other tools, you, unfortunately, have to copy/paste your product backlog items into the tool to begin estimating and then manually copy the final estimates back into your backlog, which can be annoying, time-consuming, and prone to human error.
There are a few nice little features, such as a coffee card — for tasks that involve as much effort as making (or drinking?) a cup of coffee. And a built-in timer so you can keep track of the time directly in your session.
The interface does include ads, and there's no way to get rid of them by paying. We didn't like how one of the ads popping up was from a recruitment company. It doesn't feel good to know your developers may be looking for a new job in the middle of your estimation meeting.
Pros
Customizable cards: You can set the meeting up with custom-numbered cards. But customization doesn't support emoji if you want to make a doggy scale or a fruit scale.

Various presets: When you sign up, there are various presets you can choose from to customize how you run your meeting.

Free to use: The tool is free to use with no paid tier or paid features.
Cons
No backlog integrations: Users must copy/paste backlog items into and out of the tool, then manually update estimates in their backlog tools.

Distracting ads in the product: While the ads in the product are relatively inconspicuous, they are still distracting. Do you want your developers looking for a new job in your estimation session and clicking recruiter ads? (see screenshot above).

Not open source: The tool is not open source.

Security concerns: The lack of security, copying/pasting sensitive data into and out of an online tool with no security credentials, may cause some sleepless nights for data security professionals.
Price
PlanITPoker is a free tool supported by advertising. There is currently no paid plan to remove advertising or unlock additional features.
What is the best free planning poker tool?
The best free planning poker tool is Parabol Sprint Poker, based on quality of the user experience, the number of features, free usage, and the existence of more backlog and chat tool integrations than other planning poker tools. This is backed up in G2 reviews where Parabol scores 4.6/5 based on 70+ reviews.
At the end of the day, great planning poker tools are only part of the equation. Every possible feature on the market still won't make a difference if you're not running these meetings properly.
Pair this guide with one of the recommended tools above, and you're well on the way to better estimation meetings and sprint planning for your team.
Run the Best Planning Poker Meeting of Your Life
Try Parabol Sprint Poker. It's free for up to 2 teams!