New: pinned agenda items and discussion threads in Check-in Meetings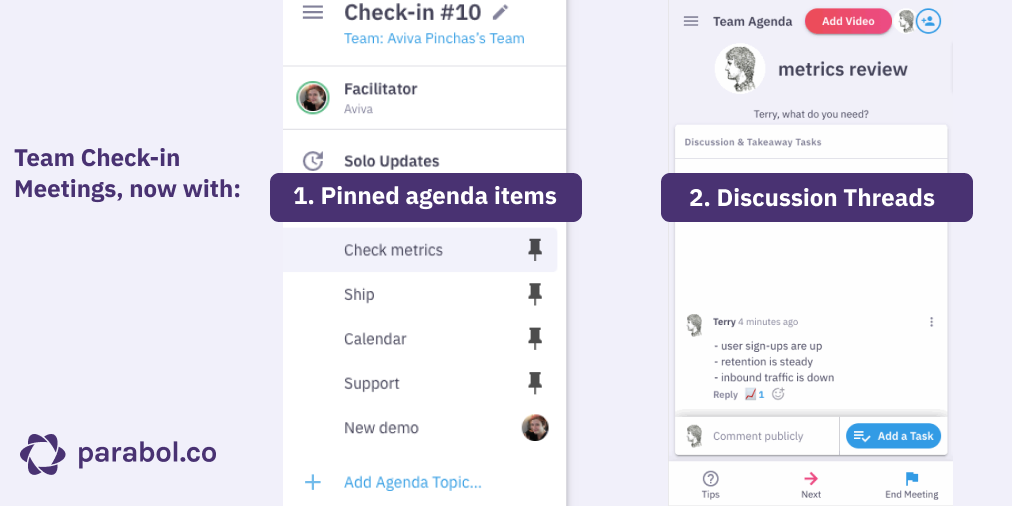 The first user-facing software we built was the Check-In Meeting. When Parabol was formed, the team ran this meeting every Tuesday. We would catch up socially, get an update on each individual's tasks, and process a list of agenda items shaped by the team.
Now, we've brought two new features to make them even better:
Pinned agenda items to hold onto topics you want to cover every week
Discussion threads to let teams hold conversations about agenda items directly in Parabol
These enhancements both came from developers trialing work with us!
Pinned agenda items help teams easily remember recurring topics
Unlike a shared document or static Kanban board, at the end of each Check-In Meeting, Parabol automatically clears the agenda items from the board.
That's a deliberate design decision — we think list debt is bad and detracts from what's important. We've all had the experience where an item sits on an agenda or a to-do list long after the need it represents is relevant. The item clutters virtual and mental space.
We believe that if a tension is strong enough, it will naturally recur, and the person that has that tension will add that item when the time is right again. Clearing items from the agenda after the meeting allows for a fresh start, a space for the tensions that naturally arise to find a home.
However, this doesn't solve for the meaningful, recurring agenda items that teams cover in each meeting. As more teams have been using Parabol, we've gotten feedback that folks often had standing agenda items each week. They felt friction at having to remember to add them to every meeting.
We've felt this on our teams, too. On the Product team, we check in on our metrics, review the sprint board, and touch base on outstanding support issues during our check-in meetings.
To solve for this we've added pinned agenda items.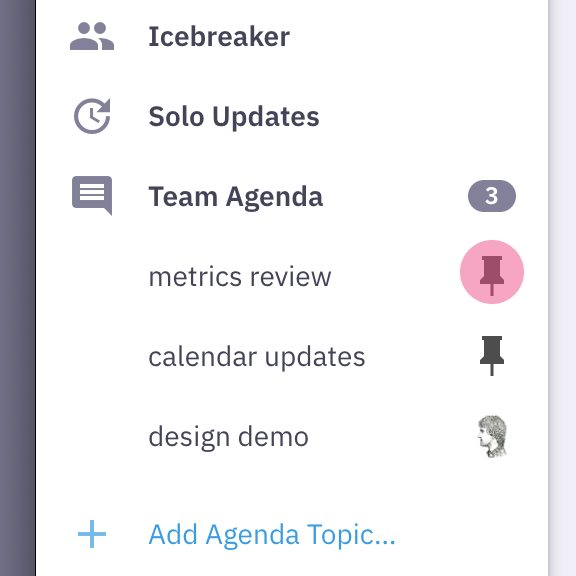 To pin an item, hover it in the agenda, then tap the pin that appears on the righthand side. Tap the pin again to unpin the item.
Pinned agenda items can be sorted by drag-and-drop interactions or removed from the list. If you have a special item you want to start with, you can bring that before your pinned items.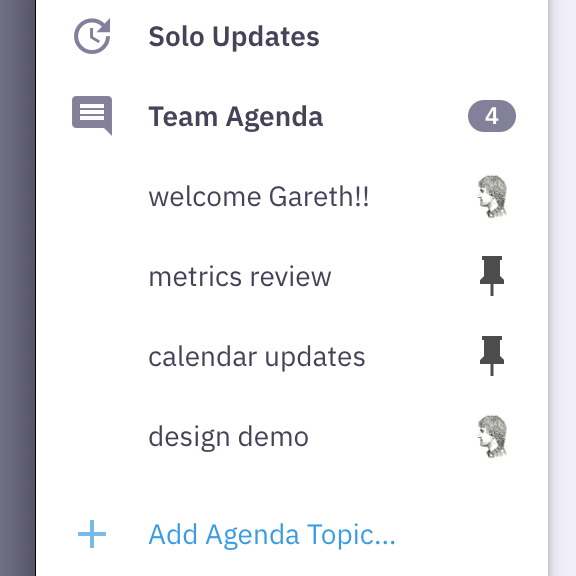 Discussion Threads allow teams to propose solutions, add ideas, make notes
A few months ago, we added Discussion Threads to the Discuss phase of our Retrospectives. By making comments and adding replies directly in Parabol, teams can have discussions asynchronously and also record their real-time discussions alongside the rest of their meeting. As soon as it launched, we wanted to bring it to Check-In meetings as well.
Until now, in the Team Agenda phase of Check-In meetings, folks could only create takeaway tasks. In creative fashion, we found that some users would take notes on a card, perhaps adding the #private tag so only they could view it.
Seeing users forge their paths around our interface, we realized that bringing Discussion Threads would solve a user need — folks need a place to jot down notes or comments, especially when there's not a clear takeaway task for an agenda topic.
With Discussion Threads, teams can:
Pen down helpful notes to remind themselves about decisions or processes they talked about
Jot down key details so that teammates who can't make the meeting can review the discussion in async fashion
Propose solutions in different comments and use emoji to vote on preferred options
Reply to comments to ask questions without interrupting the flow of conversation
On top of these, we're betting users will find other creative ways to use the thread that will spark new ideas.
New features from new folks: Batting Practice
There's another reason we're excited about the features we've launched: both of these enhancements were added by developer candidates in our talent pipeline during something we call Batting Practice.
In Batting Practice, we engage in a small scope of paid contract work with job candidates. It's the final phase of our remote hiring process before making an offer.
This practice is a win all around:
Candidates and the team get a better idea of what it's like to work together
Candidates are making real contributions to an open-source codebase
We get to ship more user-facing enhancements like these!
Especially for remote teams, trust has to be quite high before you extend an offer. For us, Batting Practices helps us pass that final hurdle and decide whether we truly trust our product in the hands of these new folks.
Make your next Check-In meeting worth it
We hope by adding pinned agenda items and discussion threads, we can help teams make more of their time together.
All your agile meetings in one place
Run efficient meetings, get your team talking, and save time. Parabol is free for up to 2 teams.