You're standing on the brink of new opportunities in your career, education, or personal life, and you're eager to seize them. But there's a nagging feeling that you could be better prepared for what's to come. If that sounds familiar, you might benefit from doing a personal SWOT analysis.
In this article we'll cover how to run your first personal SWOT analysis, and cover everything you need to know to make it a success – from top tips and guiding questions, to alternative activities that might help you reach your goals even better.
What is a personal SWOT analysis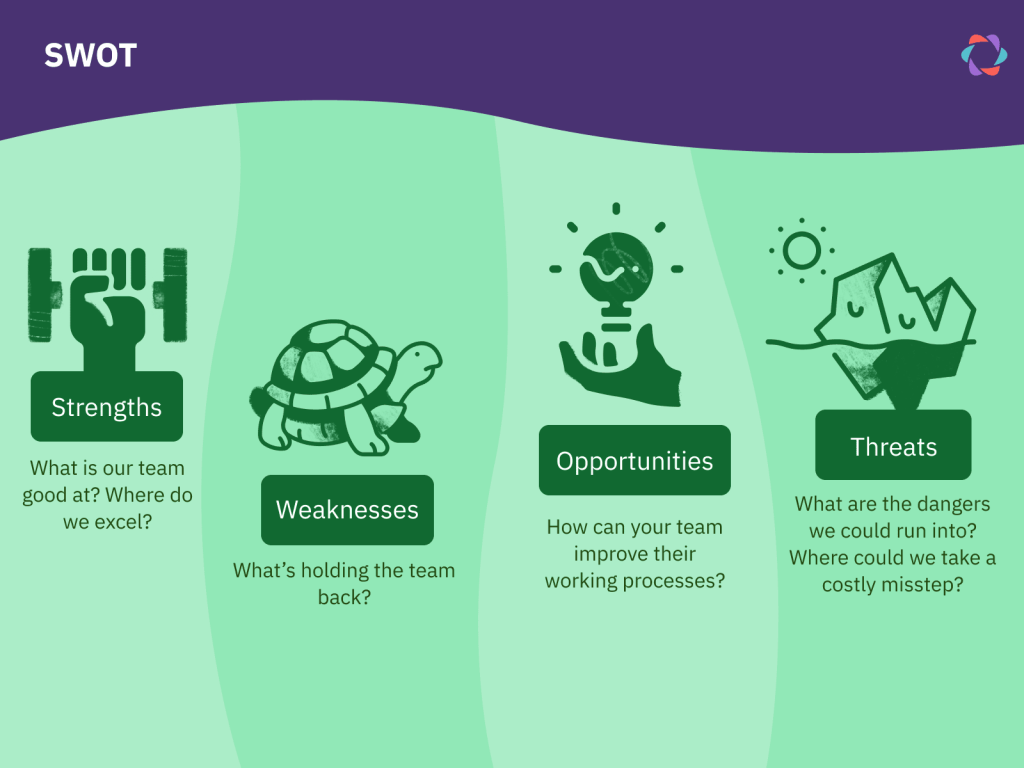 A personal SWOT analysis is a self-assessment tool that individuals use to evaluate their strengths, weaknesses, opportunities, and threats in various aspects of their lives. SWOT stands for:
Strengths: Your personal strengths or the characteristics that give you an advantage in achieving your goals. Strengths can be skills, qualities, resources, or anything that sets you apart from others.

Weaknesses: Personality traits, bad habits, or gaps in your skillset that hinder your progress or pose challenges. Weaknesses are areas where you may need improvement or development.

Opportunities: These are external factors and situations that you can leverage to your advantage. Opportunities are things like market trends, job openings, personal connections, or any external factors that could help you achieve your personal goals.

Threats: Potential threats that could potentially hinder your progress or pose a risk to your goals. Threats could include competition, economic downturns, personal obstacles, or anything else that might impede your success.
The purpose of conducting a personal SWOT analysis is to gain a clearer understanding of your current strengths, weaknesses, and capacity to act, so you can develop a strategy for personal or professional growth.
Personal SWOT Analysis: Easy Step by Step Guide
Here's a structured approach to running a personal SWOT analysis that will give you clear next steps for self-improvement:
Pick your personal SWOT analysis template: Decide where you will do your SWOT analysis. We recommend setting up your SWOT analysis with Parabol's free SWOT template. We recommend this approach because Parabol will give you a structured step-by-step process to follow that guarantees a positive end result. You could also do a SWOT analysis by hand with a piece of paper and a pen. If you choose this option, simply divide your piece of paper into 4 sections for strengths, weaknesses, opportunities, and threats.


(Optional) Invite participants: Will you run this meeting alone? Or will a partner, friend, or a team of people join you? Invite people via Parabol if you need to. Since this is a personal SWOT analysis, you may want to only include self reflection, so feel free to skip this step.


Start the activity and begin reflecting: Once you start the SWOT activity in Parabol you can reflect in your own time on each of your strengths, weaknesses, opportunities, and threats in the appropriate column. Simply press enter to submit each individual thought or reflection. If you get stuck or don't know where to begin, try using the personal SWOT analysis questions below to guide your responses.


Group related points into themes: When you've finished writing up your SWOT analysis, hit the next button and you can group them into themes. Perhaps a weakness and an opportunity share a similar theme? Perhaps a strength and a threat cover the same topic. By dragging and dropping to group these, you'll make your first steps to figuring out an action plan.


Vote for the grouped topics to create a prioritized list: Based on the groups you created, think about which issues you want to prioritize working on. Give these items a vote. This will create a prioritized list you can work through in the next section.


Reflect on your top issues: The next step is to work through your prioritized list of topics and for each one jot down some notes or further thoughts in the discussion thread and make some plans for how to double down on a strength, address a threat, improve a weakness, or seize an opportunity. Our friendly AI will help summarise each topic, and provide some prompting questions to help you get started with this.


Wrap up your personal SWOT analysis and execute your action plan: By this stage you should have greater clarity on what you want to work on next. Maybe you have some action items or tasks to tackle next. Make sure all the goals you set are SMART (specific, measurable, realistic, achievable, and timebound). Consider this your self-improvement plan! When you end the activity in Parabol, we will send you an email summary so you can refer back to your personal SWOT analysis anytime in the future.
When to do a personal SWOT analysis
Not sure if a personal SWOT analysis is right for you? Here are a few instances where we think it can help a lot.
🛣️ When you're trying to change your career path: Changing career path isn't always straight-forward. You may need to build up additional skills, earn certifications, learn a new technology, and be able to present yourself credibly in a job interview. A personal SWOT analysis can help you figure out the first steps to make sure you stand the best chance of landing a new job or making the most of your career growth.

💜 When you want to improve personal relationships: Personal relationships aren't always plain sailing. As part of a therapy process you may want to consider how you show up in your relationships via a SWOT analysis. This can not only help you gain more self-awareness but can also help you process feedback or criticism from others in a productive way so you can improve satisfaction with your personal life.

🗓️ At the end of the year: The end of the year is a natural time for us to reflect. Use a personal SWOT analysis to take stock of your position at the year end, and set some personal goals for the upcoming year. You can use this activity to cut through the noise and improve decision-making on what to prioritize for personal growth or career development.
Benefits of doing a personal SWOT analysis
How often do we really take a step back and assess our strengths and weaknesses? Sometimes the last thing we want to do is take a cold hard look in the mirror. But it can have huge benefits for those who are willing to go through the process.
The benefits of a personal SWOT analysis include:
🧠 Improved self-awareness: Perhaps the most important skill for adult humans to learn, doing a SWOT analysis helps us build self-awareness and have an honest ego-free discussion with ourselves about how we can improve.

🎯 Greater clarity on goal-setting: When we don't take the time to step back and reflect, we can easily get caught up in the day to day of tasks and obligations. Running a personal SWOT analysis allows us to step back and take a sober look at our current position. Slowing down in this way can give you a lot of clarity on where to focus your effort for maximum impact.

🧳 Better preparation for the unknown: Life likes to throw curveballs at us when we least expect them. A personal SWOT analysis can help you be ready for everything. When you actively work to convert weaknesses into strengths and threats into opportunities it's hard to truly be caught off guard.
Personal SWOT Analysis Template and Alternative Activities
If you're looking for inspiration for how to run a self-improvement exercise beyond the SWOT analysis or in different contexts, here are a few options for you.
SWOT analysis template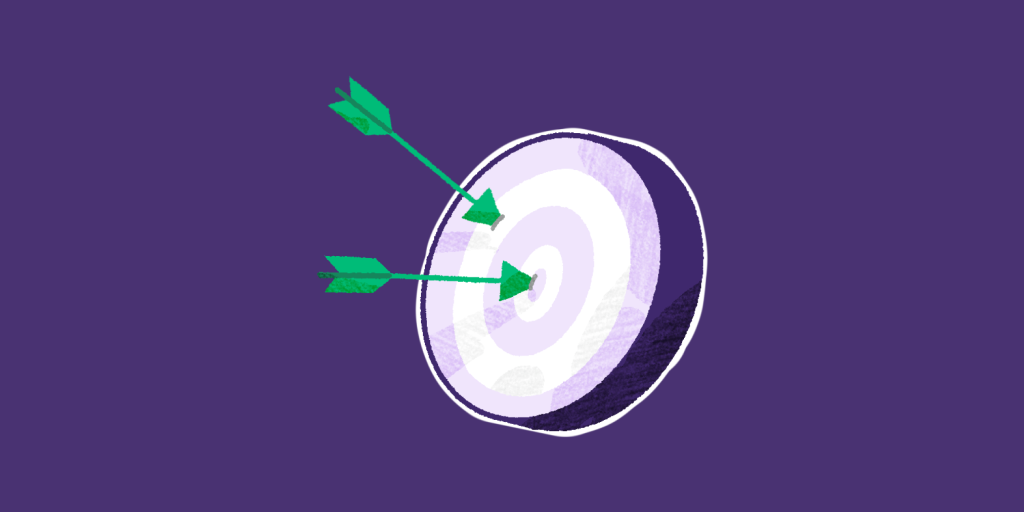 This is the classic SWOT template that you can run for free in Parabol. It helps you analyze your strengths, weaknesses, opportunities, and threats.
What went well template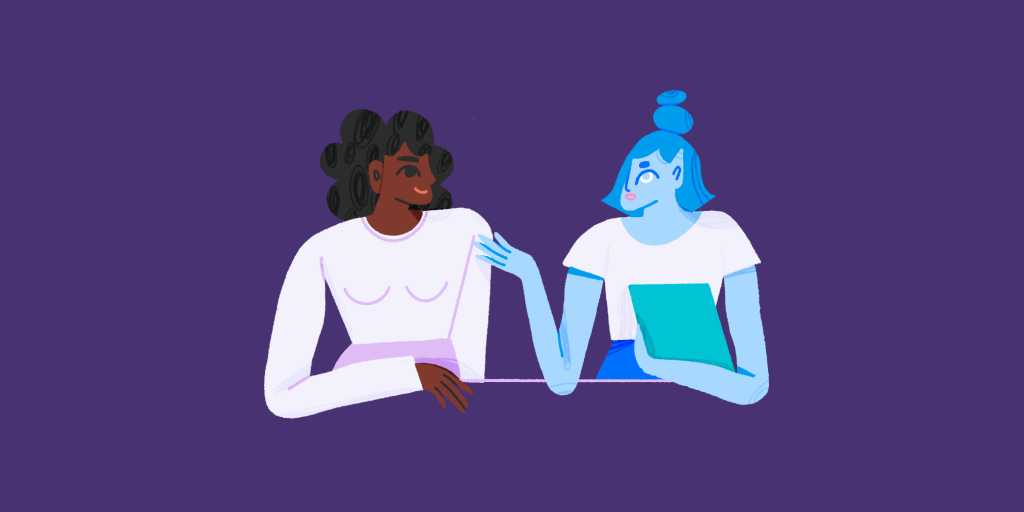 Maybe you're not that interested in a SWOT analysis, but would prefer to review how the year went? Try a "What Went Well" retrospective. This simple activity prompts you to think about what went well and what didn't go so well.
Working and Stuck
Another alternative is the Working & Stuck retrospective. Some things are moving like clockwork but you feel stuck with others? This activity can complement the personal SWOT analysis well by helping you to look at where you're struggling to get started, so you can figure out why and invest in your personal development to improve things.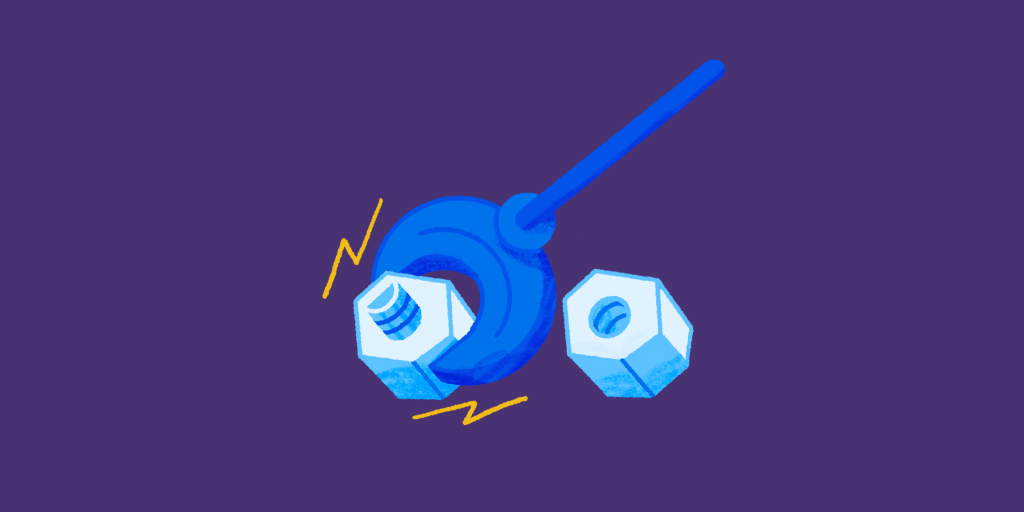 Personal SWOT Analysis Questions
There's nothing worse than staring at a blank screen not knowing where to start. So begin your personal SWOT analysis by trying to answer these questions. Note down as many answers as you can in each column or quadrant of your SWOT analysis template.
Strengths (Internal, Positive Aspects)
What are my key skills and competencies?

What personal qualities or characteristics set me apart from others?

What accomplishments am I most proud of?

What resources (financial, educational, social) do I have at my disposal?

What experiences or skills give me a competitive edge?
Weaknesses (Internal, Negative Aspects)
In which areas do I lack skills or knowledge?

What bad habits or behaviors might hinder my progress?

What past mistakes or failures have I experienced that could indicate weaknesses?

Are there any personal limitations or constraints I need to address?

What feedback have I received (personally or professionally) on areas that need improvement?
Opportunities (External, Positive Aspects)
What emerging trends or changes in the external environment could benefit me?

Are there new markets, job openings, or ventures that align with my interests and skills?

Do I have personal or professional connections that can open doors for me?

Are there upcoming events or situations that I can leverage to my benefit?
Threats (External, Negative Aspects)
Who or what are my competitors or obstacles in achieving my goals?

Are there economic, political, or environmental factors that could pose a risk to me achieving my goals?

What are the external challenges that I have little control over?

Do changes in technology or regulations threaten my current situation?

What personal or external barriers may stand in my way?
For more SWOT analysis questions to guide your reflection process check out our resource of 75+ SWOT Analysis Questions. These questions are geared more towards teams that want to use SWOT to do strategic planning, but they might help you as well.
Personal SWOT Analysis Examples
We've covered how to run a personal SWOT analysis, but not what you actually write or what it looks like. Here are a few examples and pointers for how to draft up your responses.
SWOT strengths examples
I have strong analytical skills: I excel at analyzing data and making well-informed decisions.

I am good at communicating: My ability to articulate ideas and connect with people is a strong asset. I have good communication skills.

I am thorough with the quality of my work: My work is always of a high quality, and I have received feedback on this from my manager.

I'm creative: My innovative thinking and problem-solving abilities set me apart.

I have a strong work ethic: I'm dedicated and committed to achieving my goals.
SWOT weaknesses examples
I tend to procrastinate: I tend to put off tasks until the last minute, which makes me stressed and disappoints others.

I have public speaking anxiety: I feel nervous when speaking in front of large groups and this limits my ability to grow in my career and be seen as a credible voice.

I lack technical skills: I struggle with understanding code, and this limit my ability to contribute to discussions at work.

I'm impatient: I often want to see immediate results and get frustrated if things take time.

I find It hard to delegate: I prefer doing everything myself and struggle to delegate tasks to others.
SWOT opportunities examples
There's a market demand for my skillset: There's a high demand for my expertise, which means there are plenty of relevant job opportunities in the market.

Upcoming networking events: I could attend industry conferences and events and focus on expanding my professional network.

I can do some online courses: E-learning platforms offer courses that can help me acquire new skills or certifications.

Job openings in my field: There are job vacancies in my desired industry or profession where I might be able to have a better work/life balance or earn more.

I can capitalize on growing industry trends: An industry I'm interested in is experiencing rapid growth. I can position myself as an expert in this industry as it is growing.
SWOT threats examples
Economic downturn affects my job security: The unstable economy and funding situation of my company might affect my job security.

Increasing competition in my field: More people with similar skills and qualifications are entering my field as it is growing in popularity.

Technological advancements threaten my competitiveness: Rapid technological advancements like AI may make my job obsolete or make my perceived value in the market decrease.

Health-related risks: Health issues or personal challenges may hinder my ability to achieve my goals.

Rental stability: My landlord may increase the price of my rent putting me in a tricky situation.
General tips for your personal SWOT analysis
Before you get started with your SWOT, here are a few general pointers to bear in mind. These points might help you have a more productive and fruitful reflection process.
Review feedback you've received: Whether it's from work, school, or a loved one, review feedback you've received either positive or negative, and use this to inform your responses. As humans we're not always good at getting an objective view on our own strengths and weaknesses, so take into account feedback from others to compile your strengths and weaknesses.

Ask for feedback: If you're lacking feedback from others, then you can always ask your peers for some insight into your strengths and weaknesses. You can even invite them to your Parabol template to contribute their thoughts!

Focus on how you feel as well: A SWOT activity doesn't have to be just about the hard facts. A strength can also be that you enjoy doing something that others do not. Take a look also at where your motivation is rather than just your cold hard ability.
Get started today with Parabol
Parabol offers a simple way to reflect on your progress with a personal SWOT analysis. But that's not all, you can run countless self or team improvement activities all for free. You can learn more about Parabol by checking out our full suite of activities.
All your agile meetings in one place
Run efficient meetings, get your team talking, and save time. Parabol is free for up to 2 teams.