Not Just a Retro Tool
Friday Ship #322 | October 28th, 2022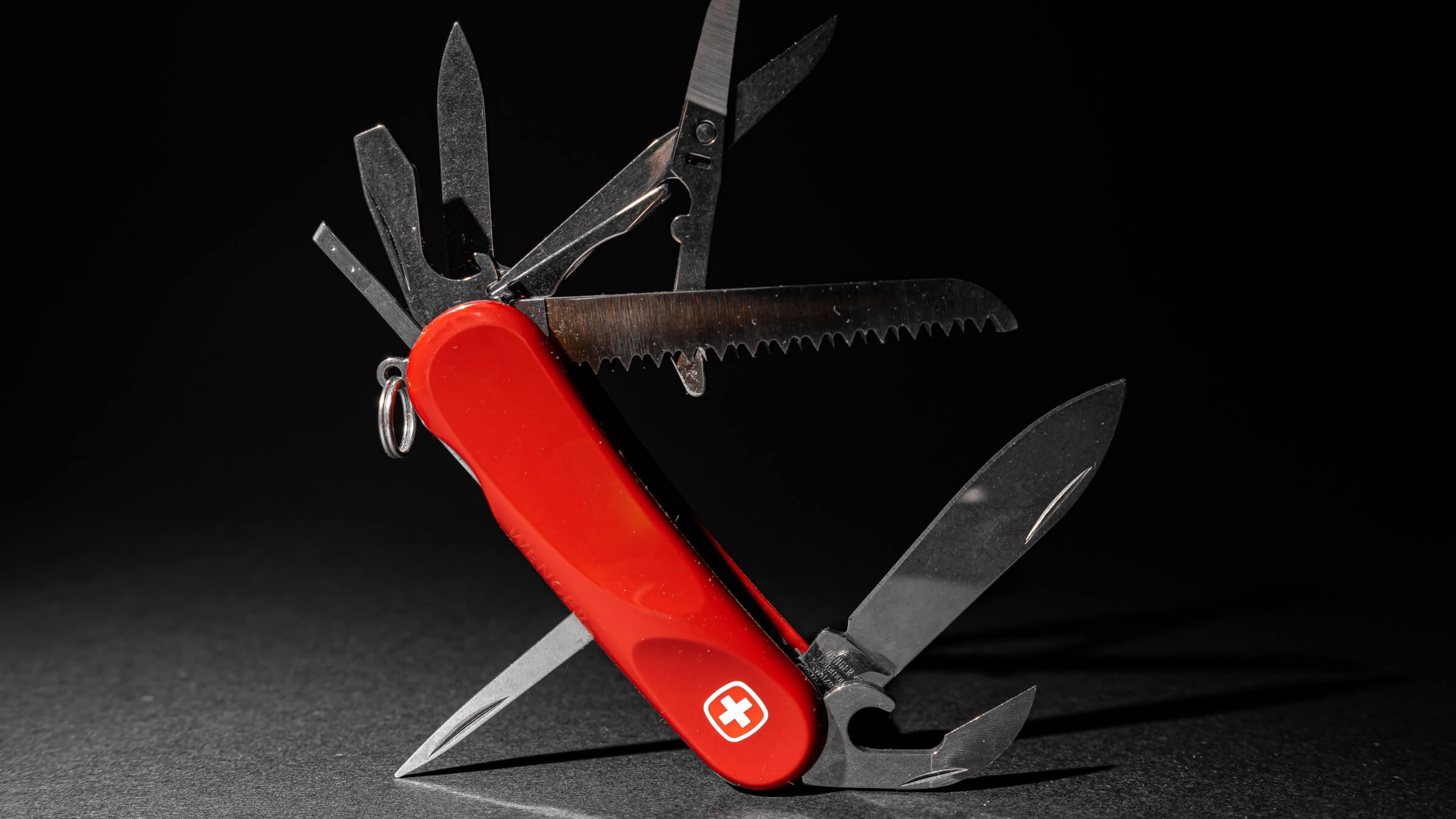 When we started Parabol our mission was to enable meaningful interactions at work. We wanted to create software that makes every meeting worth the time invested. In our efforts to meet a market where it was we started with the agile practice of product and engineering teams.
One of our product squads has been exploring how we expand into the broader context of team and company activities, meetings, and communication. This thinking is not new to us — our mission has had us pondering this for years. The question is: what might our next product offering be?
A few clues as to where we might expand are in how we've been using our software beyond agile. Here are a few of the activities we run at Parabol using the Retro activity type.
Company AMAs
Once a trimester we open an AMA board to the whole company. While we like to have these conversations early and often, it's good to set a regular rhythm so that nothing ends up on the back burner. Since responses are anonymous, employees ask the spiciest questions. The leadership team groups topics, holds a discussion, and then records a video response for each topic on Loom. Any employee can follow up on these topics in threads, chat, or over a call. This level of transparency builds trust and understanding at all levels of the company.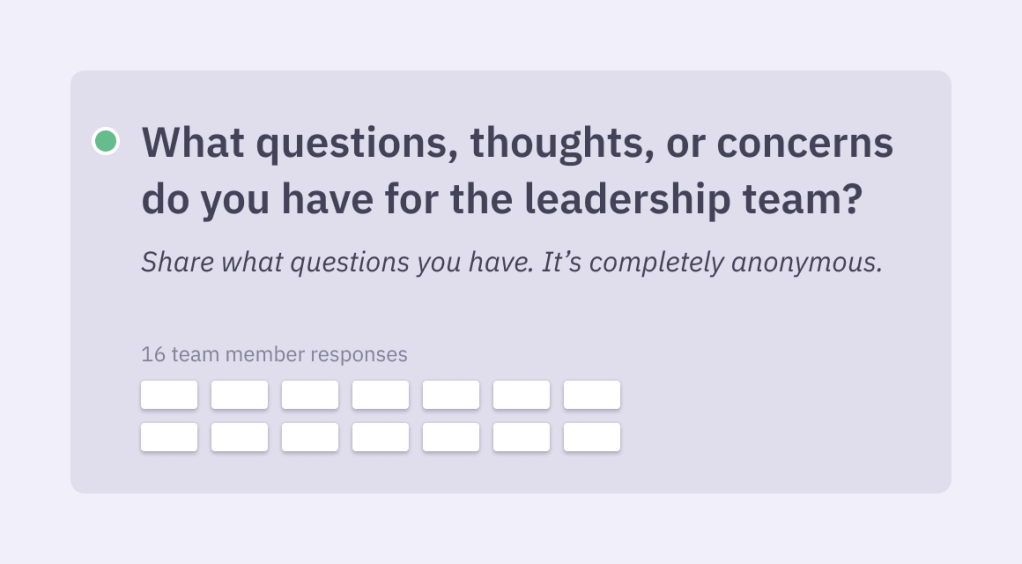 User feedback processing
Once a month we open a board to collect user feedback. Every role at the company is invited to participate. Marketers share learnings from user research. The product team notes user feedback. The sales team adds what's working or not for our customers. Customer success highlights where our customers have run into trouble. These data points from a variety of contexts are fed into a single board. We group the topics, discuss them over video (anybody is welcome to join), and create take-away tasks for next steps. The real magic here is having the perspective across the business and insights from different areas of expertise.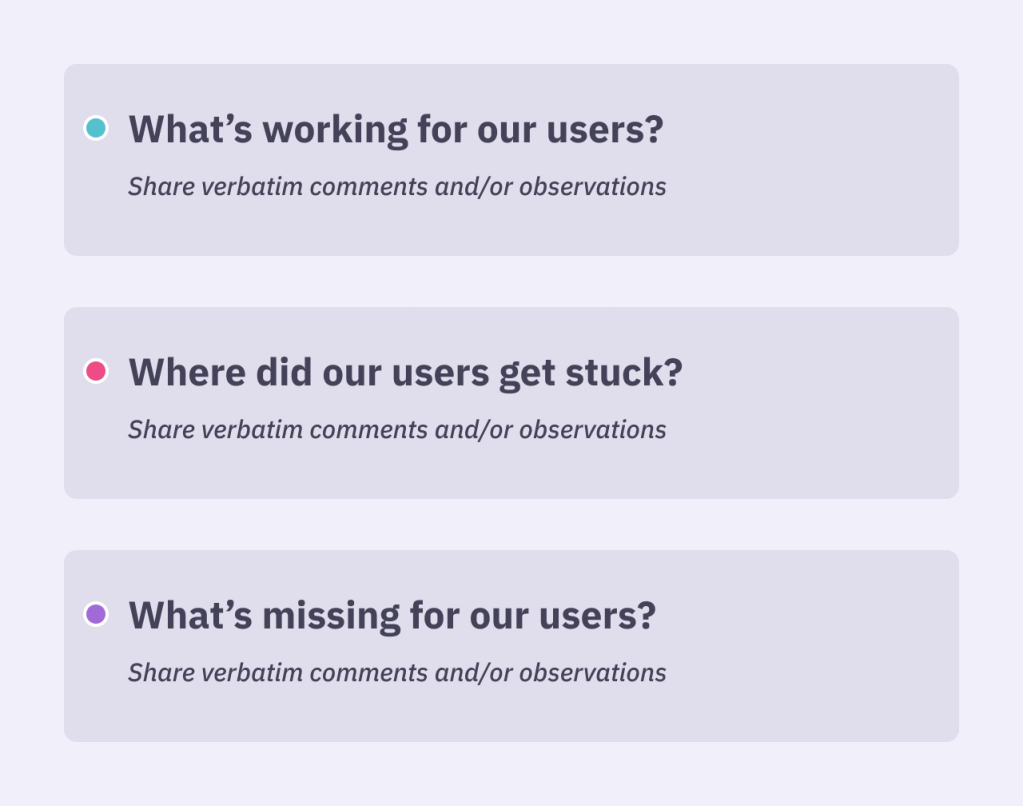 Peer feedback
Team members are encouraged to have a round of peer feedback at least every 6 months. Together with their team lead they pick a group of 5 people who write anonymous feedback. We have a set of templates to choose from just for this purpose. After a week of collecting comments the team member receiving feedback groups themes and reviews the topics with their team lead over a call. The thread is perfect for capturing notes and take-away tasks. The best part is that it's become a habit for team members to record a video summarizing their take-aways. They answer questions their teammates asked on the board and share how they plan to adapt their role and work moving forward.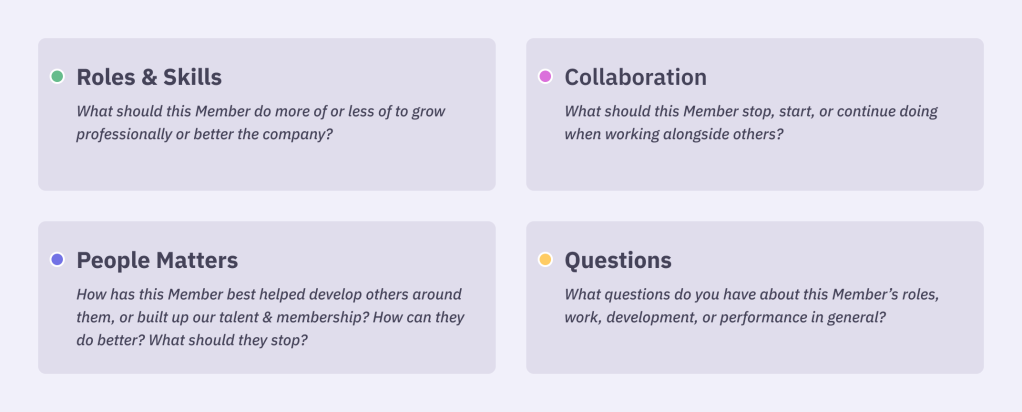 Looking ahead
These activities share the simple mechanics of gathering comments, insights, and data, identifying the trends, and deciding how to move forward. As it turns out this structure is common and essential to many activities that enhance team collaboration. We're excited to release more structured activities tailored to support company and team needs beyond agile. What would you like to see us build next?
---
Metrics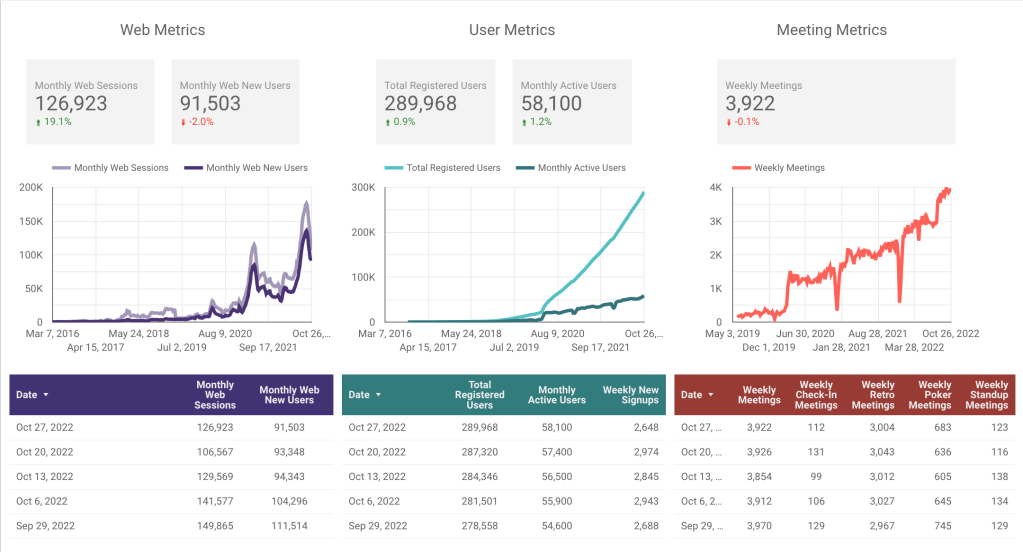 This week, web sessions are up even while new web users are down. Monthly active users sees a good uptick with weekly meetings slightly below flat from last week.
This week we…
Next week we'll…
…participate in "slack week". Taking a break from our regular sprints we'll work on fixing bugs and refining our design mission
Join our Fully-Remote Global Team
Help us create a world where every meeting is worth the time invested.