What is a Halloween retrospective?
If you love zombies, free candy, and agile retrospectives, then we've got a trick (or treat) for you.
Welcome to a fun, seasonal halloweenspective to make your October retro a little more special.
No matter how much you love retrospectives, sitting through exactly the same meeting month after month can become boring.
That's where retrospective ideas like this one come in. You'll cover familiar topics like wins and project blockers, but they're all dressed up in spooky and exciting costumes.
So grab your witch's hat, pour some hot chocolate, and get ready to scare yourselves with how awesome your next sprint can be.
👻 Ghosts
Boo! What projects or issues took your team by surprise? For your first prompt, ask everyone what unexpected challenges caught them unawares. You can even create a special award for "spook of the sprint".
How can you anticipate those ghosts, and banish them early next time?
Example: I really struggled with all the last-minute meetings our client kept requesting. They broke up my flow and made it difficult to get into deep work.
🧟 Zombies
What felt slow – undead, even? Discuss which tasks, processes, or challenges felt like they were dragging you back to the grave at the end of the sprint.
What will it take to put those zombies to rest for good?
Example: Waiting for a review at every phase doesn't feel productive. I don't think it's necessary. It creates too many dependencies and leaves us waiting around to work.
🧠 Brains
What did your team learn this sprint, or what do you need to learn? Now is the time to devour all those juicy, delicious brains!
How can you put those lessons to work, moving forward?
Example: I couldn't believe how quickly Avery mastered our new project management tool. They did a great job of helping everyone else, too!
🍬 Candy
Now, it's time for those Halloween treats! What went well, and who deserves candy for all their hard work?
Now's the time to give kudos (or chocolate) and celebrate the achievements of each team member.
Example: Our new location's opening week was pretty crazy. But Andrew did an amazing job of running the till and keeping the checkout line moving!
When to do a Halloween retrospective
Well…. On Halloween! This retrospective is best saved for the spookiest time of the year, so your team can get into the trick or treat spirit together.
You can even combine this retro with other fun Halloween activities to make it more of a team-building exercise. Try asking people to set their screen names to their favorite horror movie monster, or sending out some candy vouchers so you can all enjoy a sugar rush while you look back.
However, there's no reason you can't use this template at any time of year to soak up the spooky vibes, too. For example, if you're planning a Halloween movie watch party for John Carpenter and Rob Zombie classics, a zombie-inspired retro could be just the thing.
How to run a Halloween retrospective in Parabol
First of all, jump into Parabol. If you're a Scrum Master or the team meeting facilitator hit the vibrant Add New Meeting button.
Select the Halloween retrospective template
Jump into Parabol and select Retro Meeting with the arrows, then use the dropdown to select the Halloween retrospective template. This is where you'll find Parabol's library of 40+ retrospective ideas.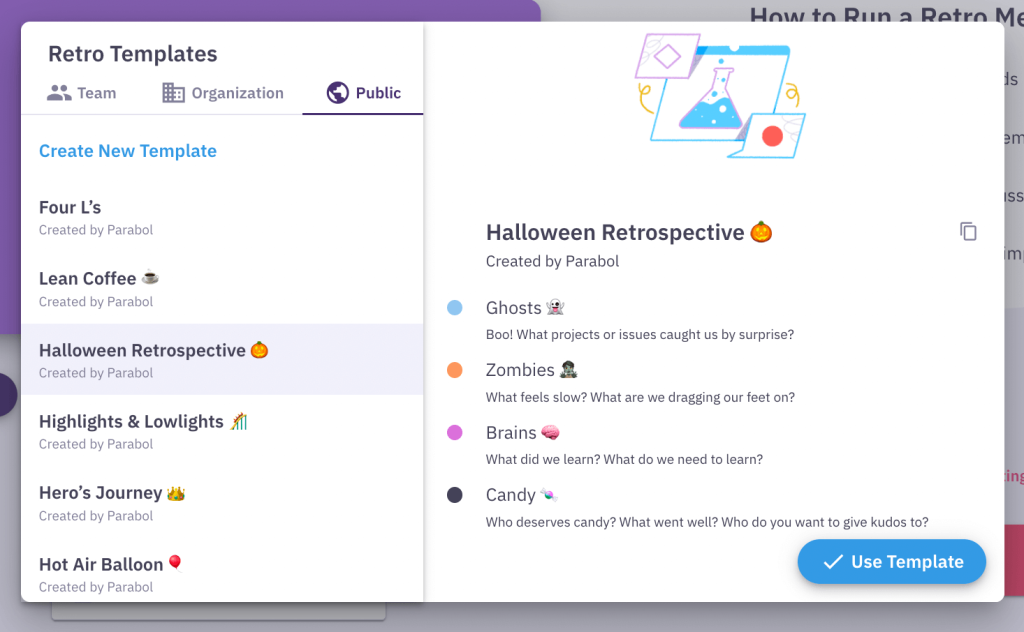 Feel free to copy and customize your template as you wish!
Every Parabol retrospective begins with an optional icebreaker. This box is checked by default. You don't have to do one, but we recommend it.
Start your Halloween retro with an Icebreaker
If you're doing an icebreaker, you'll have a random question to answer. You can refresh it if you want another option, and of course you can create your own if you want.
Perhaps ask team members what their favorite Halloween movie is. Or if they have any favorite ghost stories.
After the icebreaker you'll move on to the reflect stage. This is where your team will do all their ideation and brainstorm in silence using the prompts above. All reflections are kept anonymous at this stage to prevent groupthink.
All Parabol sprint retrospectives can be run synchronously or asynchronously. Functionalities such as the timer, voting and multiplayer grouping help you make your retrospective exercise a success and make facilitation easier.
Reflect, Group, and Discuss topics based on the Halloween retro prompts
Team members can all leave comments together, or do it at a time that works for them. Also, reflections are anonymous, and no one can see them until you're done working on them.
After the reflect phase, you'll vote on issues to discuss, talk about the most voted on items, and set action items for each process improvement so you can make it a reality.
Parabol will send a summary of the retro when you're done so nobody needs to take notes.
Of course, you can do this retrospective in person, with a whiteboard or sticky notes. But it's even easier in Parabol, especially if you're an asynchronous or distributed team.
If you like this template, you might also like our other seasonal retrospectives – including the Diwali retrospective, Thanksgiving retrospective, or Christmas retrospective.
Discover 35+ Retrospective Templates in Parabol!
92% of users agree that Parabol's free online retrospective tool improves meeting efficiency. What's more, Parabol gets your team talking and takes the effort out of running retrospectives.