Christmas Retrospective
Visit Christmas past, present, and future with this holiday retro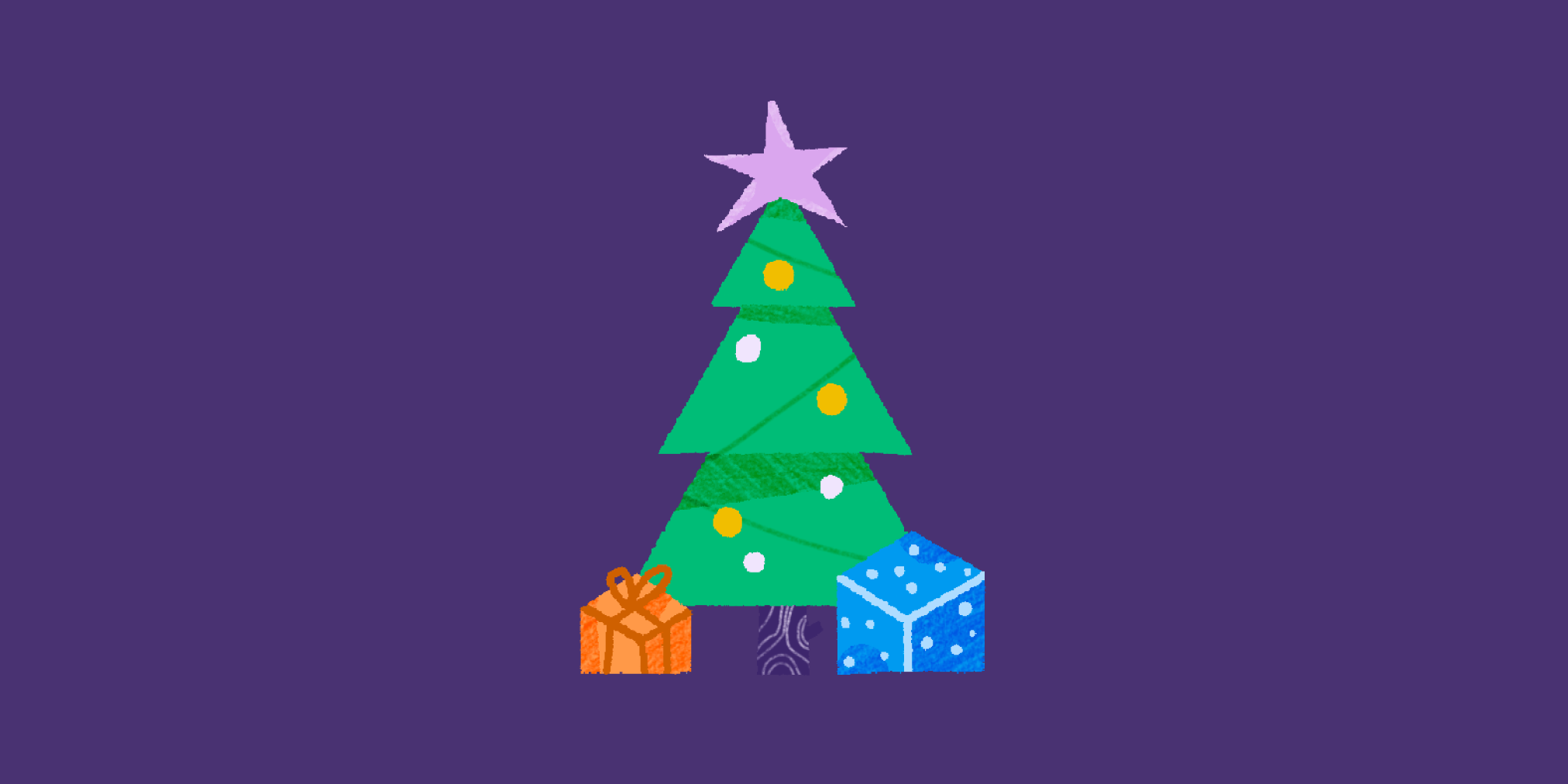 What is the Christmas retrospective?
There's more to Christmas than cozy sweaters, hot chocolate, and opening presents.
Sure, Christmas is a time to relax and enjoy some sweet treats. But it's also a chance to reflect on the past year, step back from the chaos of daily life, and think about what really matters.
That's what Charles Dickens was going for with his classic novella A Christmas Carol, featuring Ebenezer Scrooge and the famous ghosts of Christmas Past, Present, and Future.
In the novella, the ghosts prompt Scrooge to reflect on the past, appreciate the present, and dream about what the future could hold.
That's not so different from what we do in agile retrospectives!
In this Christmas meeting template, the scrum master will help your team look back at how far you've come, and how much you still want to accomplish together.
Hopefully no ghosts visit you during this Christmas retrospective – and no one on your team is a Scrooge!
👻 Christmas Past
Looking back, what do you regret about this past year? If you could travel back in time, what would you change (or erase entirely)?
There's nothing negative or scary about sharing your workplace regrets. On the contrary, they show that you're growing and learning!
With this prompt, you and your team can connect over those challenging experiences. What did they teach you, and what will you do differently next time?
Example: I wish we didn't spend so much time getting used to that new workflow management tool. I feel like the one we had before did exactly the same thing.
🎄 Christmas Present
What are you grateful for? What's bringing joy to you and your team, right now?
This is the time to share all the things that made work happier, easier, and more sparkly this past year.
Recognize great team members you've worked with, or mention processes, techniques, and tools you love.
Example: I love our weekly virtual happy hour. It's such a fun way to catch up with everyone and end the week.
⭐️ Christmas Future
Next up, share what you hope to accomplish next year. When you picture a bright, twinkling vision of the future, what does that look like for you and your team?
These hopes and aspirations should be work-related. But they can be either your own professional goals, or things you hope for your team to accomplish together.
Example: I really want us to finish the re-brand, and launch our new website.
🎁 All I Want For Christmas Is…
What's on your Christmas wish list this year? What would you and your team love to find under the Christmas tree?
Like the last prompt, this one looks to the future. But here, you'll share external factors that could make your life easier, rather than things you want to achieve yourself. What would make your job feel smoother or less stressful?
Example: Changing our facilitation would make meetings so much more efficient. Right now, it feels like half the meeting is icebreakers and warming up.
💜 Optional: Christmas Wishes
Who deserves some kudos or your thanks at the end of the year? Perhaps someone helped you out of a rut, coached you, or made a big difference to you and your team.
Now's the chance to spread the holiday cheer and say something nice!
Example: My conversations with Mark about how to build features were so great. I learned a lot in the process and it helped me to better shape up how I approach building software.
When to do a Christmas retrospective
At Christmas time, of course! This is a special Christmas retro meant for the season of Santa and reindeer.
We suggest using this template to look back at your year as a whole, rather than your last project or next sprint. Why not save it for the very last meeting before everyone takes a break for the holidays?
How to run a Christmas retrospective in Parabol
Facilitators can start this meeting in Parabol by selecting their team on the right and then hitting that vibrant Add New Meeting button.
Select the Christmas retrospective template
Jump into Parabol and select Retro Meeting with the arrows, then use the dropdown to select the Christmas retrospective template. This is where you'll find Parabol's library of 40+ pre-made and customizable retrospective formats.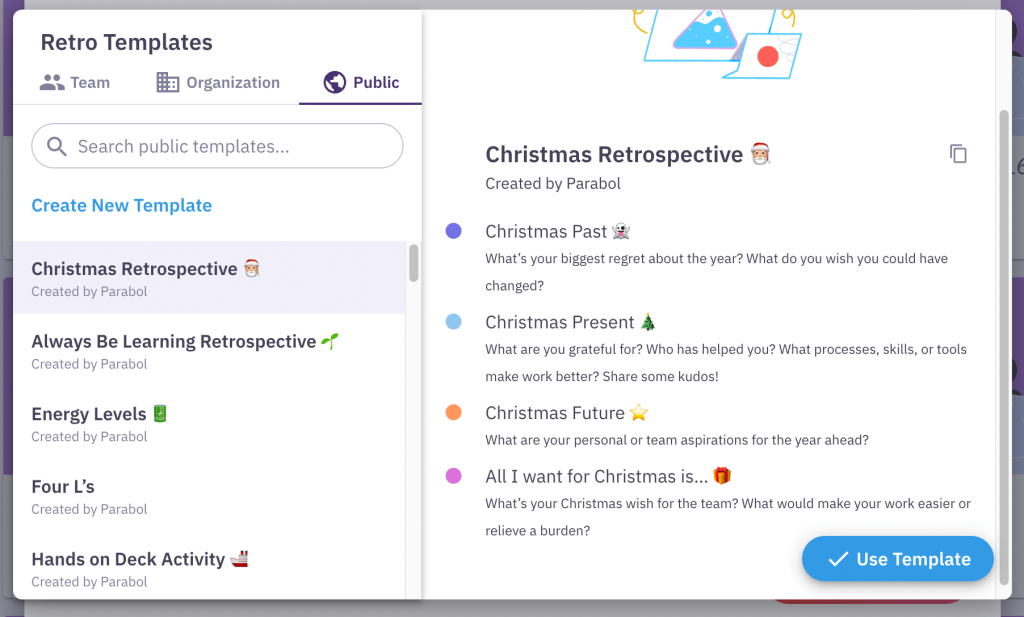 Every Parabol retrospective begins with an optional icebreaker. This box is checked by default. You don't have to do one, but we recommend it – especially for remote teams.
Start your retrospective with an Icebreaker
If you're doing an icebreaker, you'll have a random question to answer. You can refresh it if you want another option, and of course you can create your own if you want.
Reflect on your last sprint with the Christmas retro prompts!
After the icebreaker you'll move on to the reflect stage. This is where your team will do all their ideation and brainstorm in silence using the prompts above. All reflections are kept anonymous at this stage to prevent groupthink.
All Parabol sprint retrospectives can be run synchronously or asynchronously. Functionalities such as the timer, voting and multiplayer grouping help you make your retrospective exercise a success and make facilitation easier.
Discuss and set action items for continuous improvement
Team members can all leave comments together on topics you've chosen. Parabol has a discussion thread just for that!
After the reflect phase, you'll group reflections into topics, vote on issues to discuss, talk about the most voted on items, and set action items for each process improvement so you can make it a reality.
Parabol will send a summary of the retro when you're done so nobody needs to take notes. You can also send any action items out to Jira or GitHub where your tasks belong!
Discover 35+ Retrospective Templates in Parabol!
92% of users agree that Parabol's free online retrospective tool improves meeting efficiency. What's more, Parabol gets your team talking and takes the effort out of running retrospectives.