What is a Dream Team retrospective?
Agile retrospectives are a way for teams to work better in the future by taking a close look at how they work now. The only catch? You actually need work to look back on!
It's tricky for brand-new teams to harness the power of retrospective meetings, and that's why we made this template.
Instead of analyzing how they've actually worked together, teams will imagine how they could work together — by dreaming about what an ideal team could look like!
Each team member will come up with a 'dream team,' and follow three simple prompts to explore what makes them tick.
The Dream Team retrospective can be a great companion to running a Team Charter exercise, or as a periodic check-in for teams to visualize their ideal state.
Volunteer committees, sports teams, and even friend groups or family units all count for this retrospective template. The scrum master can even suggest that attendees think of a fictional or imaginary team, like The Office or A League of Their Own.
Dream Team retrospective prompts
Here are the prompts to use for a Dream Team sprint retrospective.
Practices ⚙️
Great work doesn't happen by accident. What habits, practices, and processes helped the dream team work well together?
Day in and day out, what do they rely on to get great work done? How did they strive for continuous improvement?
These could be interpersonal practices, like celebrating small wins together, or individual workflows, such as taking extra time to double-check finished work.
Example: On my last development team, getting time off was never a big deal. People were always so understanding, and ready to chip in and cover anyone who needed it.
Values 💜
What did your dream team value? How did those values underpin strategies that went well, and contribute to team success?
Values are a driving force behind all teams. Often, they're the beliefs that create the practices we just discussed.
Example: During the development process, my team always made space for everyone's ideas and contributions during brainstorming. I feel like that led to some really creative, innovative work.
Absence 🤔
What practices weren't present on your dream team? This isn't about how your team could improve – it's about the things they were better off without.
If you're stuck, it might help to think of counterproductive dynamics you've experienced in the past, on different teams. Chances are, your dream team didn't do those things.
Example: My old team hardly ever had face-to-face meetings – instead, we'd send Loom recordings or voice notes, and always finished with action items. I got so much more deep work done.
When to do a Dream Team retrospective
To kick off a new team
This retrospective format is meant for new teams, who are figuring out the best way to work together.
What do they value? What does great teamwork mean to them?
To get inspiration
Established agile teams, scrum teams, or any team could also use this fun retrospective if they want to improve how they work, but they're not sure where to start.
Looking back at your own work is great – but with a little fresh inspiration, your next sprint could be your best yet!
If your team has lost sight of its values
The Dream Team retro is a great opportunity to remind teams what their values are.
This activity encourages teams to visualize their best selves. So it's a great way of re-energizing a faltering team or one that's had a hard time recently.
How to run a Dream Team retrospective in Parabol
Facilitators can start this meeting in Parabol by selecting their team on the right and then hitting that vibrant Add New Meeting button.
Select the Dream Team retrospective template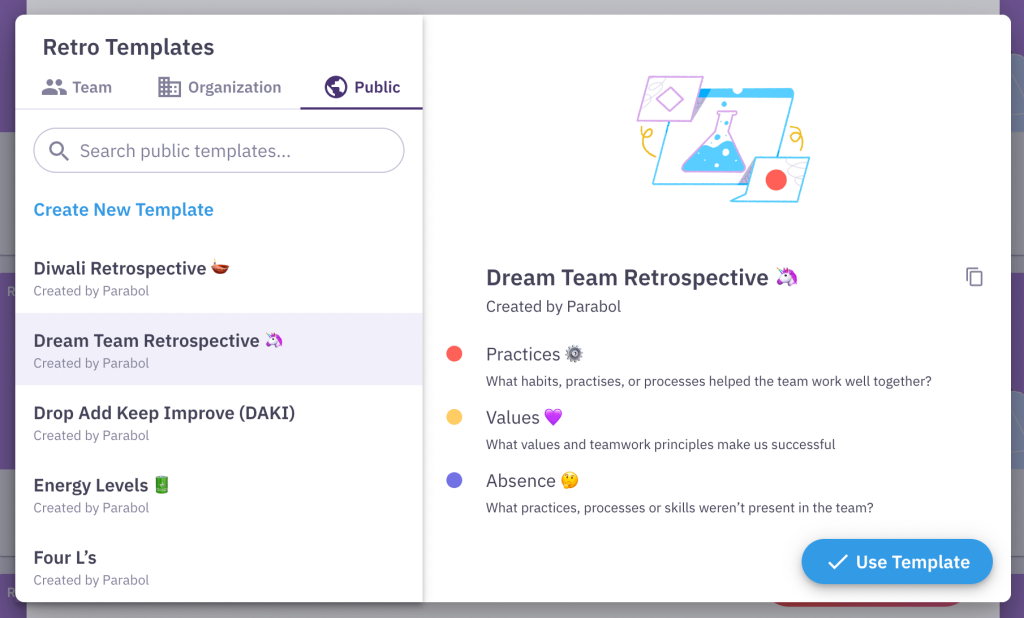 Every Parabol retrospective begins with an optional icebreaker. This box is checked by default. You don't have to do one, but we recommend it – especially for remote teams.
Start your retrospective with an Icebreaker
If you're doing an icebreaker, you'll have a random question to answer. You can refresh it if you want another option, and of course you can create your own if you want.
Reflect on your last sprint with the Dream Team retro prompts!
After the icebreaker you'll move on to the reflect stage. This is where your team will do all their ideation and brainstorm in silence using the prompts above. All reflections are kept anonymous at this stage to prevent groupthink.
All Parabol sprint retrospectives can be run synchronously or asynchronously. Functionalities such as the timer, voting and multiplayer grouping help you make your retrospective exercise a success and make facilitation easier.
Discuss and set action items for continuous improvement
Team members can all leave comments together on topics you've chosen. Parabol has a discussion thread just for that!
After the reflect phase, you'll group reflections into topics, vote on issues to discuss, talk about the most voted on items, and set action items for each process improvement so you can make it a reality.
Parabol will send a summary of the retro when you're done so nobody needs to take notes. You can also send any action items out to Jira or GitHub where your tasks belong!
Discover 35+ Retrospective Templates in Parabol!
92% of users agree that Parabol's free online retrospective tool improves meeting efficiency. What's more, Parabol gets your team talking and takes the effort out of running retrospectives.