What is a Hands on Deck retrospective?
The Hands on Deck retrospective meeting is a chance for you and your colleagues to share your strengths and challenges, so you can learn how to support one another. It's a chance to get real about what parts of work you love – and don't love – so you can keep your ship sailing bravely forward.
In this retrospective meeting, you'll imagine your team as a ship's crew. It takes cooperation to keep your boat running smoothly – especially when you hit choppy waters!
Your team is so much greater than the sum of its parts. It's not just you and your teammates' skills that make you strong, it's how they work together.
From captain to deck-hand, everyone's contribution matters. But which are you? This retrospective template will have you thinking about how you fit into 4 different, but equally important crew roles. All so you can explore your team's unique dynamic.
Whatever you learn about yourself and your agile team, remember to translate your insights into specific action items or documentation, so you can follow up and try out these roles!
Let's set sail! Here are the prompts you'll need for an all Hands on Deck sprint retrospective.
Captain 👨‍✈️
Brainstorm which areas of your job you feel most confident in. Where are you itching to step into a leadership role? What are you best at? What type of work do you enjoy the most?
Would you be comfortable directing others and taking responsibility for the outcome? As Captain, you can leverage your expertise to deliver amazing results for everybody.
Example: I really love compiling all our analytics insights into a monthly report. It's so satisfying to figure out how we can use that data to actually do things better.
First Mate ✋
What tasks do you want to support closely, but without quite taking the lead?
These could be areas you're interested in, and want to learn more about. As first mate, you can develop skills you'd like to pursue in the future.
You're second in command to the captain and can back them up if they're out of office. Or you can shadow the captain to improve your skills.
Example: Running retrospectives seems like a lot of fun. I'm not ready to be the facilitator, but one day, I'd like to be able to.
Navigator 🧭
Which seas would you like to steer clear of? Are any big icebergs on your horizon?
Even if you still need to do those things sometimes, it's good to check in about what you don't like or what drains your energy. A team member might have a complementary strength, and that gives them a chance to step in.
Example: Scheduling is not my favorite. I like managing people, but juggling shifts feels tedious.
Deck-scrubber 🧽
What are the things you don't mind helping out with? They're not necessarily your strong suit or something you enjoy. But they're necessary. What things are you ready to roll up your sleeves and scrub the deck for, port to starboard?
Maybe these are things you did earlier in your career, but have since progressed past. Or perhaps they're just tasks you find a bit dull, but still have a solid understanding of.
Example: Fixing bugs is pretty tiresome, but I know how to get into a good routine. Let me know if you need help taking care of a problem.
When to do a Hands on Deck retrospective
Between projects
This agile retrospective focuses on who your team is, rather than what you do.
That means it's best used to evaluate how you work generally, not on a specific project. Continuous improvement isn't about just one week or sprint, it's about the big picture.
Sometimes after working together for a while, it's time to ask "what do you want to do more of" and "what do you want to do less of". This retrospective helps people do more of the activities they want.
Pre- or post-hire
When you're changing your team's structure, it makes sense to evaluate how you could work better.
Hands on Deck is perfect if you're deciding what you need in a hire for, or even if you have an entirely new team! And if you're welcoming someone new, you couldn't ask for a better icebreaker.
How to run a Hands on Deck Retrospective in Parabol
First things first, get Parabol for free. Then, when you're in Parabol hit the add meeting button and choose a "retrospective" meeting.
Select the Hands on Deck retrospective template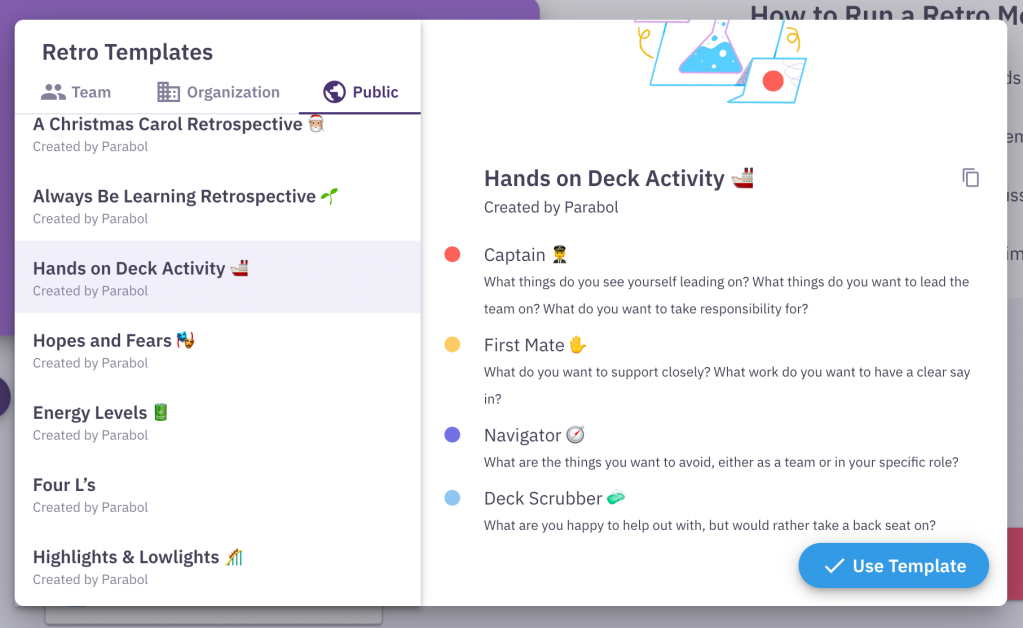 Every Parabol retrospective begins with an optional icebreaker. This box is checked by default. You don't have to do one, but we recommend it – especially for remote teams.
Start your Hands on Deck retrospective with an Icebreaker
If you're doing an icebreaker, you'll have a random question to answer. You can refresh it if you want another option, and of course you can create your own if you want.
Perhaps ask team members where they're drawing inspiration from right now?
After the icebreaker you'll move on to the reflect stage. This is where your team will do all their ideation and brainstorm in silence using the prompts above. All reflections are kept anonymous at this stage to prevent groupthink. Parabol gives Scrum Masters or meeting facilitators the option to timebox this process.
All Parabol sprint retrospectives can be run synchronously or asynchronously. Functionalities such as the timer, voting and multiplayer grouping help you make your retrospective exercise a success and make facilitation easier.
Reflect, Group, and Discuss topics based on the Hands on Deck prompts
Team members can all leave comments together, or do it at a time that works for them. Also, reflections are anonymous, and no one can see them until you're done working on them.
After the reflect phase, you'll vote on issues to discuss, talk about the most voted on items, and follow up with action items for each process improvement so you can make it a reality.
Parabol will send a summary of the retro when you're done so nobody needs to take notes.
Of course, you can do this team retrospective in person, with a whiteboard or sticky notes. But it's even easier in Parabol, especially if you're an asynchronous or distributed team.
If you like this template, you might also like other blended retrospective ideas that focus on role definition, such as the Energy Levels retrospective.
Discover 35+ Retrospective Templates in Parabol!
92% of users agree that Parabol's free online retrospective tool improves meeting efficiency. What's more, Parabol gets your team talking and takes the effort out of running retrospectives.