You've just booked a bunch of interviews with users who will give you their precious time. You want to make the most of it. So how do you craft a questionnaire that will give you the greatest possible value out of the small window of time you have together?
It's a familiar problem anyone collecting data has come across. You don't want to end up with un-usable data at the end of a labor intensive process.
This resource is designed to spark inspiration for your next user research project or user feedback questionnaire. Pick and mix the questions that work best for you.
General Product Feedback Questions
These are good start or end questions to ask to open or close your user interview or questionnaire.
How did you first find out about our product?

What problem were you initially hoping to solve with our product?

What pain points are you currently experiencing in your work?

If you could describe your experience using our product in one word, what would it be?

How satisfied are you with our product on a scale of 1 to 10?

What do you like most about our product?

What aspects of our product don't you like?

Where did you get stuck with the product?

If you could change one thing about the product, what would it be?
📌 Top tip: Not all users are the same, so consider starting your feedback call by asking for basic information like the person's role, demographic data, and what a day in their work life looks like. You may also want to begin by asking what problem they hoped to solve with your product.
Product Market Fit Feedback Questions
Ask these questions to get a greater sense of how essential users believe your tool to be, and whether it effectively solves the problem your user was hoping it would.
Does our product effectively address the problem or need you originally had in mind?

Does our product solve any problems you didn't initially have in mind?

Can you describe a specific problem or task our product helped you with?

Were there any features or aspects that didn't address your needs?

Can you give us an overview of how you typically use our product (as an individual/with your team)

Did anything surprise you about the product?

Are there any specific pain points or issues that you wish our product could address?

Is this a tool you would consider paying for?
UX Product Feedback Questions
Did users get stuck? Or was using your product a breeze. Did users activate in your product or become inactive? Ask these questions to figure out where product flows or interfaces lack clarity or cause problems.
Was the product easy to use and navigate?

Did you encounter any difficulties or frustrations while using our product?

Were there any specific features or interactions that you found confusing or counterintuitive?

How easy was it to get started using the tool on a scale of 1-10?

How did you find the onboarding process when you first started using the product?

Did you consult any tutorials or guides when getting started?

If so, were the tutorials or guides helpful in getting started?

Is there anything that could have made the learning process easier or more engaging?
UI Feedback Questions
Is your product or feature design clear and delightful to use? Ask these questions to learn about any UI limitations or improvements users may have noticed.
What do you think of the visual design and layout of our product?

Is there anything about the design that you find unappealing or distracting?

How can we improve the user interface to make it more user-friendly?

Did you notice any accessibility (a11y) issues when using the product?

Did you encounter any bugs or technical issues?

Did you come across any features or parts of the interface that didn't behave as you expected them to?

Were you worried about what would happen by engaging with any of the features or options in the product?
Feature Set Feedback Questions
Ask these questions to learn more about feature usage, limitations, and wishes. Combine these with the questions on product positioning to get a sense of what competitors are doing that you are not.
Were there any features you noticed but didn't use?

Are there any features you expected but didn't find in our product?

Which product features do you find most valuable?

Are there any product features you wanted to use, but couldn't figure out how to?

Are there any product features that would make your experience with our product much better?

What new features or enhancements to the product would you like to see?
Product Virality Feedback Questions
Maybe users like your product. But how much? These questions probe whether users would consider recommending your tool to others, and which type of personas they would recommend it to.
Would you recommend this tool to a friend or colleague?

What would make you recommend this tool to a friend?

Did you invite any team-members to join you in our product/platform? If not, why not?

Have you recommended our product to others? Why or why not?

What types of other job roles do you think would benefit from this tool?
Product Positioning Feedback Questions
Ask these questions to get a better sense of how you stack up against competitors in users' eyes, and what additional features users expect that could improve your value proposition.
Have you tried any similar products or alternatives to solve your problem? How does our product compare?

What makes our product stand out from the competition?

How would you describe this product to someone who has never used it before?

What is the main value you get out of the product?

Are there features you wish our product had?

Did you find the product sufficiently adaptable to your preferences and needs?

What (if any) customization options would you want in this product?

Were there any personalization features you wish were available?

What would encourage you to continue using our product over the long term?
Make Sense of User Feedback with Parabol
User feedback can be overwhelming. After running your survey or questionnaire, you might need a way of making sense of all the qualitative data you have.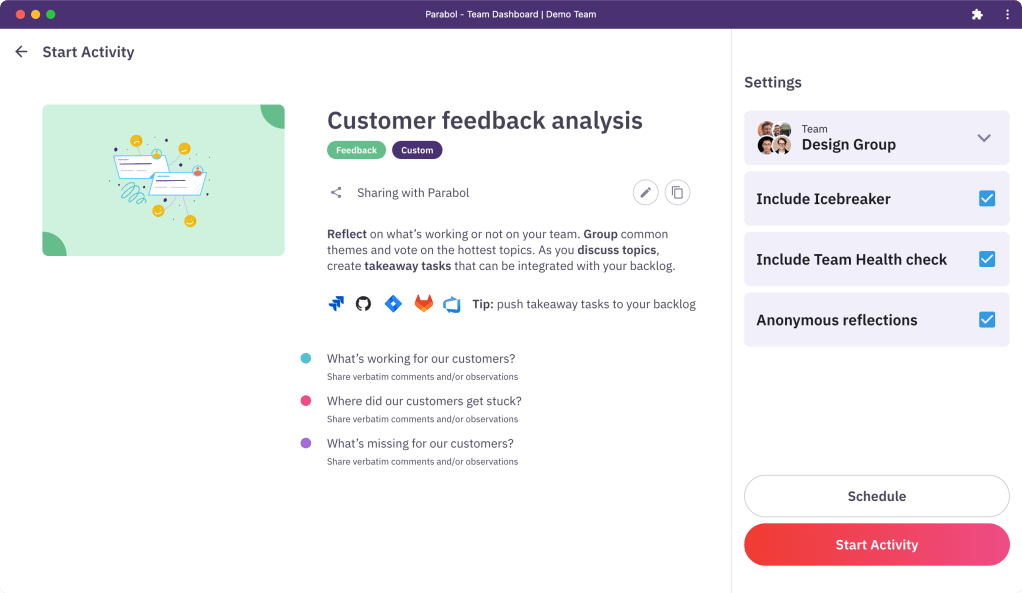 That's where Parabol comes in. Add your user feedback data into Parabol and we'll help you make sense of it by grouping it into themes. Then you can run a structured meeting to prioritize which themes require discussion.
You can discuss the most salient points in Parabol and create follow up tasks as part of a post-research action plan. Parabol is free to use and takes the struggle out of managing large amounts of user feedback.
Parabol: One Tool For All Your Agile Ceremonies
Parabol's free retrospective, standup, and sprint poker estimation tools help teams do Agile the right way. With built-in tools for facilitators and a growing library of free meeting templates, you can improve the quality and efficiency of your meetings.