How to Collect Customer Feedback and Mine it For Insights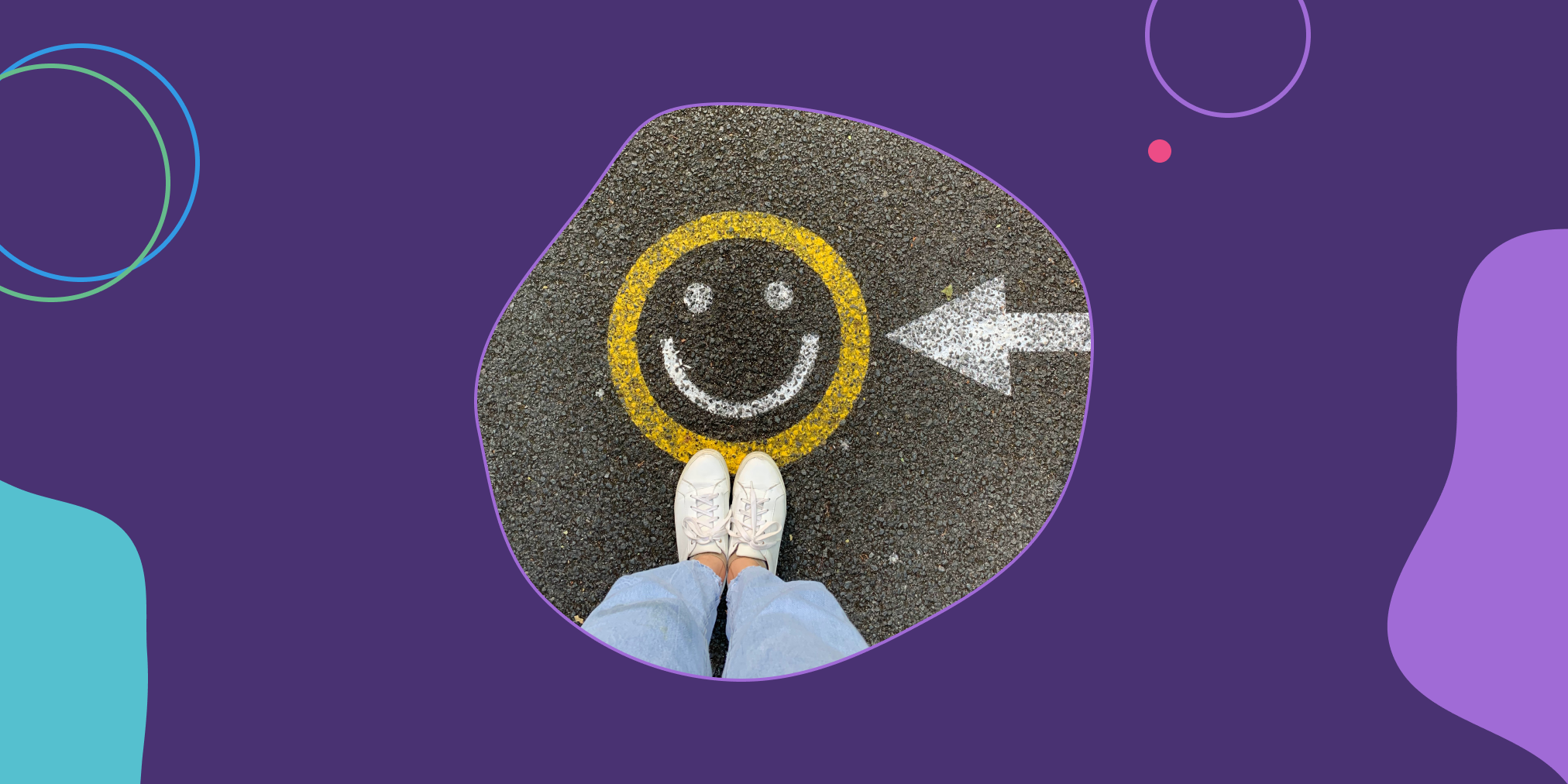 Managing customer feedback and distilling it into product insights is not easy. First you must establish good channels of communication with customers. And once the channels are working you can feel overwhelmed at times with the sheer amount of data to sort through. Making sense of what you're hearing and taking meaningful action as a company can be daunting.
Let's break down the problem into a few questions you may have:
How do you engage customers in a variety of ways allowing you to receive balanced feedback, both from new users and existing customers, from fans and critics?

How do you organize the volumes of feedback allowing you to manage the data, see the trends, and connect it to your roadmaps and backlogs?

How do you ensure you're analyzing this feedback as a team, sharing insights with your company, and creating meaningful next-step action items?
This article provides answers to some of these questions you may be facing.
First we'll talk about the best ways to collect customer feedback. Then we'll look at effective ways to analyze feedback with your team, develop a solid list of actions to take in response to feedback, and how to share these learnings with the rest of your company.
By the end of this article you will have fresh ideas on ways to collect quality feedback and learn about some tools to help you manage and analyze it. We'll also share a resource to a Customer Feedback Analysis activity you can run with your team.
The Challenges of Collecting Customer Feedback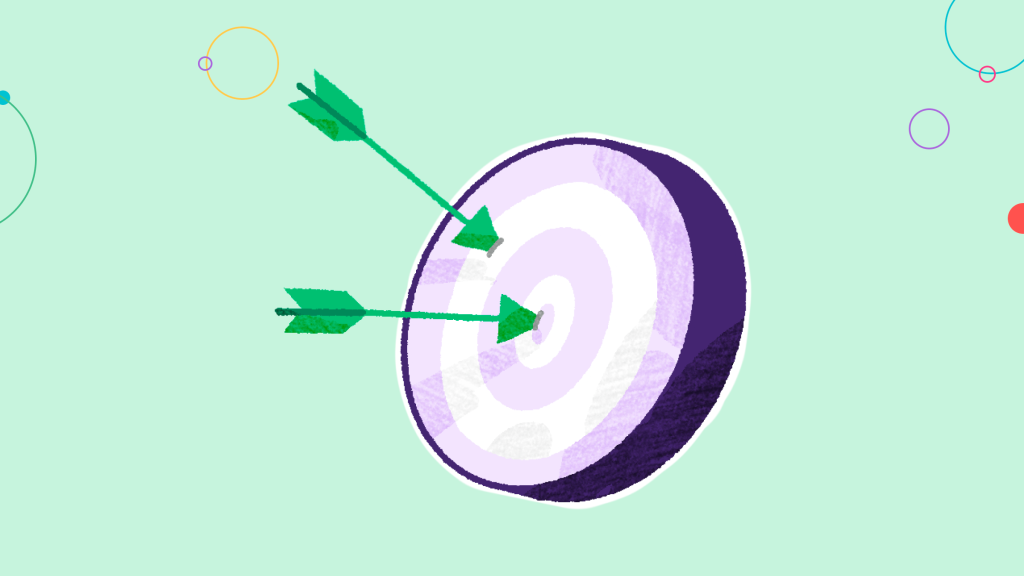 It's tempting to think that all one needs to do to collect customer feedback is ask for it. Certainly, asking for feedback is the first step. But, the quality of feedback will vary based on when you ask, how you ask, and whether the customer is incentivized to offer feedback.
All feedback is subject to bias, and each channel and moment are subject to a variety of biases. For example, performing a compensated, real-time user interview may skew feedback to be more positive if the feedback participants fear offending the interviewer.
The two most important criteria for receiving great customer feedback are:
Establishing ways of getting customer feedback at the right moments in the customer journey

Eliminating potential biases that may skew customer feedback
How to collect customer feedback: Tools and workflows to use
Long-form Surveys
Using tools like Typeform or Google Forms is a great way to begin collecting feedback. Try to keep these short, light-weight, and focused on what can be improved. These forms can be shared in email, in an app, embedded on your website, or even via an ad.
In-app Surveys and Automated Chats to Collect General Feedback
In-app surveys can be promoted within your app to get users' attention at just the right time. You can start a conversation with a single question. Would you like to give feedback? Then your bot can follow up with questions like: Is there anything you like? Is there anything you don't like? This flow can be set up with a tool like Intercom or HubSpot.
Adding Specific Chat Prompts to New Features
Add a pop up box asking for feedback in new parts of the product. You can wire your in-product chatbot up to your CRM or internal chat app to track and reply to feedback.
At Parabol we use Hubspot to provide live and automated chat in various places. We have seen that adding automated chat prompts for feedback where there are new features, and in our case, new activity interfaces, has led to a lot of great feedback, both positive and negative. We have this connected to a Slack channel to further raise our awareness that this feedback is coming in.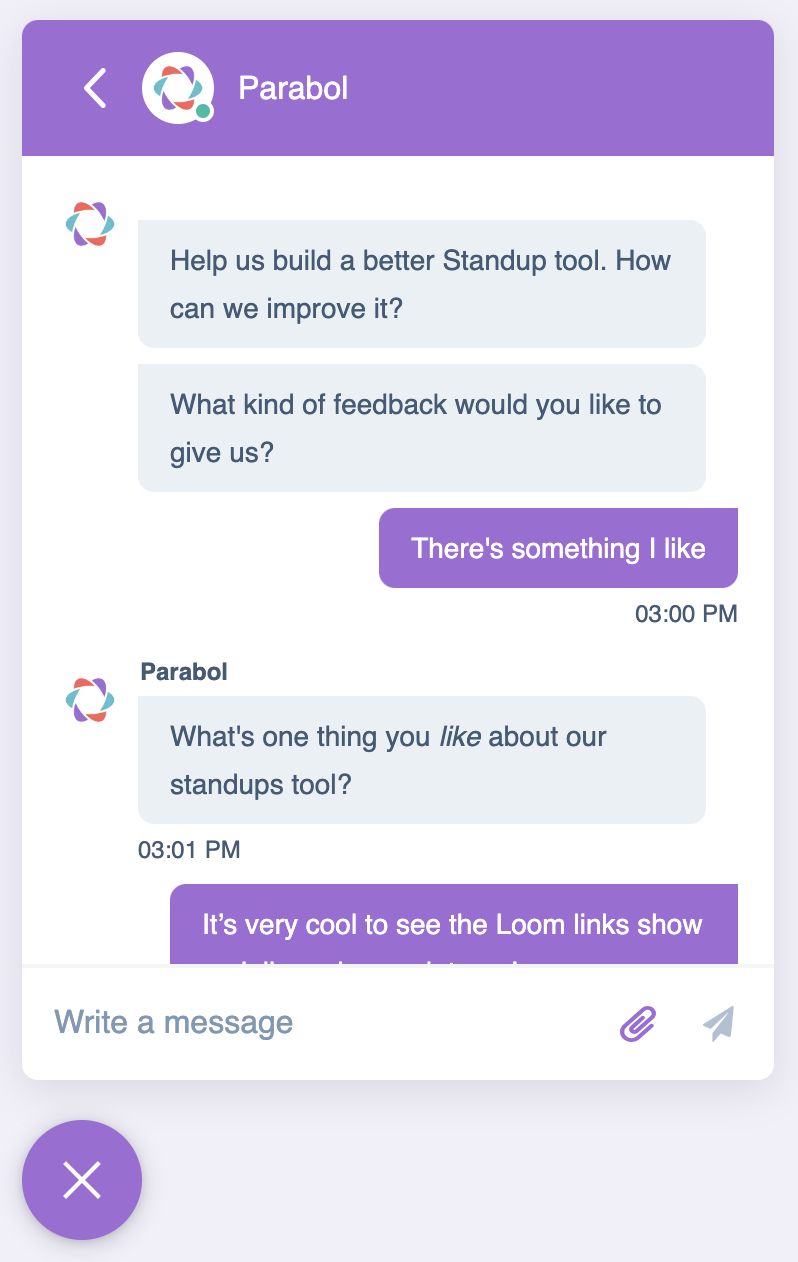 Prototype Testing
Use a tool like Maze or Wynter to gather feedback on designs and proposals. These tools make it easy to set up guided tests with users on their own time, so there's no need to schedule a call. Users will be able to give you feedback on your user interfaces or marketing messages. You can use the results from these tests to gather and share insights with your colleagues.
Customer Support
Often customers will write in when they have a problem or a suggestion. We suggest using a tool like Intercom or Hubspot to provide this chat on your website, or within your app. It's helpful to have a playbook for the customer support team. This can include how to respond to the feedback and where to log feedback.There are plenty of tools where you can log the frequency and importance of different requests and use these to prioritize your next steps.
Customer Feedback Database
Tools like Productboard, Dovetail, and Chisel make it easy to collect, organize, and prioritize feedback in one place. Often this feedback can be connected to roadmaps, idea boards, and backlogs so you can make an informed decision on what to build next.
Customer Interviews and User Research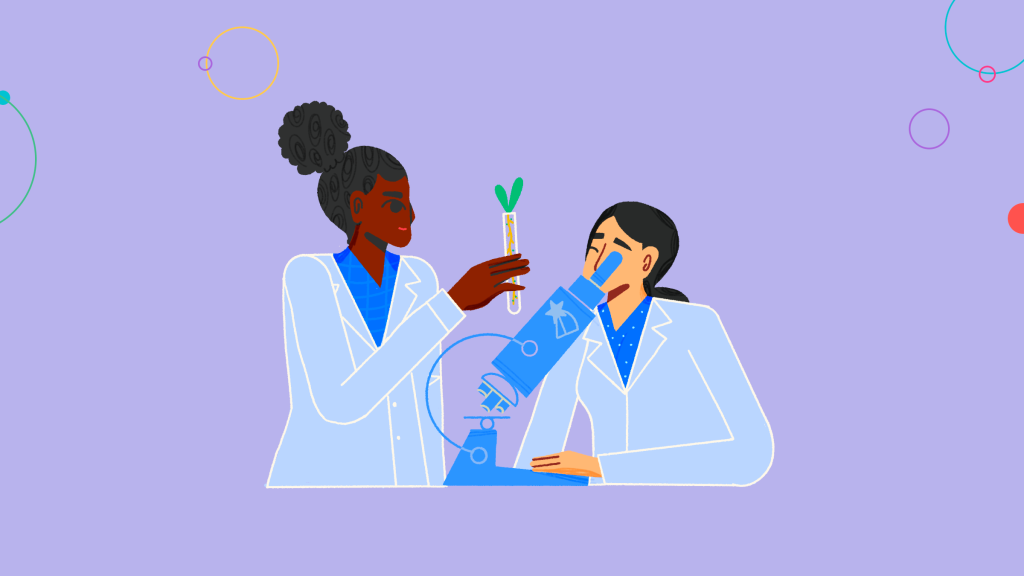 Building rapport with your customers allows you to engage them more deeply and receive more nuanced feedback. Establishing a relationship is important so that customers or users are receptive to communicating with you. You can build a list of customers who have given you insightful feedback in the past. You can ask this group if they would like to opt in to being asked for feedback on a regular basis.
Ask Product Evangelists for Feedback First
One word of caution: sometimes fans of your product may hold back when you've established rapport. On the other hand, sometimes building rapport allows for more honesty. Getting feedback in a variety of ways, from the right amount of contacts, with more or less rapport, from both fans and critics, will give you a good balance.
Ask Feedback from People Who Requested Relevant Features
Sometimes you need validation on a feature that was created in response to feedback. Try contacting the customers who gave you the feedback and see what they think about the improvements you are building. If you get them looped in early in the process they could offer insights that help you refine the feature you want to ship to a broader audience.
Make the Most of Your Sales Team's Relationships
Another great opportunity for customer interviews is with your sales team. Taking a product-led growth strategy, your sales team can nurture relationships with customers, checking in to see if their needs are being met. This can be a valuable source of not only learning what needs exist, but understanding how customers are using your product, where they are seeing the most value, and where opportunities lie.
How to Manage and Organize Customer Feedback
Many tools are great at helping you gather and organize feedback in one place. Others excel at helping you analyze feedback, summarize take-aways, and share insights with your business. Read ahead to learn about a few tools that we think can help you make sense of all your feedback and make it actionable.
Parabol

Parabol allows your team to gather feedback from various sources and analyze the data as a team.

You can create take-aways in Parabol, or push to your backlog (Jira, GitHub, GitLab).

Parabol provides concise summaries so you can share notes and action items with others.

Parabol offers a helpful, structured workflow so that teams can take action on user feedback.
Parabol does not manage a database of feedback or offer the ability to create roadmaps.

There is no one-click way to import feedback directly into Parabol.

Parabol lacks integrations that connect to sources of feedback automatically.
Productboard

Productboard is great for managing a database of feedback from various tools.

It's great for building a roadmap.

There are a lot of integrations that help connect to the places where customers are giving feedback.

There is a high level of customization.
There's no workflow for analyzing trends and creating take-aways.

Productboard doesn't integrate well with other tools where you plan and organize your work.

Performance can be a bit laggy.

There is a steep learning curve for new users.
Dovetail

Dovetail is great for organizing feedback.

The tagging feature is great.

The interface is intuitive.

Dovetail customer support has a great reputation.
Dovetail doesn't have a clear way to summarize and share insights from feedback.

There's not a clear way to export all of your data.

Dovetail doesn't offer a way to search across projects, which would be helpful.
Chisel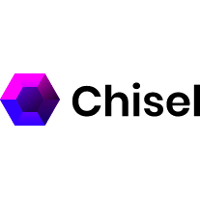 Chisel brings a lot of structure to your product development.

Chisel has an excellent roadmap feature.

It allows you to manage a backlog of feedback and product ideas.

Features promote team alignment around roadmaps and feedback, which encourages good input and engagement from your teams.
The product can be somewhat laggy.

Some aspects of the UI are not intuitive.

There are some redundant in-product views.

The product could integrate with more tools.
How to Analyze Customer Feedback as a Team, Share Insights, and Create Action Items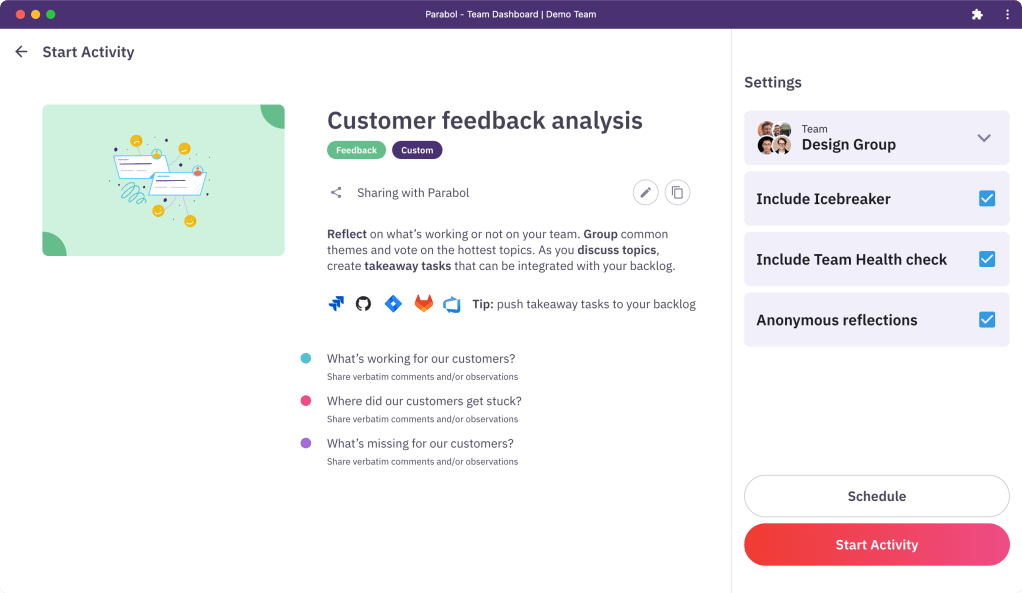 Engaging the expertise of your team is probably the most critical component of a good strategy for making the most out of customer feedback.
You may feel you have the right communication channels in place, your customer feedback is organized and maps well to your product roadmap, but it's hard to see where the opportunity lies. It might be difficult to share this knowledge with your team. It may be a challenge to get them to engage the feedback and take action on it.
Parabol has the perfect Customer Feedback Analysis workflow for your team to get started. With our software you can:
Collect feedback from various sources from all company teams like marketing, UX research, product design, customer support, and sales

Identify common and emergent trends in the data

Gauge which trends are most important for your team to address

Document notes and insights

Create take-away action items to take next steps based on the feedback

Share a summary of learnings with your company
We recommend running this process on a cadence from every couple of weeks to once a month. This process will allow you to unpack all the potential from your database of customer feedback. Here's the resource: a quick guide on how to set up and run the activity on Parabol.
All your agile meetings in one place
Run efficient meetings, get your team talking, and save time. Parabol is free for up to 2 teams.