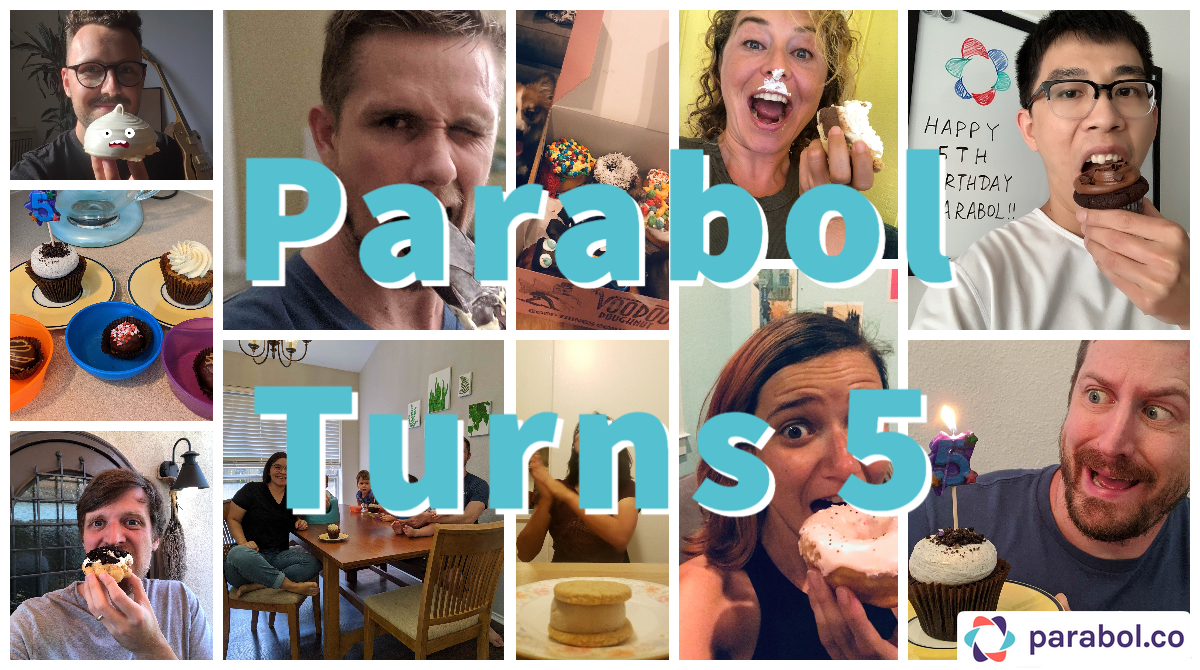 This week, Parabol celebrated our 5th anniversary since our incorporation. It was a hot August day when we took the subway up to midtown to meet at the offices of Gunderson Dettmer to sign Parabol's incorporation papers, marking the official start of an epic journey.
Celebrating remotely
Due to the ongoing health epidemic, we celebrated Parabol's birthday apart from one another. We marked the occasion by inviting everybody to order their favorite sweet treat for delivery and shared photos of ourselves digging in.
Parabol grew a lot in 2020, and many of us haven't had the chance to meet each other in person. Celebrating our birthday provided a small moment to catch glimpses of each other's personality in ways we don't often get to see.
Notes on the journey
Startup mortality is high. For the first 4 years, we never had more than a few months of cash runway in front of us at any one time. We had to tighten our belts on numerous occasions—cutting salaries, taking on extra jobs, asking friends for money—to make it just a month or two more. We used to say, "at least we've documented the journey, so if we were to fail at least others could learn what not to do if they wanted to." It easily could have felt hopeless, but it didn't.
Each week we could see the results of our effort born out in changes to our metrics and changes to our product. We didn't always choose correctly the first time but we did learn. The progress from learning felt meaningful, and the meaning we took for our work gave us hope.
We still have a long way to go. The future for Parabol is by no means certain, but we have never been learning as much as an organization as we are right now. We're very hopeful to be together to celebrate our 6th year, 7th, and beyond.
Metrics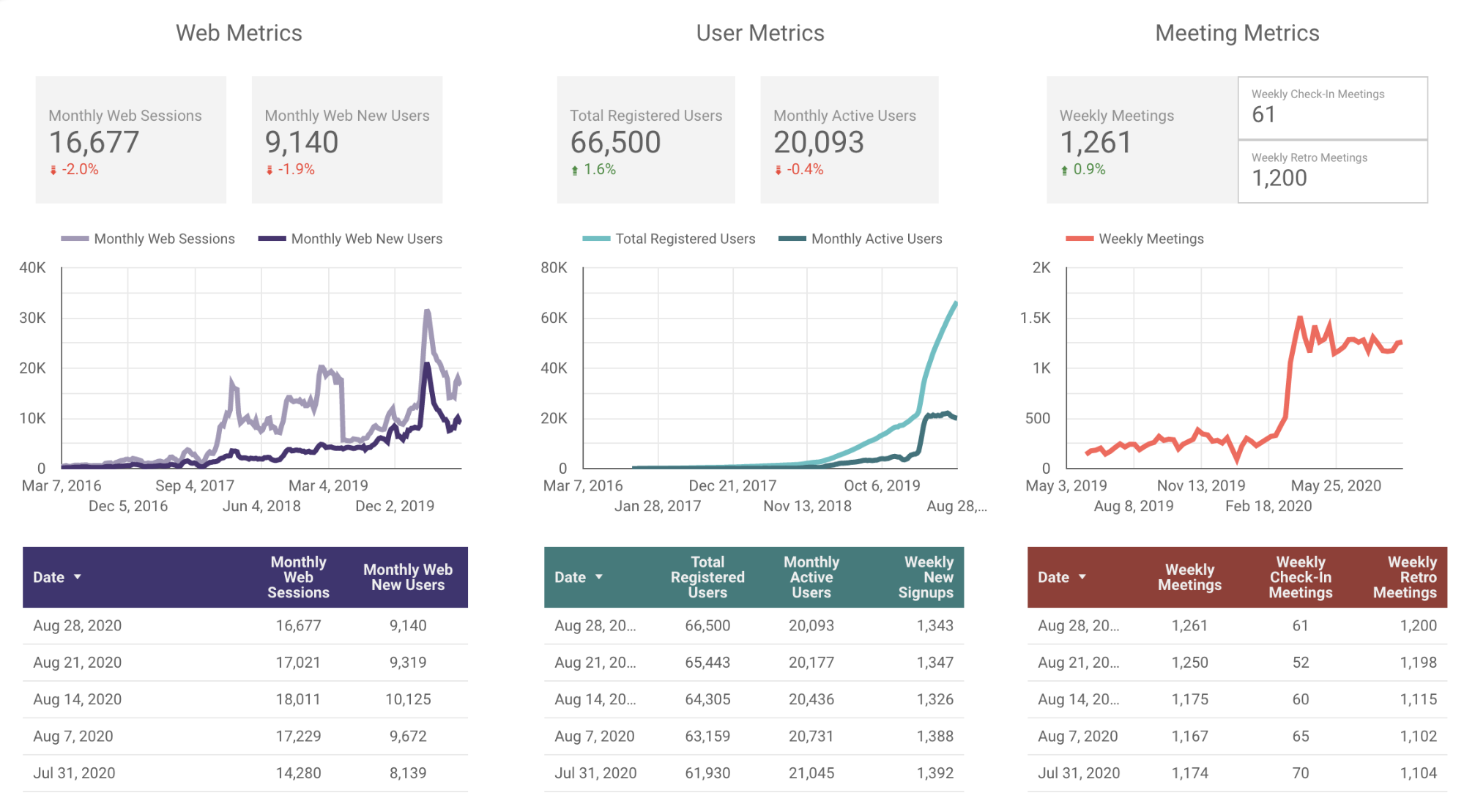 While aggregate top-of-funnel marketing visits were down slightly, we're seeing gains in the share of organic search visits. Internal metrics indicate the effort we've been making to SEO improvements are beginning to show returns.
The rate of new user registrations were down slightlight over the week prior, but still strong. The rate of MAU decreases slowed, and our meeting metrics this week demonstrate an upward trend in overall user activity as people return from summer holiday to their regular working rhythm.
This week we…
…kicked off Sprint #63. we're targeting getting the broadest of broad strokes of Sprint Poker done this sprint: namely, making it so the meeting can be started and the major meeting phases are templated out for later implementation in a subsequent sprint.
…continued architecting an evolution of our beta video features. More on this in future Friday Ships!
…documented and recorded a Loom video on how to start a Parabol meeting, since a few folks mentioned having trouble with it during our research calls.
Next week we'll…
…see if some changes to our metrics collection infrastructure will yield more accurate results. We've been locked in an epic struggle trying to get our marketing website and application website data linked in a way where we can reliably learn how our users find us, and which users tend to become customers. We've made some changes this week that should make it work— and should they work, we'll likely write up a post to share for others who have similar needs.
…finalize designs for Sprint Poker Estimation.
---
Have feedback? See something that you like or something you think could be better? Leave a public response here, or write to us.