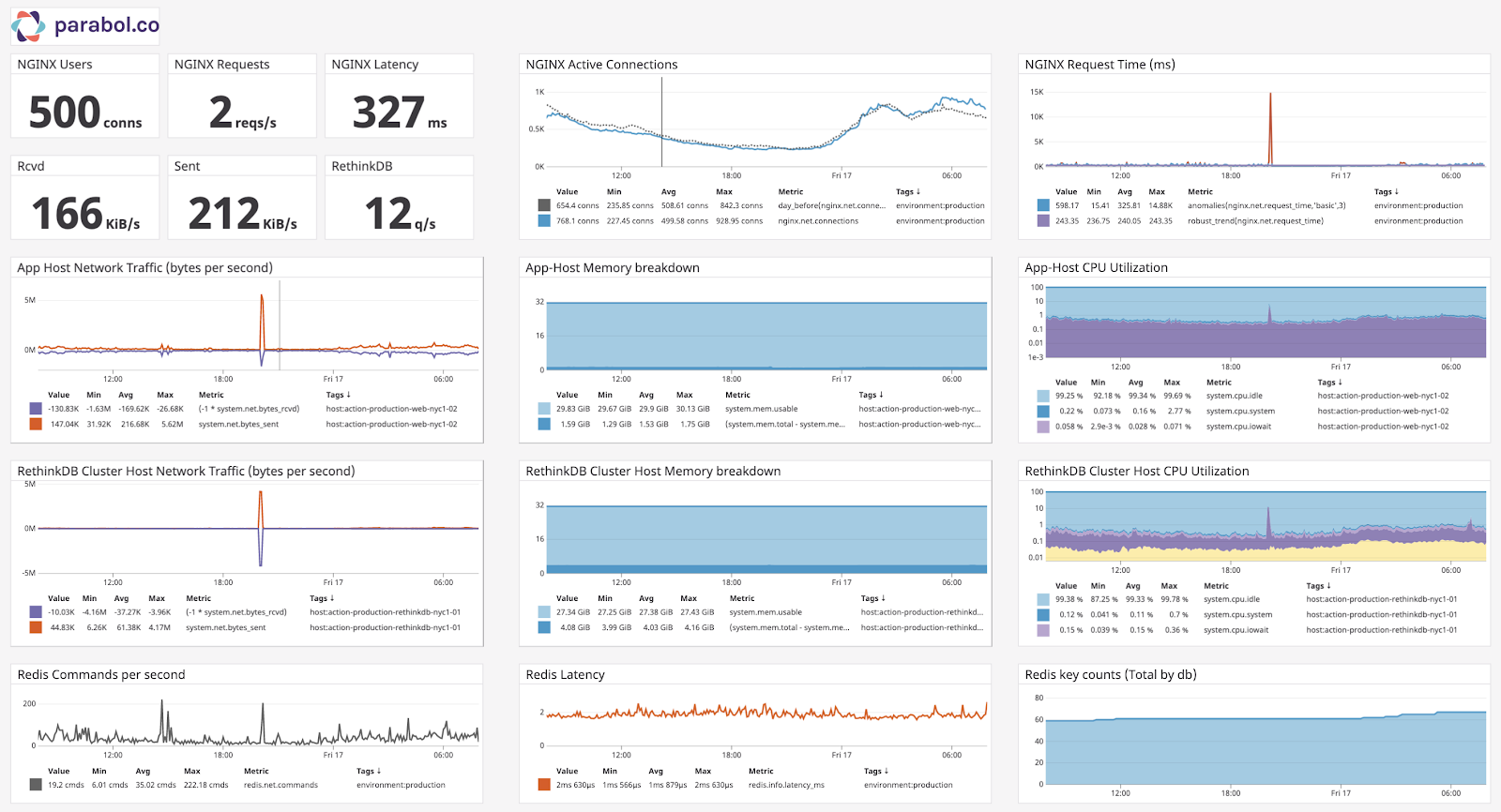 This week we rearchitected our hosting infrastructure and its monitoring capabilties.
We shared in the prior week's Friday Ship:
At around 7:00a PST today, our monitoring infrastructure began to report slowing performance. We rushed to diagnose what was going on—was it an attack? was it a bug? No! Just so many people!
We worked around the clock last Friday, Saturday, and Sunday to deliver a new hosting infrastructure to exceed the demand from our users and customers. The new infrastructure was to have two goals: take care of our acute need to deliver more capacity and be a step toward the auto-scaling infrastructure we want to deliver later in our companies future.
After getting the new infrastructure deployed and tested, we set to work this week on revising our Datadog-based monitoring infrastructure. We added lower-level monitoring capabilities to our load balancers, database, and wrapped them up into tidy automated monitors and a high-level dashboard (pictured above).
Work is still in progress to further optimize the Parabol application to be able to take better advantage of the compute architecture its hosted on. For now, at least, we're confident we can deliver a great Parabol experience for all the folks who've come to rely on us to run their meetings.
Metrics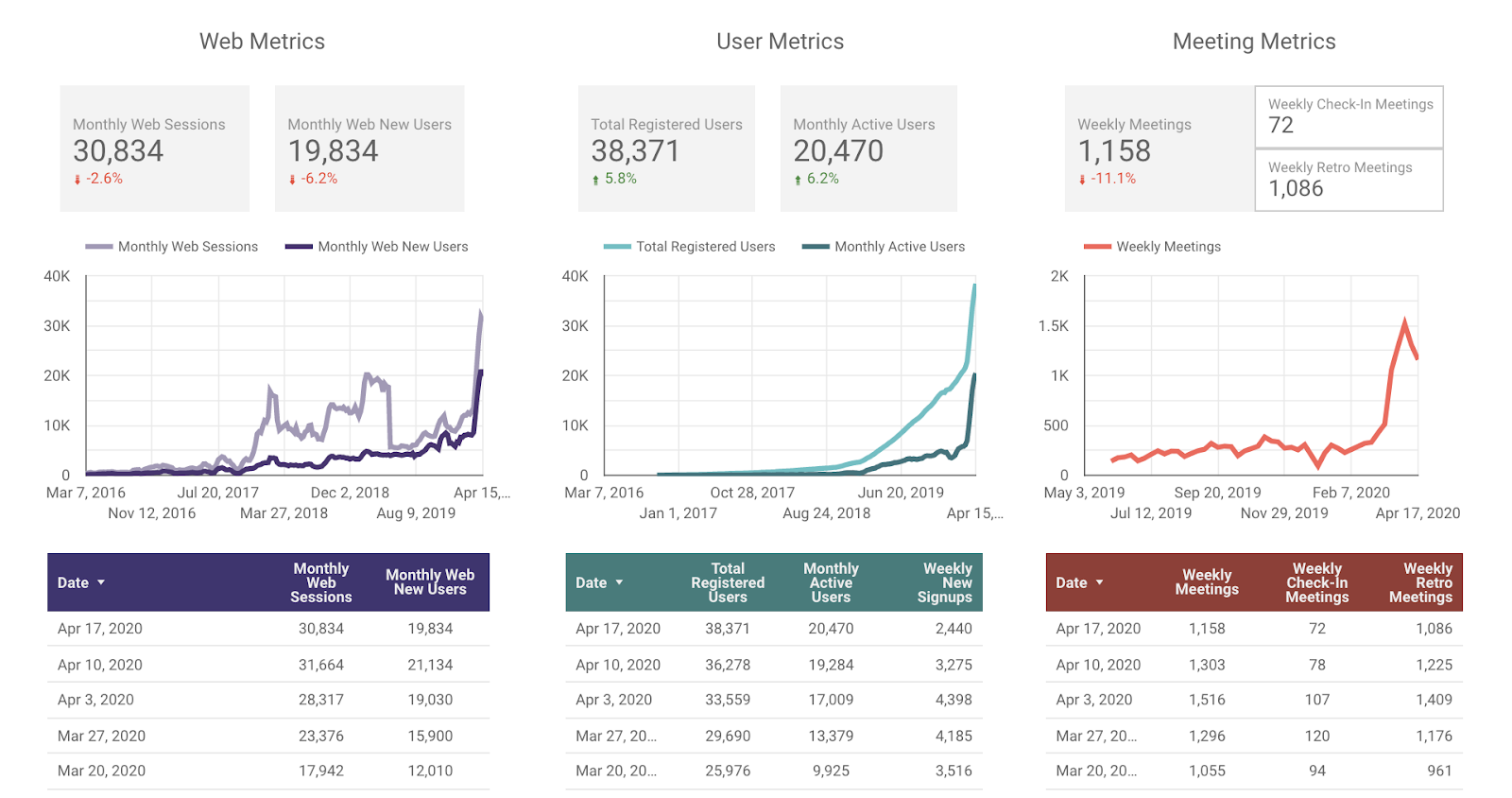 It's clearer this week that the prior 4 weeks of the health crisis were exceptional within an exceptional time. While we continue to see weekly signups at nearly 5X the rate of what we'd expect before the health crisis, signups this week are almost half of what they were at their peak. An open question we have is how many users we'll retain. Our hypothesis is many folks came to us to experiment. We expect 90-day attachment from the COVID cohort to be less than that of historical groups. We'll see, and report back!
This week we…
…shipped v5.4.0 into production. We shipped a feature we're very excited about: a new meeting bottom bar. Meeting participants have a control to indicate when they are ready to move on, a subtle but powerful productivity tool. This change also better prepares our interface for some of the more ambitious features we've been working on, including in-product video conferencing.

Our new meeting bottom bar showing the Facilitator that 50% of users are ready to move on
…interviewed several candidates to determine if they were a cultural fit. A few promising candidates have advanced to the next stage in our hiring process, we call a "Batting Practice".
…looked into our conversion rates and process. We have a very gentle sales process that doesn't impose hard limits on customers, so we dug more deeply into our data to understand how well we were doing at converting users to customers and brainstorm ideas for improving the process while sticking true to our values.
Next week we'll…
…kick off Sprint 55. We're planning on starting some big, new stuff 🙂
…publish a post about the new meeting bottom bar and 'ready' button.
---
Have feedback? See something that you like or something you think could be better? Leave a public response here, or write to us.