#274 – Global Perspective
Friday Ship | October 22nd, 2021
As a fully remote company, we have the opportunity to recruit talent from around the globe. We're slowly but surely managing to hire people from all over the world, with our newest hires coming from Malaysia, Russia, and Germany. We still have a lot of work to do on the overall DE&I front, something we're actively working on, but we've managed to make progress when it comes to geographic diversity. Interestingly, most of our workforce, no matter where they are currently located, has spent significant time living in a different country.
We did a quick survey and found that our 21 full-time employees have lived in 22 different countries and we speak 8 languages other than English.
Countries: Australia, Romania, Armenia, Ireland, Israel, China, US, Poland, Germany, Russia, Spain, Japan, Mexico, Vietnam, Colombia, Turkey, UK, Canada, Thailand, Barbados, India, Malaysia
Languages: Russian, Mandarin, German, Hebrew, Polish, Japanese, French, Spanish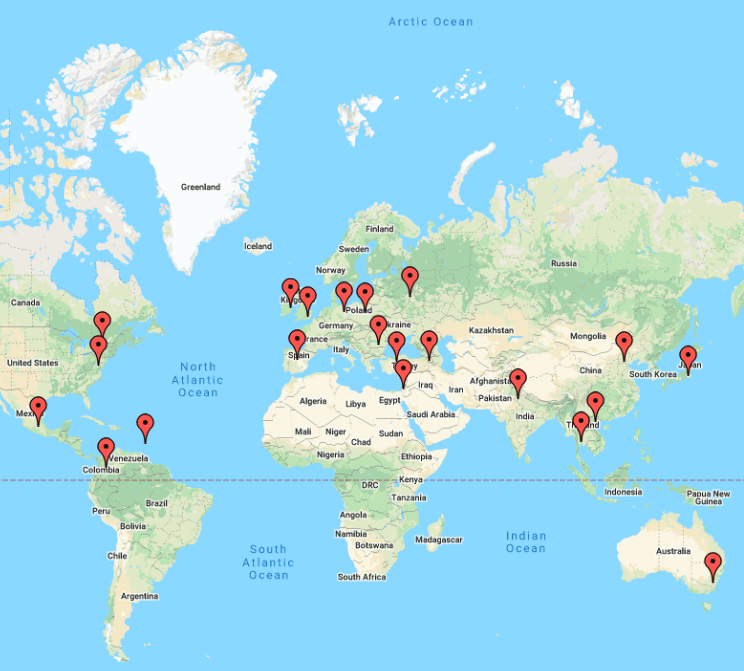 The hope is this kind of variety brings us more than bragging rights. Each unique person we hire becomes part of the melting pot. It's helpful from a product perspective; everyone can utilize their diverse background and unique perspective to contribute to a platform that's used in over 25 countries. It also helps us, as an organization, to understand different cultures and traditions. We have an awful lot of fun sharing our experiences with one another and getting first-hand glimpses into life somewhere else in the world.
We also get some amazing vacation pics!
We look forward to growing our global presence even further, so if you're interested in building the future of work with us please check out our open positions!
Metrics
We saw an uptick in weekly meetings run this week along with slight increases in registered users and MAU. Weekly poker meetings also continue to rise. Web sessions and new users were both down again this week, dropping around 4%.
This week we…
…Made progress on our Mattermost integration. A PR was submitted this week for our Mattermost integration, we hope to have this in production soon!
…Published a blog post on 21 Tips for Better Hybrid Meetings. A hybrid working model now seems like the most probable option for companies that aren't willing or able to fully adopt remote work.
…Continued working on implementing our Spotlight feature. This will allow users to find similar reflection cards during the grouping phase of a retro.
Next week we'll…
…Officially welcome our newest team member. Lorena Martinez will be joining us on Monday as a Product Marketer.
---
Have feedback? See something that you like or something you think could be better? Leave a public response here, or write to us.
All your agile meetings in one place
Run efficient meetings, get your team talking, and save time. Parabol is free for up to 2 teams.