This week we changed how we socialize as a team via our Fika practice. For over 6 years, we've held a weekly unstructured social call that anyone can participate in.
As we've grown, it's become hard to participate in the call. We've changed it so that our process for socializing includes:
Donut catch-ups: Members and job candidates can join a #donut_pals channel in Slack and be matched in a three-way social call with other Parabol members.

Slack Fika channel: This is our watercooler channel for members to share things that interest them, or personal life updates!
The decision to change this process – like many things at Parabol – bubbled up from bottom to top in a retrospective rather than top-down.
Here's a little overview of how we used our governance process to change this core part of Parabol's culture.
Choosing how we socialize
In a recent retrospective someone brought up the point that Parabol's weekly Fika – an unstructured social chat held on Zoom – had generally low attendance.
I think I learned that people don't like Fika chats anymore. We keep having BPers who show up expecting a fun team chat and end up having 1:1s with the one Parabol person that shows up. I wonder why, as our team has grown, Fika has shrunk so dramatically? It wasn't too long ago that we decided to break Fika into two rooms because so many people joined!

Parabol member in an anonymous retrospective
This prompted a broader discussion about how we want to socialize with one another, and whether we should change anything. Did people actually want to attend Fika calls? Why were few people showing up? Was it lack of interest? A problem with the structure? Or simply time-zone issues?
Reading the room
Before proposing any changes, we raised a company-wide poll using polly. Members sometimes choose to do this in advance of engaging in governance to get a sense of whether there's popular support for an idea or policy.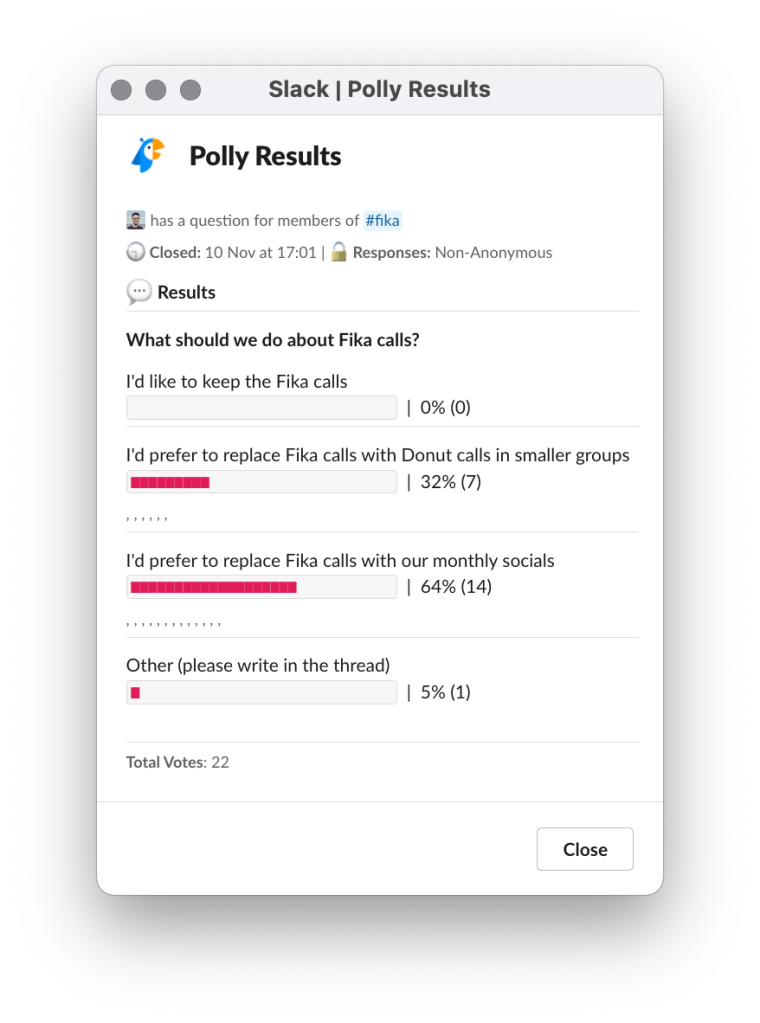 The poll and discussion prompted some interesting reflections. It wasn't that our team no longer wanted to hang out or socialize with one another.
Rather, we'd outgrown the unstructured format.
Here's what some Parabol members had to say:
"I'm just not 100% comfortable sitting in an "unstructured" conversations/meetings. I like the monthly game more and would love to attend that."
"Between Donut chats and our game things we've been having I don't feel the need to join fika anymore"
"Monthly socials" could replace fika meetings"
"I have enjoyed the donuts going from 1:1 to 3 members and have been much better at scheduling time for those vs making it to fika lately."
Fika 1.0 – an open Zoom line – worked well when the company comprised <10 people.
When we grew further, Nick O'Ferrall introduced Fika 2.0, to divide the Fika call into multiple breakout rooms.
This was the first we've used our async decision-making process to roll-back a previous decision vs only making new ones. It felt good to test that the process works with a policy everyone has a stake in.
What did we learn?
When a practice has lasted for years it's tempting to think of it as set in stone, immovable, part of the foundation. But companies are organic. Practices should change over time to represent and serve the people who make up companies. We learned that we can adapt the way we work without threatening the foundations of who we are.
Beyond that, we also learned that our governance process can be used effectively to scrutinize any attempts to revoke or roll-back policies.
As Parabol grows, there will inevitably be older policies and roles that are no longer fit-for-purpose. It's good to know that we have the processes in place to democratically do our housekeeping!
---
💜 How does your team socialize with one another remotely? If you have any ideas we should be trying out, please let us know! 💜
---
Metrics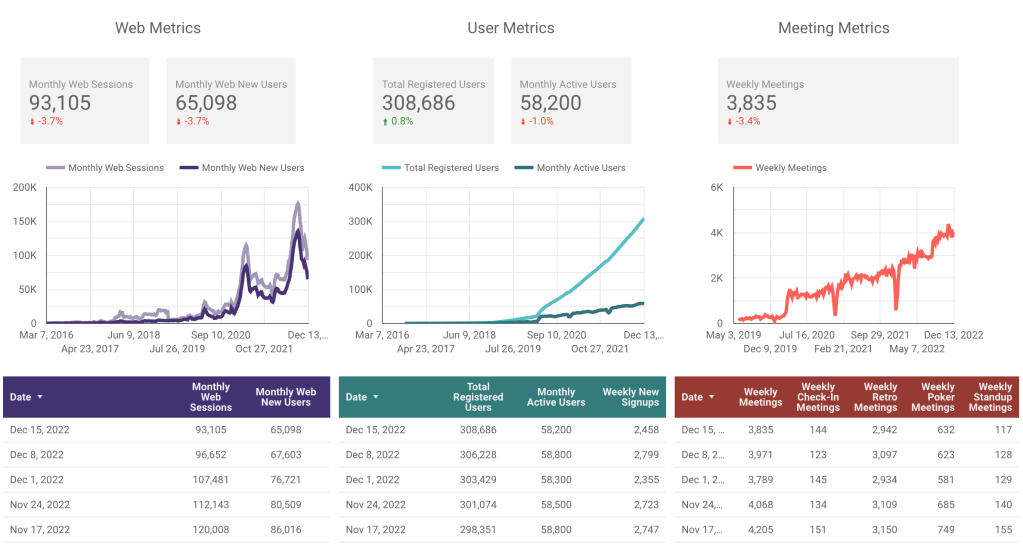 Web sessions and monthly new users slid again this week. We believe much of our traffic erosion is due to Google's September algorithm update. We are currently working to refresh, prune, and tighten up the content on our website to help lift these numbers. Our data this week also shows evidence of people starting to take Christmas vacations, as monthly active users and our weekly meetings took a hit. This is a seasonal trend we see every year at Parabol.
This week, we…
Ran a Christmas-themed Parabol social where team members built gingerbread houses!

Shared the outcomes of squad 3's recent design sprint in Miami

Held our latest user research retrospective to discuss and process user feedback

Began wrapping up our work for 2022!
Next week we'll…
Begin our winter break starting 22 December.
Join our Fully-Remote Global Team
Help us create a world where every meeting is worth the time invested.