#300 – 300 Weeks of Parabol Friday Ship
May 27th, 2022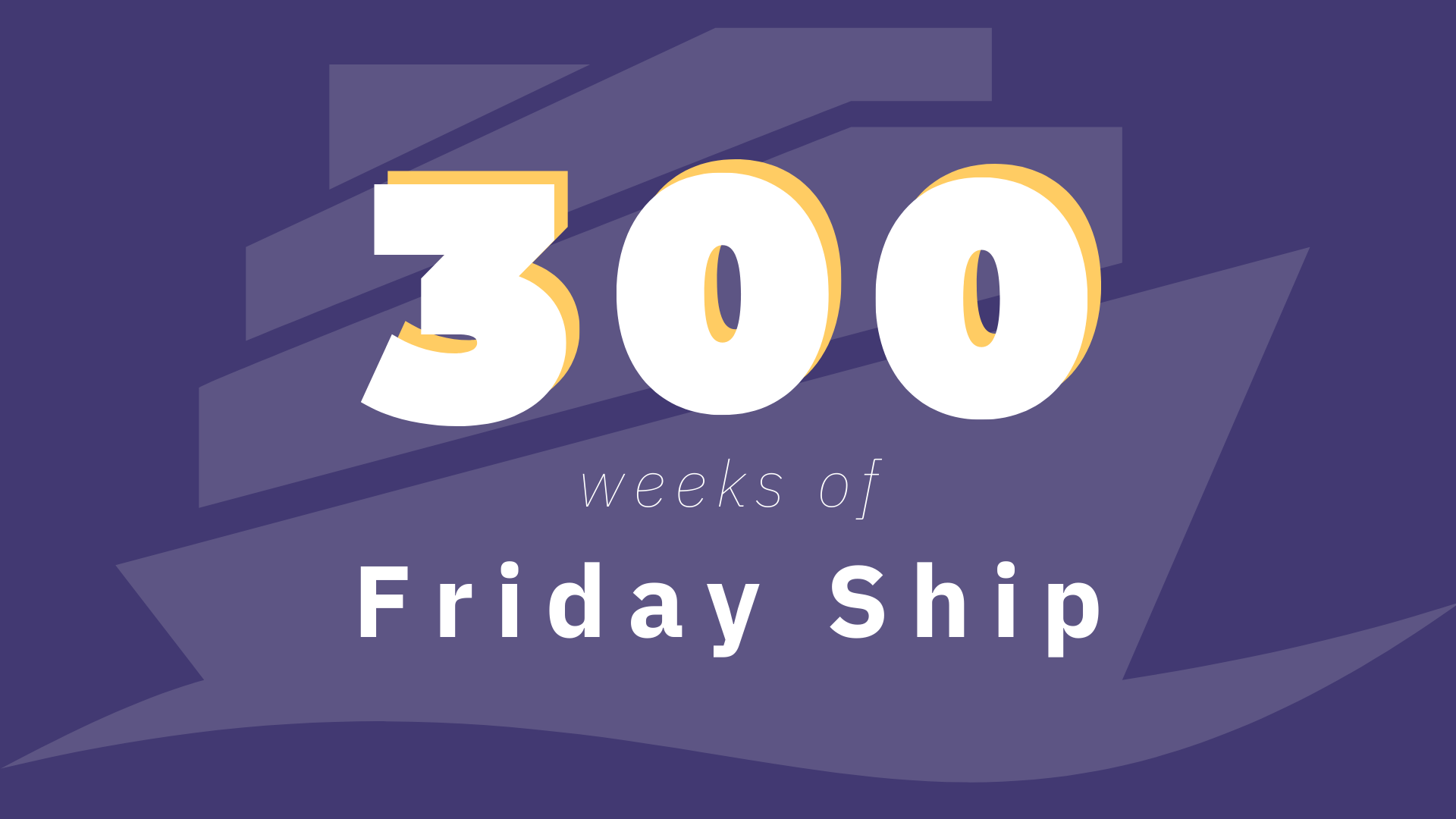 This week we mark the publishing of our 300th Friday Ship post.
We write the Parabol Friday Ship to experience life more than once. Almost 20 years ago, I moved to India on work assignment. Before I left from my home in Minneapolis, my friends threw me a going away party. One friend brought a gift, a small leather-bound journal. As he handed it to me he said, "life is meant to be lived twice." I wrote faithfully in that journal. Over the years I relived those experiences abroad many times. Sometimes what I read means more to me now than it did when it first happened.
I relate this to an insight from David Allen (of Getting Things Done fame), "your mind is meant for having ideas, not remembering them." Writing is a wonderful way to remember.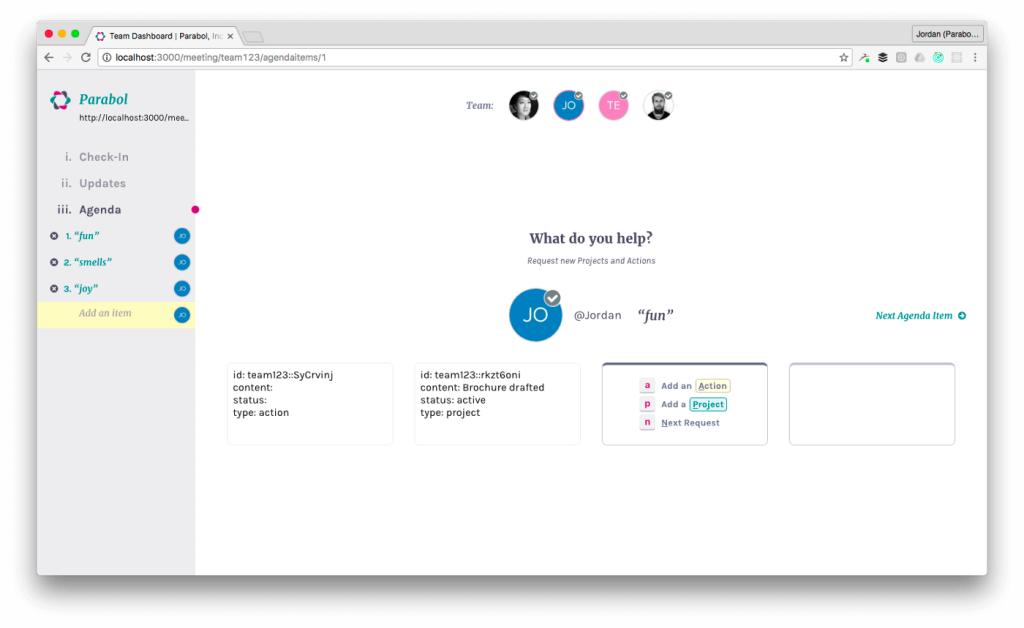 Friday Ship serves dual purpose: remembering and communicating ideas. Parabol doesn't have a regular all-hands meeting. Friday Ship serves us internally as a way to highlight important work and keep the people who work inside Parabol informed on what's going on. Outside the company, Friday Ship is a way to update our investors, most engaged users, and prospective employees. Friday Ship is useful to us in the present. Friday Ship is also valuable to us when we go backward and retread the road we've traveled.
By the numbers
Parabol existed for nearly 6 months before we started writing Friday Ship on February 12th, 2016. We believed the road from raising $125k in angel funds to raising a seed round was going to be measured in months (it took more than 3 years). We thought we could prove our market by reaching 1,000 users within influential brands. It took 986 days to reach 1,000 users, and it wasn't enough to raise an institutional round.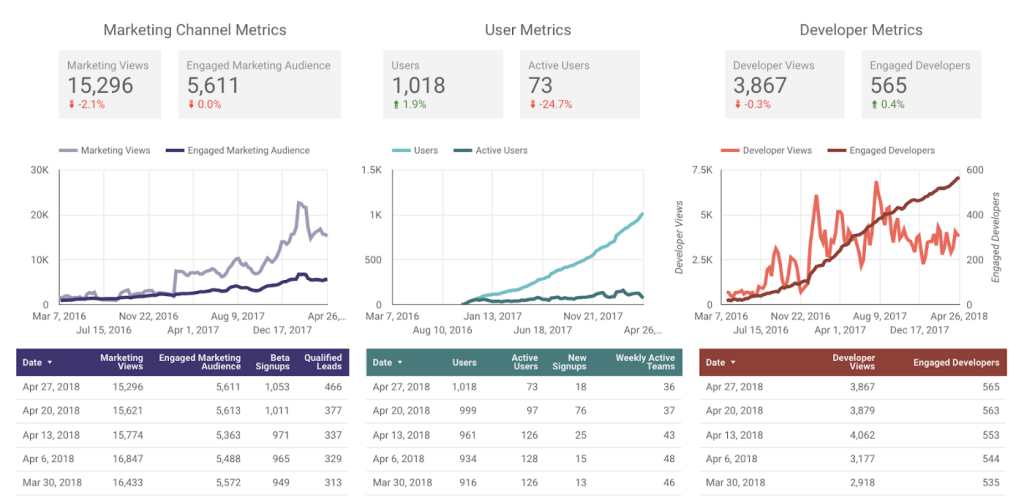 Two-and-a-half years after starting the company we committed the first line of code to begin the development of our retrospective feature that pivoted us into the Agile market. Development of our retrospective feature took 5 months and 22 days to reach general availability. It would only take a year from the launch of retrospectives to grow from 1,000 to 10,000 registered users in August, 2019. It would take just a little over one year from that milestone to reach 100,000 registered users in February, 2021.
Lessons learned
More important than reaching the milestones themselves is reflecting on some of the big lessons we've learned along the way.
Products should magnify behavior, not change it. When we started Parabol our idealistic tendencies pulled us toward ideas about the way the world should work. Rather, we had to learn that we needed to meet people where they were and then guide them gently toward our vision. Once we had earned the right to their attention we could put bits of novel experiences in front of them. Terry Acker calls this, "finding what you love, loving what you find."
Never give up access to your user. Our check-in meeting product was designed for consultants to aid in digital transformation. Consultants could put us in front of their clients and a revenue stream we could tap into. Investors said they wanted to see enterprise revenue. It felt like a reasonable first move to outsource sales this way so we could focus on product development. It was a mistake: consultants rarely gave us access to our users, if they used our product with them at all. They were also too busy to give us adequate feedback. We were missing the stories we needed to iterate on the product and create more value.
Solve the business left to right. After you've built enough of a product to where users can experience a complete journey in significant numbers it's important to look for and fix leaks in the product funnel. We found fixing leaks in earlier funnel stages created more leverage than starting at later funnel stages. For example, getting onboarding and retention right before improving referral or revenue generation. After all, you can't monetize users who don't stick.
Under build. Embarrassment is non-fatal (in fact, it's probably good for you). Earlier in our journey we were much more concerned with shipping experiences we felt proud of. Probably the biggest mistake we made was taking 6 months building a Slack-like prorated billing engine and invoicing system before we even had 1,000 freemium users. Prospective investors said, "we need to see some revenue," and we concerned ourselves with making sure that users didn't feel cheated. It took us many years to learn on a molecular level that creating survivable, tense moments with user affords us the possibility to create a connection and discover what would really delight them. This doesn't mean shipping schlock—it means shipping just enough product to just enough people to learn as quickly as we can.
The future of Friday Ship
Without a physical office nor a time zone common for all of us to be able to conveniently meet together, Friday Ship is the narrative that knits our culture together. As our organization grows, there is more stories to collect and more stories to tell. Today everybody writes a short post in a Slack channel called #fridayship. We might not be far off from when this is no longer practical. One wonderful thing about building Parabol the company, is Parabol the product evolves along with our own organizational tensions. It may not be far from now when our application helps gathering a summary of what's going on easier.
What is certain is we'll keep writing and publishing the Friday Ship. Here's looking forward to looking backward on Friday Ship #300 from Friday Ship #400 and beyond!
Metrics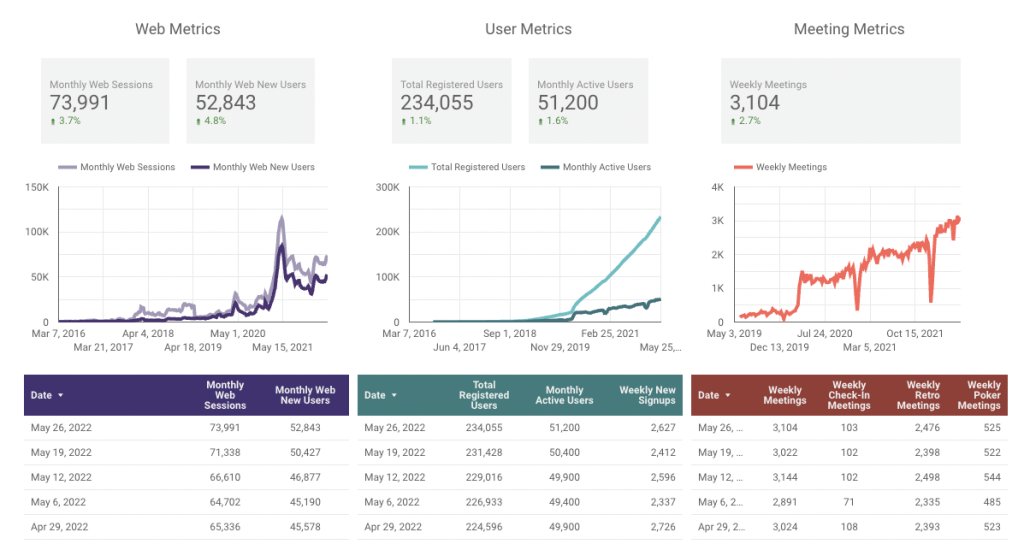 This week we…
…formed new cross-functional product squads. This week was formation week where Parabol's Members decided which squad to join and what they'll be focusing their work on for the next four months. There are 3 squads this trimester: stand ups (with the mission to expand from beta to general availability), early drop-off reduction (looking how we can make the first moments with Parabol stickier), and administration & revenue conversion (looking how we can make the paid Parabol experience even more valuable).
…implemented 2 of 3 remaining stories for our upcoming Jira Server integration. We can now push story points to Jira Server objects. We can also persist common JQL queries. It's been a ton of work, but based on the frequency of requests we know our users are going to love it!
…shipped Parabol v6.60.0 into production. Stand ups got reactjis, avatar groups, summary cards, and we're now sending a Meeting Completed event when the Stand-up meeting ends. Azure DevOps now correctly formats Sprint Poker comments as HTML. GitLab now refreshes its authentication token automatically. We also contributed a healthy number of bug fixes and reduced our tech debt.
…completed the first major revision of Parabol's financial model in 3 years. Our financial model is now fed via Parabol's data warehouse to give us up-to-date, automated forecasts on where our business is going. This is a major step forward for us and will make it easier for us to ask "what if?" questions of our data and aid in formulating strategy.
Next week we'll…
…the U.S. will enjoy the Memorial Day holiday on Monday.
…Product squads will begin their first sprint of the trimeter.
Join our Fully-Remote Global Team
Help us create a world where every meeting is worth the time invested.