What is a WRAP retrospective?
Retrospectives are all about looking deeply into your last sprint – the ups and the downs, the highs and the lows. 
But sometimes, talking all that through can feel scary, even though it's part of striving for continuous improvement. That's where the WRAP retrospective template comes in. 
This template avoids negative language, while still examining your project from every angle. It's a way to take a look at the good and the bad, but in a friendlier, less intimidating way.
The WRAP sprint retrospective format was created by Nick Oostvogels, a Belgian analyst and scrum master.
🧞 Wishes
With this prompt, your team can get creative and dream big together. If you had three wishes, what would you choose for your team, to make work better? 
What would make your next sprint absolutely perfect? What would your ideal daily workflow look like?
You don't have to be realistic! The idea is to envision your idea sprint, process, project, or flow. Who knows? Maybe you could come up with some action items to turn those wishes into reality.
Example: I wish we could have all the information we need from the client before we start the project.
⛑️ Risks
What potential challenges lie ahead for your team members? Did you face any risks or obstacles that you're worried could crop up again? 
This is the time to brainstorm possible blockers that could get in the way of doing your best work. That way, you can get ahead of the game, and brainstorm an action plan to mitigate them with your colleagues.
Example: I think we need to hire more team members. We don't have enough staff, and it's leading to stress and burnout for everybody.
❤️ Appreciation
Next up, share your gratitude!
Who made this past sprint special, or did truly exceptional work? If one of your teammates made your life or job easier since your last retro, let them know how much you appreciated it. 
You can also speak more generally. What did you like about this sprint or project? This could be something collective, like how your team worked together, or something external that positively impacted how you work.
Example: I appreciated how understanding Martha was when I had to take a mental health day last week. It really made me feel safe and comfortable as part of this team.
🧩 Puzzles
Puzzles are unresolved questions – not quite risks, and not quite opportunities.
When you look back on this last period of work, is there anything you're interested in, or unsure about? You might be wondering how things will unfold in the future, or questioning how you're doing things now.
Someone else on your team might have the answer to your puzzle. But even if they don't, it could lead to some interesting discussion, or change how you do things in your next iteration.
Example: I'm still not sure if the way we structure interviews is the best use of everyone's time. Maybe audio notes, or even an email exchange, could serve the same purpose.
When to do a WRAP retrospective
When you need some positivity
If you've just come off an intense or challenging project or sprint, you probably want to unpack it together – but you'll want to do so in a positive, optimistic way.
Because it's in-depth, but fairly open-ended, A WRAP retrospective meeting could be just what you need to wrap up that experience.
It also comes with an appreciation prompt built in, so you can share some gratitude for your team-members.
When you want to unlock big ideas
Sometimes, you don't just want a quick, tactical recap of your last sprint.
The WRAP template is perfect for agile retrospectives that go broad and look at the big picture – not just your team's strengths and weaknesses, but where they could take you in the future.
How to run a WRAP retrospective in Parabol
First of all, jump into Parabol. If you're a Scrum Master, Agile Coach, or the team meeting facilitator hit the vibrant Add New Meeting button.
Select the WRAP retrospective template
Jump into Parabol and select Retro Meeting with the arrows, then use the dropdown to select the WRAP retrospective template. This is where you'll find Parabol's library of 40+ retrospective ideas.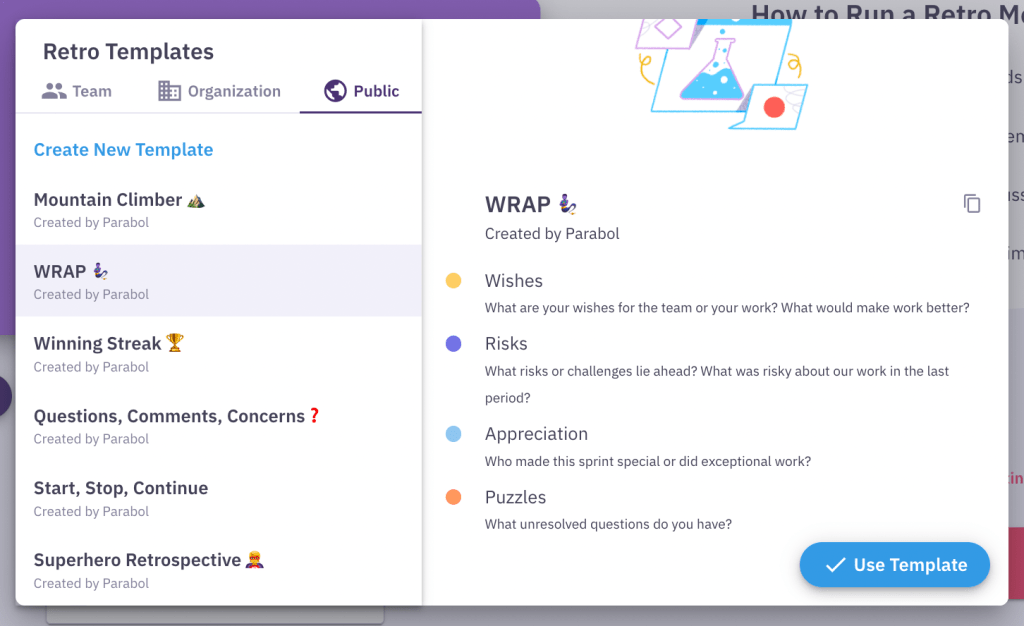 Every Parabol retrospective begins with an optional icebreaker. This box is checked by default. You don't have to do one, but we recommend it.
Start your WRAP retro with an Icebreaker
If you're doing an icebreaker, you'll have a random question to answer. You can refresh it if you want another option, and of course you can create your own if you want.
Perhaps ask team members what their biggest wish is right now.
After the icebreaker you'll move on to the reflect stage. This is where your team will do all their ideation and brainstorm in silence using the prompts above. All reflections are kept anonymous at this stage to prevent groupthink. Parabol gives you the option to timebox this process.
All Parabol sprint retrospectives can be run synchronously or asynchronously. Functionalities such as the timer, voting and multiplayer grouping help you make your retrospective exercise a success and make facilitation easier.
Reflect, Group, and Discuss topics based on the WRAP retro prompts
Team members can all leave comments together, or do it at a time that works for them. Also, reflections are anonymous, and no one can see them until you're done working on them.
After the reflect phase, you'll vote on issues to discuss, talk about the most voted on items, and set action items for each process improvement so you can make it a reality.
Parabol will send a summary of the retro when you're done so nobody needs to take notes.
Of course, you can do this retrospective in person, with a whiteboard or sticky notes. But it's even easier in Parabol, especially if you're an asynchronous or distributed team.
Discover 35+ Retrospective Templates in Parabol!
92% of users agree that Parabol's free online retrospective tool improves meeting efficiency. What's more, Parabol gets your team talking and takes the effort out of running retrospectives.