Marie Kondo Retrospective
A life-changing retrospective template to tidy up how you work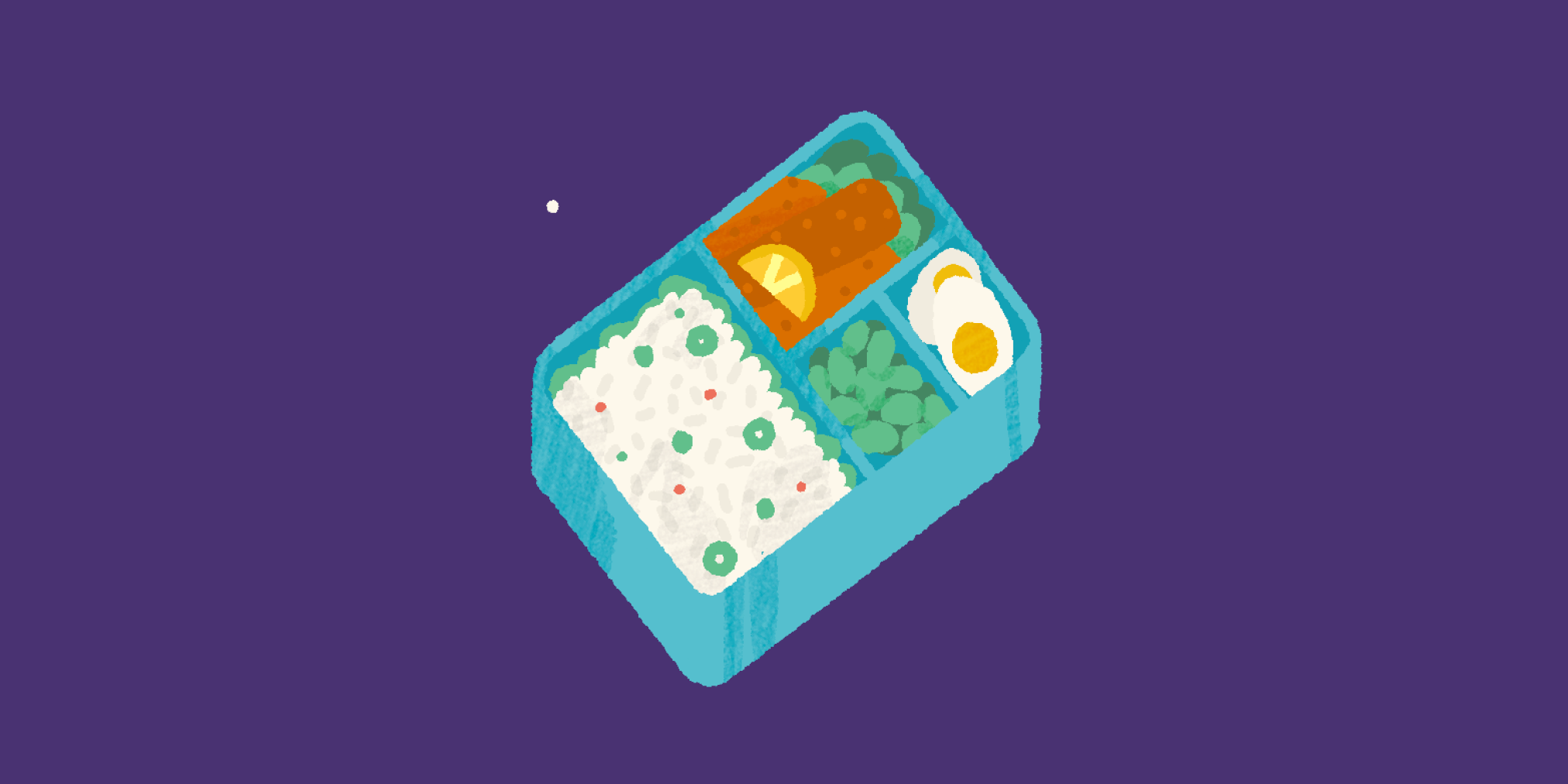 What is a Marie Kondo retrospective?
With her famous KonMari method, Marie Kondo promises everyone the clean, fresh, serenely organized living space of their dreams.
Her secret? Take a moment with each item you own, and ask yourself if it truly brings you joy. If it does, it's meant to be kept. If not, upcycle that item or thank it for its service and say goodbye.
With this template, you'll apply a Konmari-style mentality to your next agile retrospective or lessons learned meeting. Your team will think back, look inward, and declutter how you work.
Contemplate the techniques, processes, tools, and more that you relied on in your last sprint or project.
What are the Marie Kondo retrospective prompts?
With these prompts, apply the Marie Kondo method to each part of your work – should it be kept, bid farewell, or upcycled?
What sparks joy?
What processes and tools felt good to use, and served your team well? During the time period you're contemplating, what made your lives easier, more inspiring, and more stress-free? 
Ask your team members to imagine what processes or activities they want to keep using in the future. If they feel excited and energized to keep it around, then it definitely sparks joy.
Example: It felt so great to end each day with 15 minutes of freely chatting and discussing the day's activities. It really brought us closer as a team.
Thank you and goodbye
What did your team realize you don't need as you move forward? This can be anything that didn't bring you joy, felt challenging, or held you back. 
Honor that feeling, and say goodbye to these things, while appreciating and acknowledging what you learned from them. Then, move them out of the 'keep' pile, so you can embrace a fresher, cleaner way of working.
Example: All those last-minute client requests messed up our workflow, and really made our sprint feel stressful. Let's set boundaries around that in the future.
Things to upcycle
In this pile, you'll collect everything that has plenty of life left, but just needs a little adjustment.  Ask your team what process, techniques, and strategies felt valuable, but could still stand to be changed or improved. 
Don't throw these things away. Recycle them, so they work better for your needs next time.
Example: Our 1-to-1 meetings felt very productive, but they often took me away from important tasks. In the future, could they be less frequent or more flexible?
When to do a Marie Kondo retrospective
Marie Kondo retrospectives are perfect for a spot of sprint cleaning, when your working processes feel messy, or when you're looking back over a long period of time.
When looking back over a long period of time
Marie Kondo retrospectives are especially great for looking back at longer periods of time, like one year.
It's a similar concept to Spring cleaning. Marie Kondo retros are all about airing out and clearing up how you work. That way, your team can go into a new season feeling fresher, lighter, and more energized.
Whenever you need some spring cleaning
But of course, you can do a Marie Kondo retro whenever you'd do a normal retrospective. Whether you're an agile team, or anyone who cares about continuous improvement, you can embrace the life-changing magic of tidying up.
How to run a Marie Kondo retrospective in Parabol
First of all, jump into Parabol. If you're a Scrum Master or the team meeting facilitator hit the vibrant Add New Meeting button. It's time to start tidying up with Marie Kondo's method!
Select the Marie Kondo Retrospective template
When running a retrospective in Parabol you don't need to use a single sticky note or a whiteboard. Select Retro Meeting with the arrows, then use the dropdown to select the Marie Kondo retrospective template. This is where you'll find Parabol's library of 40+ retro ideas.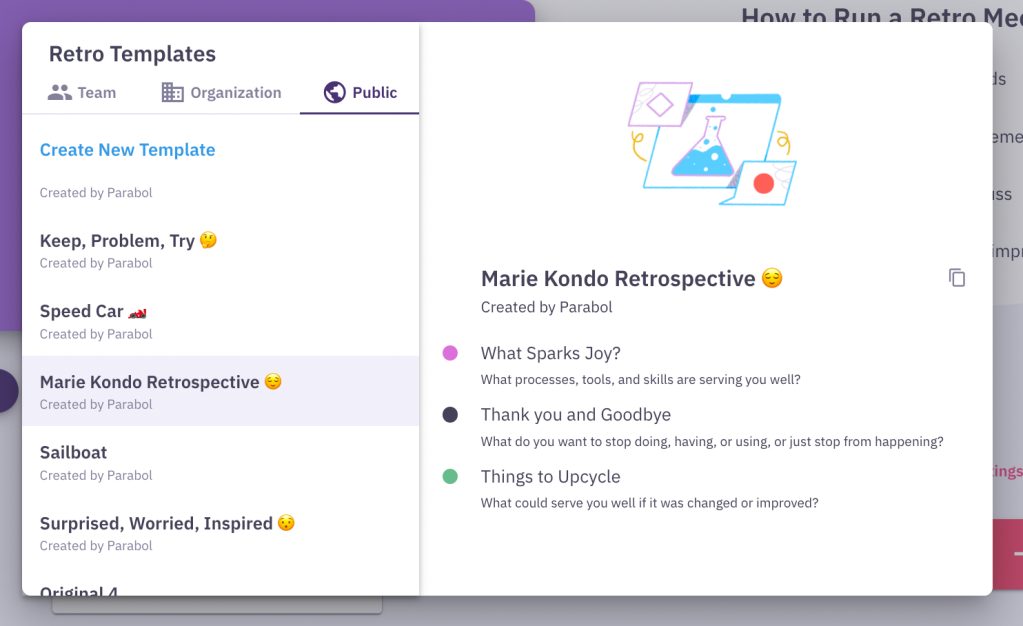 Feel free to copy and customize your template to add a "Kudos" column if you want to celebrate the work of your team.
Start your Marie Kondo retros with an Icebreaker
Every Parabol retrospective begins with an optional icebreaker. This box is checked by default. You don't have to do one, but we recommend it.
If you're doing an icebreaker, you'll have a random question to answer. You can refresh it if you want another option, and of course you can create your own if you want.
After the icebreaker you'll move on to the reflect stage. This is where your team will brainstorm in silence using the prompts above. All reflections are kept anonymous at this stage to prevent groupthink.
Reflect, Group, and Discuss topics based on the Marie Kondo retro prompts
All Parabol sprint retrospectives can be run synchronously or asynchronously. Functionalities such as the timer, voting and multiplayer grouping help you make your retrospective exercise a success and make facilitation easier.
Team members can all leave comments together, or do it at a time that works for them. Also, reflections are anonymous, and no one can see them until you're done working on them.
After the reflect phase, you'll vote on issues to discuss, talk about the most voted on items, and set action items for how to resolve them in your next iteration.
Parabol will send a summary of the retro when you're done so nobody needs to take notes.
Discover 35+ Retrospective Templates in Parabol!
92% of users agree that Parabol's free online retrospective tool improves meeting efficiency. What's more, Parabol gets your team talking and takes the effort out of running retrospectives.