#284 – Leadership Retreat
Friday Ship | January 21, 2022
The Leadership team is back from a quick three day retreat in LA. We last gathered in June of 2020, so it felt good to see each other IRL again!
Despite the challenges from the lingering pandemic…and a last minute Airbnb cancellation, we managed to reconnect over some wonderful meals and dug into some important topics. We even fit in a lovely hike to the Griffith Observatory!
Our focus for this retreat was split into 3 areas:
Break Bread Together
As a leadership team, we are tasked with hard decisions at times and decisions that affect the entire organization. We need our team to welcome healthy conflict and to hold each other accountable to what we've said is important to the company. We can't do that effectively without trust in each other. One of my favorite ways to build trust (and empathy) amongst team members is sharing stories over a meal. (Attempting to use high tech kitchen appliances also acted as a great team building activity)
Retreats and Small Gatherings for 2022
Opportunity for team members to participate in in-person gatherings is essential to our culture. We had a cadence for gatherings pre-pandemic, but the world is different now and the team is much larger. As we continue to scale (and face external challenges out of our control) we needed to add clarity around guidelines and expectations for these events.
Member Feedback Policy
While we have a strong cadence for Team Retros to create feedback for teams, we were overdue on putting a process in place for individual member feedback. I'm very excited to see this one in action and after a few cycles with this new process, I'm sure you will be seeing a blog post with more of the details!
We packed a lot into three days…I left feeling reconnected to my team (reminded how much shorter I am then all of them) and energized for what is to come in 2022.
Metrics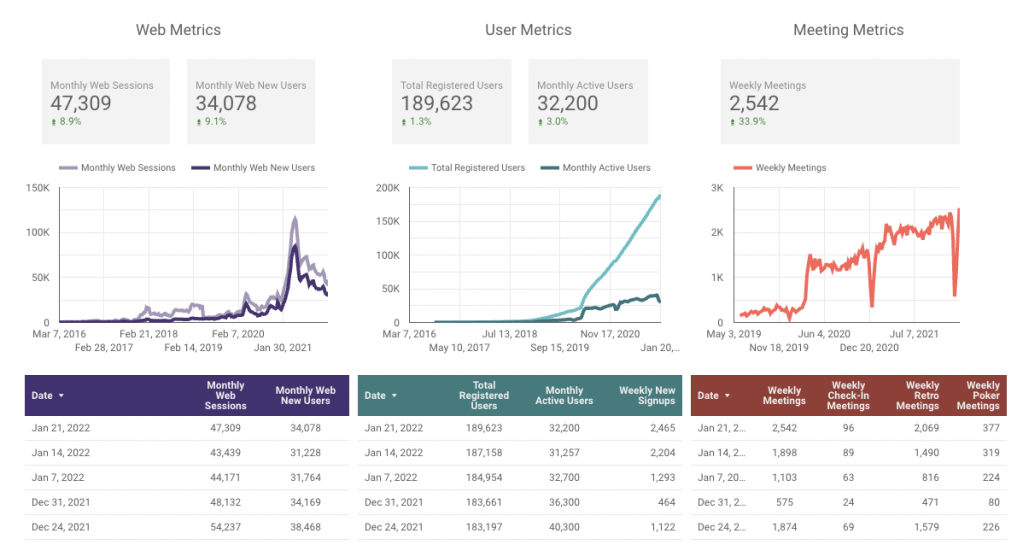 "School" is very much back in session as we show green lights across the board this week. We're seeing the sign-up rate for Parabol since early October and a new record number of meetings held for the week. One soft spot is our number of MAU: we're not quite up to our historical high, but hope to get there again soon as more and more of last year's users rejoin our app.
This week we…
…created a plan to add new retro templates (#5890, #5891, #5892). This will add 25 new activities for our users
…held interviews, interviews and more interviews. Check out our open positions.
…did a little flexing on TikTok.
Next week we'll…
…wrap up Product Sprint #95. Looking forward to sharing what we ship!
…continue working on our new website. Launching Soon!
---
Have feedback? See something that you like or something you think could be better? Leave a public response here, or write to us.
Join our Fully-Remote Global Team
Help us create a world where every meeting is worth the time invested.