What is an Original 4 retrospective?
Kerth, and his book, are considered by many to have created the agile retrospective! So, this is a must-know template if your team members are serious about looking back, understanding their strengths and weaknesses, and striving for continuous improvement.
So this is it – the retrospective that started it all!
With four classic prompts, facilitators will spark discussion and inspire agile and scrum teams to look more deeply at how they work together.
Through open sharing in a safe, trusting environment, you can identify patterns and trends that indicate both what you do well, and where you might need to improve.
Wins
Where did your team excel this past sprint? What are you proud of?
Positive thoughts make great icebreakers, so this is an excellent prompt to start from. Call out those wins clearly, so you're all on the same page and ready to double down on those successful techniques and strategies.
It's ok to look at the big picture, but it's even better to be specific! The more granular you can get when describing your wins, the easier it will be to replicate them next time.
Example: Sandra did such a great job of listening to our client when they didn't like the first iteration of the site. She was really able to understand exactly what wasn't working for them, and how we could fix it.
Improvements
What didn't go so well this time? What could you, your teammates, or your scrum master do differently moving forward?
This is where you'll really be able to single out ways to improve.
When you're describing areas for improvement, try to speak in tangible, grounded terms. By focusing on simple observations rather than value judgements, you can lay the groundwork for real change.
Example: Our client wasn't happy with the initial round of work we did. It didn't align with their vision.
Learnings
What did you and your team learn from certain actions you took, or choices you made?
This prompt focuses on how those choices impacted your work, positively or negatively. In the future, would you make those choices again, or did you find that they were harmful, rather than helpful? Then, you can come up with action items to take those learnings into reality.
Example: We didn't understand the client's vision, and the result was that they weren't happy with our work. In the future, we should invest more time up front, making sure we're all on the same page before we actually start the design work.
Questions
What's still a puzzle for your team? What are you still wondering about?
This prompt is all about open-ended questions. Think of them as the opposite of the learnings you shared above – topics and experiences that feel important, but you don't yet have a clear takeaway for.
You might find that someone else on your team has answers for your question, or has similar queries themselves.
Example: I'm not sure how to navigate clients who don't seem to know exactly what they want. Could we brainstorm together to help them refine their vision?
When to do an Original 4 retrospective
For your first retrospective
Are you a new team, trying out your first retrospective together? Or do you know each other well, but you're only just starting regular retros?
Either way, if you're new to retrospective meetings, this is a good place to start. The Original 4 retrospective technique is basically the blueprint most retros are based on, so it's a good way to get familiar with the practice.
To get back to basics
Maybe your team loves retrospectives and mixing it up with fun templates. If you do retrospectives all the time, it's a good idea to return to the Original 4 retrospective format semi-regularly.
Try this classic meeting quarterly, or at the end of a big project. These four simple questions will get you in touch with why you're all looking back together. Then, for your next retrospective or post-mortem, you'll be ready to improve for your next sprint or project!
How to run an Original 4 retrospective in Parabol
First things first, get Parabol for free. Then, when you're in Parabol hit the Add New Meeting button and choose a "retrospective" meeting.
Select the Original 4 retrospective template
Jump into Parabol and select Retro Meeting with the arrows, then use the dropdown to select the Original 4 retrospective template. This is where you'll find Parabol's library of 40+ pre-made and customizable retrospective templates.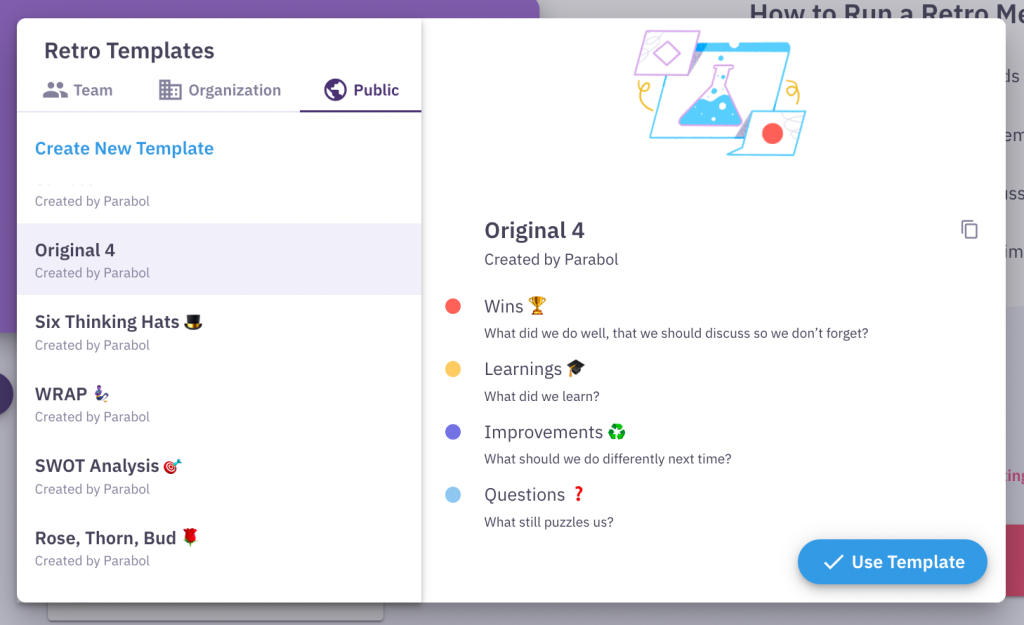 Every Parabol retrospective begins with an optional icebreaker. This box is checked by default. You don't have to do one, but we recommend it.
Start your Original 4 retro with an Icebreaker
If you're doing an icebreaker, you'll have a random question to answer. You can refresh it if you want another option, and of course you can create your own if you want.
Perhaps ask team members if there's something they particularly like or dislike about retrospectives.
After the icebreaker you'll move on to the reflect stage. This is where your team will do all their ideation and brainstorm in silence using the prompts above. All reflections are kept anonymous at this stage to prevent groupthink. Parabol gives you the option to timebox this process.
All Parabol sprint retrospectives can be run synchronously or asynchronously. Functionalities such as the timer, voting and multiplayer grouping help you make your retrospective exercise a success and make facilitation easier.
Reflect, Group, and Discuss topics based on the Original 4 retro prompts
Team members can all leave comments together, or do it at a time that works for them. Also, reflections are anonymous, and no one can see them until you're done working on them.
After the reflect phase, you'll vote on issues to discuss, talk about the most voted on items, and set action items for each process improvement so you can make it a reality.
Parabol will send a summary of the retro when you're done so nobody needs to take notes.
Of course, you can do this retrospective in person, with a whiteboard or sticky notes. But it's even easier in Parabol, especially if you're an asynchronous or distributed team.
Discover 35+ Retrospective Templates in Parabol!
92% of users agree that Parabol's free online retrospective tool improves meeting efficiency. What's more, Parabol gets your team talking and takes the effort out of running retrospectives.