New Year Retrospective
A year end retrospective to look back and plan for the future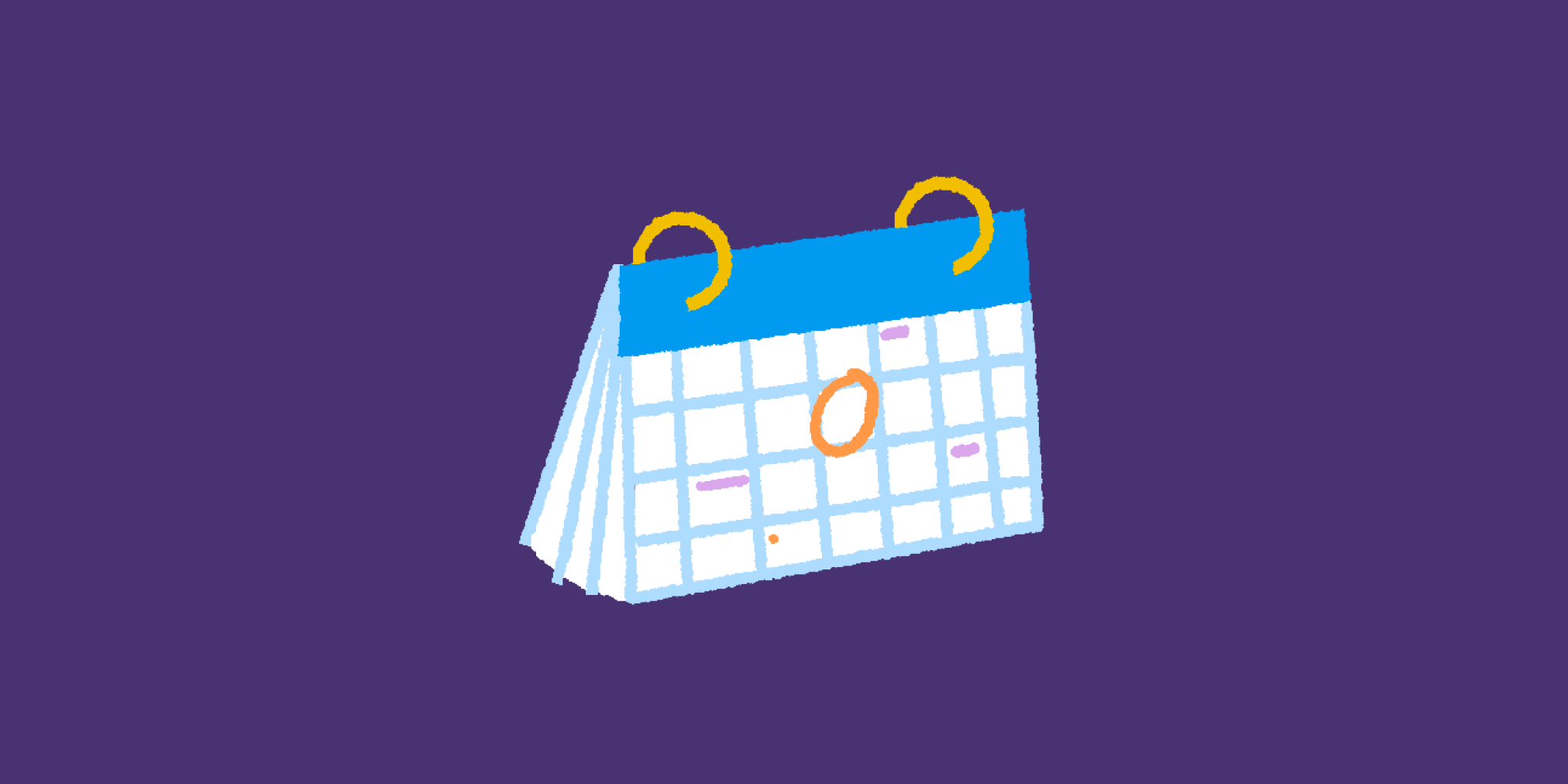 What is a New Year retrospective?
New Year's is a time to look back, but also look forward. It's an ending, but it's also a fresh start. And for many of us, it's a time to set some exciting goals.
Put simply, it's the perfect time of year for a new year's themed agile retrospective.
Classic New Year's resolutions are all about personal growth, and aspiring to evolve as people. Even though it's designed for professional and agile teams, this retrospective has a similarly human feel.
You and your colleagues will reflect on the journey you've taken together in the year, and imagine where it might lead in the future.
You'll connect over the high points, appreciate how far you've come, and get inspired about what comes next.
New Year retrospective prompts
Here are the prompts you'll need for a new years retrospective. Happy New Year!
Growth & Wisdom
How did you grow and change this year? What new skills and lessons did you learn, either personally, or as a team?
It's great to focus on the future, and set high goals so you can work towards continuous improvement. But it's actually just as important to look back and congratulate each other on how far you've come.
Recognizing growth can help scrum teams (or any team) feel that elusive state of self-actualization – the peak of Maslow's famous hierarchy of needs. The facilitator should encourage everyone to slow down and take a moment to enjoy their success. If you don't, you might miss it!
Example: Compared to last year, our team's code and review process was way more streamlined. It's been great to see Aliya and Chris step up and help with this. We are shipping way more quickly now.
Greatest Hits
What were the feel-good moments and high points of this past year? When you look back, what great memories stand out, big or small?
These don't have to be major professional wins – although those certainly matter, too. But goofy jokes and bonding moments are just as deserving of space among your year's greatest hits.
The scrum master should also ask their team to also think about moments when they collaborated exceptionally well. When did it feel like the team was in a state of 'flow,' or working like a well-oiled machine?
Example: Mike's LinkedIn posts brought me joy all the way through the year – especially the funny pictures of his cat!
Resolutions
What does your team want to achieve? What can you work on and commit to accomplishing next year?
As a rule, you can use resolutions either to build on something that went well, or address an area where you might have struggled. Be specific! By translating goals into action items, your team will know exactly how to realize them.
Make sure your team doesn't feel intimidated or pressured by this prompt. Resolutions are about dreaming and personal growth. They're not a binding professional contract!
Example: I want to become more familiar with DevOps work, and get more comfortable with the Kanban method. This all feels abstract right now, but I think learning about it might improve how I build.
When to do a New Year Retrospective
At the risk of stating the obvious… at the end of the year! Try this retrospective technique as your last one of the year before the holidays. There's no better time for resolutions and reminiscing. Why not take advantage with a dedicated New Year retrospective?
That being said, there's nothing stopping you from using this retro at other pivotal moments, like the end of a big contract or a key team member's resignation.
How to run a New Year retrospective in Parabol
Sign up to Parabol for free retrospectives. Then, from your Parabol dashboard hit the Add New Meeting button.
Select the New Year retrospective template
Select Retro Meeting with the arrows, then use the dropdown to select the New Year retrospective template.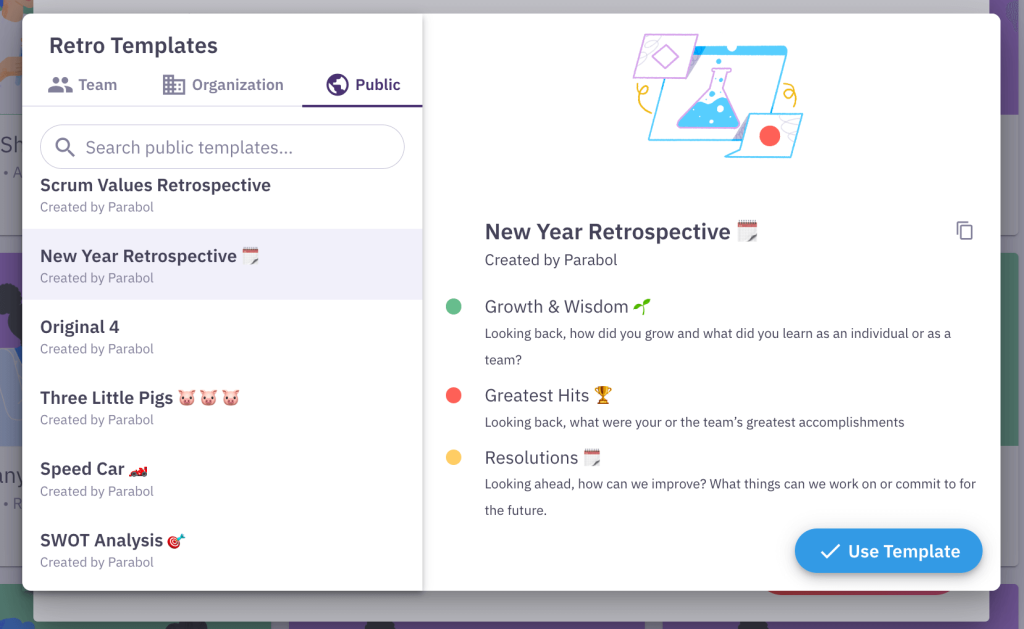 When you're ready, the facilitator should hit Start Meeting to kick things off!
Start your New Year retro with an Icebreaker
The Icebreaker box is checked on by default. You don't have to do one, but we recommend it. A good icebreaker is the prelude to a great retrospective and can loosen everyone up.
Why not ask your team-mates if they have any new year's resolutions!
If you're doing an Icebreaker, you'll have a random question to answer. You can refresh it if you want another option, and of course you can create your own if you want.
Next, you'll reflect on your work together using the New Year retro prompts.
Reflect, Group, and Discuss topics based on the New Year retro prompts
After the reflect phase, you'll vote on issues to discuss, talk about the most voted on items, and then get a summary of the retro when you're done.
Parabol is remote-friendly, enabling you to work asynchronously with your team. Your scrum team can all leave comments synchronously, or do it at a time that works for them.
Also, reflections are anonymous, and no one can see them until you're done working on them.
After the reflect phase, you'll vote on issues to discuss, talk about the most voted on items, and then get a summary of the retro and any action items when you're done.
Discover 35+ Retrospective Templates in Parabol!
92% of users agree that Parabol's free online retrospective tool improves meeting efficiency. What's more, Parabol gets your team talking and takes the effort out of running retrospectives.