What is a Lunar New Year retrospective?
Every new moon is a fresh start. But the first new moon of the year is an especially powerful, auspicious occasion. 
Lunar New Year is celebrated in many cultures that follow the lunar or lunisolar calendar, but it's especially associated with East and Central Asia. It's observed in late January or early February in Chinese, South Korean, Taiwanese, and Vietnamese culture.
Every Lunar New Year, families come together, clean their homes from top to bottom, and welcome a new year of joy, success, and good fortune.
This major holiday is the perfect chance to get into a celebratory spirit with your team. By looking back at the past year, sprint, or project, you can set yourselves up for an even brighter future while cleaning up some of your working practices!
Hongbao
On each Lunar New Year's eve, couples and parents gift their younger relatives with beautiful red envelopes called hongbao. Inside are crisp new bills, a symbolic gesture of good luck and well wishes for the coming year.
Start your retro with some kudos! Who deserves a metaphorical hongbao? What kind words of support or appreciation would you like to share? 
Example: It's amazing to see how much Nathan has grown professionally this year. He's been an asset to our team, and I know the coming months will be great for him!
Couplets
Seasonal poetry, printed on red paper and displayed around doors and entryways, is an unmistakable sign of Lunar New Year celebrations.
These couplets express joy, convey good wishes for the new year, or describe the natural beauty forthcoming in Spring. 
For this prompt, consider what important messages you want to share with your team. What wisdom or guidance do you feel should be remembered? 
Example: When we're faced with overwhelming challenges, I want us to remember how far we've come and how much we've accomplished. No matter what, our team does our best and produces great work. 
Firecracker
Firecrackers are exciting, but they're serious business – especially if you're not expecting them!
What caught your team by surprise this past project or sprint? This could be a beautiful surprise, like fireworks, or one that wasn't so great. 
What matters is that you learn from it, and ideally come up with some action items so you can be better prepared next time.
Example: I couldn't believe how much of a learning curve there was in switching our database. Next time we start using a new tool, we absolutely need to have a lower workload during that onboarding period. 
When to do a Lunar New Year retrospective
On Lunar New Year
Whether everyone celebrates Lunar New Year, or it's some peoples' first time, don't miss out on the fun of this beautiful spring festival.
This retrospective template is the perfect thing to sign off with before taking a holiday break, or connect over on your first day back.
How to run a Lunar New Year retrospective in Parabol
First things first, you can sign up for Parabol for free. Then facilitators can start this meeting in Parabol by selecting their team on the right and then hitting that vibrant Add New Meeting button.
Select the Lunar New Year retrospective template
Jump into Parabol and select Retro Meeting with the arrows, then use the dropdown to select the Lunar New Year retrospective template. This is where you'll find Parabol's library of 40+ pre-made and customizable retrospective formats.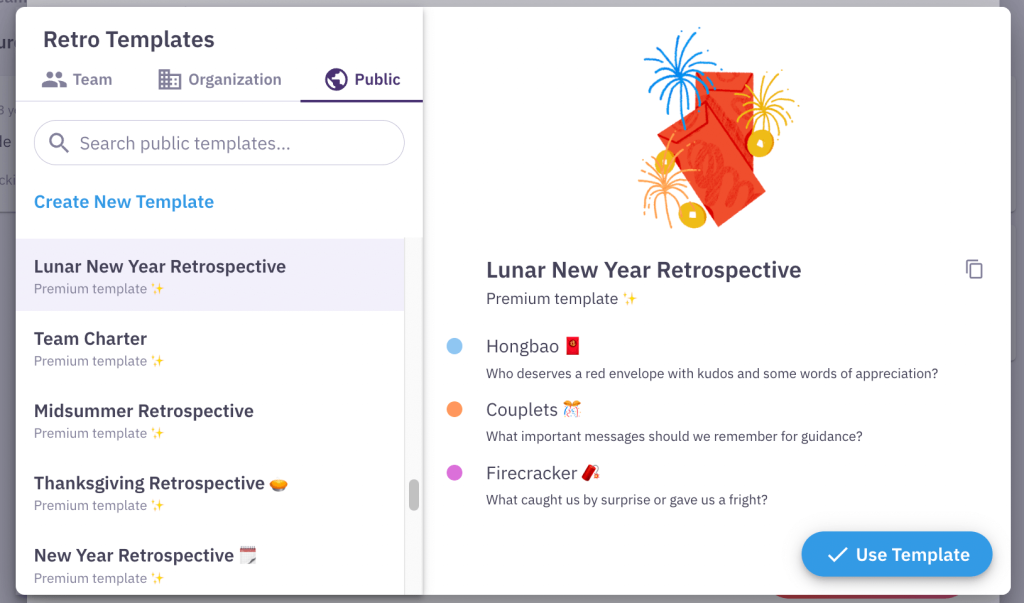 Every Parabol retrospective begins with an optional icebreaker. This box is checked by default. You don't have to do one, but we recommend it – especially for remote teams.
Start your retrospective with an Icebreaker
If you're doing an icebreaker, you'll have a random question to answer. You can refresh it if you want another option, and of course you can create your own if you want.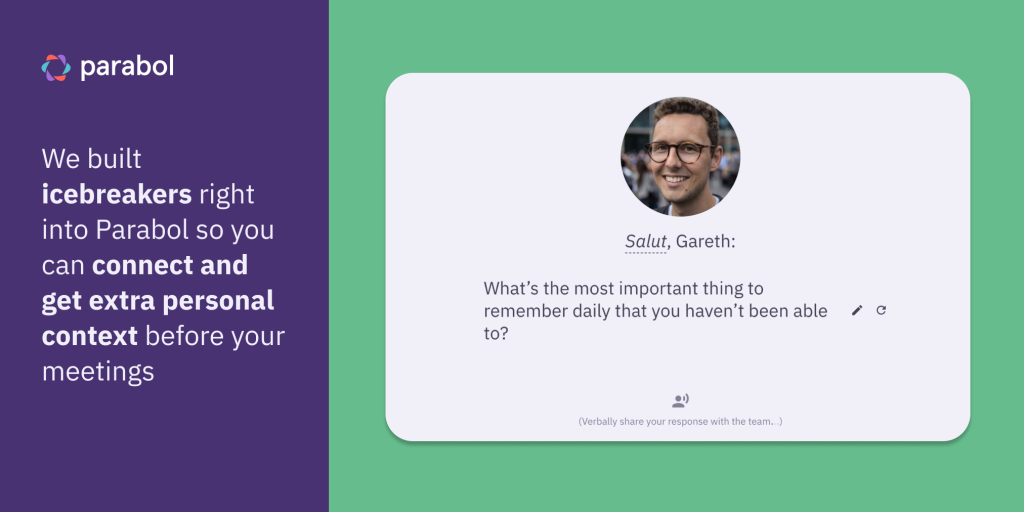 After the icebreaker you'll move on to the reflect stage. This is where your team will do all their ideation and brainstorm in silence using the prompts above. All reflections are kept anonymous at this stage to prevent groupthink. Parabol gives Scrum Masters or meeting facilitators the option to timebox this process.
All Parabol sprint retrospectives can be run synchronously or asynchronously. Functionalities such as the timer, voting and multiplayer grouping help you make your retrospective exercise a success and make facilitation easier.
Reflect, Group, and Discuss topics based on the retro prompts
Team members can all leave reflections together, or do it at a time that works for them. Also, reflections are anonymous, and no one can see them until you're done working on them.
After the reflect phase, you'll vote on issues to discuss, talk about the most voted on items, and follow up with action items for each topic so you can make continuous improvement a reality.
Parabol will send a summary of the retro when you're done so nobody needs to take notes.
Discover 35+ Retrospective Templates in Parabol!
92% of users agree that Parabol's free online retrospective tool improves meeting efficiency. What's more, Parabol gets your team talking and takes the effort out of running retrospectives.