Hopes and Fears Retrospective
Talk about your feelings with a retro that's made for sharing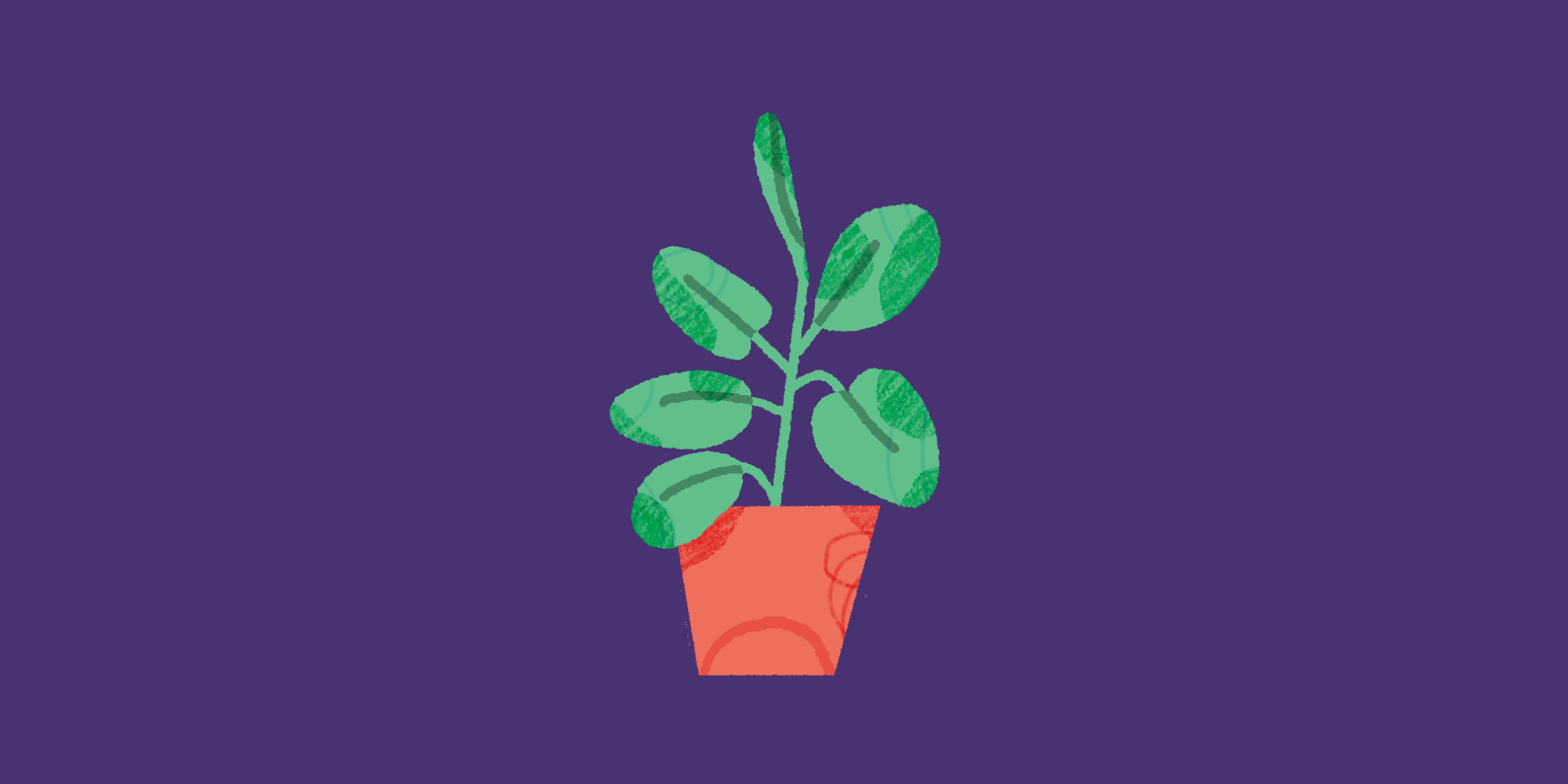 What is a Hopes and Fears retrospective?
The Hopes and Fears retrospective is a collaborative activity that focuses on your team's biggest hopes and fears. It includes both retrospective and futurespective elements.
Working together is all about relationships. To build strong teams, colleagues need to know and trust each other, not just as professionals, but as people.
That's why professionalism should never mean leaving your feelings behind completely. On the contrary, it's important for retrospective facilitators to hold space for open, honest conversations among their teams.
In this meeting, team members can share how they're feeling about work, rather than just describing the nuts and bolts of what happened. The goal is to inspire empathy and create a safe space for sharing so your team can let their guard down and form stronger bonds.
Hopes
What are you looking forward to in the coming weeks and months? What gives you faith in your team? Are there any things you expect to happen in the coming sprint or project? Did you have any specific hopes for the previous sprint or project?
These can be your own professional hopes and ambitions, or collective goals you want to accomplish together.
This is your chance to talk about the bright, shiny future that feels like it's just within reach. By brainstorming about your hopes, your team can get excited, inspired, and motivated together.
Example: I hope we can spend time speaking to our customers about their experiences with our product.
Fears
What's coming up that you're worried about? Is anything holding you back, or seems like it might in the future?
This prompt gives you a chance to process whatever's stressing you out. Maybe you've had some bad work experiences in the past, and you're seeking some warning signs that they might pop up again.
By getting those fears out in the open, your team can come up with ways to mitigate them. On the flip side, talking to your colleagues may help you realize things aren't as scary as you thought!
Example: I'm worried that our plans are a bit too ambitious. I'd benefit from a better understanding of our stakeholders and team's expectations.
When to do a Hopes and Fears retrospective
To build connection
The Hopes and Fears retrospective format encourages people to get real and be vulnerable with each other, so it's a great retro to use if you really need to get to know one another.
Try it out if you're a brand-new team, or a distributed team who's only just meeting in person.
It also works well for new teams thinking about what their hopes and fears are for their team culture. Or for looking ahead to an upcoming project you'll work on together.
After a challenging experience
It's good to open up with each other after a tough sprint or project, especially if you faced team conflict or friction.
Everyone on your team is motivated by their own personal hopes and fears. Sharing them might allow you to find common ground, so you can start fresh and feel connected for your next new project.
To manage expectations
Sometimes you want to get everyone on the same page before starting a sprint, project, or even doing something like a team retreat or off-site.
The Hopes and Fears retrospective template offers a way to understand your team or stakeholders' expectations about an event, sprint, or project. That way, you can set action items to ensure you address peoples' fears and fulfill peoples' hopes.
How to run a Hopes and Fears retrospective in Parabol
First things first, get Parabol for free. Then, when you're in Parabol hit the Add New Meeting button and choose a "retrospective" meeting.
Select the Hopes and Fears retrospective template
Jump into Parabol and select Retro Meeting with the arrows, then use the dropdown to select the Hopes and Fears retrospective template. This is where you'll find Parabol's library of 40+ pre-made and customizable retrospective templates.
Every Parabol retrospective begins with an optional icebreaker. This box is checked by default. You don't have to do one, but we recommend it.
Start your Hopes and Fears retro with an Icebreaker
If you're doing an icebreaker, you'll have a random question to answer. You can refresh it if you want another option, and of course you can create your own if you want.
Perhaps ask team members if there's a personal hope or fear that's on their mind right now.
After the icebreaker you'll move on to the reflect stage. This is where your team will do all their ideation and brainstorm in silence using the prompts above. All reflections are anonymous at this stage to prevent groupthink. Parabol gives you the option to timebox this process.
All Parabol sprint retrospectives can be run synchronously or asynchronously. Functionalities such as the timer, voting and multiplayer grouping help you make your retrospective exercise a success and make facilitation easier.
Reflect, Group, and Discuss topics based on the Hopes and Fears retro prompts
Team members can all leave comments together, or do it at a time that works for them. Also, reflections are anonymous, and no one can see them until you're done working on them.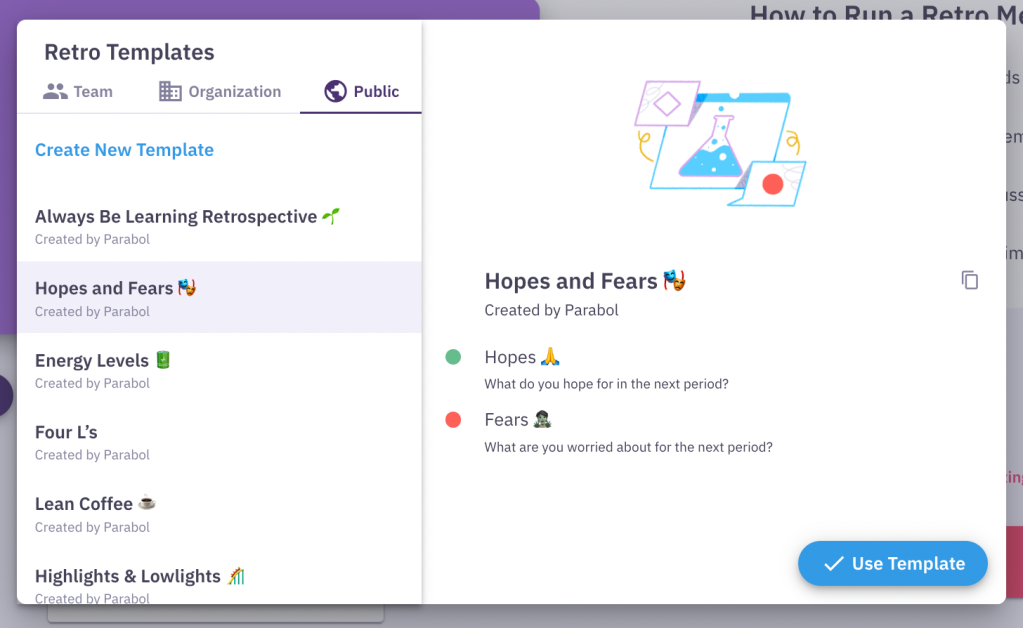 After the reflect phase, you'll vote on issues to discuss, talk about the most voted on items, and set action items for each process improvement so you can make it a reality.
Parabol sends a summary of the retro when you're done so nobody needs to take notes.
Of course, you can do this retrospective in person, with a whiteboard or sticky notes. But it's even easier in Parabol, especially if you're an asynchronous or distributed team.
Discover 35+ Retrospective Templates in Parabol!
92% of users agree that Parabol's free online retrospective tool improves meeting efficiency. What's more, Parabol gets your team talking and takes the effort out of running retrospectives.