#340 – The Calm After the Storm
Friday Ship #340 | March 24th, 2023
This week, the virtual halls of Parabol (aka Slack channels) were pretty quiet as most of the team met up IRL in Lisbon. I'm looking forward to the recap and I'm sure we will be sharing about it in a future Friday Ship.
I personally welcomed the calm after the crazy SVB bank scare from the previous week. You can check out our CEO, Jordan Husney, featured on the Planet Money podcast to hear more. For obvious reasons, we decided to diversify our banking. Once that decision was made, I took some time to review our finance policies to see what we could streamline at the same time.
It was a pretty easy decision to move to Ramp, and this week we completed the setup and onboarding. Before Ramp, we used:
Bank issued credit cards for company expenses

Expensify for employee expense reports and reimbursements

Bill.com for vendor payments
This consolidation is not only a monthly cost savings, but we went from logging into 3 different systems to review and approve items, to now having everything in one dashboard.
This Friday Ship is turning into a Ramp commercial. It is still early, and the software can be a bit buggy at times, but I'm loving the efficiency. We will see if the rest of the team agrees as they log all their expenses from the meetup in Lisbon.
Metrics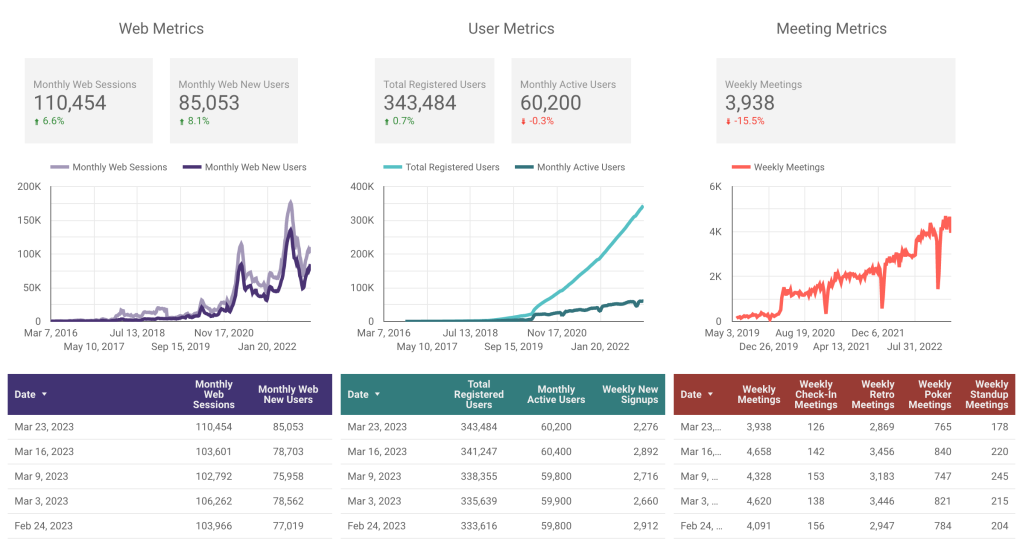 We saw a nice jump in our top-of-funnel metrics. Usage was down, but on par with expectations, after the previous strong weeks.
This week we…
…continued interviewing candidates for our open roles at Parabol
…added 3 new videos to our Psychological Safety series on TikTok.
Next week we'll…
…get an update on the learnings and adventures from the Lisbon Retreat
---
Have feedback? See something that you like or something you think could be better? Please write to us.
All your agile meetings in one place
Run efficient meetings, get your team talking, and save time. Parabol is free for up to 2 teams.