#330 – Rethinking Company AMAs
Friday Ship #330 | January 13th, 2023
As we kick off the new year, we're also kicking off a new experiment with our company AMAs.
We're constantly looking at ways to improve communications as a remote company, especially as our team continues to grow. One of the areas we've experimented with is the All-Hands or Company AMA format and how to make those as effective as possible when the team is distributed around the world.
Last year I talked with Jessica Miller-Merrell on her Workology Podcast about our approach to quarterly AMAs as a distributed team. I've never been a fan of the traditional "Town Hall" or Company AMA, when you gather the entire company in a room (or Zoom) and have people ask questions live. Many are intimidated by this forum, so it's typically the loudest voices that get heard or the same voices each time. Plus with time zones it makes it hard for all to participate live. Instead, we open a retro every quarter for members to submit questions anonymously and then the leadership team comes together and answers them through a Loom recording to share.
This has been working pretty well, but our Head of Product Development, Marcus, had a great idea to try and make it a more ongoing, real-time communication, instead of waiting every few months. So with his help, we created an anonymous form that allows anyone to submit questions that then get posted to our new #ama Slack channel. We've created a pinned agenda item in our weekly leadership check-in meeting to review the channel and record answers to share back in Slack.
We kicked this off before our winter break and we've already had a few questions roll in—even some spicy ones! We'll be sure to report back on how it's going.
Metrics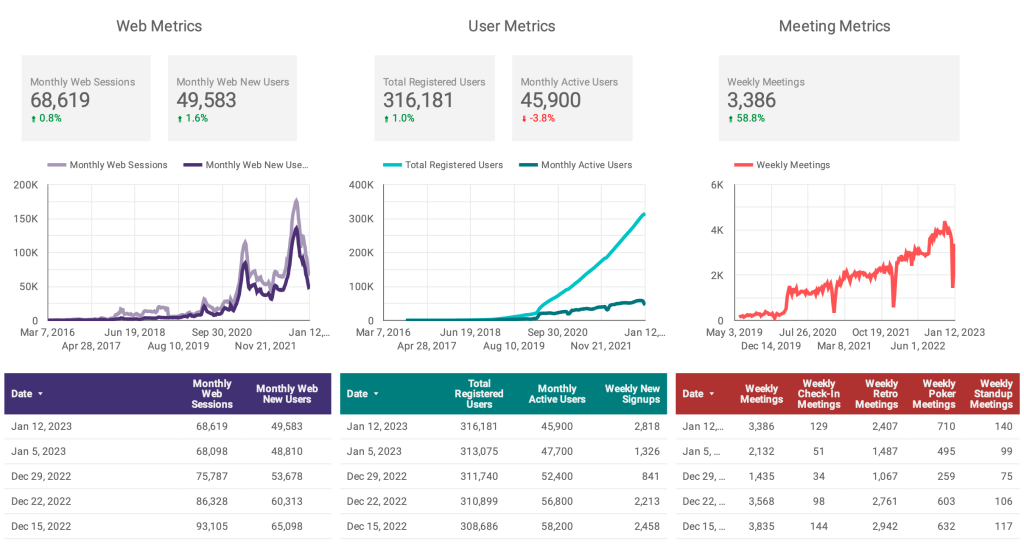 The number of Weekly Meetings is climbing back in as folks are getting back in their rhythm. Our Monthly Active Users is a lagging indicator that should come back up as the year is underway. Sign-ups tend to be strong at the beginning of the year. We assume folks are trying new ways of working.
This week we…
…shared EoY stats with our users, and it made for some fun emails.
…shipped improved notifications for Standup meetings and @-mentions in threads.
…shipped an early version of recurrence for Standup meetings. Now folks can set it and forget it. Engaging Parabol on daily basis tends to show better attachment and adoption of the tool.
Next week we'll…
…propose our company goals for T1 2023.
Join our Fully-Remote Global Team
Help us create a world where every meeting is worth the time invested.