#288 – Our New Website
Friday Ship | Feb. 18, 2022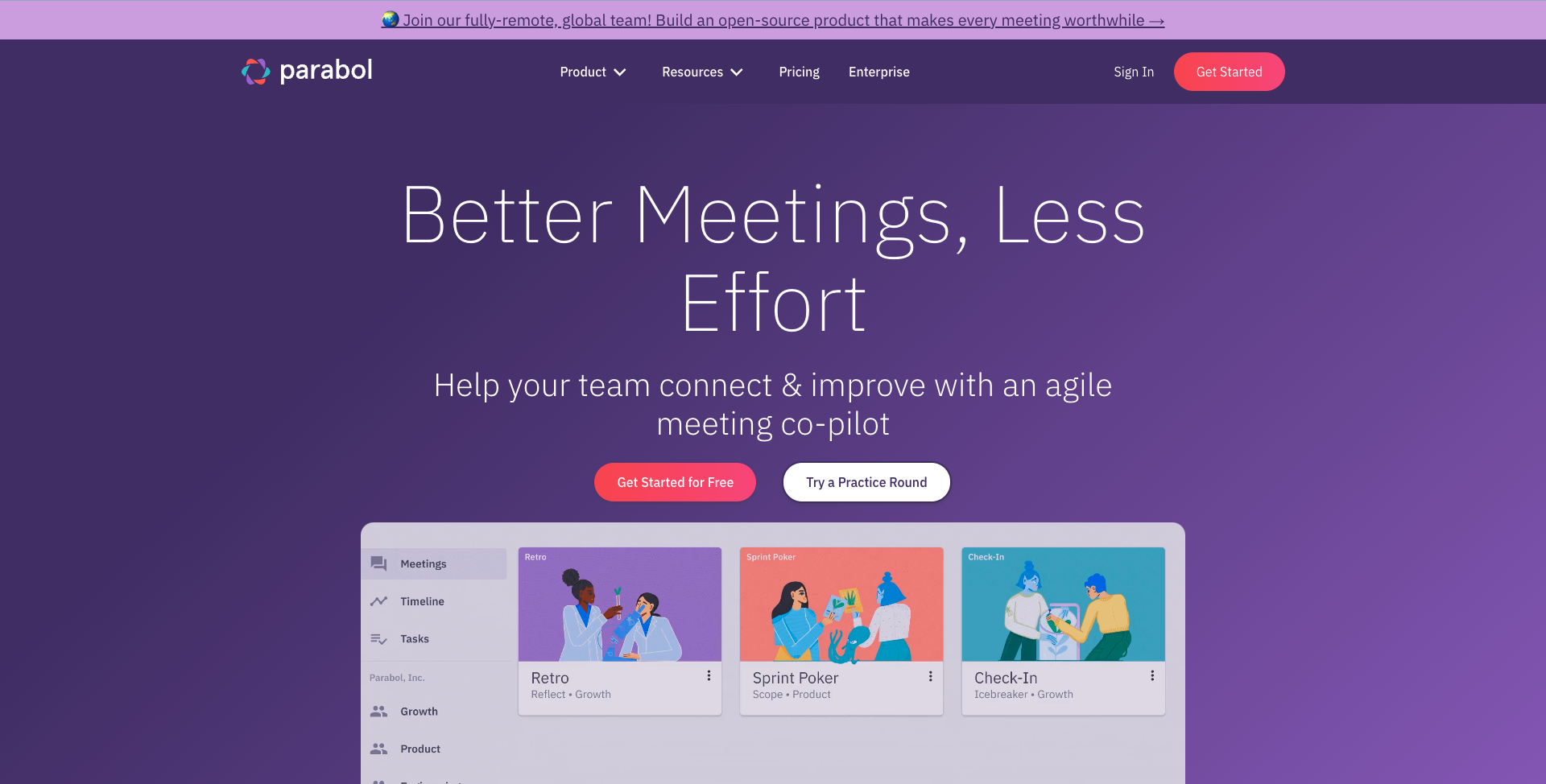 This week we launched our shiny new marketing website, which you're currently using to read this Friday Ship!
The Growth team, with Alicia Cressall taking the lead, have been working hard to migrate from HubSpot's CMS to WordPress, and we couldn't be happier with how things have turned out.
Why make the move?
Editing Experience
With HubSpot, we would often need to create custom modules or re-create entire pages. For example, if we wanted to create a section on a page with two columns, we would need a template that supports two columns. If we used a template that doesn't, we would need to create a new page. This is improved in Hubspot's latest editor update, but to use it, we'd have to re-create all of the pages on the site. With the WordPress Gutenberg editor, this is built-in and easier to change.
With WordPress, it's also easier to showcase content on different pages. Over the past year, we've published 145 pieces of content 🤯. With HubSpot, we'd have to manually add each article to a list of resources and add them to each page. WordPress speeds up this process by highlighting content automatically based on its type and category.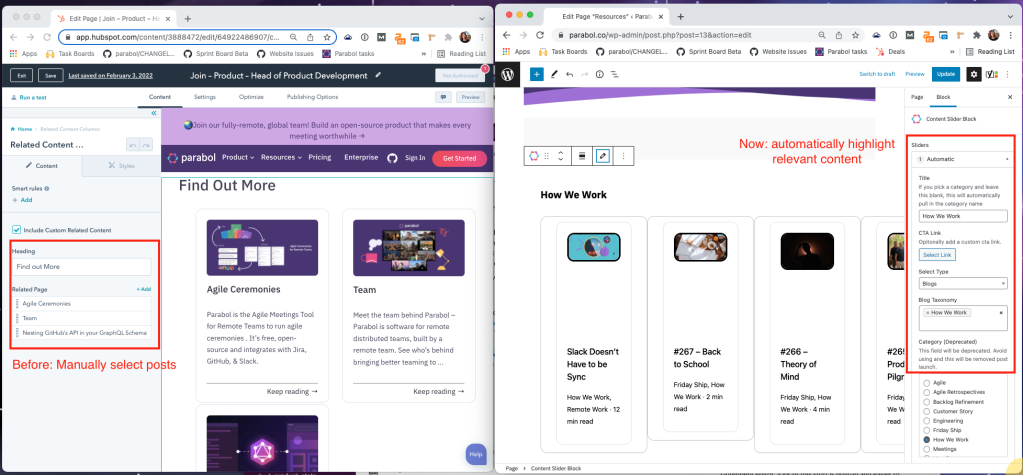 Customisation
With WordPress, our setup is tailored to our needs. We can use a wide range of plugins to customise our design and offer the functionality we need. We can refer to "teams" as "circles" on the backend, which reflects the names we use internally.
Thanks to WordPress's extensive ecosystem, we can make the most of the community and easily find agencies if we need help building something custom.
Performance
By moving from HubSpot to WordPress, we've been able to boost the site's loading speed. Using WordPress's Yoast plugin gives search engines more metadata to munch on, so hopefully, we'll see SEO improvements too. We also chose to go with WordPress VIP for hosting our new site, since their wholly-owned infrastructure has been tailored to improve rankings with AMP and Core Web Vitals.
The Challenges
Moving over 320 pages, with some being as meaty as our Agile guide, is a lot of work for a small team! Everyone had to get up to speed on WordPress and pitch in. Our cultural practice of writing documentation down really helped with this.
Another difficulty was finding a development agency that worked in an agile way. Lots of agencies that we talked to wanted to finish all the designs and then share them in a big unveiling. We were delighted to find Happy Cog, who provided lots of support and took a collaborative, agile approach.
One more thing…
We're delighted by the performance and editing improvements, but it's the new designs, animations, and illustrations from Alicia Cressall and Frederique Matti that make us most excited.
When you play around with the site, you can feel the care and thought that has gone into it. The join animation gives you a great sense of where the team are based. The pizza slice illustration on the pricing page is wonderfully playful.
My favourite addition is the animations on our homepage. It can be difficult to visualise exactly what Parabol does when you first hear about it. Now that you can immediately see a user flicking through the Sprint Poker cards or grouping refections, it's much easier to understand.
Metrics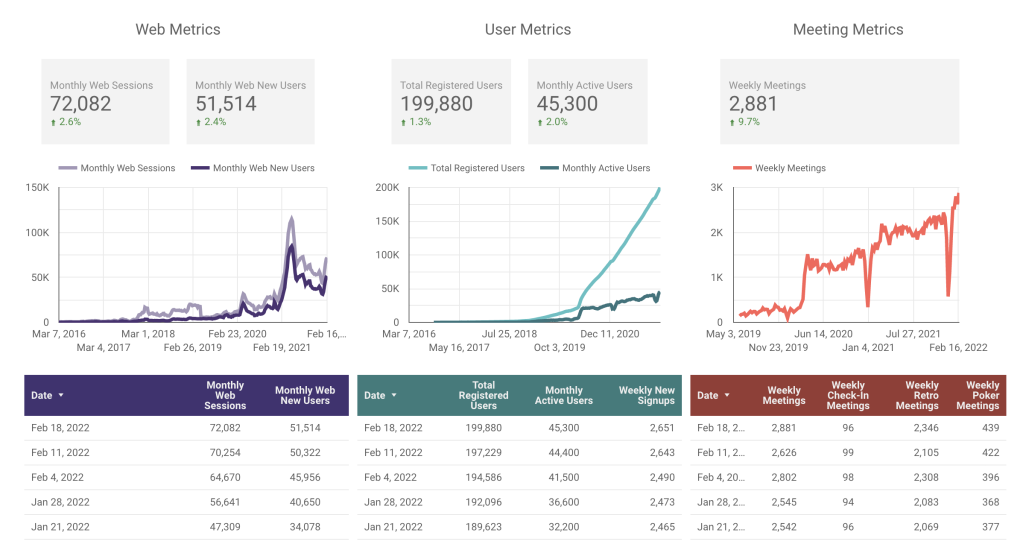 Green lights across the board this week. We're just shy of crossing the 200,000 user mark on our public SaaS. It's exciting! More exciting still is seeing early signs of an increasing slope on our number of Weekly Meetings Ran metric. It seems our thesis of offering more meeting types to run on Parabol (with our launch of Sprint Poker) was correct!
This week we…
… continued at full speed with our hiring efforts. We had many excellent interviews this week and we have several BPs starting soon
… made progress on our new async standup meeting 🤫
… started work on integrating Sprint Poker with GitLab
… launched our new website!
Next week we'll…
… have team members celebrating President's Day, Family Day, and Defender of the Fatherland Day
Join our Fully-Remote Global Team
Help us create a world where every meeting is worth the time invested.