#263 – It Takes a Village
This week (as with every week) we tested our ability to work effectively as a unit through conflicting priorities and availability constraints.
The African proverb "it takes a village to raise a child," is normally in reference to the idea that an entire community of people must provide for children in a safe and healthy environment for them to grow. At Parabol, we lean into our purpose to promote healthy collaboration, assembling our village to raise our platform to our next milestone. But how exactly does an organization create the village that is necessary to make an impact?
We believe this starts with trust in those around you. Our product team met in Mexico this week after over a year since our last retreat and expanding fourfold in team size (and still growing)! While mostly absent in Slack, the rest of our team pitched in to fill in the blanks and to prevent a halt in any forward movement. Our marketing and design teams made iterations to our website, our growth team worked diligently to expand our customer base, and we collectively sorted through our talent pipeline in our incessant quest for new villagers.
Another important factor toward establishing a successful village is transparency. Our intentions at Parabol are defaulting to open communication and reception, and asking for feedback when necessary. Encouraging the expression of any potential tensions creates feelings of safety and understanding; both of which are crucial in a remote-first work environment. This allows us to take a solutions-based approach to the tension in question, and boosts the continued communication of differences in thought or process. We also pride ourselves on learning by experimentation. Championing the ideas and actions of your team is imperative to creating the village that we strive to be.
Metrics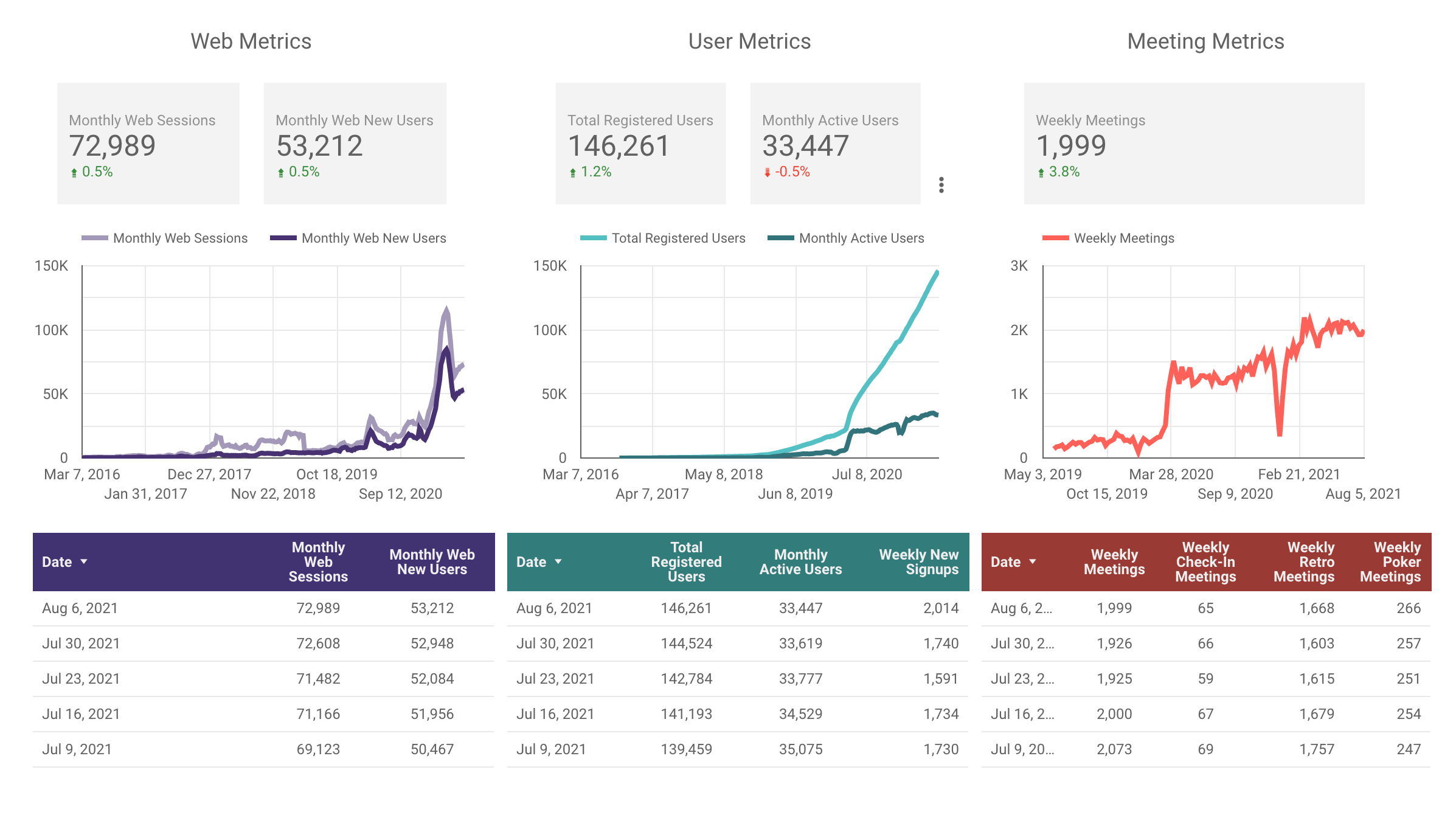 This week web sessions continued their steady uptick in line with expectations as we release and optimize more top of funnel content. Total registered users ticked up 1.2% over the previous week. Weekly meetings were up too, albeit down slightly from our recent baseline. We think this could be due to the summer vacation period.
This week we…
…continued to make progress in our hiring efforts, inclusive of candidate screens, values contribution discussions, and an upcoming batting practice!
…added new faces to our Team page. Say hello to Emily, Kendra, and Trey!
…reunited the members of our product team for a team retreat in Mexico. Many more photos to come!
…laid the foundation for a future virtual event, themed "How to make remote habits stick."
…updated our homepage for mobile optimization.
Next week we'll…
…welcome back our product team from their team retreat in Mérida, Mexico.
Have feedback? See something that you like or something you think could be better? Leave a public response here, or write to us.
Join our Fully-Remote Global Team
Help us create a world where every meeting is worth the time invested.