This week, we returned to work after pausing business as usual to hold our 17th team retreat the week before.
S.P.A. 17 was Parabol's 3rd all-remote team retreat. Even though our company has been remote and distributed from its very first days in 2015, we had always prioritized getting together for strategic planning and team bonding. Like most of the rest of the world, the pandemic kept us physically apart. The challenge once again was how to overcome that distance and bring us emotionally and strategically closer together.
We largely kept the agenda for the "business" part of our team retreat the same as our last team retreat—specifically, we did the heavy lifting of crafting our strategy and creating a plan in the weeks leading up to the retreat. The change this time was trying some new remote activities to have fun together, renewing our bonds and offering newer colleagues a chance to get to know the people they might not otherwise have the chance to work with from other teams.
Expressing yourself with Lego
One of the ways we changed up our retreat was to give all our employees—no matter where in the world they are—a Lego set and a couple of prompts to assemble their bricks. The two prompts we used were:
Reflecting on working at Parabol to date, what's it been like? Build something to represent this.
What mythical creature (from a known or imagined story) best represents you right now? Build it!
Here is just a sampling of folk's brilliant builds:
Team Cook
Remote work makes it easier to tap into global talent. If you want somebody to teach you a skill, you can learn from among the best in the world. We hired a Shanghai-based chef who taught Parabol's team how to make Xiao Long Bao (小笼包), a.k.a. soup dumplings.
It was a wonderful experience. Our instructor, Cici, was able to coach us over our video conference whether or not our dumpling dough needed a touch more water or a touch more flour to achieve the ideal consistency. She did an incredible job making sure none of us were left behind, and we all had tasty dumplings by the end of her instruction. From a group of folks who value great facilitation, Cici was a master.
Next time
When S.P.A. 17 closed last Friday, we agreed our third remote team retreat was our best remote team retreat to date. That said, we also agreed we hope it's our last for a long while: The majority of our team has never met each other in person and we're eager to meet each other in reality (I mean, how tall is everybody really?). We're hopeful in the next 3–4 months, we'll be able to gather for our next retreat in person.
Metrics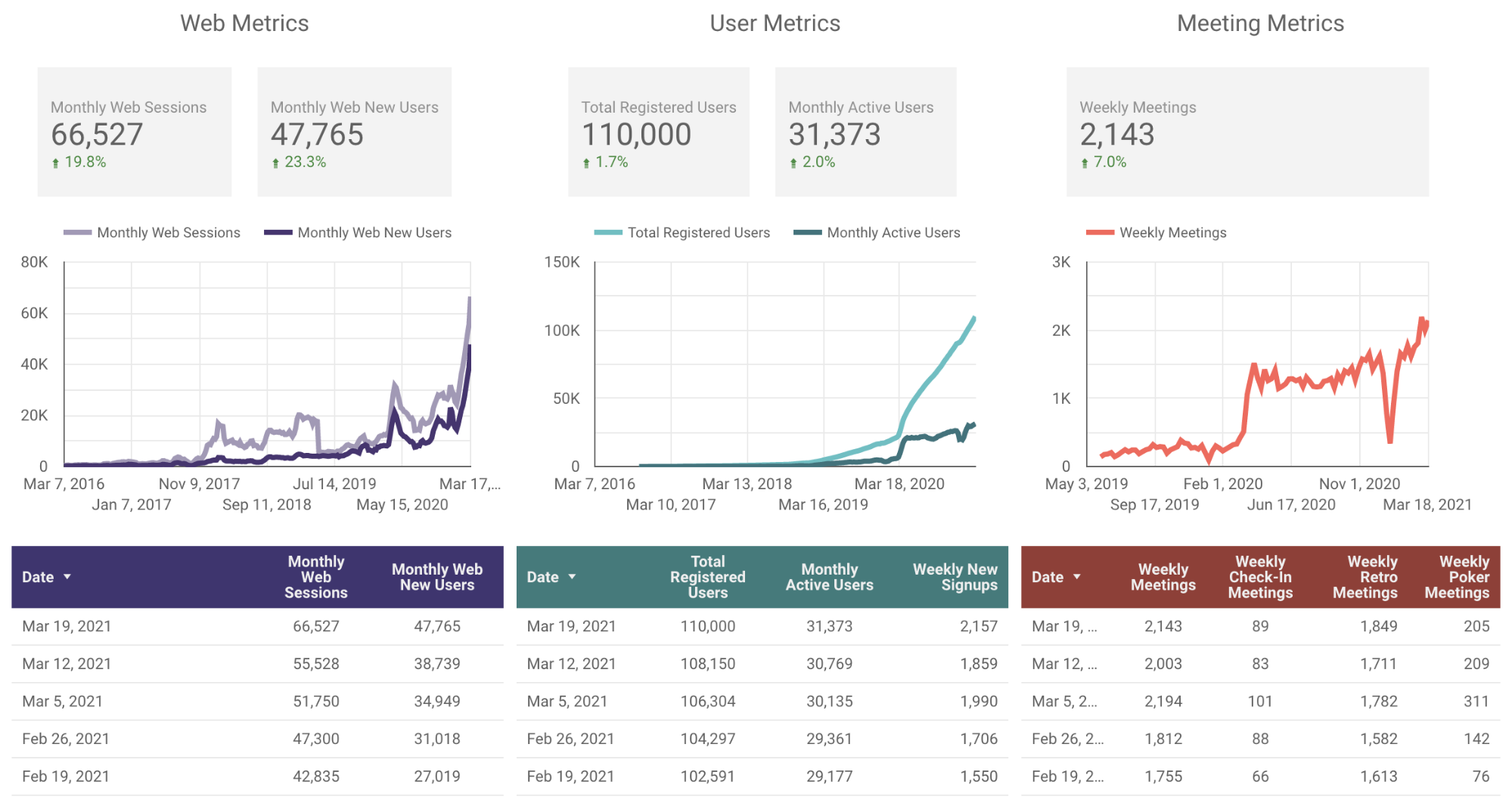 Yowsas! Look at these metrics. A few things to dig into here. First, nearly a 20% increase in week-over-week web traffic. Second, we finished the week at 110,000 users, with a 2% week-over-week increase in MAU. And third and lastly, a 7% increase in meetings ran last week! Green lights across the board.
Not shown in these metrics: while the number of Sprint Poker meetings—our newest meeting type—was roughly flat to the week before, the number of users participating in these meetings more than doubled.
This week we…
…kicked off Sprint 75. We're working on a GitHub integration for Sprint Poker, Sprint Poker estimation enhancements, enhanced application and infrastructure performance tracing, bug fixes, and continuing our migration from rethinkdb to Postgres. Oh, and we're also updating our palette and logo in the app to match our updated branding on our website (www.parabol.co)
…welcomed a new member to our sales team. More on introducing them, soon.
…conducted many, many interviews of job applicants. The folks we're meeting are incredible. We're so grateful so many folks are curious to explore joining their talents with ours.
Next week we'll…
---
Have feedback? See something that you like or something you think could be better? Leave a public response here, or write to us.
Join our Fully-Remote Global Team
Help us create a world where every meeting is worth the time invested.