This week we kicked off Sprint 56 and began work to make it more difficult to accidentally advance a retrospective meeting phase prematurely.
Listening and changing our product experience based on feedback is the most consequential activity we can do. Since we launched our Retro meeting format, we've consistently heard reports of user frustration at advancing (or ending) the meeting before it was intended. Related to this tension is a desire to navigate a meeting backward and redo an activity that had just been passed. If possible, we'll choose to do something small and quick to shave off friction from the product while we chip away at bigger items. We felt adding a well-designed pattern to confirm user actions, such as advancing a phase before its time or ending a meeting early would benefit some of our users.
We prototyped and iterated on several candidate designs and asked our team for feedback. Here's where we began:
Next, we introduced animating in a question mark, to make it clear confirmation was being asked for:
We felt the counter-clockwise motion was "like petting a cat backward," and settled on the below, clockwise animation:
We look forward to shipping this to the product next week!
Metrics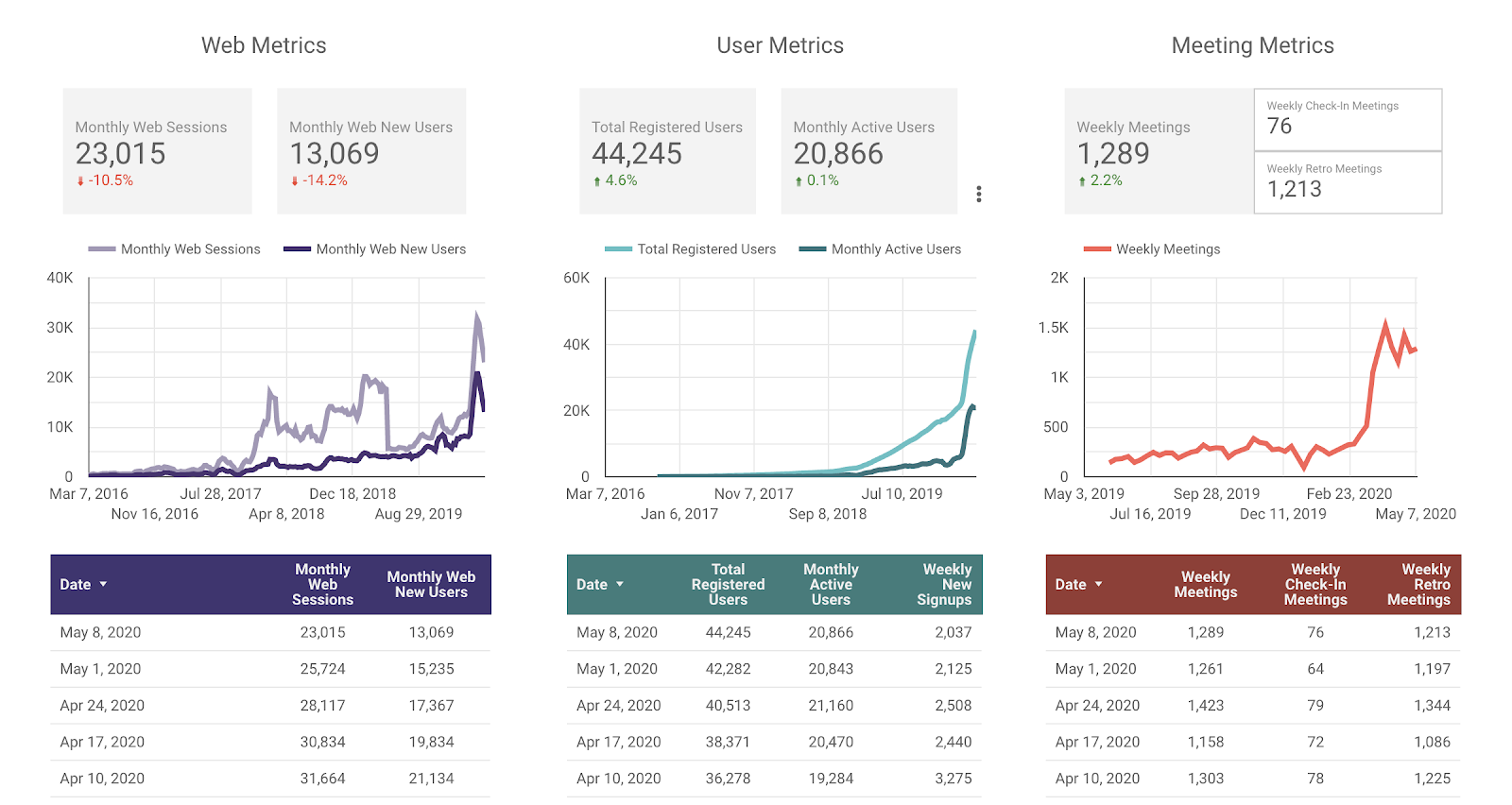 With the spike of health-crisis-related activity firmly in the rearview mirror, we may be able to calculate a new baseline for growth. While MAU gains were modest this week, a 2.2% week-over-week growth in the number of meetings ran may be in the direction of our "new normal."
This week we…
…shipped v5.6.0 into production. This version fixes several nasty little bugs including one where users occasionally received blank meeting summary emails.
…held out Q1 board meeting.
…welcomed some candidates to join us for Batting Practice, the final stage of our hiring process. Some of these candidates are engaged directly with our users and customers and are helping shape our future roadmap. It's exciting!
…completed some minor improvements to improve SEO on our site.
…automated an email flow for folks who ask to upgrade later.
Next week we'll…
…wrap up product sprint 56.
---
Have feedback? See something that you like or something you think could be better? Leave a public response here, or write to us.