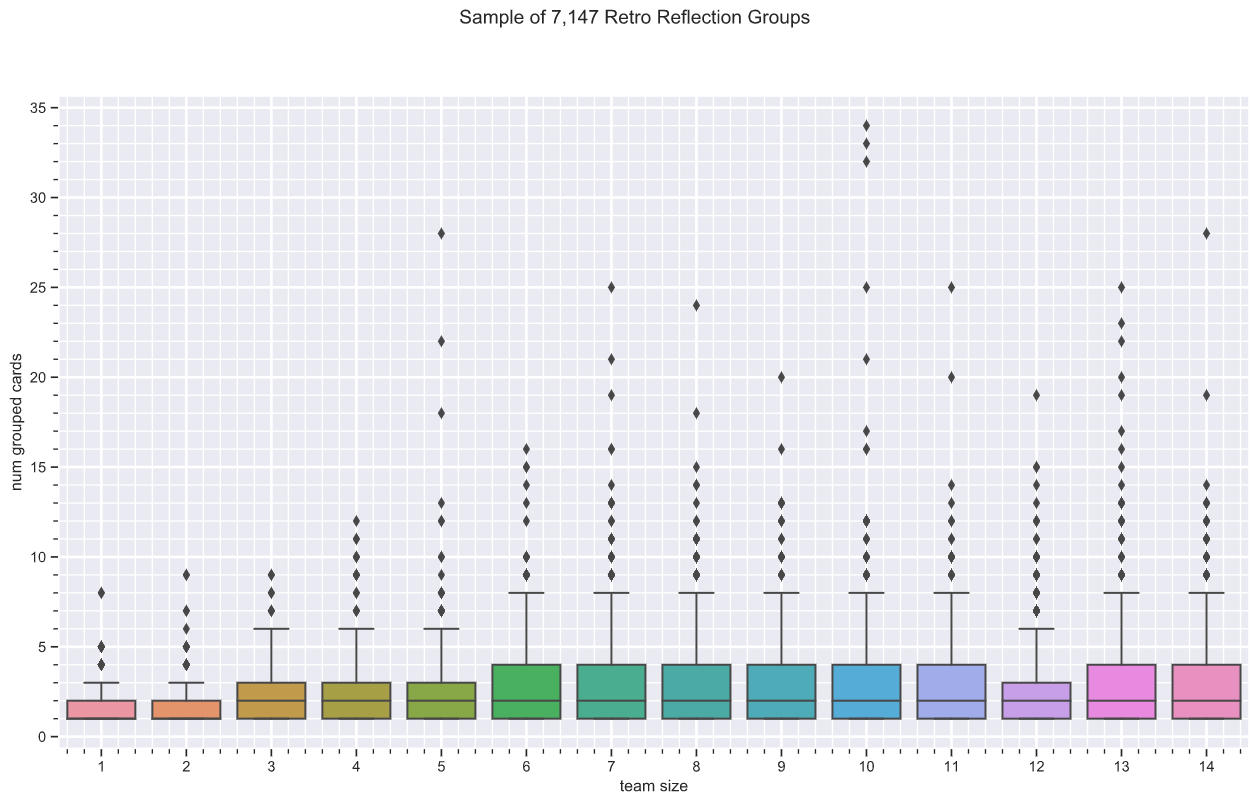 This week we performed an in-depth analysis of retrospective meeting grouping behavior and discovered some intriguing insights.
Grouping is the heart of the retrospective meeting. It's the first phase where meeting participants' reflections are revealed and combined together to make meaningful connections on shared experience. Done well grouping feels insightful and like an accomplishment. Done poorly it feels confusing and frustrating. While we routinely speak and process written feedback from our users, we can't speak to everybody and we wonder—is everything working the way we intended?
The above graph is a box and whiskers plot that shows how reflection group sizes vary by team size. The horizontal line dividing the boxes (most visible for team sizes 3 and larger) is the median number of cards in a group. The colored box indicates 50% of the samples are within that range of group sizes. The vertical line leading up to the little "hat" at the top of the box represents approximately 25% more samples and the little dots above the "hat" show outliers.
From these data (n=7,147) we can infer:
For all teams of 3 or more people, at least 50% of the cards are in groups of 2 or more
For teams of 3-5 people, at least half of the groups contain 1-3 cards, and at least a quarter of the groups contain 2-3 cards
For teams of 6-14 people, generally, at least half of the groups contain 1-4 cards, with at least a quarter of them containing 2-4 cards
For teams of 6-14 people, 95% of groups have 8 cards of fewer
Parabol median team size on Parabol 11 people (not shown in the graph)
This analysis matters because it helps us validate our design. Any good analysis raises more questions than answers. If you like this sort of thing, keep following along here as we dig deeper…
Metrics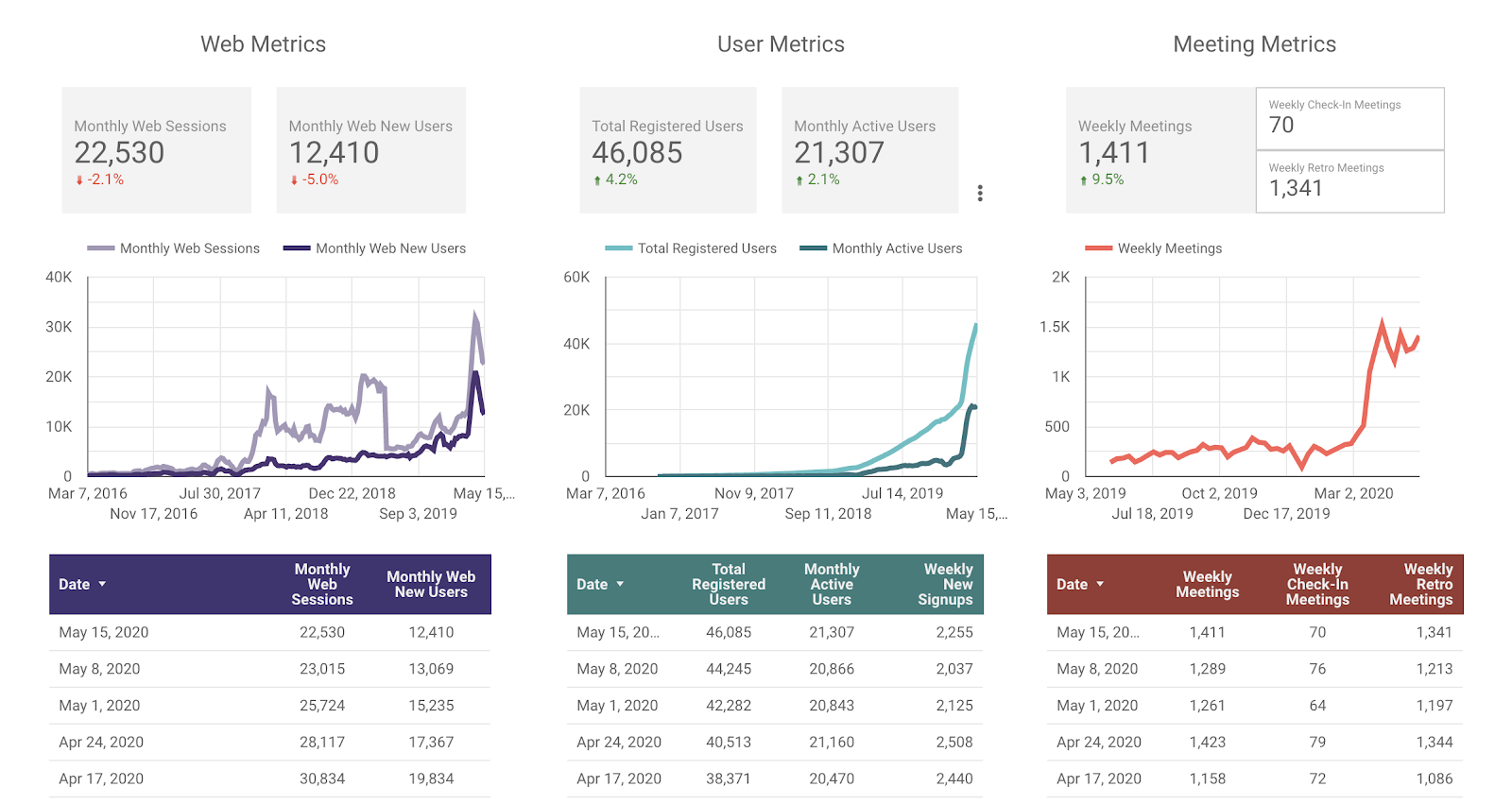 Signups and activity increased slightly over the week prior as we edge ever closer to 1,500 meetings run on Parabol in any given week.
This week we…
…welcomed Shawnee to our team! She joins as the newest member of our Sales team, bringing a ton of experience and great energy to our endeavor. She joins us from Hawaii
…worked on designs to allow public reflections in the Retro meeting. Currently, folks can only add anonymous reflections, which is often the desired functionality. However, some folks have asked for the ability to make reflections non-anonymous. We've explored concepts that allow participants to toggle writing both anonymous and public reflections in the meeting
…implemented SEO recommendations. We've increased our site visibility again this week and traffic across all channels was up this week! As part of our SEO work, we're continuing to publish more content sharing trends we see in our data and expert advice, like this latest post on how often you should run a retro
…took a look at Google Analytics data to see what days of the week and hours of the day folks are meeting. Tuesday mornings seem to be the most popular times to hold retro's in the US, where in Europe, it's Wednesday mornings!
…kicked off exploration for building a planning poker meeting. Many of the teams who use Parabol to hold retrospective meetings also run some type of sprint planning poker meeting. We're getting asked more and more to add this meeting to our software. We think being the best place to run both meetings will increase conversion and adoption. We hope to become essential software in the agile team stack
Next week we'll…
---
Have feedback? See something that you like or something you think could be better? Leave a public response here, or write to us.