#365 – Getting Feedback as the CEO
Friday Ship #365 | September 15th, 2023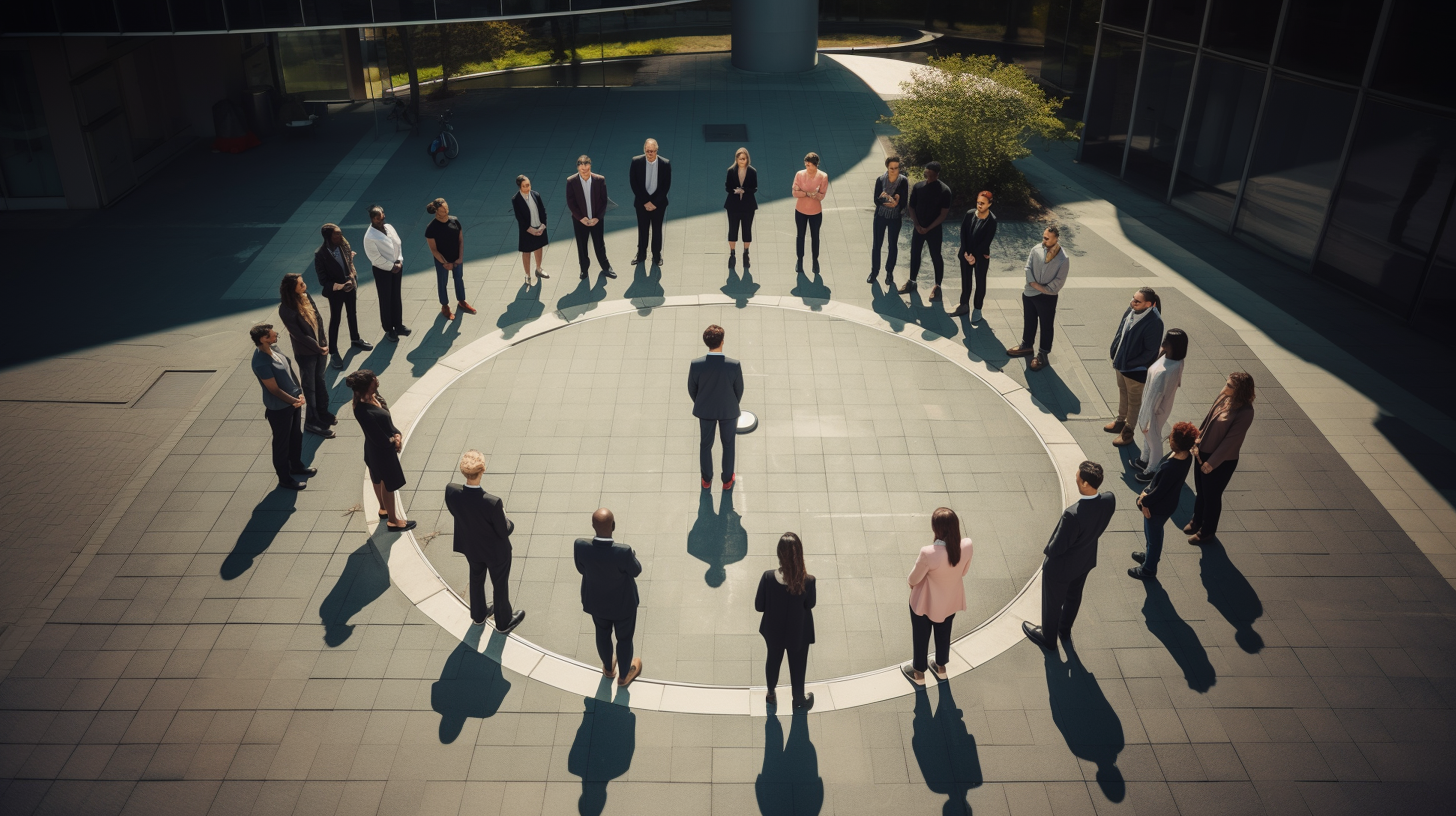 This week, I processed feedback I received from my teammates on performing the role of CEO.
Of all the jobs I have as CEO, one of the responsibilities I take most seriously is to help our organization constantly scan for areas where things could be better and process what we sense into action. Ego-wise, one of the more difficult places to sense opportunities for improvement is what could be better in folks working relationship with me. The catch-22 of feedback is that just when things are at their most busy and most tense is when you probably need to get and process feedback the most.
Over nearly 30 years of working in corporations, I've been subject to and experimented with many approaches for gathering peer feedback like filling-out assessment forms, or having 1 peer aggregate feedback and deliver a synthesis, to trying a whole zoo of online 360 feedback tools (often a part of some not-so-great HR suite). While receiving any feedback is almost always better than no feedback, none of these approaches really felt like I was getting as much value from of the process as I hoped for. I've even worked within cultures where this sentiment won out and receiving a formal feedback was eschewed altogether. As tempting as it is to try and save time, skipping feedback can produce serious unaddressed organizational and personal blind spots.
Using Parabol to Gather 360 Peer Feedback
As Parabol has grown, our members started experimenting with other ways in which our core product experiences could be used. One usage that has taken off is using Parabol to conduct a 360 feedback peer session. A Parabol retrospective activity has many features that suit itself well to conducting peer reviews:
A Parabol retrospective can gather anonymous feedback

A Parabol retrospective allows for this feedback to be grouped into themes

The participant or individual can vote for which feedback is most important

The feedback can be processed into specific actions

The entire process may be conducted synchronously, asynchronously, or a mix between the two
Using Parabol to conduct a 360 peer feedback process is particularly useful as CEO, where folks can sometimes have difficulty giving me tough feedback. Our tool encourages this through its anonymity.
A snapshot of feedback for Parabol's CEO
Here's a snapshot of feedback I received this feedback cycle. I received significant feedback that I needed to reshape some of my roles and accountabilities.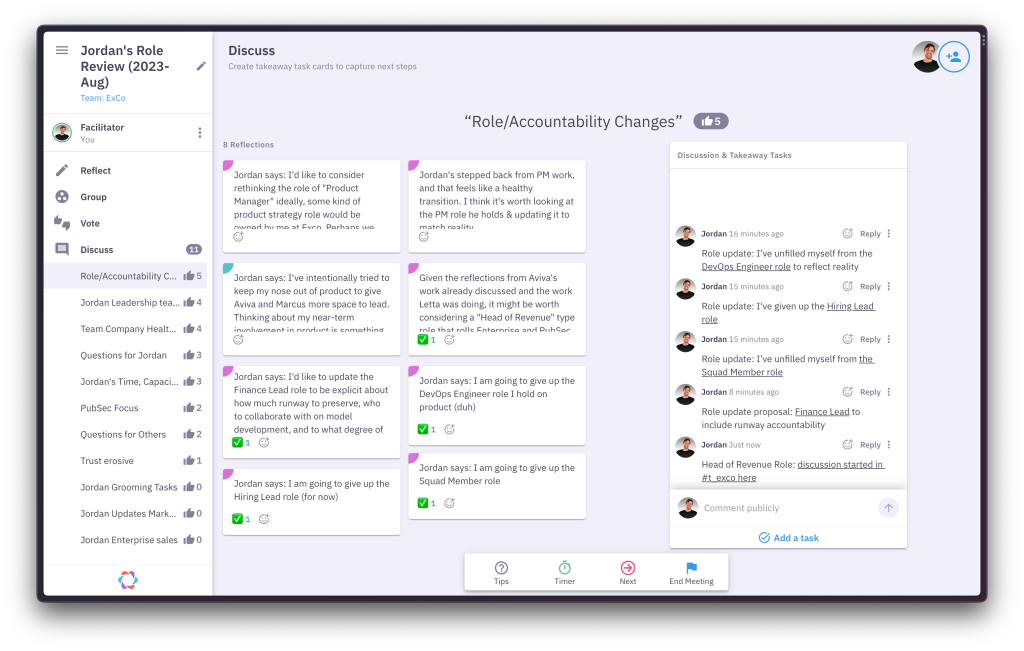 In the Discussion & Takeaway Tasks ribbon, I logged how I was responding to specific feedback I had gotten. As I felt like I had addressed each specific piece of feedback, I marked it with a ✅.
Signal that others use Parabol for Peer Feedback, too
Since we've found our tool to be so useful for peer feedback, we wondered if others were using us this way too. Analyzing the titles and contents of the templates our users create, we were pleasantly surprised to find this was one of the most common use cases: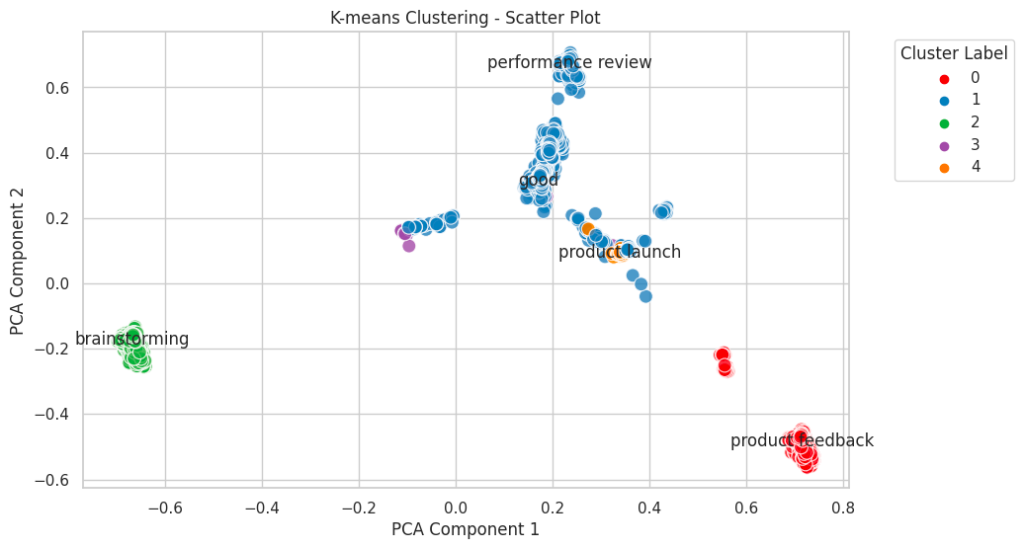 Isn't this pattern cool? It's a good signal we should support our users in this use case more intentionally.
Metrics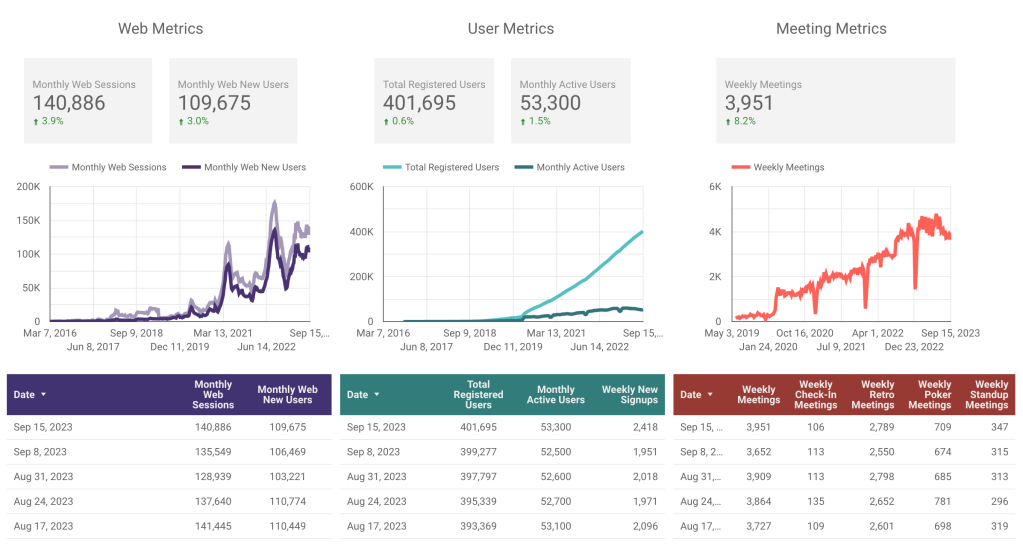 It's "back-to-school" season! That's been our way of expressing when our users' summer vacations are over and they come back to work and using our product in greater numbers.
The number of new user registrations increased nearly 24% week over week. We also saw healthy increases in the number of meeting activities ran, with our standup feature showing nearly a 10% week-over-week increase.
This week we…
…released a new tutorial video on how to run standup meetings using Parabol.
…filed our corporate taxes in the US. It ain't glamorous, but necessary work! #transparency
…kept up our efforts to migrate the primary SaaS version of our application from bare-metal to k8s. This is an effort we've been undertaking for many, many months. Why? We support a number of private-managed instances and self-deployed instances (for the US Federal Government, etc.) that are deployed with k8s. By having a single general deployment and hosting architecture, we believe we'll be able to keep quality high for everybody.
Next week we'll
…begin our strategy development process by looking back at the preceding 4 months of company performance.
All your agile meetings in one place
Run efficient meetings, get your team talking, and save time. Parabol is free for up to 2 teams.