#277 — Customer Support
Friday Ship | November 12th, 2021
This week, I handled customer support for Parabol. I helped users with activities like resetting their passwords, rearranging their billing leaders, and setting up their first meetings.
When I first joined Parabol, I was surprised to learn that one of my duties as a member of the sales team was to handle inbound customer support requests over email and chat. I'd never done it before, and it seemed far away from my goal of closing deals.
I quickly realized why we do it this way. Working support is the perfect way to sharpen your Parabol sales skills:
You establish relationships with users who turn into sales leads down the line — my contact at one of the biggest deals I closed told me on our first call how much he appreciated that our CEO had solved a thorny support issue for them a few months prior.
You learn the ins and outs of the product, which is crucial to providing customer value over the long term. Knowing the product is also a key part of our bottom-up sales motion.
You get to collaborate with the awesome Parabol developers as they troubleshoot customer issues. Given we are selling mostly into development teams, it's useful to know how they operate.
Every Tuesday at our team check-in meetings one product team member and one sales team member assume support duties for the week. The product team uses a fancy bot to determine whose turn it is, while the sales team is smart small enough that we just remember on our own.

Those two spend the week working together to solve any problems that come up.
Sometimes multiple folks will get involved if a tricky support issue arises. It always makes me happy when people from different teams stop what they're doing to put their full energy into helping our users.
I particularly like when the problem has to do with complicated coding stuff because it reminds me of watching an action movie where the heroes are defusing a bomb. Here's an example featuring me, Trey (Sales), Terry (Head of Design, co-founder) and Tiffany (Senior Software Engineer).
I started out being wary of customer support, but I've grown to like it. It's very satisfying to help people get the most out of Parabol. People are almost always super grateful when you solve their problem. Sales can be a long slog, so the instant gratification of support is a nice counterbalance.
If you need any help, don't hesitate to reach out! That said, as much as we love helping people, we also love it when they realize we answer a ton of commonly asked questions on our support page 😉.

Metrics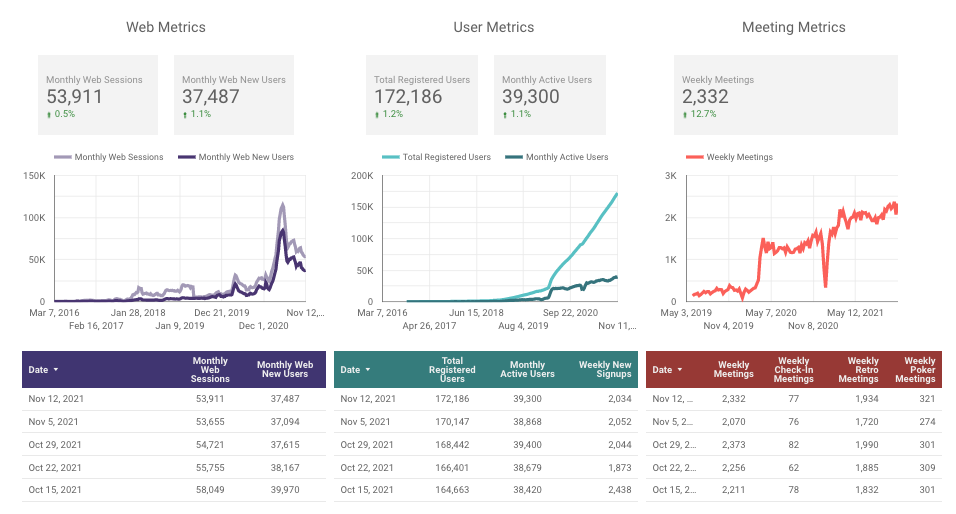 It's always nice to see increases in every category. It was a really solid week for metrics. We are particularly pleased to see the healthy 12.7% uptick in weekly meetings.
This week we…
…continued several batting practices for Data Architect, Developer, and Sales Leader roles
…kicked off a company-wide Secret Santa
…continued to ship progress on new grouping and integration features
…held interviews with customers to learn how we can build a world-class admin dashboard
Next week we'll…
…see what kind of awesomeness the Marketing team cooks up at their team retreat in Portugal!
---
Have feedback? See something that you like or something you think could be better? Leave a public response here, or write to us.
All your agile meetings in one place
Run efficient meetings, get your team talking, and save time. Parabol is free for up to 2 teams.