#276 – Spooky Season 👻
Friday Ship | November 5th, 2021
This week a number of our employees celebrated holidays. It was Halloween in the United States, Día de Muertos (Day of the Dead) in Mexico, Wszystkich Swiętych (All Saints Day) in Poland, and – albeit less hallowed – День народного единства (Unity Day) in Russia!
Despite our cultural differences, geographical distribution, and multiple time zones, our team still found time to get spooky together.
We celebrated with an async Halloween costume party, organized by Enrique – Parabol's Senior Product Designer.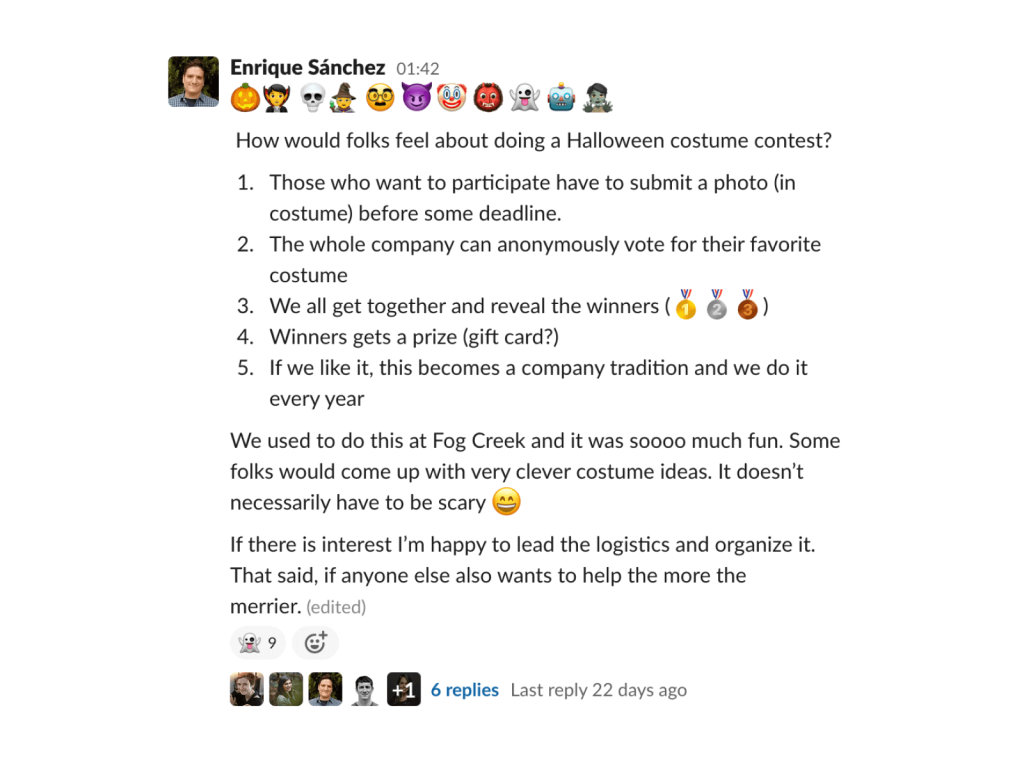 It was amazing to see the creativity our team members brought to their costumes. We had Andy Griffith and Opie from the Andy Griffith Show, Salt and Pepper Shakers, and even a body double!
It was Brand Marketer Emily who stole the show (and first prize) with a papier-mâché version of her own head, lovingly nicknamed "Em Head".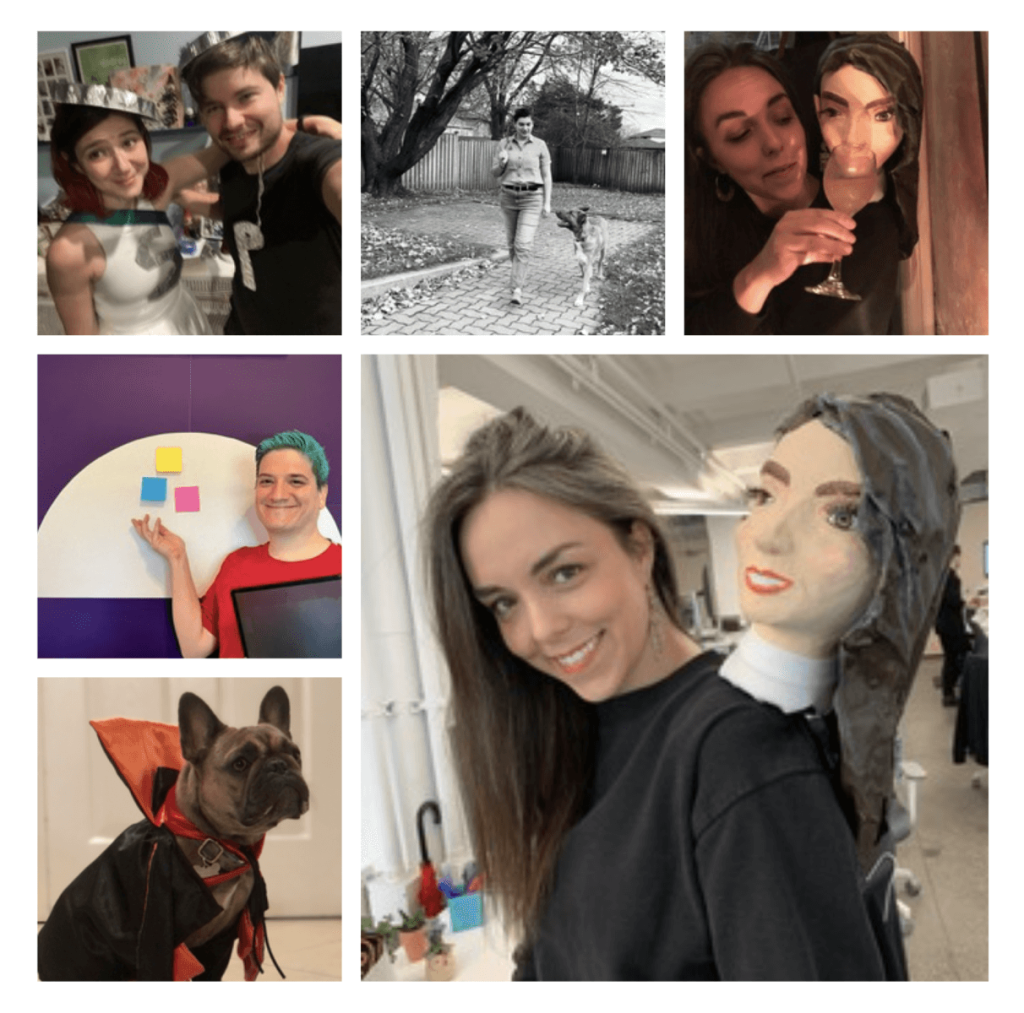 If Enrique's costume looks familiar, that's because he kept it 100% on-brand by re-creating an in-product illustration IRL.

One of the great things about Parabol's current size and scale is the opportunity for individuals to create traditions or rituals that will carry on for years to come. Here's hoping the Halloween costume contest will become a tradition that sticks around.
Did your team do anything to celebrate Halloween this year? Saw a mind-blowing costume or created one yourself? Share it with us!
Metrics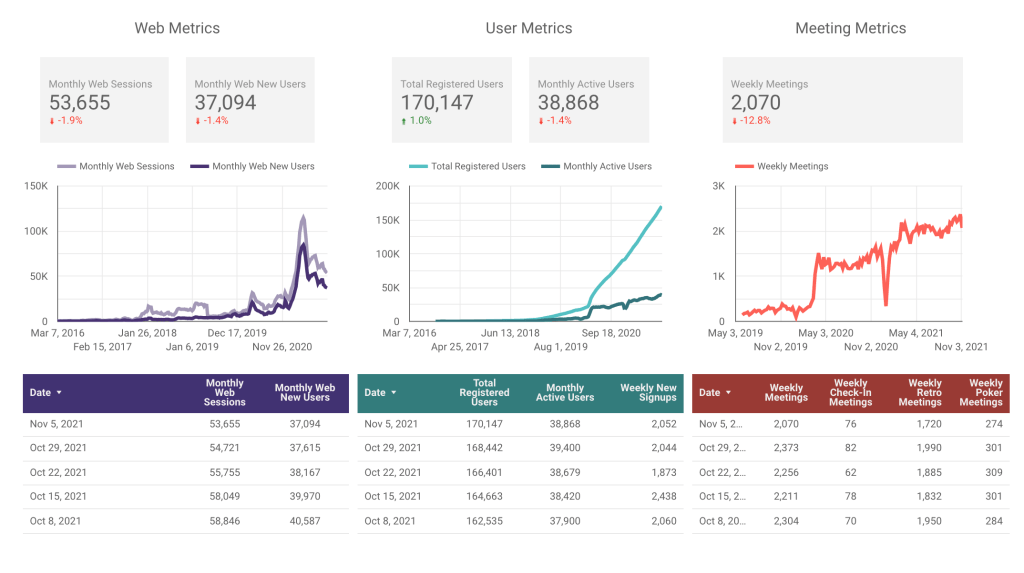 Web sessions and new users dipped down slightly, while total registered users ticked up by an additional 2k users.
Weekly meetings were down significantly, likely due to us taking metrics a couple of hours earlier this week. Friday mornings in US time zones tend to be the busiest time of the week for Parabol user activity.
Parabol's overall Domain Rating in Ahrefs ticked up by 2 points overnight this week, indicating a jump in the authority of our website for SEO purposes.

This week we…
Scoped out the effort to ship V1 of a standup experience in Parabol.
Made some big strides forward with designs for Parabol's new website, including prototypes of a new homepage design.
Published numerous TikTok videos on icebreakers and interview tips! You can follow us on TikTok by searching for @parabolco!
Collaborated with and supported job candidates on their Batting Practice projects!
Next week we'll…
Kick-off Sprint 91 on the Product team. We'll focus on the upcoming Spotlight feature and design work around our upcoming standup experience.
Head off to Lisbon, Portugal 🇵🇹 for the marketing team retreat. This will be the last of our team retreats until 2022 but the first time most of our marketing team will have met each other in person.
---
Have feedback? See something that you like or something you think could be better? Leave a public response here, or write to us.
All your agile meetings in one place
Run efficient meetings, get your team talking, and save time. Parabol is free for up to 2 teams.