#334 – Design Feedback at Parabol
Friday Ship #334 | February 10th, 2023
Like many organizations, at Parabol, we value a great design practice. One way we seek to elevate our practice is in how we solicit and give feedback. Here are a few ways we support quality feedback for design work.
Share early and often
Many of us have seen the value in iterating and getting feedback at a meaningful stopping point. Rather than sharing a big reveal that one's worked on in isolation for weeks, we give updates on our work several times until its completion. Typically we share a quick walkthrough video on Loom, share the concepts in Figma, and share our working design notes in Notion. This allows folks to look at it on their time.
In order to focus the feedback, it's key for the designer to 1) give a summary of what goals they're aiming for (e.g. primary use cases), 2) identify what work's remaining, what's not being addressed, and where they might be stuck and 3) share specific questions and areas where they'd like feedback.
Seek cross-functional perspective
We default to cross-function when and where it makes sense. Ideally a designer is on a team with other roles and they share a common mission. Designers reach out to their team to validate if the design work is helping them accomplish their goals.
We also encourage reaching outside of the team for the unique perspective needed for the work. Perhaps there's a role not represented on that team (e.g. sales). That missing point of view can make a big difference. Designers also look to designers on other teams to lean on the extra design expertise.
Look at work in real time
Sometimes the best way to work is in a small group, in real time. We do this a few ways here. Enrique, one of our designers, proposed we share over a call what we're working every 2-week sprint. We call this Design Share and spend an hour together. We share work for the agenda in advance. We invite anybody from the company to join. We record the session for those who can't join.
Another way we like to work together is in small in-person or virtual workshops. With light facilitation, we explore problems and goals together, sketch and discuss ideas that address the opportunities, and decide on a direction to move the work forward. Sometimes this can take a week on a retreat. Sometimes we can do this in 2 or 3 Zoom sessions on a focus day. The magic here is discovering direction quickly and hearing from each other in high bandwidth.
Holding a designer role or not, most folks in any organization need to solve problems, conceptualize ideas on how to move forward, and get feedback from their teammates. How do you give feedback at your organization?
Metrics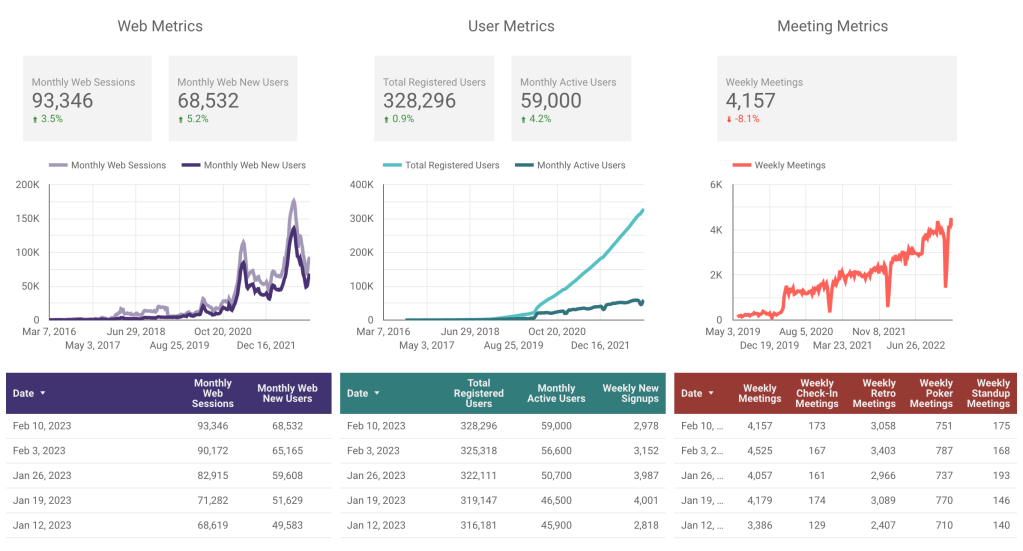 With last week hitting an all-time high in the total number of meetings, this week we're seeing a bit of a slowdown, which is expected given that most teams run retros every 2 weeks.
Active users have reached the highest number since we came back 🙌🏼.
This week we…
...received the signed contract from the US Air Force 🎉
…wrapped up our strategy development process for this trimester
…kicked off a new Batting Practice with a Sales Representative candidate
Next week we'll…
.…our growth team will meet in Majorca ☀️
Join our Fully-Remote Global Team
Help us create a world where every meeting is worth the time invested.