Making the final decision
Friday Ship #315 | September 9, 2022
This week, we started a Batting Practice for our Head of Public Sector. We're also actively hiring for Inside Sales Rep and I've been thinking a lot about the Batting Practice, the final stage in our hiring process.
As the last step of this journey, we invite the candidate to join us for a paid period of work where folks contribute to an agreed project, which we estimate to take 20-30 hours. We give the candidates access to all of the tools they need, invite them to our sync meetings, and get them set up on a bespoke slack channel.
It takes a village
At the end of August, we held 3 of these Batting Practices for the same role, at the same time.
As the Hiring Lead for the role, it was my first experience running a recruitment process this way. Here are some thoughts I had:
Find a balance between answers and questions. If a candidate reaches this phase, we so want them to do well. Of course, we could say exactly what we want them to do and how. But this would make the process feel like an exercise in following instructions. I was amazed at the team: most folks at Parabol have developed the skill of asking the right questions in order to help steer candidates in the right direction – and providing an answer when it made more sense.
Working in the open means more than only sharing action items. During my own Parabol Batting Practice, I remember having to adjust to working async and communicating effectively. Now, being on the other side, I understand why it was such an adjustment. For each candidate, I wanted to know their thought process, feelings and reasoning – in addition to what they've been working on. I want to ensure I know enough about this person to make an informed decision.
Documentation is key. Setting up the Batting Practice is no mean feat, it involves admin every step of the way, regardless of whether the candidate is offered a position or not. I felt the importance of writing everything down for the first time as I navigated a path previous Hiring Leads had forged, reformed – and reformed again as each Batting Practice proceeded. I'm thankful to my teammates for being diligent before my arrival by writing each step down.
An outside perspective
I was inspired to write this in order to give people going into the Batting Practice insight into what to expect. I would've found it useful before my BP.
To take it a step further, I've asked Geoff Pritchard, one of three folks participating in their Batting Practice last month, a few questions to give you insight from the other side. These were some bits of our conversation.
Charles: What did you learn during your Parabol Batting Practice?
Geoff: I would classify my learning into three categories that can give a potential new hire some insights into how the company functions. Some of my takeaways were:
Team – It is a globally distributed team that maintains its sense of community and culture with online 'fika' and group events like Pictionary.
Processes – The processes are well documented in Notion to make sure information is accessible and can be referenced at any time.
Tools – The primary tools I used were HubSpot, Notion, Slack, and Loom. Others in Batting Practice were newer to the tools and that did cause them some delay in moving through the tasks.
Charles: How were you supported?
Geoff: The support was enough to give me a clear understanding of the goals I had for completing BP, but it didn't resemble the type of onboarding you'd receive as a new employee. In Batting Practice, you're limited to a short window and the team wants to know your thought process and rationale for executing various items. Therefore, you'll receive the necessary amount to move you through each day, but they want insights about your particular work performance, and purposely won't give away all the details.
Charles: What projects were you working on?
Geoff: I was able to join the Sales team to build strategies for booking Intro meetings with warm leads. It was great to be interacting on the project in the same fashion I'd be working in their full-time role. I had the opportunity to connect with customers via email, present my data during Sales calls, and discuss my findings with the Parabol team to get feedback.
Geoff was offered the role at Parabol but decided to take up a position working with his local school district. We wish you well Geoff!
Learning and iterating
We're constantly iterating to ensure that we learn from both successful and unsuccessful BPs. The process isn't perfect and I know it can be a real blow to a candidate to go through the process and not make it over the last hurdle. Hopefully, by reflecting on every Batting Practice, even when we run 3 at one time, we can make it a more positive experience for the next candidate.
Metrics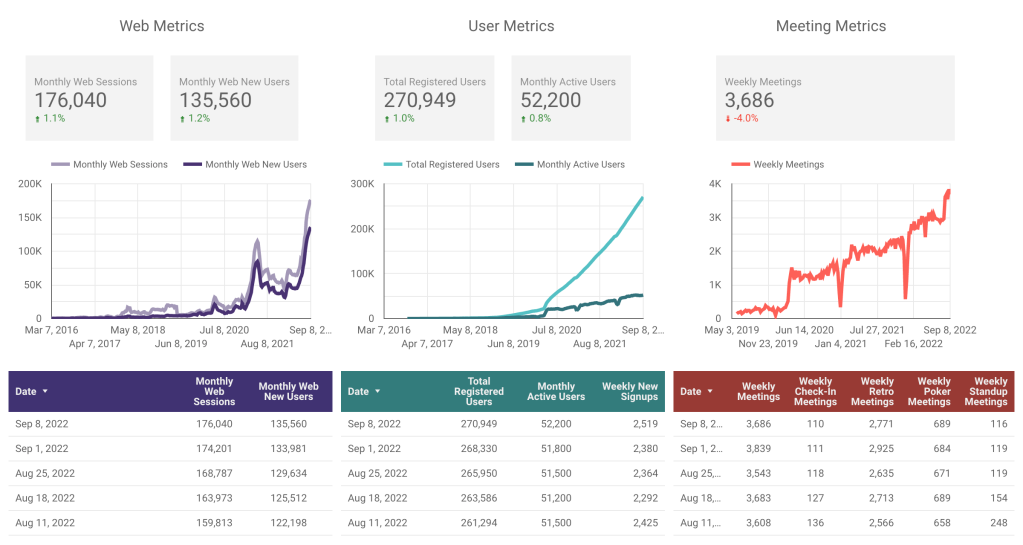 Our marketing web metrics continue to climb! Go line, go!
We reached a record-high number of MAUs, along with a healthy growth in new signups this week. For meeting metrics, we're seeing a pattern of rising and falling, with this week seeing a dip. We'd expect these to level out as users and teams re-establish their rhythm after the summer.
This week we…
…suspended usual Product cadence and ran a Hack Week working on passion projects.
…shared the strategy update with the whole company.
…continued recruitment for our two open positions.
Next week we'll…
…focus on cleaning up bugs, quick wins, or anything else that could add a lot of value. We'll start our first sprint of the trimester the following week.
---
Have feedback? See something that you like or something you think could be better? Please write to us.
Join our Fully-Remote Global Team
Help us create a world where every meeting is worth the time invested.