#310 – Building Relationships Virtually
August 5, 2022
As a new member of the Parabol leadership team, building relationship in this virtual world is very important.
Well, it is important to everyone, but in our virtual world, it becomes increasingly more so. In an office, you sit next to someone, or you meet someone walking across the hall. That doesn't happen within remote work. We have to be intentional in creating spaces for that.
Coming into Parabol was tricky since my role requires me to lead a bigger part of the company. My secret weapon to make this easier is relationship building.
How do I build relationships virtually?
You might be wondering – who is writing? I am Marcus, and I joined Parabol roughly 5 weeks ago as the new Head of Product Development. And fun fact – I've never worked in an office in the past 11 years of my career.
Schedule 1:1s
The most important tool you can use as a manager, leader, or anyone is 1:1s. Although I am a big advocate for asynchronous collaboration, getting some face time with the people you work with is crucial.
Use Icebreakers
Don't just take my word for it. Even our data is showing the same thing. Icebreakers sound silly, but they are super powerful. Here at Parabol we use them all time. You always discover new facts about your co-workers.
Be open, honest, empathetic, and add a bit of humour
When talking to people online, written or on video, be honest. Maybe even show that you are a human as they are. Be vulnerable and empathetic. This doesn't mean you have to be positive or kind all the time. Show up as you are. And don't forget to add a little bit of humour once in a while.
Do Traffic Lights Check-ins
Similar to the above. We only get small glimpses into everyone's daily life and generally don't know what is happening in everyone else's life. Try traffic light check-ins. Share whether your energy level is green, yellow, or red. You immediately get a sense of what might be possible or what might not be possible in this meeting.
Metrics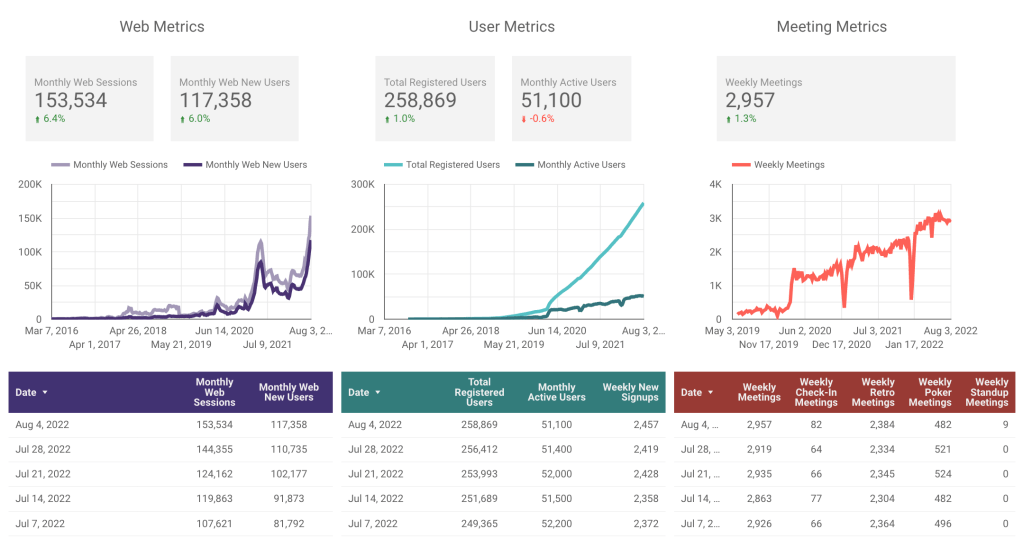 Our new Standup Tool is available in Beta for our users, and we're excited to see some teams testing it out.
The top-of-funnel growth continues! We're amazed to see these steady traffic numbers over the past weeks. We're also keeping an eye on the small dip in active users. We're still in the middle of the summer slump when many teams slow down their regular rhythms.
This week we…
… released something new 🙌. The team worked hard on releasing Standups as a new feature of Parabol – it is still in beta, so let us know what you think.
…started our Wellness Day experiment. Every other week is a 4-day work week now for us.
…raised the idea of running a Hack Week in our next sprint break weeks. Stay tuned – we'll share more down the line.
Next week we'll…
…try to share a Sprint Update. Kind of like an internal newsletter that will help with cross-squad and team communication 🙌
---
Have feedback? See something that you like or something you think could be better? Leave a public response here, or write to us.
Join our Fully-Remote Global Team
Help us create a world where every meeting is worth the time invested.