#309 – Drinking Our Own Champagne
July 29, 2022
One thing I have learned working in marketing is that you can't market the value of a product you don't believe in.
At Parabol, we use our own tool for almost everything. There are multiple benefits to doing this:
All employees can be a part of shaping the product
You build empathy for your customers
You learn how to improve the product
Everyone can be a potential salesperson
But we also have a much stronger reason to use it. We really like it.
So, when the time came for us to work on our new meeting type, Standups, it was no exception.
Our journey:
The journey has been anything but linear. We started by using the product ourselves first, and boy have we learned!
We started using it daily
Even though we don't normally do daily standups. We wanted to have the experience of our users who would use it daily.
And it was uncomfortable.
We are not used to having daily standups, and it felt unnatural.
After a few weeks of using it daily and getting tons of internal feedback, we decided to use it weekly instead – we ported over our Friday Ship channel to our new tool, a practice more aligned to our way of working, and it has been working great.
We realized it was ok to adapt the product to our working methods. That's exactly what we want Parabol to be for others: a tool you can adapt to your own way of working.
We gathered feedback
We opened a retro board in Parabol and started receiving a lot of input from everyone in the company. This was great, but it also made it hard for us to prioritize what to work on first.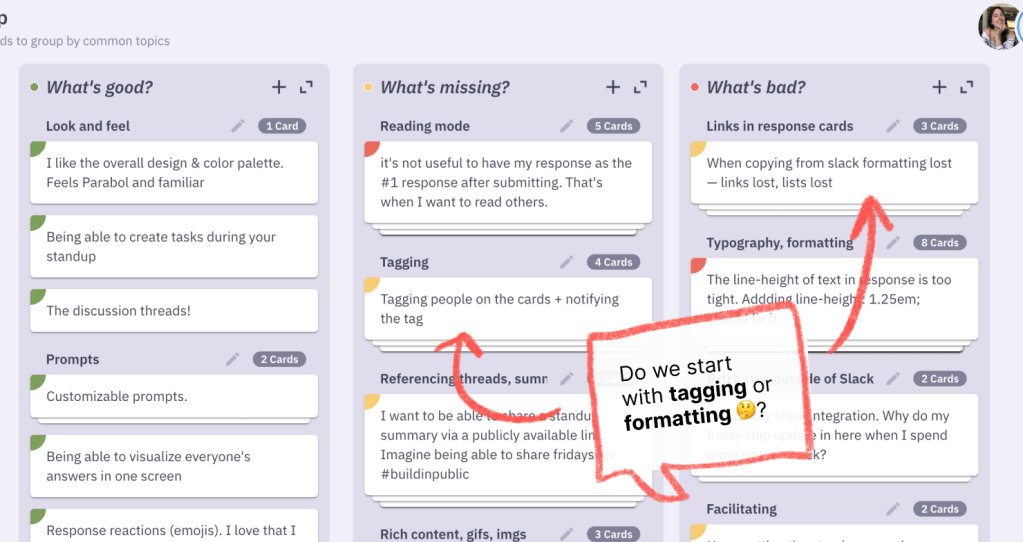 When you drink your own champagne as part of your testing process, you already know what you want the tool to become, so you can be biased when giving feedback.
So, we started demo sessions with users and matched their feedback with the internal input we were receiving.
This helped us be more objective and user-centric when prioritizing our issues every sprint.
But continuing to use it ourselves and seeing the progress from the users' point of view motivated us to keep improving it.
Today, we're close to releasing the Beta version to all of our users. We want all of you to be part of building our new Standups tool.
So, we invite you to have a glass of our champagne with us 🥂.
Metrics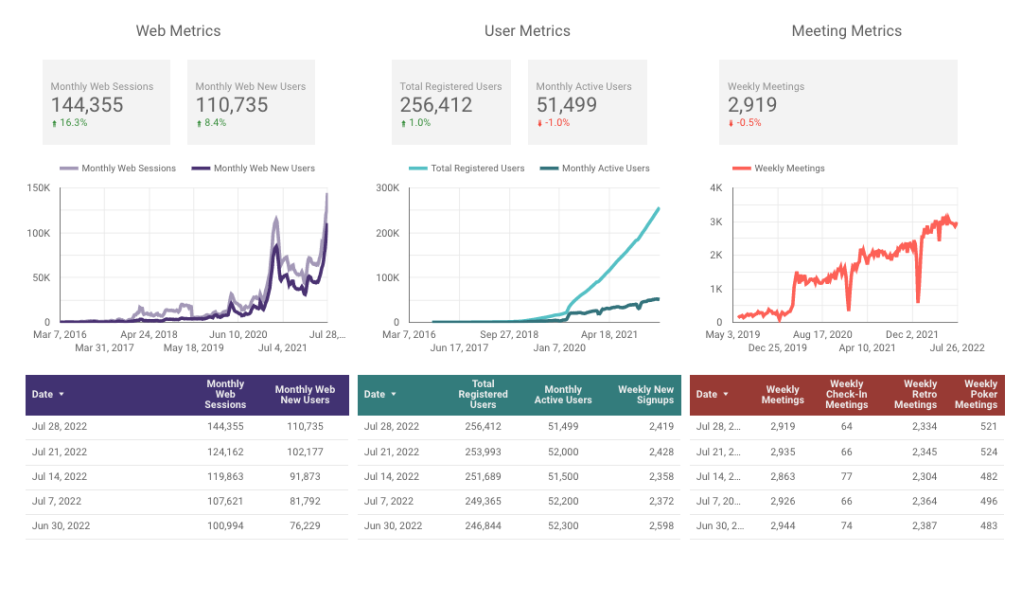 We continue to see great traction on our website with monthly web sessions increasing by 16.3%! Monthly active users and weekly meetings are trending down a bit, showing our expected summer slowdown.
This week we…
…worked on a new Usage Stats feature for our users.
Next week we'll…
…get ready to release the Beta version of our new Standup tool 🎉
---
Have feedback? See something that you like or something you think could be better? Leave a public response here, or write to us.
Join our Fully-Remote Global Team
Help us create a world where every meeting is worth the time invested.