#278 – Be Your Own Support System
Friday Ship | November 19th, 2021
The late, great Young Dolph, a Memphis rapper and entrepreneur who tragically lost his life this past week can be quoted saying, "[…] have a good team. Let them do what they do, and you do what you do. Have people around you that work, and that will want to make you work even harder."
I would normally consider using personal pronouns in this context to be a cardinal sin (for no logical reason), but I've decided to give myself a pass just this once. This week our Marketing team, which accounts for more than half of our Growth coalition, spent the week together in Lisbon, Portugal for a team retreat that left our Slack channels feeling a bit desolate. By sundown Monday, my team's presence was sorely missed. The ability to asynchronously check in on our respective engaging projects, often chiming in with feedback and encouragement became a privilege that I realized had been unwittingly taking for granted. There was no one to champion or congratulate, no crafty naming conventions to be made for our check-in meeting card groupings, and very limited energy to feed off of. The odd feeling left in the air from my temporarily departed team begged the internal question, "how can I continue to be successful on my own?" I posed the question to those in my personal network, and received the following in response:
This bit of advice came from a former colleague of mine, who knows my professional habits better than most. She responded to my question by asking, "what did you do to prepare for the week without your team?" to which I had no answer. I approached this week with the same intentions of any ordinary week: giving your best effort to win. I now recognize that my best efforts function in tandem with efforts with team, and winning individually does not provide the same satisfaction as a team win.
This drop of science came from a close friend and fellow working professional. He reminded me that overall productivity was almost destined to suffer without the entire team present. He cautioned me to not accept the weight of pushing the business forward, and to continue to focus on where I feel I perform best. "Rome wasn't built in a day, or in a week, in your case."
These "lyrics" came from my mother, someone who has never led me astray. She advised me to remain occupied with things that excite me, and to use this week as an opportune time for learning and exploration. "Have something exciting waiting for your team to dive into when they get back," she said, "and make sure to celebrate yourself for finding it."
How do you support yourself?
Metrics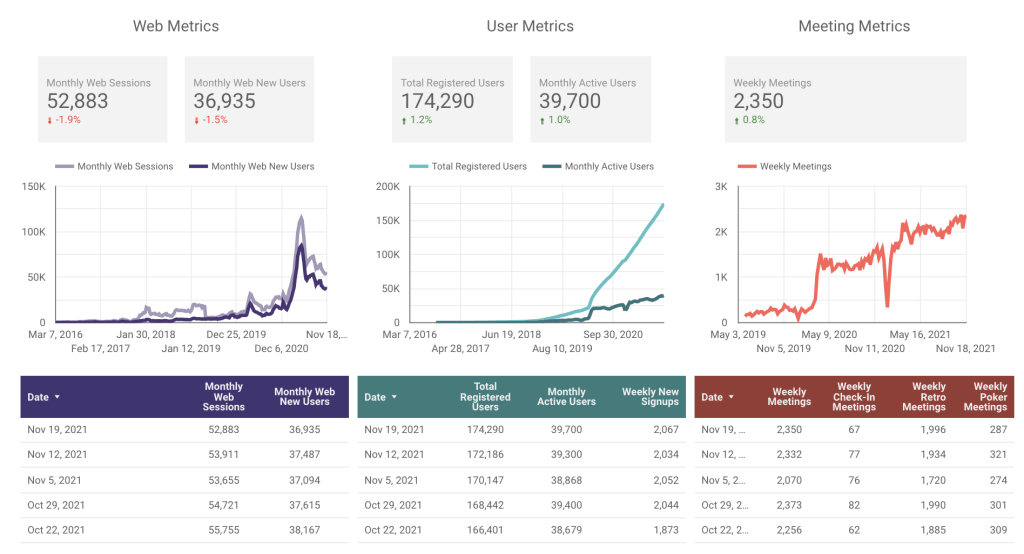 Total traffic is down this week, as we continue to optimize our paid strategy to send less low-quality traffic. However, users and Meetings continue to tick up! We expect to see some softening of these numbers through the rest of the year, as our customers start to take time off for the holidays.
This week we…
…welcomed our CEO's new baby into the world!
…took one step forward toward integrating a stand-up meeting feature within Parabol.
…made a major leap forward to implement a "promote to team lead" feature for Parabol admins. Stay tuned!
Next week we'll…
…welcome back our marketing team from their retreat in Lisbon 🇵🇹
…begin taking our respective Fall holiday leaves 🦃 (get it? Fall? Leaves? 🤐)
---
Have feedback? See something that you like or something you think could be better? Leave a public response here, or write to us.
Join our Fully-Remote Global Team
Help us create a world where every meeting is worth the time invested.