This week we used an ice breaker to bond over books.
Many of you already know icebreaker questions are a great way to engage your team and get everyone to talk. Icebreakers are integral to the way Parabol creates community, healthy interaction between colleagues, and most importantly, empathy.
My name is Tyler and I joined the growth team 4 months ago. Part of my job is enabling customers and users to quickly find value on the Parabol platform. In my role I spend a lot of time meeting and collaborating with our product, sales, and marketing teams to deliver the best experience for our users. We always kick off our meetings with an icebreaker.
I love the anticipation that builds around the icebreaker right before a meeting starts because I never know what fun thought, fact, or perspective I'll pick up. Since each team member contributes during the icebreaker it's a moment to view the same question from several viewpoints. Whether you're a new employee like me or if you feel like your team needs to reconnect, it's this quick moment of self exploration and empathy that helps us build a richer internal culture.
This week's icebreaker: "What's the best book you've ever read?" showed me that icebreakers are frickin' good at taking routine parts of meetings and turning them into personal breakthroughs that are unexpected yet delightful. I learned how much my team enjoys literature and I had the sudden epiphany that I should probably carve out more time to enjoy reading.
The intent wasn't for us to say whether anything was good or bad but just to share our impressions and feelings about a book. That's the whole point of icebreakers: they are supposed to be inclusive, not right or wrong. If you're on the hunt for fresh reads check out some of the titles that came up on our team:
As you can see our tastes vary! But the beauty of icebreakers is that when people feel comfortable enough to share who they are they are more likely to take risks within the organization. Teams really can change the way the game is played simply by spending a couple of minutes asking a short icebreaker question.
Metrics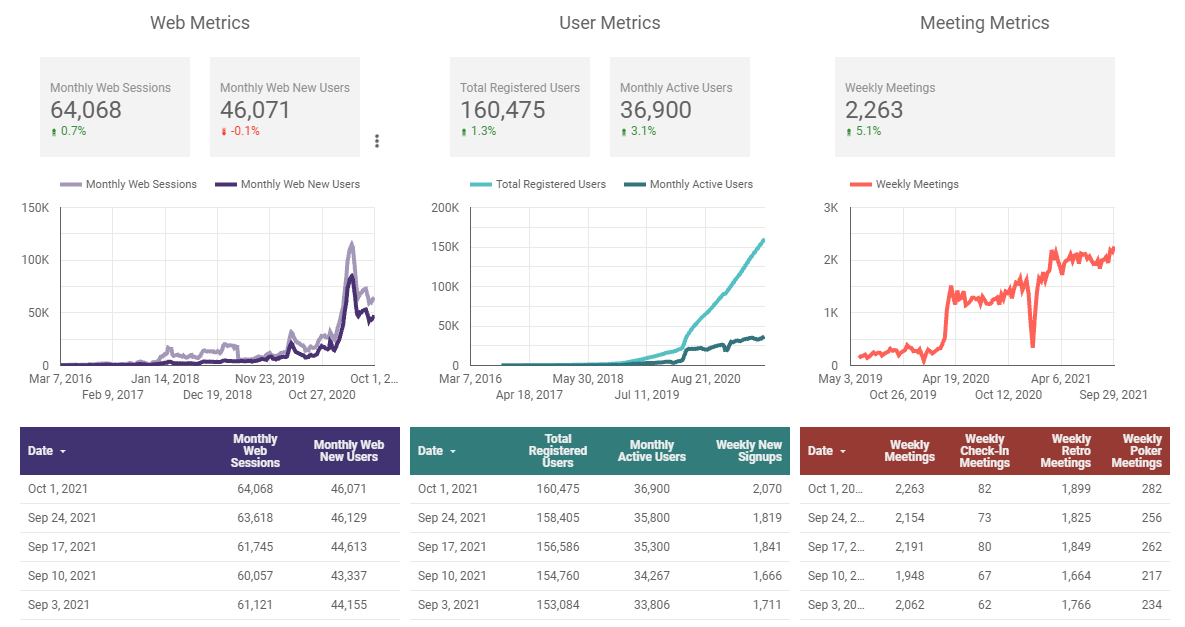 We saw gains nearly across the board with only a slight decrease in new website visitors.
This week we…
…produced stitch-worthy content for TikTok. The marketing team created 3 Tiktoks about WFH setups, endless meetings, and making decisions as a distributed team
…published Agile A-Z. This guide covers essential terminology for Agile teams.
Have feedback? See something that you like or something you think could be better? Leave a public response here, or write to us
Join our Fully-Remote Global Team
Help us create a world where every meeting is worth the time invested.