This week we synthesized the output of last week's leadership retreat.
COVID-related international travel restrictions continue to prevent us from scheduling an all-team in-person retreat so we're pursuing smaller gatherings of Parabol employees instead. The first of these gatherings was a leadership retreat to Sedona, Arizona to work on clarifications to company strategy and begin development on a feedback and promotion system for our growing company (more on that later!)
We anticipated Arizona was going to be hot and was it ever—boy, howdy! We were greeted by a record 120℉ (49℃) heatwave. Some nights, the temperature didn't dip below 97℉ (36℃). The scorching heat encouraged us to remain inside and work, cook, and talk together. The star activity was shucking 100 fresh oysters and preparing lobster rolls with fresh seafood delivered by e-fish.com.
We're currently planning gatherings for our Sales, Product, and Growth Teams. Assuming the world continues its recovery from COVID and travel restrictions lift, we're planning our next all-company gathering for February of 2022. Since we last all assembled we were 5, by 2022 we should be more than 20. What a sight that will be!
Metrics
While this week's metrics show green lights across the board, we're seeing evidence of a summertime slowdown: In particular, mid and end of funnel metric growth have slowed down significantly. Past data (from non-COVID years) suggest July & August will be slow months as teams suspend their regular rhythms and take holidays. On the positive side, these are signs the overall world of work is returning to some sense of normalcy.
This week we…
…continued making strides to move from RethinkDB to PostgresDB as a primary data store. This is a long effort—one that's still in the early stages, but one that will be worth it in terms of Parabol's portability and scalability. If you're a backend developer and would like to pitch in, please toss us a line.
…deployed v6.18.0 into production.
…iterated designs for inline polls on discussion threads. Here's a sample, below: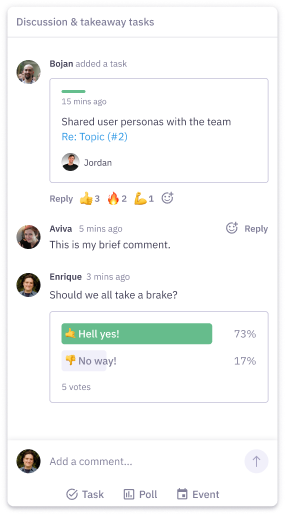 Next week we'll…
…schedule our Product & Sales team retreats.
---
Have feedback? See something that you like or something you think could be better? Leave a public response here, or write to us.
Join our Fully-Remote Global Team
Help us create a world where every meeting is worth the time invested.