This week we interviewed and worked together with candidates at various stages of our hiring pipeline.
The final stage of Parabol's hiring process is a short paid trial project we call a batting practice. Batting practice projects aren't just a way for our team to evaluate 'on-the-job' skills of candidates. They also give candidates a chance to see how we stack up against their expectations. It's a two-way evaluation.
But recently we've realised how challenging it can be for candidates to get a handle on the norms of working, communicating, and collaborating with a new team in just 20 hours or so!
To set candidates up for success, we have begun replacing traditional project kick-off calls with pre-mortems.
Running a pre-mortem is meant to ease that burden a little by giving candidates clear expectations and offering an explicit space for clarifying questions. It also gives candidates useful context and first-hand experience using our product (with a real team!) before they begin their work.
How does a Parabol pre-mortem work?
Pre-mortems are a bit like inverted post-mortem meetings. Instead of looking backwards over what happened, we look forward to an imagined future.
During a Parabol pre-mortem meeting, the relevant hiring team and the candidate sit down together and imagine the batting practice has ended. Together, we work backwards and think about what would make this project a success and what traps or issues we want to avoid.
We run all of our pre-mortems directly in Parabol using a template like 4Ls or Mountain Climber, to guide our reflections.
Running pre-mortems for candidates is still an experiment, and one we plan to iterate on as we get more feedback about how it can be improved.
❓ Do you have any experience running pre-mortems for projects? Got any learnings we could benefit from? Please write in and let us know!
Metrics
On the top-of-funnel side, our traffic is still showing dips as we zero-in on a more accurate baseline after the error we fixed in mid-May. Our week-over-week numbers are showing an increase, so we're confident that while this particular graph isn't looking great, what's really going on is healthy.
For engagement and meeting numbers, we saw nice rebounds after last week! We realized that last week included Memorial Day, when many US teams had a day off, and we think that might be the cause of last week's numbers. That prompted us to discuss seasonality a bit – how do holidays, vacation season and other real-life rhythms effect our numbers?
This week we…
…Shipped v6.15.0, which includes an improvement to our Slack notifications. Now they're more user-friendly and include the key stats for each meeting. Here's what to expect: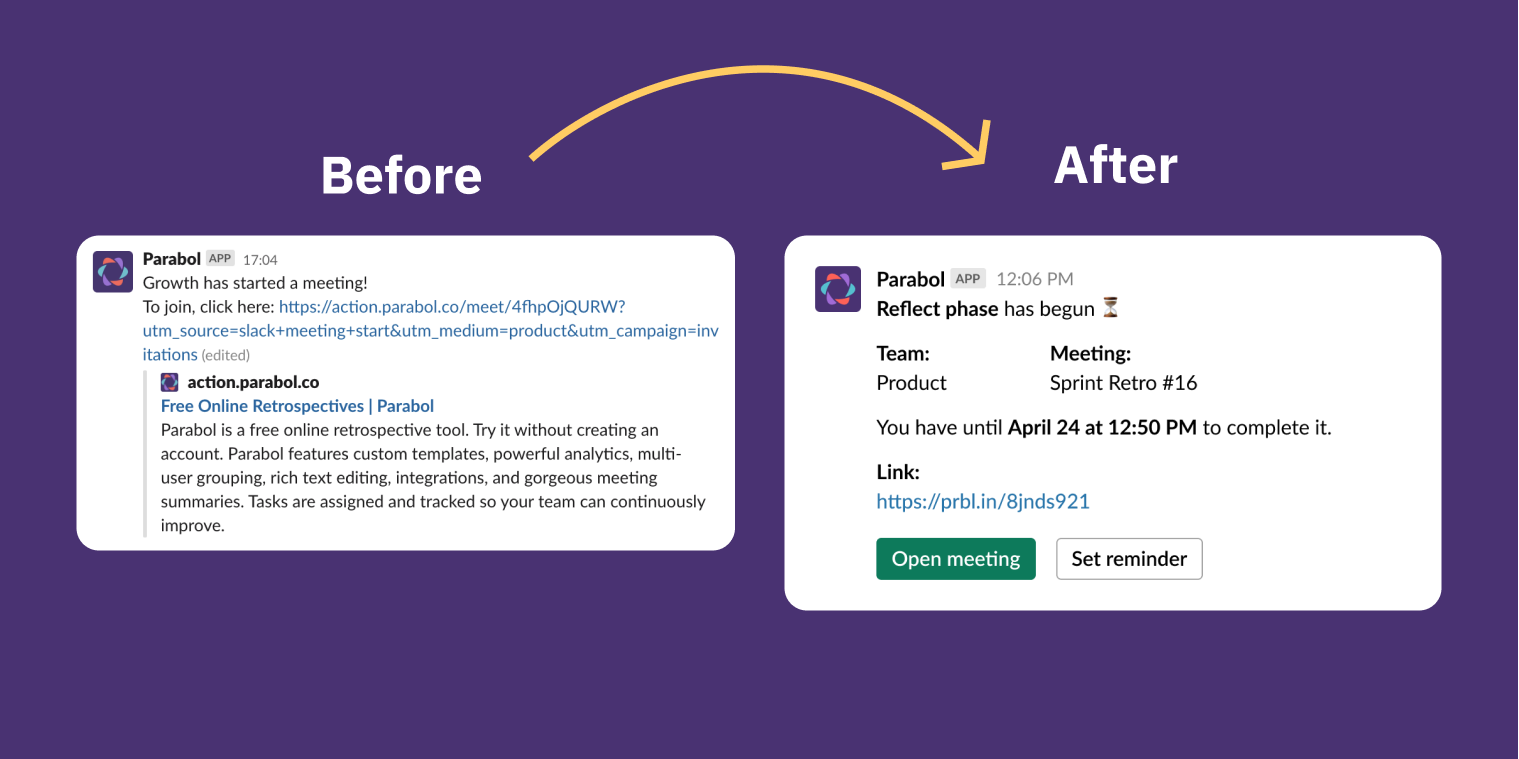 …Processed some recent user feedback in a retrospective to identify how we can serve users better.
…Kicked off 1 new batting practice, supported a number of existing candidates with their projects, and interviewed more candidates in the pipeline.
…Pushed forward our design work on user presence & activity status. This work will make it easier for facilitators to see who is ready to move to the next phase, who hasn't voted yet, and who is active in the meeting.
… Continued updating Parabol's brand mood board and prototyped a new format for long-form content.
Next week we'll…
…Hold a non-virtual retreat (!) with our Exco team, which consists of team leads, the founding members, and our new Operations Director. The team will venture off to Sedona, AZ to get together for the first official "IRL" Parabol meeting since Feb. 2020! We will use the retreat to start thinking about how 'leveling-up' will work at Parabol, amongst other things.
…Onboard our new Operations Director, who will be joining the retreat in Arizona!
---
Have feedback? See something that you like or something you think could be better? Leave a public response here, or write to us.
Join our Fully-Remote Global Team
Help us create a world where every meeting is worth the time invested.