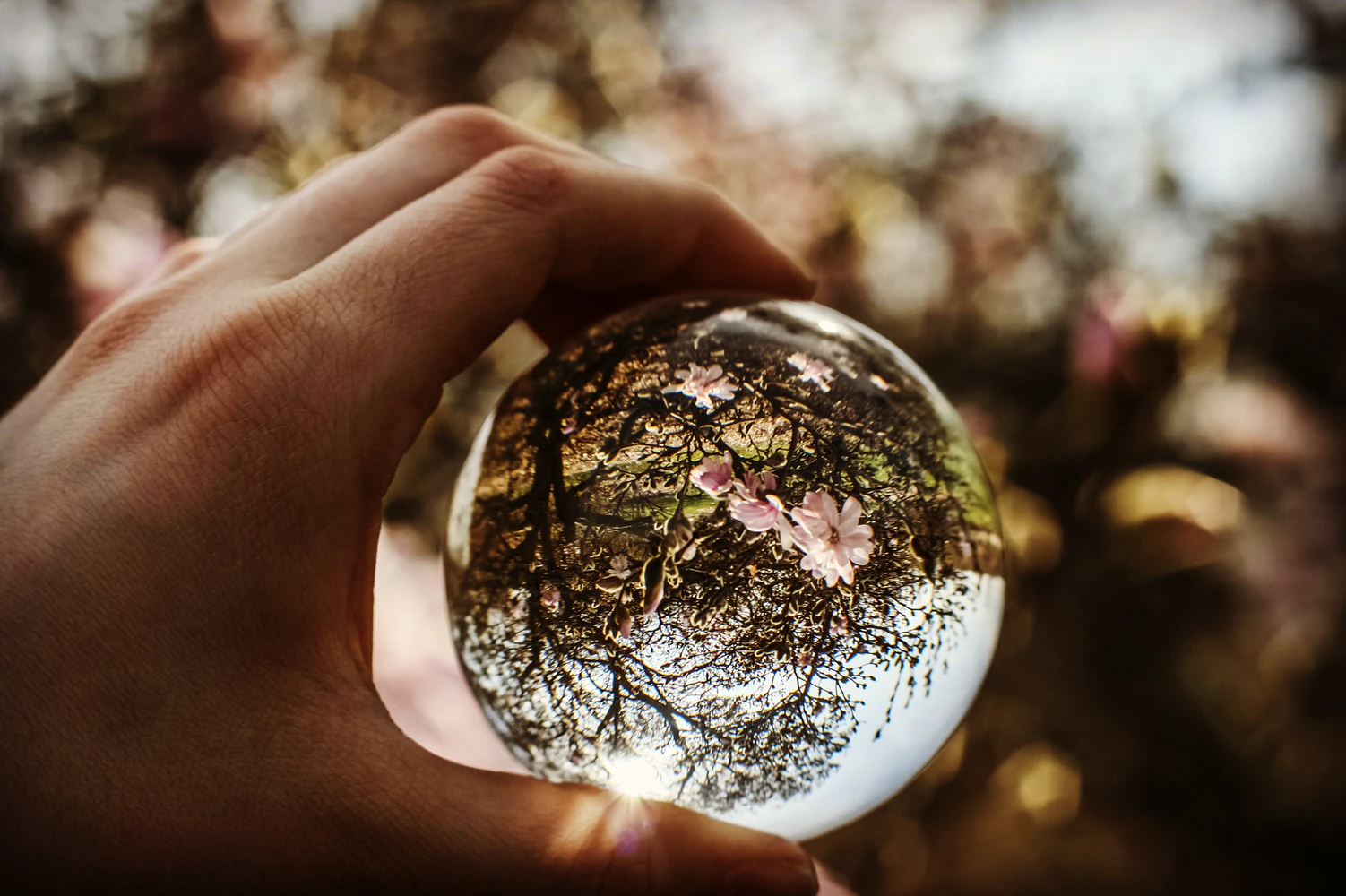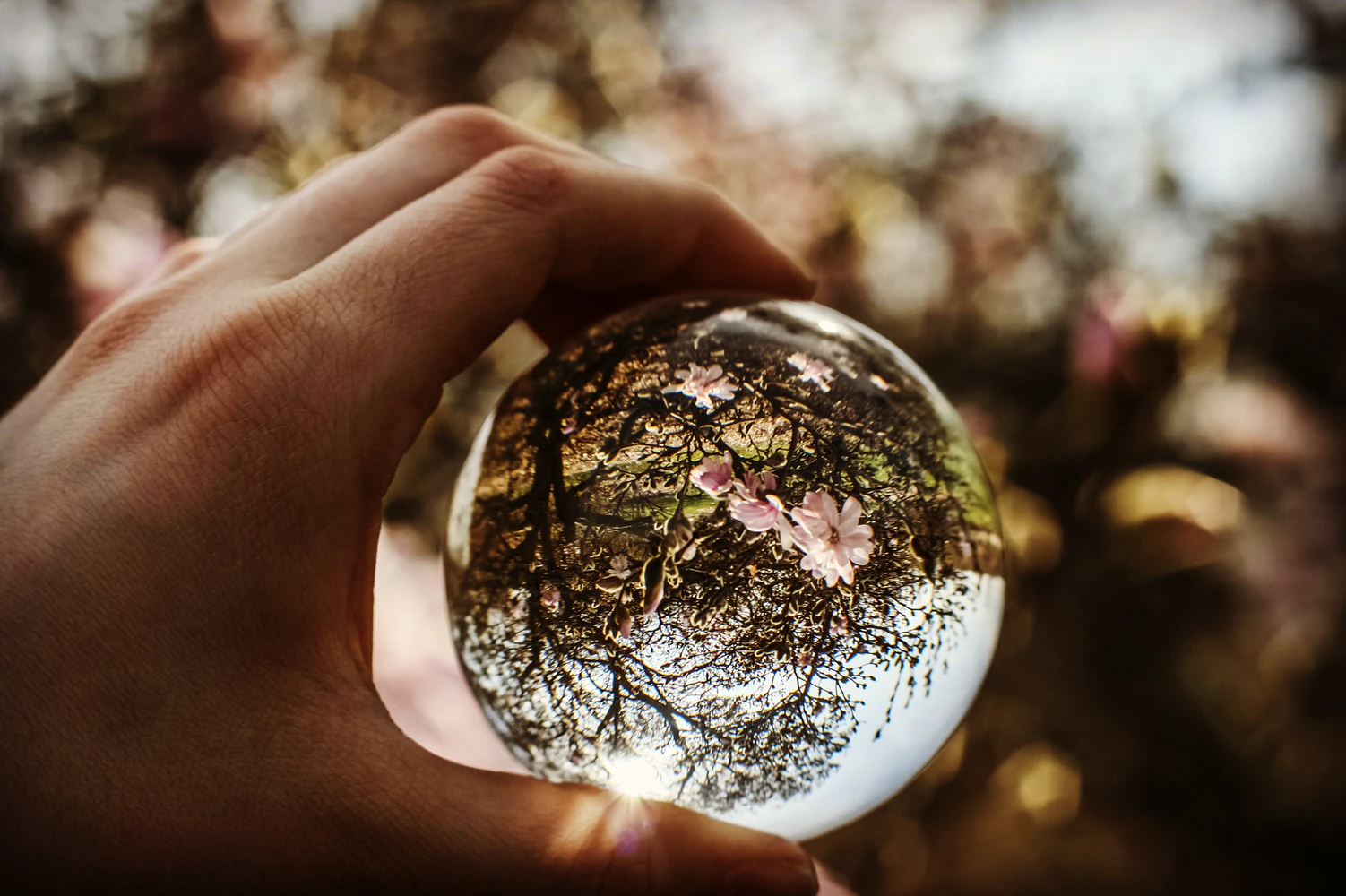 This week, we added a new custom bot to our team's Slack instance to broadcast what's coming up on our all-company calendar.
There are a surprising number of rituals performed at an in-person office that need to be rethought for an all-remote workforce. Consider the multitude of duties a typical "all-hands meeting" serves for company culture: important news and accomplishments are shared, colleague's achievements are highlighted, and when people see each other in numbers they may feel a part of something bigger than themselves. So far at Parabol, we've decided not to have an all-hands meeting to maximize people's focus time. It hasn't caused much tension yet except with that first item from the list above—sharing important news and dates.
Sure, people working at Parabol have access to the all-company calendar—but not everybody would catch important dates with enough time to react to them. This friction was exacerbated when we adopted a new globally inclusive holiday policy that encouraged some colleagues to take time off to observe their local holidays: sometimes we'd miss the opportunity to adjust our commitments to actually take the time off!
We attempted to reduce this friction by coding up a quick bot in Autocode (which we made open-source) to scan our All-Company Google Calendar each Monday and emit the upcoming all-day events as a Slack message in our company-wide #announcements channel. Here's what it looks like: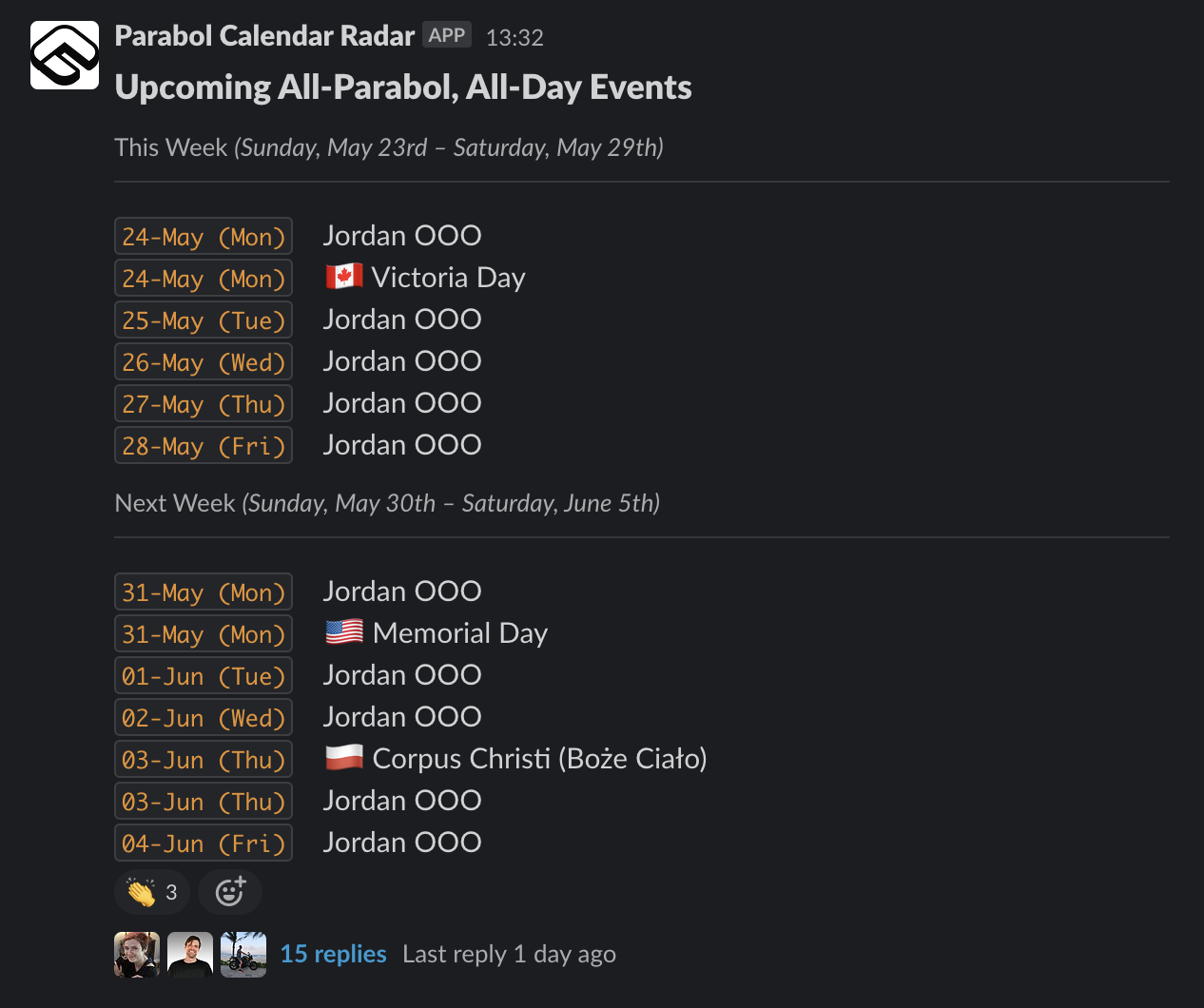 So now if you're in Canada and you see next week is Victoria Day you can remember to mark off your personal calendar and tell your colleagues you're planning to take the day off to celebrate.
Metrics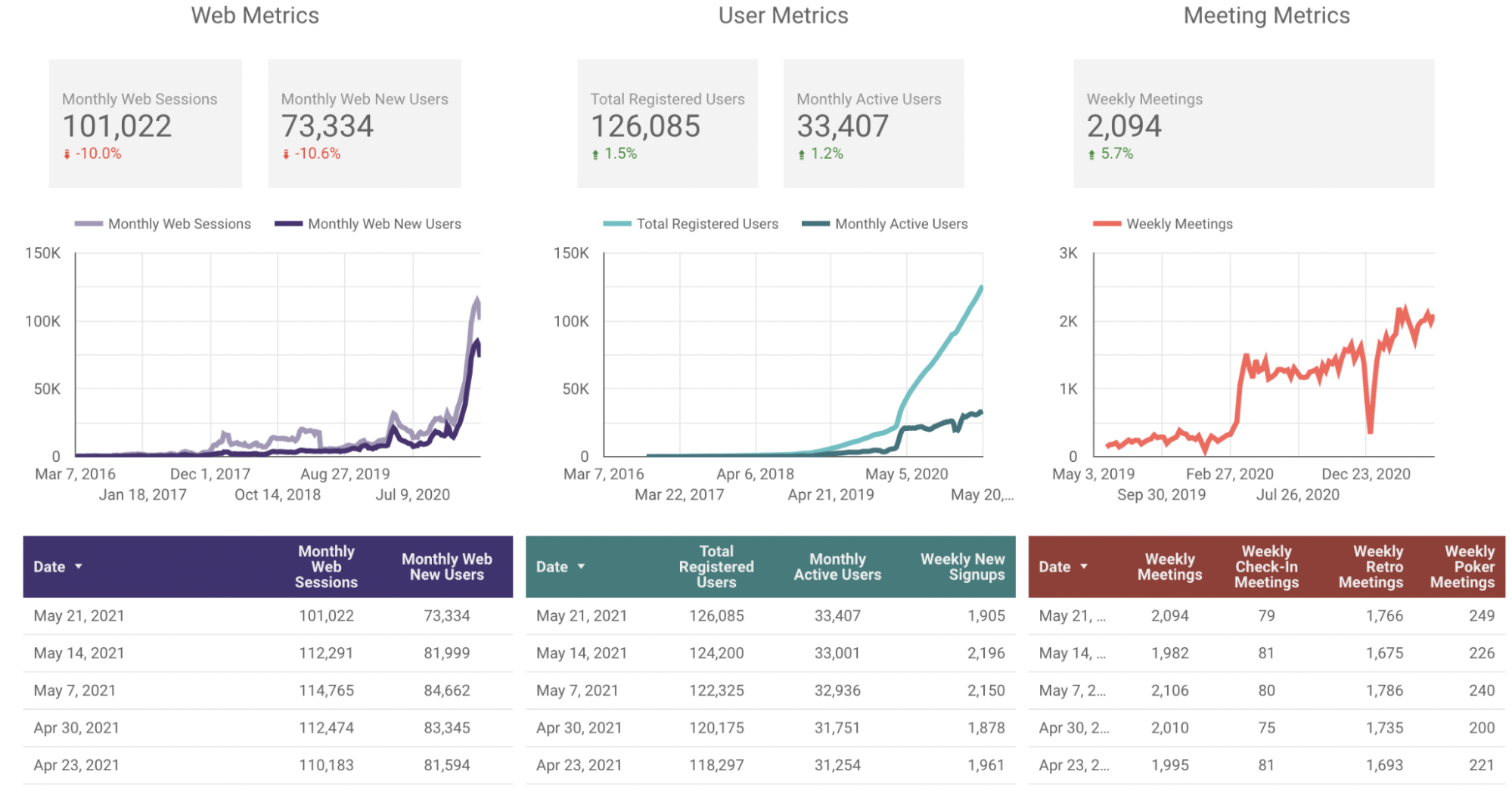 Oops. When we launched our new site back in March, we had misconfigured Google Analytics to double report sessions on a few of our properties. As a result, we'll be seeing a bit of a dive to the top-of-funnel metrics over the next 4 weeks. At least now our stage-to-stage conversion data makes more sense now!
The other metrics are good-ish: registrations and activity are a touch soft, but still growing and the number of weekly meetings are continuing to grow with Sprint Poker leading growth.
This week we…
…created a first pass at revising the way async meeting phase reminders are configured. Here's a great video by Parabol Senior Designer Enrique Sánchez walking through his thinking:
…shipped v6.12.0 to production. This release mostly includes bug fixes and refactoring to prepare for upcoming features. Here's a link to the changes.
…began gathering feedback for our Retro Inspirations designs and iterated our overall meeting IA to support our future dreams. This is one direction we're considering for relocating where current meeting attendees are displayed: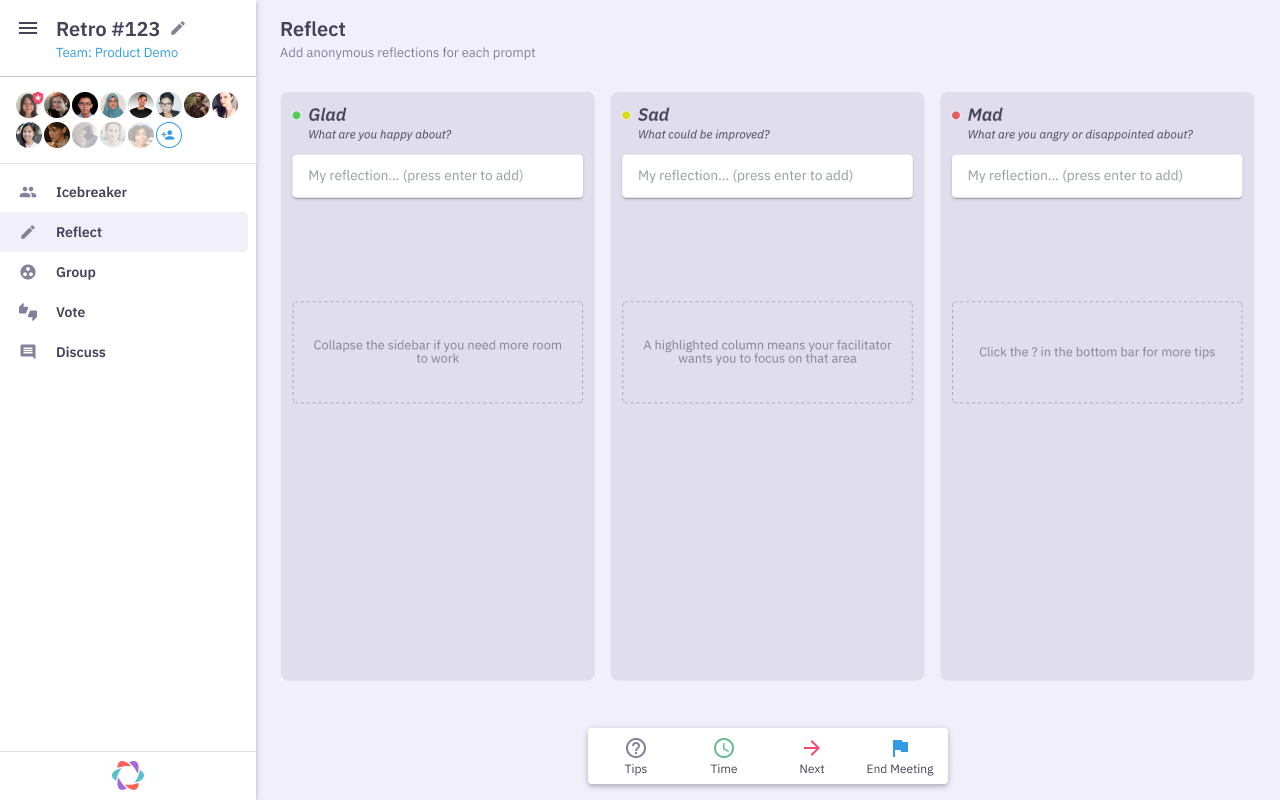 Next week we'll…
…we'll kick off Sprint 80. We're still hot on the pursuit of getting our GitHub Sprint Poker integration shipped to production.
---
Have feedback? See something that you like or something you think could be better? Leave a public response here, or write to us.
Join our Fully-Remote Global Team
Help us create a world where every meeting is worth the time invested.