This week we asked several of our customers for help, and they showed up for us in a big way.
Parabol exists to serve our customers, full stop. We always feel we can do more. Indeed, we want to do more. We're incredibly touched by our customers who give us more than their business by showing up when we ask for testimonials, references, product feedback or sharing challenges within their organization.
This is a short note to say thank you.
Without spending your time with us, we wouldn't be quite nearly as far along. We hope to repay you in spades. Thank you for being on the journey with us.
We wish you a happy holiday season, and a happy new year,
The Parabol Team
Metrics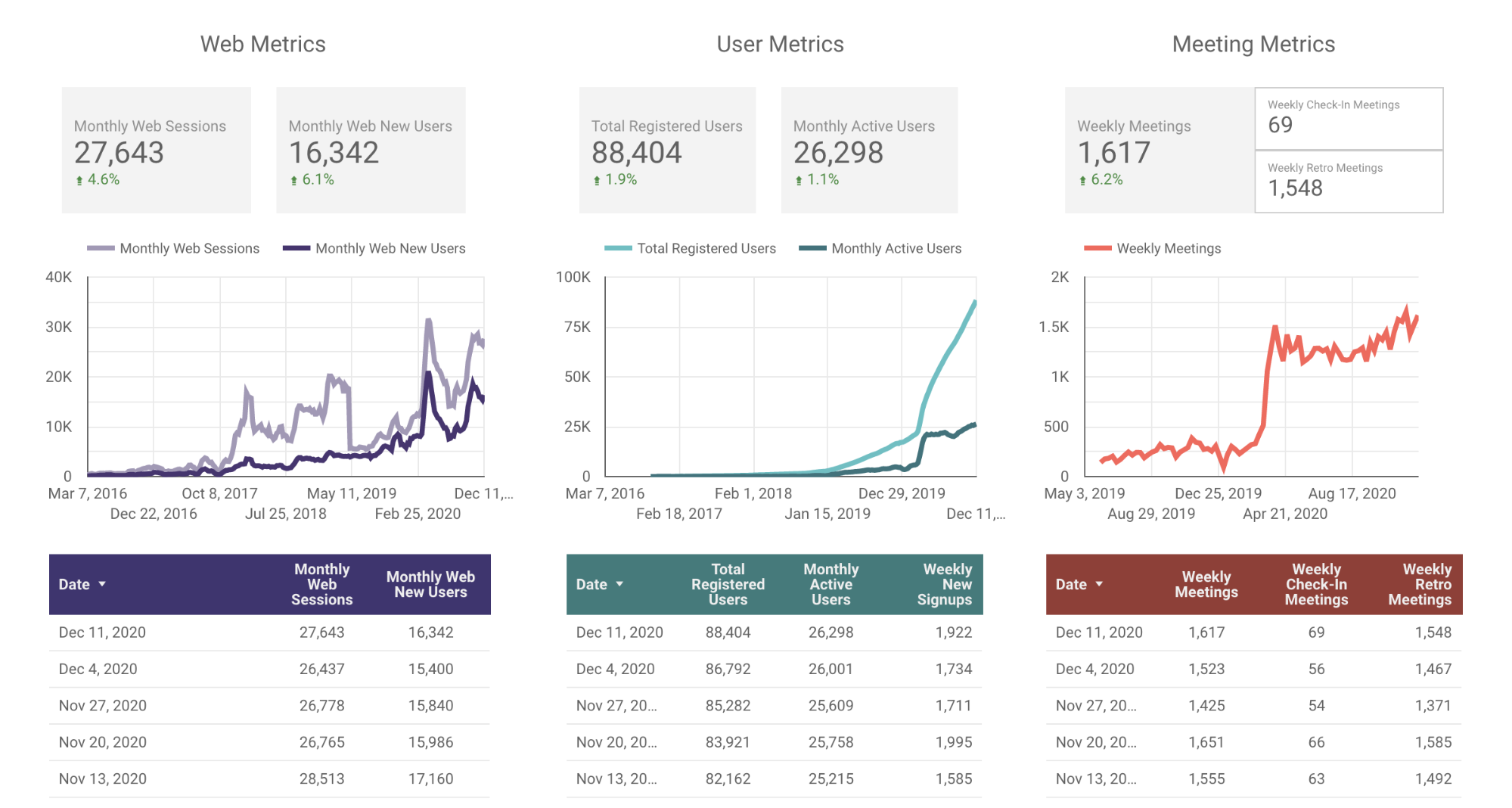 As the year is coming to a close, the metrics are looking strong. All funnel stages are showing positive growth. We're particularly keen on seeing the number of weekly meetings rise. We expect traffic will drop off substantially during the holiday break, before rebounding in January.
This week we…
…battle tested sprint poker, and began collecting feedback from some customers and users. Our initial release of Sprint Poker is now feature complete. Much of the team's time has been spent this week testing corner cases and making small fixes. We've also started showing it to some of the users we're close to. Of course, it wouldn't be a Friday Ship if we didn't have a gif of some updates to our meeting template editor! Here you can see pending changes which will allow users to set the ranking scales for a Sprint Poker activity:
…conducted several candidate employee interviews. We've got several positions open. If you, or somebody you know is considering making a job change in the new year, have a look!
Next week we'll…
…kick off Sprint 70. We've got several architectural and tech debut reduction projects planned to round out the year while we collect feedback (and any bug reports) from our early Sprint Poker users.
---
Have feedback? See something that you like or something you think could be better? Leave a public response here, or write to us.
Join our Fully-Remote Global Team
Help us create a world where every meeting is worth the time invested.