#368 – Design Share
Friday Ship #368 | October 6th, 2023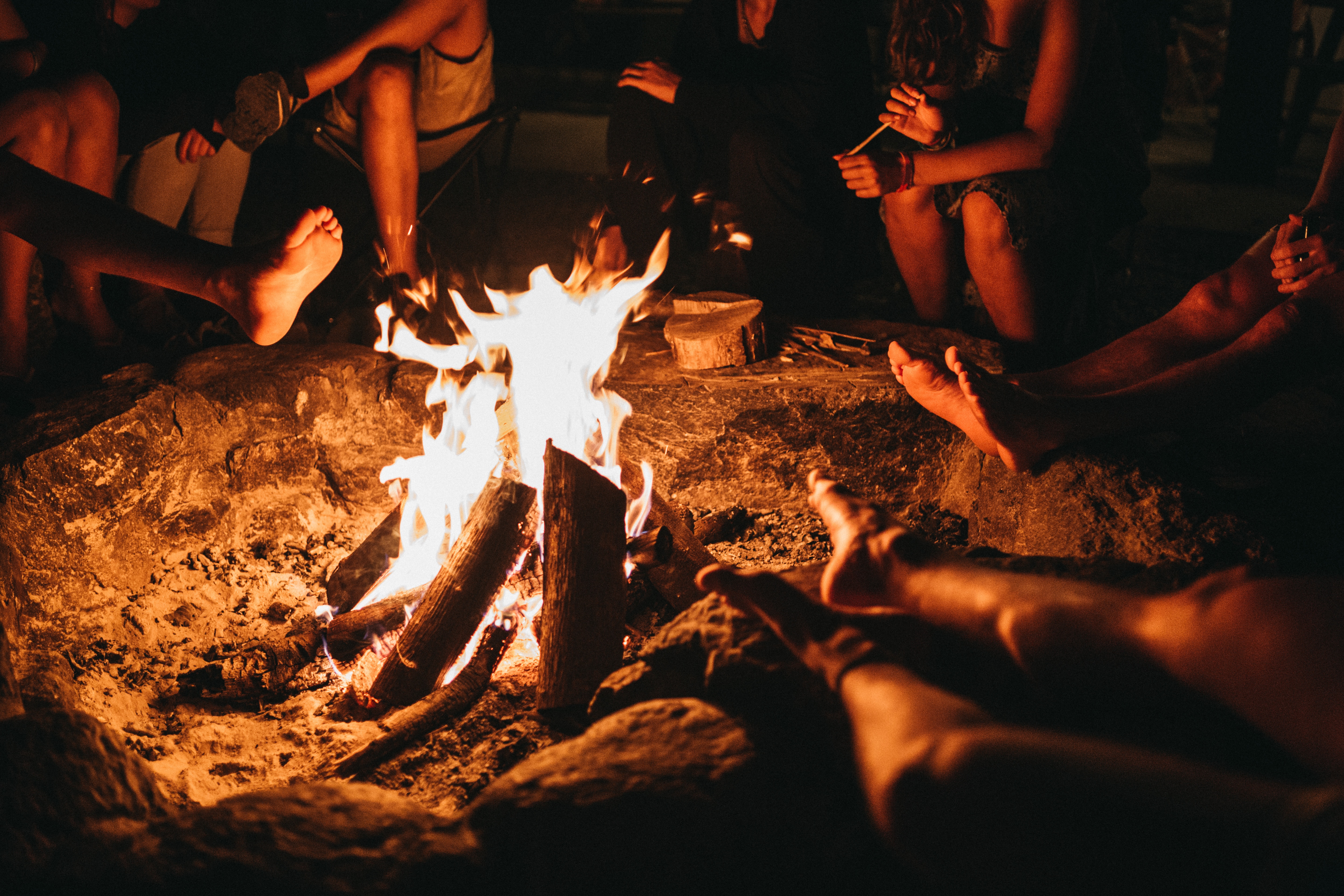 The Design team at Parabol has been hosting a meeting every two weeks to showcase work in progress and receive feedback.
We call this meeting Design Share and its purpose is to provide a safe space for designers to showcase their work in progress and receive actionable feedback to improve it.
More specifically we wanted Design Share to help us in 3 key areas: awareness, collaboration and trust.
Awareness
Design Share helps us understand and be more aware of what is happening across different squads and areas. It allows us to identify overlaps and opportunities for alignment.
Collaboration
By sharing our work early and often, and receiving timely feedback, we are able to improve our design process and achieve better results in our work.
Trust
Design Share clarifies strategy and direction, giving us confidence that we are tackling the right problems, and increasing our level of trust among each other.
Improvements to our process
It's been a little over a year since we began hosting this meeting, which means that a retrospective is in order to find out what's been working and what can be refined, but the benefit this meeting has had can be felt across our design process:
"One of my favourite things about design share is when I have really early explorations that I normally wouldn't spend the time asking for feedback on. When we discuss these in design share it's a great chance to bounce ideas off each other and hear other considerations early in the process. It's also really fun!"

Alicia Cressall, Senior Growth Designer
"I think that making time to share feedback in person has built our level of trust. I think this trust has improved the feedback that we share when we're not in person like on comments in Figma. I like that we've opened up this session to the whole company to gain different perspectives on designs in progress."

Terry Acker, Principal Designer
How does Design Share work?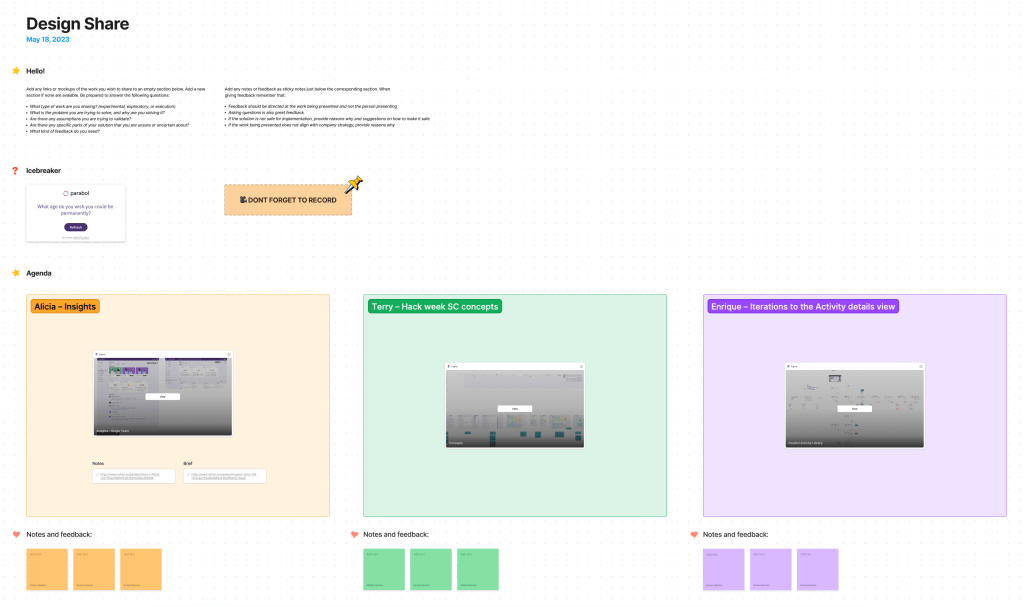 Preparation
Our Design Share meeting lasts one hour and is recorded for wider availability within the company. Participation is optional, but we encourage representation from all areas of the company for more productive sessions.
Our meeting lasts one hour and is recorded for wider availability within the company. That said, designers are not the only ones who can share their work during these meetings. Members from other areas can also bring their work for design feedback.
We use a FigJam board where designers add agenda items in advance for the work they wish to share. It's okay to occasionally not have anything to share, but we aim to have at least one or two items for discussion. If there is nothing to share for a particular week, we cancel the meeting.
During the meeting
The time during the meeting is divided evenly based on the number of agenda items. For example, if three designers have something to share, each one is given approximately 15 minutes (45 minutes in total), leaving around 15 minutes for icebreaker and flexibility.
Designers should be ready to answer the following questions:
What type of work are you sharing? (experimental, exploratory, or execution)

What problem are you trying to solve, and why is it important to solve it?

Are there any assumptions you are trying to validate?

Are there any specific parts of your solution that you are unsure or uncertain about?

What kind of feedback do you need?
Once the designer finishes sharing their work, others are welcome to provide their perspectives and relevant feedback:
Feedback should be focused on the work being presented, not the person presenting it.

Asking questions is also a valuable form of feedback.

If applicable, provide reasons why the solution may not be safe for implementation and suggest ways to address those concerns.

If applicable, provide reasons why the work may not align with the company strategy.
After the presentation and feedback portions, the facilitator makes sure the designer got what they needed and that there are clear next steps to move forward.
Metrics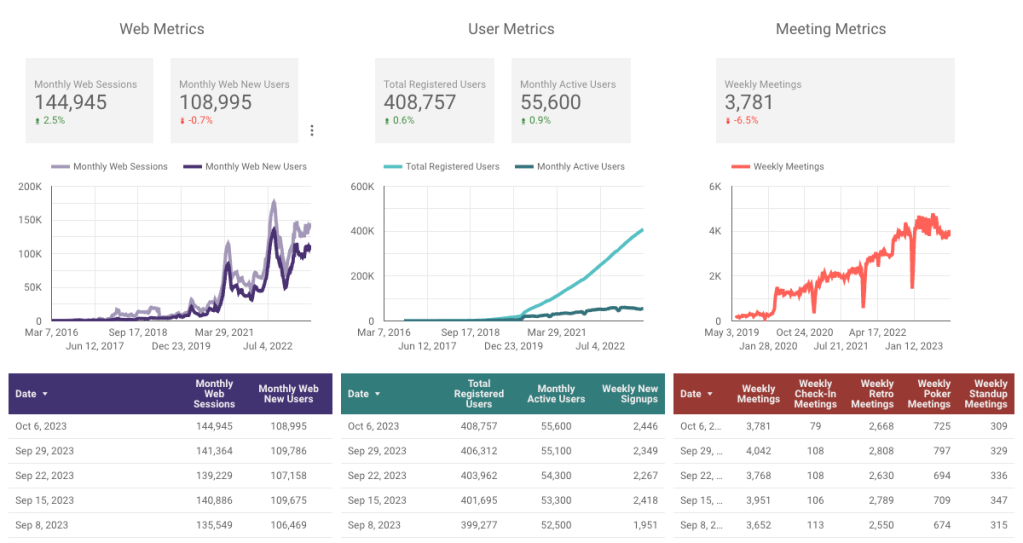 This week we continue to see a bump in our total registered users and monthly active users 📈
This week we…
…published a new resource on Scrum anti-patterns.
…put the final touches to the designs and started implementation on our upcoming Google Calendar integration for our new Your Work feature in Standups.
…started working on a rollout plan for our new Team Insights feature.
Next week we'll…
…finalize governing our T3 strategy.
All your agile meetings in one place
Run efficient meetings, get your team talking, and save time. Parabol is free for up to 2 teams.