This week, Parabol surpassed 40,000 registered users. Our doubling time has further shortened. It took 2 months and 10 days for user registrations to increase from 20,000 to 40,000, compared to taking 6 months to go from 10,000 to 20,000 users.
We believe much of this acceleration in growth can be attributed to the hurried movement toward remote work driven by the global health crisis. We hadn't anticipated such a massive demand for our service, leading to our first unplanned downtime in weeks prior as we had to rush to add capacity.
We don't know what the future looks like. Will adoption slow some as lockdown restrictions ease? Or, now that so many more users have joined us, will the viral effects of using our inherently social software further accelerate adoption? Follow along, and let's find out!
Metrics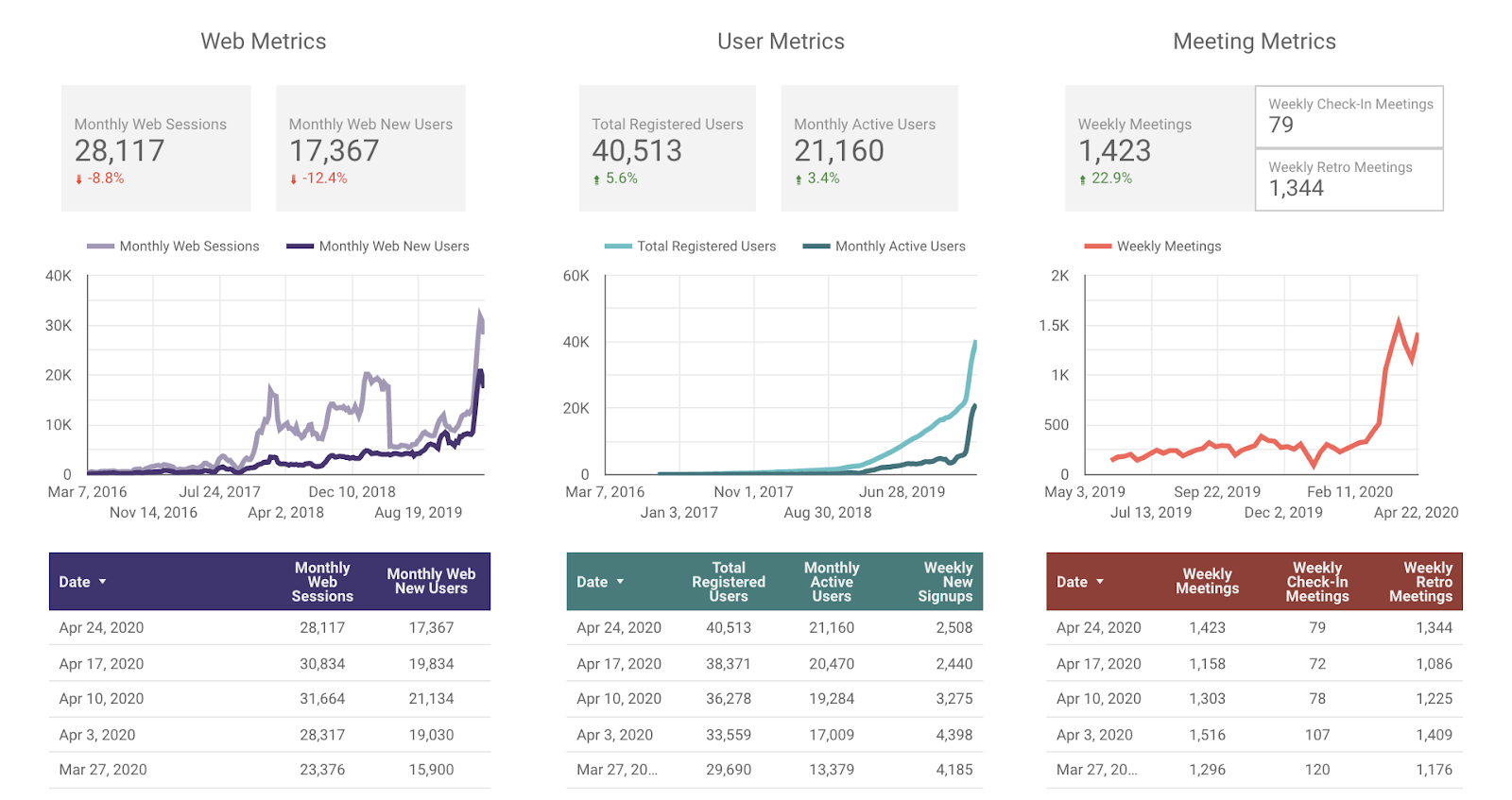 This week we…
…greatly improved the developer experience (DX). Whether you're a friendly stranger on the internet or a new employee, writing new code should be easy and enjoyable. It's now easier than ever; build times have been cut in half, too.
…enhanced our business intelligence tools. For the first time in a long time, we've completely rethought and reimplemented the way we measure our adoption funnel. A large part of this tooling is made possible by Google Colab, which we've enhanced to be able to securely connect to our data warehouse.
…finished work on a new kind of illustration. This is the first set of illustrations we've made that straddle between showing our product (like screenshots) and showing our brand (like our abstract human illustrations on the features page). We'll be sharing these with the world soon.
…merged some code changes from the public-at-large. One user offered us a hardened Dockerfile and integration with Microsoft VS Code Remote, while another updated our emoji library. Thank you, folks!
…continued to interview. Some candidates wrapped up Batting Practices while some started this week. The talent we're attracting is truly inspiring!
Next week we'll…
…continue work on publishing content! We have a few blog posts and landing pages on deck and nearly ready to go live.
---
Have feedback? See something that you like or something you think could be better? Leave a public response here, or write to us.
Join our Fully-Remote Global Team
Help us create a world where every meeting is worth the time invested.